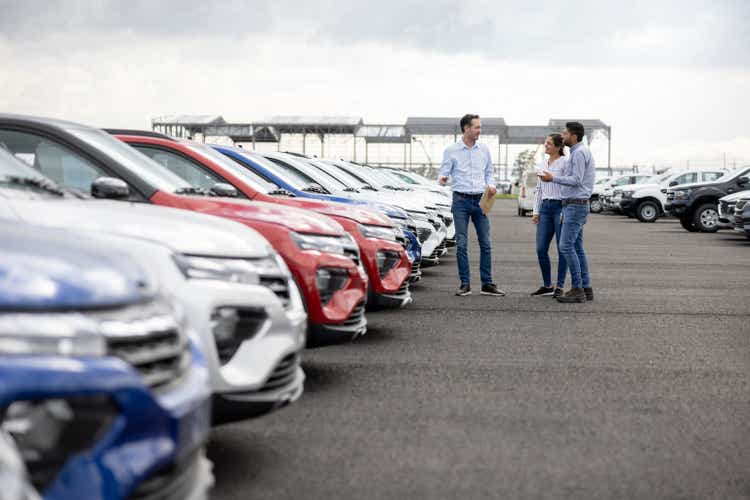 Investment Thesis
Lithia Motors Inc. (NYSE:LAD) stands as a formidable player in North America's automotive retail landscape, with a diversified business model that spans three key segments: Domestic, Import, and Luxury. This diversification not only broadens its customer base but also serves as a hedge against market volatility. Beyond mere vehicle sales, Lithia offers a comprehensive suite of automotive services, including financing, warranties, and insurance, thereby increasing customer lifetime value.
A unique value proposition lies in their focus on automotive repair and maintenance services, which they offer through an extensive physical network and digital platforms under the Driveway and GreenCars brands. Founded in 1946 and headquartered in Medford, Oregon, Lithia has a long-standing reputation for quality and trust, further solidified by its expansion into the U.K. and Canada.
The company's integrated approach serves as a one-stop-shop for all automotive needs, making it a convenient choice for consumers and a compelling investment opportunity. With a proven track record and a comprehensive range of products and services, Lithia Motors is well-positioned to continue its growth trajectory in the evolving automotive retail space.
Strategic Consolidation of the Fragmented Auto Retail Industry
The automotive retail industry in the U.S. is highly fragmented, with approximately 18,230 car dealerships. In this landscape, Lithia Motors stands as a colossus with 340+ dealerships, making it the largest player in the industry. Because the auto retail industry is characterized as being fragmented, I believe there is plenty of opportunity for consolidation by Lithia Motors. This is where Lithia's well-defined growth strategies come into play, and they are nothing short of impressive.
Lithia Motors' acquisition strategy is an impressive demonstration in disciplined planning and execution. Unlike companies that acquire for the sake of growth, Lithia has a well-defined roadmap. Of the approximately 18,230 auto dealerships in the U.S., the company has already identified key dealerships that align perfectly with its long-term strategy. This isn't a haphazard approach; it's a calculated move that involves establishing relationships with dealership owners and waiting for the opportune moment to acquire. This isn't just about geographical expansion either; it aligns with the company's long-term goal of being within 100 miles of 95% of the US population, and each of these acquisitions moves the company closer to achieving that goal. Their target for annual after-tax returns on acquisitions is over 15%, but what's remarkable is that they've managed to average a 25% return by the third year of ownership. This outperformance isn't accidental; it's the result of a focus on accretive, cash flow-positive targets acquired at reasonable valuations.
In 2022, Lithia made significant strides by acquiring 31 stores, opening one, and divesting thirteen. They invested $1.1 billion, net of floor plan debt, in these acquisitions. The expected addition of nearly $3.5 billion in annualized revenues from these acquisitions is a testament to their strategic prowess. But what I find equally impressive is their willingness to divest underperforming stores. This shows that Lithia is not just obsessed with growth; they're equally committed to optimizing performance, a balance that many companies fail to strike.
One of the key valuation metrics Lithia employs is a multiple between 3x to 7x of investment in intangibles to estimated annualized adjusted EBITDA. This is a nuanced approach that goes beyond mere numbers. It takes into account various factors like location and talent, which are often overlooked but are crucial for long-term success. They also aim for an investment in intangibles as a percentage of annualized revenues in the range of 15% to 30%. This multi-faceted approach to valuation is a smart move, ensuring they get the best value for each acquisition. Additionally, in contrast to most consolidation scenarios where initial success often leads to inflated acquisition costs, the automotive sector enjoys natural entry barriers that mitigate such trends. Because of this disciplined approach, I believe the company will be able to continue to acquire car dealerships across the markets at reasonable prices, which I think will translate to strong revenue and earnings growth which will ultimately benefit shareholders.
Leveraging its Brand and Service Offerings
I believe that Lithia Motors key brands and product offerings, as well as their expansive dealer presence helps them stands out over its competitors. As I mentioned, the company operates over 340 locations which offer an impressive 50 Original Equipment Manufacturer (OEM) brands. This isn't just a testament to their reach; it's a strategic advantage that offers some insulation from market volatility as the company's OEM range is diverse, ranging from lower-end and luxury to new and used. Additionally, the company offers services and parts which complements its diverse car sale offerings. as well as used vehicle wholesale. I think that looking at their Unit Sales for Q2 2023 paints the picture of their product diversity quite well.
In my opinion, this brand diversity is a good risk mitigation strategy. If a brand or segment faces a downturn, the impact is diluted across their extensive portfolio. The effectiveness of this risk mitigation was demonstrated during the pandemic when there were supply chain issues across the automobile industry, yet despite this, LAD managed to grow where many of its competitors did not.
But Lithia doesn't stop at selling cars; the company offers a comprehensive range of automotive services, including financing, leasing, repair, and maintenance. This is an important aspect to consider for long-term investment. Offering a full suite of services increases the likelihood of customer retention, thereby potentially increasing the lifetime value of each customer. It's a business model that aims for customer engagement beyond the point of sale, which could contribute to more stable revenue streams.
The company is also making efforts to expand its product and service offerings. For example, their investment in digital platforms like Driveway indicates an awareness of the industry's digital transformation. While this is a forward-looking move, it's important to note that the success of such initiatives will depend on execution and market reception.
Impressive Commitment to Returning Value to Shareholders
Lithia Motors' capital allocation strategy is one of the more impressive capital strategies I have come across. The company's strategy offers a balanced approach that should be appealing to investors looking for both growth and income. The company earmarks 65% of its free cash flow for acquisitions, which aligns with its growth-oriented business model. This is a significant commitment and aligns with LAD's stated strategy of aggressively looking to expand its footprint, to achieve their goal of being within 100 miles of 95% of the U.S. population. I also think that this is an encouraging sign that they are committing significant capital to acquisitions given that the company has achieved such strong growth thanks in large part to their acquisitions.
The next 25% of the free cash flow is allocated for internal investments, such as innovation. This is crucial for maintaining the company's competitive edge and ensuring that it stays up to date with industry trends and technologies. It's a reinvestment into the business that aims to drive long-term growth, and it's a signal that the company is not just looking for quick wins but is planning for the future. Through this initiative of forward thinking, the company has been able to enter the e-commerce space of auto retail and has begun to carve out a strong presence.
The remaining 10% is allocated for shareholder returns, either through dividends or share repurchases. While this may seem like a smaller portion compared to the other allocations, it's important to consider the context. Lithia Motors has consistently increased its dividend for 11 years, and even with a low payout ratio of approximately 4.4%, the dividend has grown at an impressive rate and is up almost 10% in the last year. This shows a commitment to returning value to shareholders in a sustainable way.
Moreover, the company's share repurchase program is another avenue through which it returns value to shareholders. In 2022 alone, the share count was reduced by 8.2% at an average price of $276, which increases the share of ownership in the company for the existing shareholders. The company describes its approach to share repurchases as "appropriate and opportunistic," which suggests a strategic use of this tool rather than a reactionary one. Lithia Motors also has $501 million available for share repurchases which represents a fairly sizable portion of its current market cap.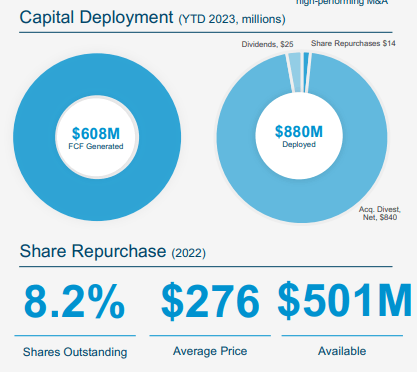 Financial Analysis
Over the past five years, Lithia Motors has shown strong financial performance, with impressive growth across the board. The company's revenue has grown consistently, from $11.82 billion in 2018 to approximately $29.33 billion in the last 12 months (LTM). The earnings per share (EPS) stands at $40.03, up from 10.86 in 2018, representing a 29.81% compound annual growth rate (CAGR) and indicating that the company has been effective in translating its revenue growth into bottom-line success.
As I mentioned, Lithia Motors' capital allocation strategy is also noteworthy. The company allocates most of its capital to acquisitions with the remainder set aside for internal investments shareholder returns. The company reported a free cash flow (FCF) of $354 million for Q2 2023 and $731 million year-to-date. It is worth noting that this number is down from the $1.1 billion in FCF the company reported in 2022, which aligns with a trend across LAD's financials which has seen much of its profitability numbers slide since 2022 which management seems attributes to a decline in average sale price (ASP) of used vehicles and the impact of higher flooring interest costs.
As for the company's debt, the total debt is approximately $9.05 billion which is a significant amount as it corresponds to 13 years FCF based on the LTM FCF. That being said, maturity on the debt varies with a large portion of the debt not maturing until 2026, by which time I anticipate the company to be larger and more profitable than it is today. Lithia Motors also has $200 million in cash and cash equivalents to cover the current portion of the debt which stands at less than $100 million. Additionally, the company's return on equity (ROE) of 21.1% suggests effective use of leverage.
In the short term, I would pay attention to the company's quarterly earnings results, particularly their profitability metrics such as EPS and net income especially given the mixed results in the last four quarters. The ability to increase profitability and continue to grow will be key for LAD, especially given their sizable, yet manageable, debt levels.
Looking beyond that, the company has an ambitious 2025 plan, where it intends to have revenue of $50 billion and EPS upwards of $60. The company intends to achieve this through their capital allocation strategy of acquisitions, reinvestments share buybacks and dividends. I think this is ambitious goal which will require some impressive management to achieve, but given their track record, I think it is entirely possible.
Valuation
As I discussed, the company has set out on an ambitious goal of achieve $60+ in EPS by 2025. This implies a roughly 15% to 17.5% CAGR growth rate out to 2025. Given managements impressive ability to grow the company of the past few years, in addition to their strategy of continue to expand their business and strategically acquire other car retailers, I see this growth rate as possible. That being said I have my doubts given the company's slow down in growth this year to date compared to its impressive 3 year run prior.
As of the most recent quarter in 2023, Lithia Motors' LTM EPS stands at a $40.03. Given the company's strategic focus on acquisitions and digital transformation, I conservatively estimate that its EPS should grow at about 8.5% CAGR up until 2025, which is more in line with the analysts' expectation. Projecting this growth rate to 2025 from now gives us an expected EPS of $51.13 for 2025.
To arrive at a 2025 price target, an exit price / earnings (PE) multiple of 6 was applied which is right around its 1 year mean and well below its past 3-year mean. Multiplying the expected EPS by this exit multiple gives us a future price target of $432.30.
Comparing this future price target with today's share price allows us to calculate a 12% CAGR expected over the next 3 years if investing in Lithia Motors at its current valuation. Given that this valuation does not include a margin of safety, and the company has notable risks which require careful consideration, I am compelled to apply a hold rating on LAD in my opinion.
Risks
The automotive retail industry is at the cusp of several transformative changes that pose risks to traditional players like Lithia Motors and may disrupt their current business model. The rise of e-commerce may threaten the profitability of physical stores, as seen in other sectors. Additionally, the growing penetration of electric vehicles, which require fewer parts and services compared to internal combustion engines, could impact Lithia's Parts and Services segment, accounting for a third of its gross profit.
Another concern is the company's management and its ability to continue executing its capital allocation strategy effectively. Currently, Lithia allocates 65% of its free cash flow to acquisitions, 25% to internal investments, and 10% to shareholder returns. While this strategy has been successful so far, any missteps in capital allocation could have a detrimental impact on the company's financial health and shareholder value. For instance, if management overpays for acquisitions or fails to integrate them successfully, it could lead to a decline in return on investment and, consequently, shareholder value. This is a particular concern given the amount of debt held by LAD, much of which has maturity in the late 2020s.
Conclusion
In conclusion, Lithia Motors stands as a compelling player in the fragmented U.S. auto retail industry, skillfully leveraging strategic consolidation to optimize both growth and performance. The company's diverse brand portfolio and all-encompassing service offerings serve as a robust risk mitigation strategy, further enhanced by their forward-looking digital investments. Financially, Lithia's capital allocation is well-balanced, fueling acquisitions and innovation while also rewarding shareholders through dividends and share repurchases. However, despite these strengths, it's crucial to approach investment in Lithia with caution. My analysis projects a 12% CAGR over the next three years, which, while promising, doesn't offer a significant margin of safety given the inherent risks in the auto retail sector. Therefore, my recommendation for Lithia Motors at its current valuation is a hold.