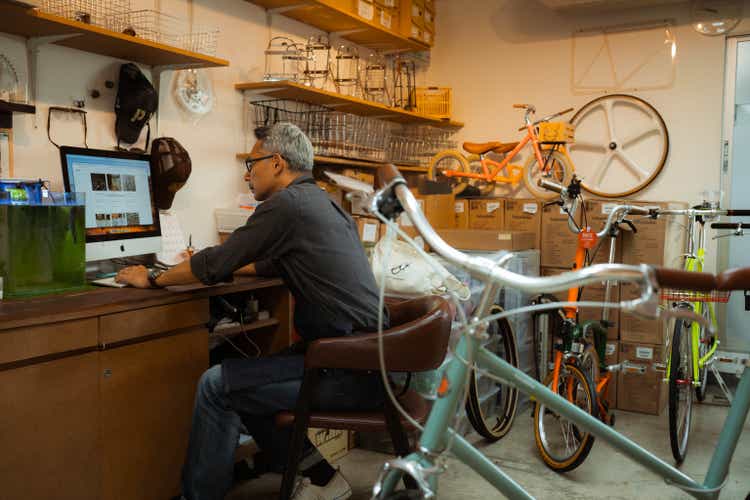 At first glance, this may seem like the perfect time to buy Shopify (NYSE:SHOP) stock. The company appears to have addressed its main bearish thesis through its resolution with Amazon's (AMZN) Buy With Prime. The company has been able to deliver accelerating GMV growth on top of their price increases, leading to incredible revenue growth considering the macro environment. Like many tech peers, management has shown a strong commitment to improving profitability and cash generation, having strung together several quarters of increasingly positive free cash flow. Yet with the stock performing strongly as of late, I am growing concerned about the valuation, as certain recent developments have arguably dampened the long term picture. I reiterate my neutral rating, as even the best news can be priced in at the wrong price.
SHOP Stock Price
SHOP has been a strong performer over the last year, though it remains far below all-time highs. That latter point might not be so relevant, given that the stock had traded to unrealistic valuations based on extrapolating pandemic trends.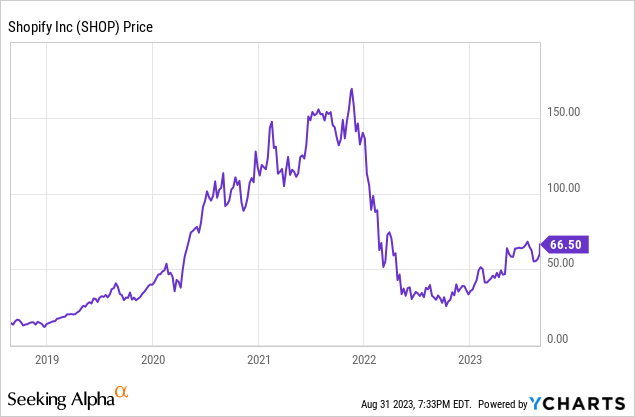 I last covered SHOP in June where I explained why I was downgrading the stock from buy to neutral due to AMZN risks. While the headline Buy With Prime risk has been resolved, long term risks remain and do not appear to be reflected in the valuation.
SHOP Stock Key Metrics
In its most recent quarter, SHOP delivered 31% YOY revenue growth, powered by 35% merchant solutions growth.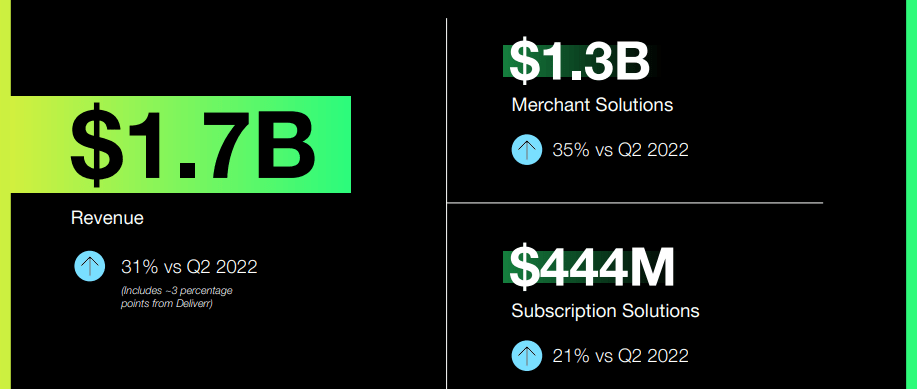 Gross merchandise volume ('GMV') grew at a slower but still impressive pace at 17%. The reason for the discrepancy between GMV and revenue growth is due to the company still benefiting from price increases. That 17% GMV growth rate is particularly impressive considering that the company generated 15% YOY growth in the first quarter and had seen GMV growth in the 11% range for much of last year. The company is clearly benefiting from the fact that it is now lapping easy comparables, but presumably the macro environment may eventually improve which may further power acceleration.
SHOP also delivered on the bottom line. Adjusted operating income stood at $146 million, up from an adjusted operating loss of $42 million in the year prior. Free cash flow stood at $97 million, compared with negative $87 million in the year prior. The rising interest rate environment may have crushed the stock price from all-time highs, but management has clearly gotten the memo that the growth-at-any-cost party is over.
SHOP ended the quarter with $4.8 billion in cash and $3.9 billion in net cash.
Looking ahead, management has guided for third quarter revenues to grow in the "low-twenties" or "mid-twenties" after excluding the impact from selling off the logistics business. Management is guiding for cash flow generation to improve even further, likely due to operating leverage. The company's large layoffs may have offered a one-time reduction to operating expenses, but management's shift to disciplined growth offers long lasting implications for operating leverage.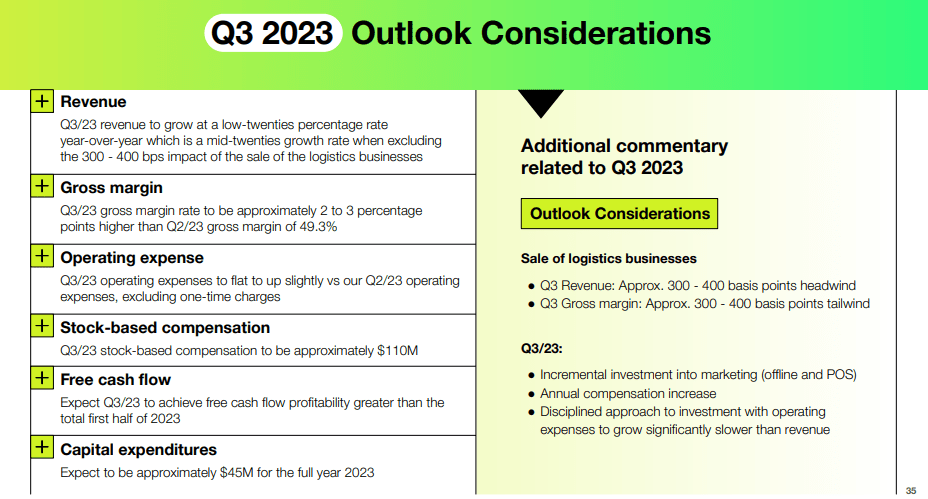 On the conference call, management noted that they are not seeing elevated churn as a result of their price increase, but also noted that many merchants "largely remain on monthly plans versus moving to annual." That latter point seems to suggest that some merchants are leaving open the possibility of moving elsewhere, though management appears more focused on the increased cash flow from the monthly plans.
Analysts were understandably interested in management's views regarding long term take rate and margin expansion, but management did not give clear answers on this front. Management merely stated that the third quarter guidance offers a "pretty good snapshot for what the future looks like based on the removal of logistics." In regard to take rate expansion, management cited their continued development of B2B products, but I personally am of the view that absent logistics, SHOP is sacrificing on their long term take rate opportunity.
Shopify and Amazon Buy With Prime Partnership
Subsequent to the quarter's end, SHOP and AMZN announced a partnership in which Buy with Prime would become an option on Shopify merchant checkout, with merchants having the option to use the AMZN fulfillment network but all payments going through the SHOP system. That announcement was received very positively by the market, as some investors may have been fearful that the two would not come to any agreement whatsoever, leading to lower conversion rates for SHOP. This partnership appears to have some near term benefits for both firms – SHOP may see greater conversion rates due to the strong reputation of Buy with Prime and their fulfillment speeds. While details of the deal were not released, I assume that AMZN earns a significant commission from each sale. Over the long term though, I suspect that this partnership benefits AMZN to the expense of SHOP, as AMZN may be able to increase its Prime subscriber base over time.
Is SHOP Stock A Buy, Sell, or Hold?
SHOP is an investment thesis on the enablement of e-commerce. SHOP offers a complete e-commerce platform, helping merchants manage all their various marketplaces as well as direct-to-consumer platforms.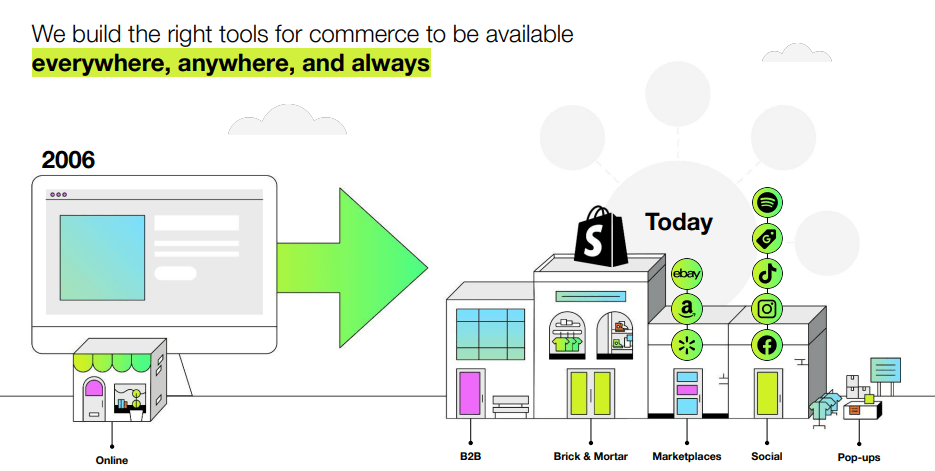 SHOP expects generative AI to bolster its product offerings, for now at least helping with text and predictive tasks.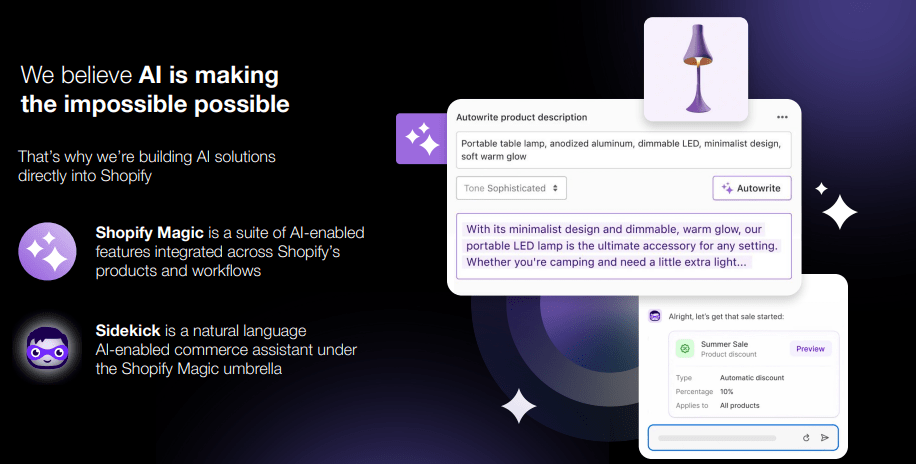 The long term and near term outlooks are compelling here, but that still does not explain the expected growth. Consensus estimates have earnings doing a 10x through 2032.

That reflects substantial operating leverage, given that revenue is expected to grow by half that pace.

I am of the view that consensus estimates are very aggressive, as they imply very gradual deceleration in revenue growth rates and a 20.4% net margin in 2032 (implying roughly a 40% net margin based on gross profits assuming 50% gross margins). Even so, we can evaluate the stock based on these ambitious estimates. Assuming the stock trades at 25x earnings in 2032, the stock might end up at around $138 per share by then, implying 8% potential annual returns over the next 9.4 years. 25x earnings is arguably a fair if not rich valuation, as assuming 13% revenue growth exiting 2032 that implies around a 2x price to earnings growth ratio ('PEG ratio'). Sure, perhaps one believes a 3x PEG ratio is warranted, but at 40x earnings, the stock would still deliver only 13.5% annual potential returns through 2032 – not enough given the aggressive estimates and exit multiple.
The above discussion indicates that under very bullish scenarios, SHOP may be able to deliver returns roughly in-line with those of historical market averages. But I am of the view that SHOP may struggle to realize the margin expansion expected by the Street. In my prior bullish articles on the company, I had projected significant take rate expansion based on the company building out a fulfillment network and marketplace (Shop app) to rival those of AMZN. With this latest Buy with Prime partnership, I struggle to see how AMZN does not end up becoming a bigger and bigger component of overall orders. That may eventually lead AMZN to demand a greater commission fee from the partnership, pressuring overall take rates. Then we almost must consider that as AMZN further increases its edge in logistics, it may be able to capture more and more overall e-commerce market share.
I would not go so far as to say the stock is a short, as the problem is more about the valuation and less due to business model quality. This AMZN partnership is likely to boost growth in the near term due to increased conversion. I note that if SHOP is able to double its overall take rate, then based on this last quarter's results alone, it would have generated a roughly 50% net margin based on gross profits – illustrating the path to above-market upside over the long term. But to derive a higher overall take rate, the company would have to drive a large amount of sales through its Shop app as well as charge an elevated take rate from those sales. That would represent a world where one chooses to start their search on the Shop app instead of Amazon.com, but I find such a result to be unlikely given the deep advantages that AMZN's fulfillment network brings. Perhaps SHOP may seek to use AMZN's fulfillment network to increase the attractiveness of its Shop app, but I would similarly expect AMZN to earn the lion's share of the profits in that case as well. This is not to say that such a scenario is impossible, but with the stock price trading where it is today, the market appears to be pricing in a likelihood for that bullish scenario that is far higher than what I'm comfortable with.
Between the full valuation based on aggressive estimates, as well as my doubts that the company can achieve the 40% net margin implied by the Street, I must reiterate my neutral rating.