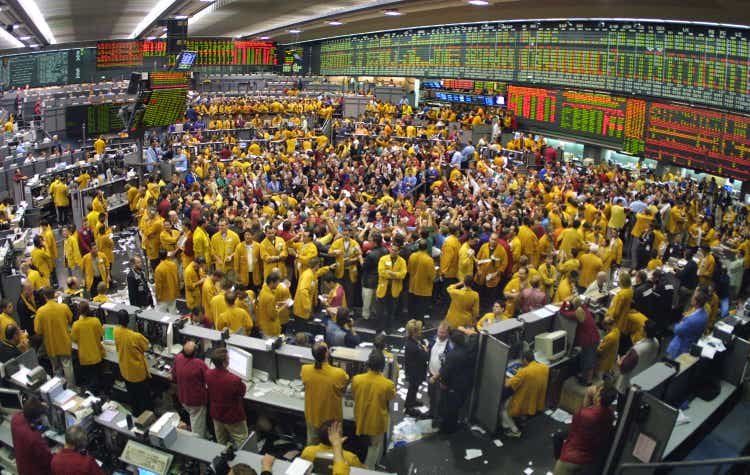 Research Brief
In today's analysis, I will be covering CME Group (CME), which is in the financials sector, and financial exchanges subsector.
Since my last rating in mid-May, which gave this stock a buy rating, the share price has climbed over 11%.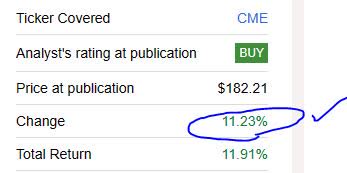 Since then, the company had its most recent quarterly earnings result on Jul. 26, for Q2, and that will be the reference data used in some parts of today's analysis, with the goal of deep-diving into some of that critical data to determine if the previous rating should stand or not, using my updated rating methodology.
For readers less familiar with this company, which at its core is the parent company of the Chicago Mercantile Exchange, some relevant points to mention from their website are: roots go back to the 1800s, considered the world's leading derivatives exchange, enables trading of futures / options / OTC markets. Also has a leading position in data solutions.
A few key peers of this company include Intercontinental Exchange (ICE) and London Stock Exchange Group (OTCPK:LNSTY).
Research Methodology
To determine a holistic rating for this stock of buy, sell, or hold, I split my research into the following 5 categories: dividends, valuation, share price, earnings growth, capital strength.
Each category has equal weight. If I recommend the stock in at least 4 of 5 categories, it gets a buy rating. 3 out of 5 will get a hold rating, and below that earns a sell rating.
This process is aimed to simplify things, focus on financial fundamentals, and to analyze an equity from multiple angles.
Dividends
In this category, I will discuss whether this stock should be recommended for dividend-income investors, by analyzing official dividend data from Seeking Alpha.
As of the writing of this article, the forward dividend yield is 2.17%, with a payout of $1.10 per share on a quarterly basis.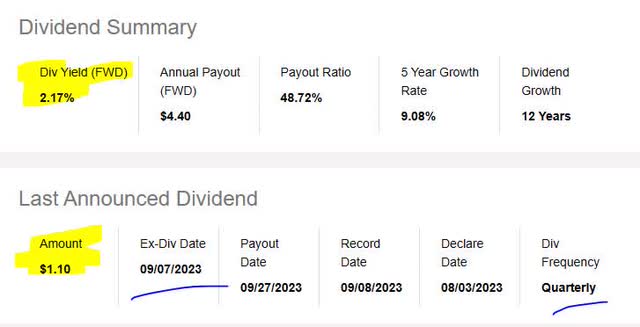 In comparing the yield vs the sector average, this stock is below the sector average by 44%. I think that this could be considered a modest negative for the dividend investor to think about in terms of this stock vs the overall sector it is in, if comparing the two.

Next, in comparing the current dividend to the last 5 years, this company has been on a steady uptrend when it comes to dividend growth. I think this is also a positive for dividend investors as it points to the historical capacity of this company to return capital back to shareholders, though not necessarily a guarantee of future dividends.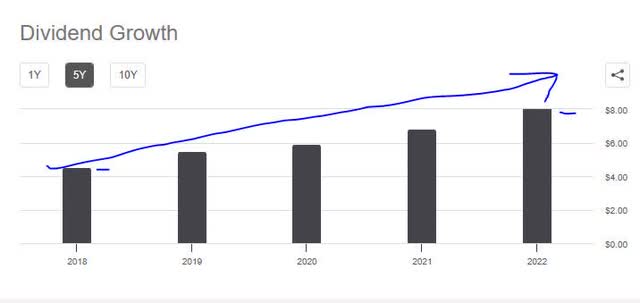 Also worthy to mention, as the table below shows, is that this stock pays a "special" dividend each year, in addition to regular dividends. Since not that many companies do this, those that do stand out to me, and perhaps to some of my readers who were not aware of this.

So, although the dividend yield is well below the sector average, I think this stock makes up for it by having 5 years of positive dividend growth, as well as offering a special dividend to shareholders along with the regular quarterly one.
Based on the evidence found, I would recommend this stock in the category of dividends. In the section on share price later on, I will show how annual dividend income can play a role in putting together my investment idea for this stock.
Valuation
In this category, I will discuss whether this stock presents an attractive valuation for investors who are value-oriented. To analyze this, I will use today's valuation data from Seeking Alpha and specifically the forward P/E ratio and forward P/B ratio.
This stock's forward P/E ratio shows the price being 23.46x forward earnings, which is 141% above the sector average that is hovering closer to 9.8x forward earnings. I am looking for a valuation in a range that is up to 30% below the average or in line with it and up to 5% above average. In this case, this stock is not reasonably valued on price-to-earnings but seems overvalued by a lot, without real justification for it when the sector is below 10x earnings.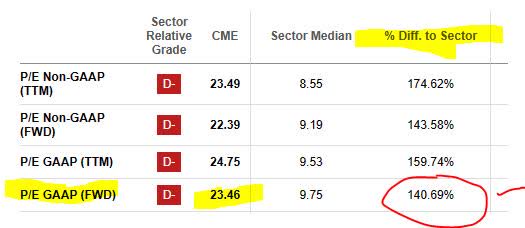 This stock's forward P/B ratio shows the price being 2.66x forward book value, which is 162% above the sector average that is hovering around 1x forward book value. My benchmark is a valuation in a range that is up to 30% below the average or in line with it, and up to 5% above the average. In this case, this stock is not reasonably valued on price-to-book value but again seems overvalued in this metric. I don't see the justification for paying almost 3x forward earnings on a stock in this sector.

Since this stock is appearing overvalued on both ratios, I would therefore not recommend it in the category of valuation, based on the evidence researched.
Share Price
In this category, I will decide if the current share price presents a value buying opportunity or not.
First, I pulled the most recent yChart as of this article writing. It shows a share price of $202.71 and compares it to its 200-day simple moving average "SMA" of $184.32, tracked over the last year. *Note: since share price can fluctuate wildly during the trading day, keep in mind this is not real-time info below but as of the date/time showing on the chart.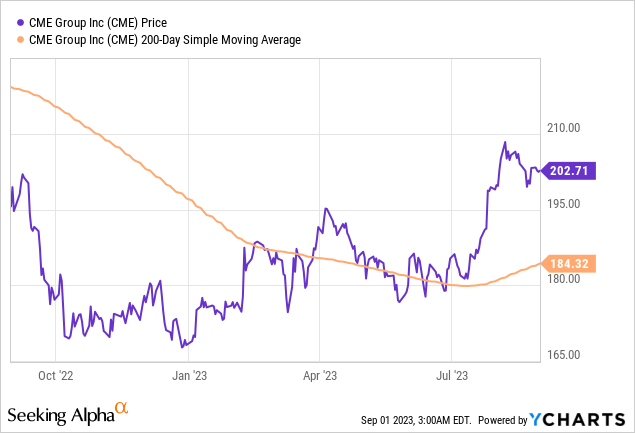 Then, I created a simulation to test my investing idea: buy 10 shares at current share price, hold 1 year to earn a full year of dividend income, then sell in Aug. 2024 to achieve capital gains.
A goal of +10% return on capital is my target. At the same time, I established a risk tolerance to anticipate capital loss as well, so a negative -10% return is also tested. The following spreadsheet describes this idea:

In the above test, the first sell price is +10% above the current 200-day SMA, and the 2nd price is -10% below the current SMA. The first scenario did not meet my goal for return on capital, and the 2nd sell scenario did not stay within my risk tolerance for negative return.
Because the two trading simulations came short of the profit goal and exceeded risk tolerance I would not recommend the current share price as a buying opportunity, considering it overpriced.
This investing idea, however, may not fit all investors' portfolio goals or risk tolerance, and should only be considered an oversimplified way to think about this stock as a long-term investment and in terms of potential gains as well as potential losses that could occur. The 200-day simple moving average is being used as a longer-term trend indicator to smooth things out, and to try & predict what percent above or below this line a potential future sell price may occur.
Earnings Growth
In this category, I will analyze the earnings growth trend for this company over the last year, using data from the income statement on Seeking Alpha as well as the most recent company quarterly earnings release, presentation and commentary.
First off, I like their top-line figures for starters, with YoY revenue growth being solid.

Second, the bottom line impressed as well, with net income seeing YoY growth as well, which I believe is a positive sign of a company that can manage its expenses effectively besides just growing revenue.

For a detailed trend, consider that in the chart below the earnings-per-share has also seen YoY growth from the same quarter a year ago, along with revenue growth, the chart indicating an upward trend.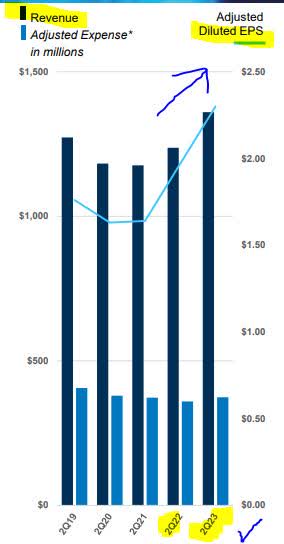 In trying to make sense of what was giving this firm such a tailwind, we can turn to comments by CEO Terry Duffy in his Q2 commentary which was reassuring I think:
Given ongoing uncertainty in both macroeconomic and geopolitical environments, market participants continued turning to CME Group risk management products and services in Q2, with particularly noteworthy volume increases across our interest rate, commodity and options contracts.
Unlike banks or asset managers and insurance firms that I have covered lately in the financial sector, CME is among a unique set of firms as an operator of financial exchanges themselves, so essentially doing especially well when trading volume increases, regardless of who is on the winning or losing end of the trade, in a nutshell.
Also, bonus points to this firm for having a highly diversified revenue base to count on, since there are so many types of derivatives and futures contracts being traded daily that the scale of this business is enormous. Also important to mention, is the value of the mountains of "data" this firm makes use of, and also can make money from.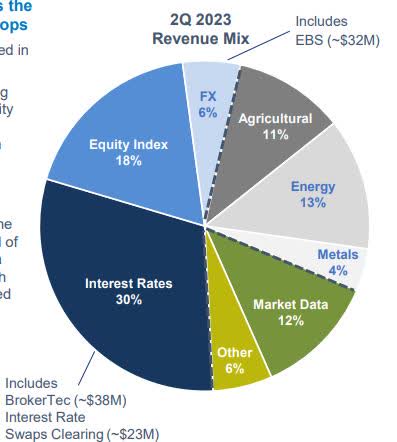 Based on the evidence, I would recommend this stock in the category of earnings growth, and looking forward I think if trading volumes continue to increase it will just continue benefiting these large exchange operators so I am confident about earnings in Q3 if that volume trend continues.
Capital Strength
In this category, I will analyze the capital strength for this company using data from the company recent quarterly presentation and earnings release, that shows financial viability of this firm.
The company's comments in the Q2 presentation shed some light into their situation in this category:
As of June 30, the company had ~$2B in cash (including ~$120MM deposited with Fixed Income Clearing Corporation which is included in other current assets) and $3.4B of debt. The company paid dividends during the second quarter of approximately $400MM. The company has returned over $21.5B to shareholders in the form of dividends since implementing the variable dividend policy in early 2012.
This tells me it appears flush in cash, but also continues its commitment to return excess capital back to shareholders via dividends. I already mentioned earlier how dividend income can play a role in an investment idea.
Also relevant to investors is the fact that this firm continues to have positive equity, with assets far exceeding total liabilities. For instance, as of the end of Q2 it had total assets of $151B and total liablities of $123.4B, creating a positive equity of around $27.8B. This is the meat & potatoes type of financial fundamentals I care about and think my readers should too, and be poring over the balance sheet each quarter.
In addition, unlike banks, financial "exchanges" are not really worried about a run by depositors. Just think about it.. would there even be a stock market, an options market, or derivatives & futures market if not for some type of regulated exchange and one able to be managed on a large scale? Perhaps, but what kind of market would it be.. perhaps something like in the Wild West? I welcome your comments on whether you agree that exchanges are part of the critical financial infrastructure of the modern world & economy.
Based on the evidence, I would recommend this stock in the category of capital strength, and I think CME will continue to show strong numbers in this category even in Q3 and beyond.
Rating Score
Based on passing 3 of my 5 rating categories above, this stock earned a neutral / hold rating today. This rating is less bullish than the consensus from analysts and in line with the quant system, essentially agreeing with it, as shown by the graphic below.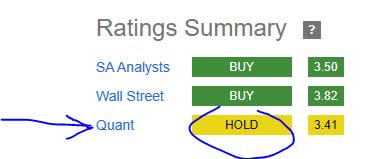 Risk to my Outlook
My neutral outlook on this stock could be impacted by two things that could make my rating too overly cautious and not bullish enough.
For one, this company has a history of earnings beats in the last 4 quarters, and if it repeats this for Q3 we could see the bulls react and drive the price even further. We see in the price chart I provided earlier that the price did react favorably to the Q2 earnings beat, before later pulling back slightly.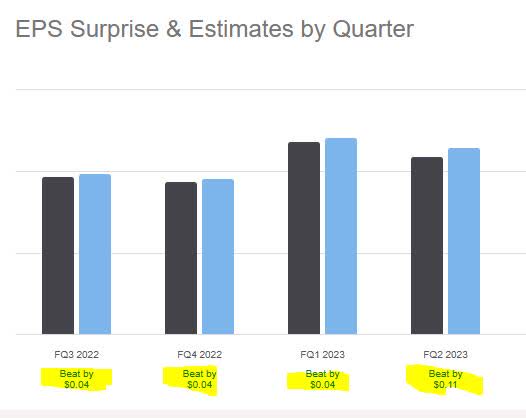 The second thing that could cause the bulls to add more tailwind to the share price, is recent articles like the Sept. 1st story by Nasdaq touting this stock's above-average share price growth this year.
According to the article:
CME shares have gained 20.6% year to date, outperforming the industry's increase of 15.6%. The Finance sector increased 6.3% and the Zacks S&P 500 composite gained 18.6% in the same period.
Although some of these factors mentioned could convince investors and analysts to continue being bullish on this stock, I still don't think a "buy" rating is warranted right now and I have demonstrated already my argument for the high valuation and overheated share price, which I believe savvy investors will also recognize.
However, if the scenario does go more bullish in the near term, this could also favor those already "holding" this stock from an earlier price point, so my hold rating would also be favorable. If you happened to be one of those that bought this stock during the March dip in the financials sector, when this was trading below $180, just do the math and see where you are at now with this equity being past $200!
Analysis Summary
To wrap up today's analysis, let's go over the key points discussed:
This stock received a hold rating today, with neutral sentiment.
Its positive points included: dividend yield, earnings growth YoY, capital strength.
Headwinds: valuation, share price.
The risk of continued earnings beats and bullish recent media stories about this stock has been addressed.
Concluding Thoughts and Downside Risk:
I continue to keep the exchange operators like CME Group on my watchlist and my current sentiment on this one remains positive yet cautious.
We talked about potential upside risk to my rating, so I will briefly mention what I think could cause downside risk, making my hold rating overly optimistic when some may think a sell rating is more warranted.
I believe the downside risk to a business like CME Group would be a prolonged decrease in trading volume, since this business depends so much on transactions revenue. This could be triggered by a prolonged recession, one in which less trading is done and more cash gets hoarded rather than invested.
A recent August 2023 study by global consulting giant Bain & Co. revealed some insights that should make investors & analysts, including myself, at least somewhat conscious of a potential recession.
According to the study:
The world remains in a period of immense economic uncertainty, with the consensus shifting rapidly in global markets. Economist polls have suggested an elevated likelihood of a recession in the US and eurozone for nearly a year, though the level of conviction has varied.
So, my hold / neutral rating stands, and for this stock I will be in a "watch & wait" mode for the time being.