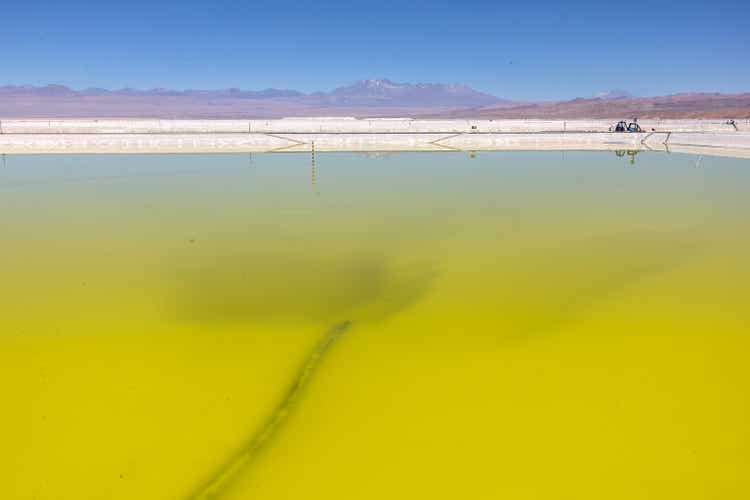 Sociedad Quimica y Minera de Chile S.A. (NYSE:SQM) investors have suffered since SQM's upward momentum topped out in early July before retracing nearly all its gains from its April lows.
I assessed that the selloff on SQM over the past two months was steep, likely spooking dip buyers who loaded up at its April capitulation to exit. However, the selling pressure seems to have abated this week, allowing investors another opportunity to consider adding exposure if they missed adding on SQM's April lows.
SQM's recent second-quarter or FQ2 earnings release did little to assure investors about the long-term uncertainties regarding its contract with the Chilean government. While I understand that little could be unveiled currently as negotiations are ongoing, it could discourage long-term value investors from returning aggressively, justifying substantial geopolitical risks in its valuation.
The lithium mining leader's economic moat is predicated on the low-cost advantages of its assets at the Salar de Atacama. However, the company's rights are due to expire in 2030, as the government nationalized the industry. As such, investors must be prepared that the risks of the government taking its majority stake at a lower-than-anticipated price cannot be ignored.
SQM's Q2 release underscored the growth normalization in the underlying lithium market since its highs in 2022. Notably, SQM posted a revenue decline of 21% and a decline in adjusted EBITDA, reaching 34% YoY. The company posted remarkable lithium sales volume in Q2, "surpassing 43,000 metric tons." However, the significant market volatility that hampered the progress in underlying lithium prices has dampened SQM's ability to maintain its revenue growth from the past year.
Management also reminded investors to embrace market volatility when investing in SQM, as the company's "sales contracts are linked to price indices, resulting in realized sales prices moving with the market." In addition, there's a "certain lag based on contract terms," resulting in discrepancies between the spot prices and the company's contractual prices. However, SQM highlighted that its strategy benefited the company in 2022, allowing the "capture of price premiums in the market last year."
As such, I believe it's necessary to consider the company's growth opportunities in the secular growth of the EV market while considering underlying risks to its execution.
Besides the need for investors to reflect significant geopolitical risks on SQM's valuation, holders must also consider the disruptive impact of direct lithium extraction or DLE. According to a recent Bloomberg article, the technique holds significant promise, helping to accelerate lithium supply growth.
Based on Standard Lithium's (SLI) techniques, the company "can produce a lithium compound within days." Compared to the estimated 12 to 18 months needed for the traditional evaporation method used by SQM and its leading mining peers, it seems to be a disruptive innovation. It's likely too early to ascertain whether DLE could be commercialized at SQM's scale. As such, I believe the current consensus that SQM can maintain its market leadership is a viable one and thus undergirds the sustainability of its economic moat.
SQM sellers have digested most of its gains from its April lows, but buyers were assessed to have returned to help stem a further decline this week.
As such, buyers seem ready to defend SQM at the current levels, providing robust support to investors looking for another fantastic opportunity to add exposure.
Its highly attractive "A+" valuation grade (assigned by Seeking Alpha Quant) suggests long-term value investors should find it appealing. In addition, more dip buyers could be attracted to return subsequently if SQM can consolidate constructively at the current levels.
Rating: Maintain Strong Buy. Please note that a Buy rating is equivalent to a Bullish or Market Outperform rating.
Important note: Investors are reminded to do their due diligence and not rely on the information provided as financial advice. Please always apply independent thinking and note that the rating is not intended to time a specific entry/exit at the point of writing unless otherwise specified.
We Want To Hear From You
Have constructive commentary to improve our thesis? Spotted a critical gap in our view? Saw something important that we didn't? Agree or disagree? Comment below with the aim of helping everyone in the community to learn better!