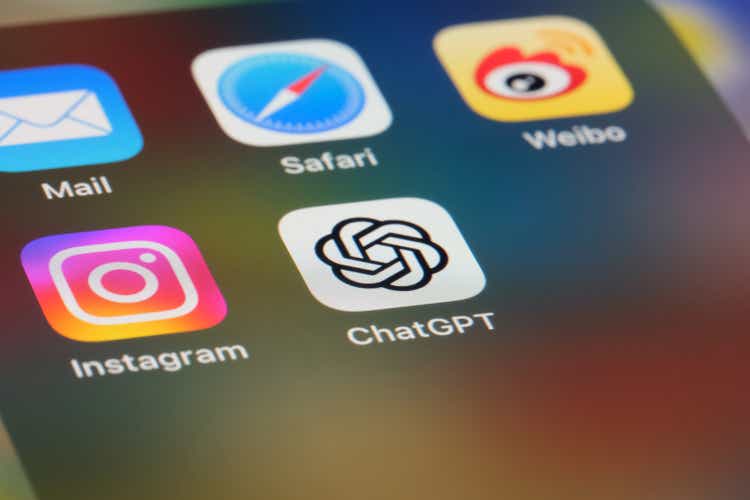 Investors in AI-hype train C3.ai (NYSE:AI) have been remarkably resilient. My previous update on C3 (Sell rating) panned out as AI underperformed the S&P 500 (SPX) over the past three months.
However, the extent of the underperformance was less significant than I had anticipated. However, AI still fell nearly 43% from its June 2023 highs before buyers returned to defend the lows in August.
Given the uncertainties underpinning its generative AI monetization and unprofitable business model, I anticipated AI to fall further. However, it seems buyers are willing to give CEO Tom Siebel and his team the benefit of the doubt, given its commitment toward achieving profitability exiting the fourth quarter of FY24 or FQ4'24).
As such, AI has remarkably regained its medium-term uptrend bias, suggesting further potential for gains if buying momentum follows through. Despite that, I assessed that investors still need to be cautious about pricing too much near-term hype over C3's ability to monetize its generative AI products.
The company held an Investor Day at the end of June to demonstrate its turnkey enterprise AI applications. Management shared helpful information and discussed how its platform has the potential to scale beyond its focus on oil & gas rapidly. Notably, C3 argued that its systems could mitigate the randomness in outputs from the underlying LLMs, fine-tuning applications to deliver "deterministic" responses for its customers. As such, it could help allay companies' fears in deploying generative AI applications, particularly in industries where accuracy is highly critical.
In addition, C3 articulated that as a SaaS provider, its gross margins aren't affected by the increased use of generative AI since it isn't providing cloud computing infrastructure services. In contrast, C3 believes its applications complement the leading hyperscalers, notably Google Cloud (GOOGL) (GOOG), which could bolster cross-selling momentum.
I applaud management for clarifying its confidence in the company's improved ability to monetize generative AI. However, the lack of an enhanced profitability ramp suggesting near-term monetization potential unveils the uncertainties clouding C3's generative AI strategies.
Analysts' estimates indicate that C3 is expected to post adjusted EPS profitability in FY25, in line with management's outlook. However, the goalposts haven't shifted since its previous earnings conference, suggesting investors have likely baked in the optimism. Despite that, AI's valuation probably isn't aggressive, assigned with a "C" valuation grade by Seeking Alpha's Quant.
Therefore, it seems reasonable that buyers have recently attempted to help stage a near-term bottom in AI at a critical support zone, suggesting a consolidation zone is looking increasingly likely.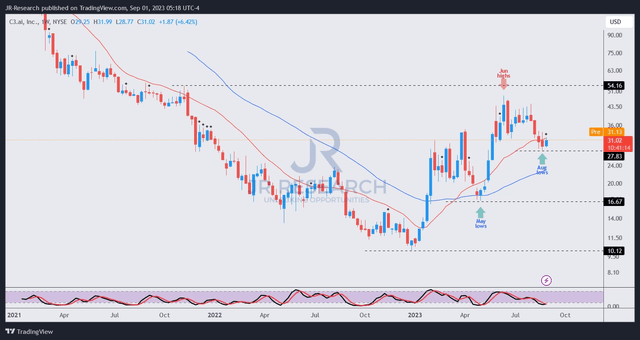 Buyers returned over the past three weeks, helping to sustain a consolidation zone at the $28 level. As such, AI has recovered robustly from its downward bias in 2022, with its lows formed in December 2022.
The ability for buyers to undergird AI's bottoming process in May 2023 must be highlighted, as it was formed at AI's 50-week moving average or MA (blue line). As such, it indicates buyers were willing to buy AI's significant dips, forming a higher high market structure and stemming a further decline toward its lows in 2022.
As such, with C3 buyers looking increasingly confident of sustaining AI's upward bias, I believe my Sell thesis is looking tenuous moving ahead. Therefore, I consider my thesis as having played out accordingly as AI fell toward its August lows.
With that in mind, I move back to the sidelines as I assess the battle between the Bulls and Bears at the current levels.
Rating: Upgraded to Hold. Please note that a Hold rating is equivalent to a Neutral or Market Perform rating.
Important note: Investors are reminded to do their due diligence and not rely on the information provided as financial advice. Please always apply independent thinking and note that the rating is not intended to time a specific entry/exit at the point of writing unless otherwise specified.
We Want To Hear From You
Have constructive commentary to improve our thesis? Spotted a critical gap in our view? Saw something important that we didn't? Agree or disagree? Comment below with the aim of helping everyone in the community to learn better!