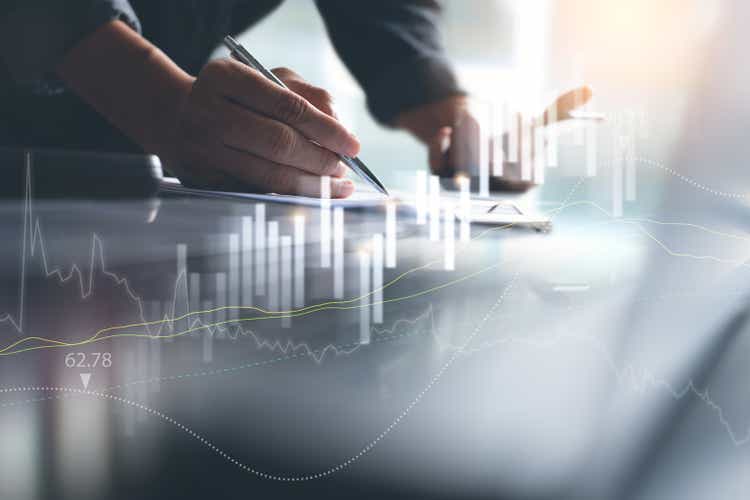 As markets prepare to roll into autumn, Ben Gossack, Portfolio Manager at TD Asset Management, discusses the importance of following an investment process even amid the fear of missing out.
Greg Bonnell: Well, as we get towards the end of summer, it can be a good time for investors to reflect on what's been happening in the market so far this year, and also to sharpen your pencils, prepare for the rest of this year. Joining us now to discuss Ben Gossack, portfolio manager at TD Asset Management. Ben, great to have you with us. Thanks for coming in on this last week of August.
Ben Gossack: Well, I appreciate our chats, so thanks for having me back.
Greg Bonnell: Let's talk about, OK, the year that we have had, and the fact that we're in August right now, and people want to know what's going to happen in the fall. But it can — you know, thinner trading volumes. People not at their desks. Pretty hard month to try to figure out what's going on. What should we be thinking of it?
Ben Gossack: Well, summer is short and fleeting in Canada. So I encourage people to get out there, spend time with your family, especially now we're into the last week of August — arguably, I could say the last week of summer.
But August can be a tough time. Trading volumes are seasonally low. We do get a lot of movements in stocks. And people will try to build narratives, or they'll think that certain things are going. It's very difficult to detect if there's a good signal.
I find for August, great time to catch up on projects, do some reading, work on some research, and then prepare for the inevitable September, where everything sort of comes about, and everyone wants to know where things are going.
I would say, one interesting thing that I did in my summer — "what did you do in your summer" for my summer report, I was going back to, we're getting a lot of headlines on China, a lot of negative headlines on China, all very justified. But I was thinking, it wasn't that long ago, especially at the beginning of this year, we were talking about how amazing China was going to be, how we were reopening. And I started to look back and see what happened and would we have been able to detect what we're seeing today in terms of the headlines and the negative momentum.
Greg Bonnell: Yeah, I think you have some pictures to show us in terms of that — of that work. You're not only — not only have a story to tell us about your summer homework but some pictures as well.
Ben Gossack: Why don't we queue that up?
Greg Bonnell: Let's take a look, here. Shanghai Stock Index, Composite Index. What is this telling us?
Ben Gossack: OK. So I think I've come on your show many times. We talk about fractions. I love fractions. Kids are going back to school. They're going to do math. If they say, why am I learning about fractions, you can tell them, it's because it could make you money, and therefore will pay more attention to fractions.
We are looking at — you're looking at the Shanghai Composite Stock Index. So these are the local stocks in China. The upper chart is the Actual Price Index. And then below it is our fraction. We'll get to that in a second. But I want people to focus on the upper half of this chart. I drew a big gray arrow.
So halfway through November, you kind of see the bottom in the chart, and we started to get rumors that the very strict COVID-19 policies might get softened. And I think it was around early December where we saw a change in tone. And then we just saw a rush of euphoria.
And you can see the stock chart starts to move — move up, and we get sort of a lot of strength.
Around this time, Greg, everybody's pitching every China idea across every sector. So it could be materials. Maybe they're going to do some more infrastructure. There's pent-up demand. People have been sort of locked down.
Now there's that revenge spending that we all experience in terms of Western developed economies. So transportation. You looked at the Macau gaming stocks. They were up 100% off their lows. So there was this sort of euphoric fear of missing out, need to follow the herd. And so there was a real push into China.
If we look at the fractions, that's the lower half of our chart. Again, I was kind of playing with our charts the other week, and I was shocked by what I saw.
So what we're doing is we're taking that same Shanghai Composite Index, the price, and we're dividing it by MSCI EAFE. So that's the developed Europe and Asia. And the reason why I picked that as our denominator is typically when you're allocating capital outside of North America — and we'll take it from the US or Canadian investor — you're thinking about MSCI EAFE as your sort of pool to sort of pick stocks in. And if you are going to go out into emerging markets, you're probably going to reference that investment versus what you could have done in the developed, we'll call it, western Asian economies.
And so what you can see is we do have a move in Shanghai Composite, but the line is actually very horizontal and steady relative to the MSCI EAFE. And what that tells you is that there was no outperformance. The local investor was not giving any credit to any of these Chinese companies in totality, to say that there was relative outperformance.
Now, this is with the benefit of hindsight. Again, we're all looking at these price charts. We're seeing all those movements. Our minds are calculating numbers and performance.
Greg Bonnell: You said you get the fear of missing out. People get piled into the trade.
Ben Gossack: Exactly. And what this was telling you — and again, I do encourage people to look at things on a relative basis, on a fractional basis. It tells you that — and it's very possible the benefits were to be had elsewhere, not in China. Maybe it was in Europe or other parts of Asia were going to benefit more from China reopening. We could make that narrative.
But for the most part, piling into China, and other China — I call it the N plus 1 China trade — was not going to add value. And what we've seen is there was that move.
What's also very interesting about that chart, so we have that horizontal line. And then it breaks at the end of March and starts to underperform. But if you're only looking at the Shanghai Composite Index, that continues to try to push till maybe about April, May. It kind of goes sideways.
And it's only until this month, given some bad — we — they won't report youth unemployment. We're seeing deflation. There are some moves in terms of stimulating the economy, but you also have to have demand for capital. We're not seeing that.
And so now you see a breakdown in the chart. But that breakdown had probably started already in March, plus you had no relative outperformance from when the policy started to come down.
Greg Bonnell: All right. So those graphs, the fractional process you talked about there give us a little bit of insight into how do you think about the world, how do you think about investing. Take us through the process a bit more and then what we might be able to think about the fall.
Ben Gossack: Right, so every time we end the show, I think you always ask me, any final thoughts, any closing words. And I say, no matter what's going on in the market, always stick to your process. And so I thought, now that we're going back to school, why don't we talk a little bit about our process, my process.
And look, I like a good FOMO situation too. That's just me. That's my personality. I have to manage that. But it's our process that helps keeps us — manage your fear and your greed, gives you structure, and helps to deliver value over time.
So I thought I'd start with the building blocks of our process. And so what we're effectively looking for is high-quality companies that have a cash flow stream and can compound that cash flow stream. We think if you have compounding cash flow streams, that can create value and outperformance.
In order to do that, we think there are four building blocks. You need to have a company that has a competitive advantage — so, something they do better than others. And that can create the annuity stream. So I'm making money. But if I want to compound, I need to grow.
So the next step is, the company needs to have a growth strategy. And that could just be new products, new services, entering new markets. Maybe it's a shift in how they manufacture. And so we're going to see free cash flow accelerate because they changed the manufacturing process, or they're doing more software versus hardware. We try to understand where the growth is coming from.
Fundamental excellence. We want a well-managed company. We want management allocating capital in the most efficient way, getting returns on it.
The last thing I wanted to talk about is this thing we called underestimated free cash flow. So if you think about a company generates cash flow from operations, then they have to invest some capital back in the business to keep it going. We call that capital expenditure. And whatever is left over is free cash flow. What management does with that free cash flow can — directly correlated with how the stock performs.
If you can find a company that is compounding, we see, time and time again, it gets underestimated by the market. And it's this unusual feature of human beings, we like to model the world in a very linear fashion. And if you look at any model that's trying to capture the financial performance of any company from any, let's call it, banking institution, they're always managing on a linear fashion. And so if you grew revenues 10% this year, the base got bigger, so maybe you can only grow 7%, and then 6%, and then 5%.
But if you're compounding, it's non-linear. And that's what creates the surprise. And so that's the building blocks in terms of how we find our stock.
So, yes, you can have a China reopening trade. Maybe Japan looks exciting because it's hitting levels we haven't seen since the '90s. Maybe it's about seven stocks that the market seems to be obsessed about. For us, no matter what's going on, we start with the four building blocks.