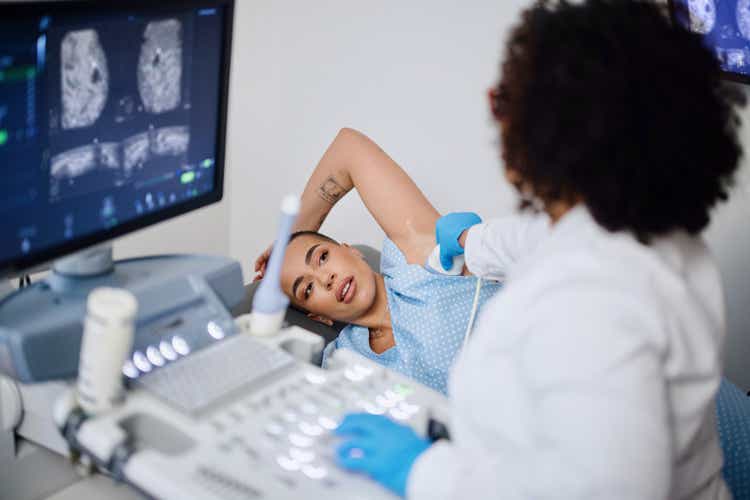 Introduction
Arvinas (NASDAQ:ARVN) is a clinical-stage biotech firm pioneering therapies to treat severe diseases by degrading disease-causing proteins. Using their unique PROTAC Discovery Engine, they design PROTAC targeted protein degraders to utilize the body's natural disposal system, aiming for advantages over traditional therapies and gene medicines. They specifically target proteins previously deemed 'undruggable,' with a particular emphasis on areas like oncology and neuroscience. Current clinical programs include treatments for specific breast and prostate cancers.
The following article discusses Arvinas' financials, therapeutic initiatives, particularly for ER+, HER2- breast cancer, and an investment recommendation.
Q2 Earnings Report
Looking at Arvinas' most recent earnings report, as of June 30, 2023, the company had $1,044.3M in cash and equivalents, down by $166.5M since December 2022. This decrease was mainly due to operational cash use of $172.9M and other minor expenses, somewhat offset by gains and stock option exercises. Research and Development expenses rose by $28.1M to $103.4M. General and Administrative expenses increased slightly to $25.7M. Revenues surged by $20.7M to reach $54.5M for the quarter. The net loss narrowed to $66.6M, and the firm's cash reserves are expected to sustain operations until 2026.
Cash Runway & Liquidity
Turning to Arvinas' balance sheet, a combined total for assets such as 'cash and cash equivalents', 'marketable securities', and 'investments' amounts to $1,038.8M as of June 30, 2023. For the first half of the year, the company's net cash used in operating activities was $179.9M, resulting in an estimated monthly cash burn of roughly $30.0M. With the combined assets calculated, this provides Arvinas a cash runway of approximately 34.6 months based on the current rate of spending. It's important to note that these values and estimates are predicated on past data and might not accurately predict future performance.
In terms of liquidity, Arvinas holds a robust position, given its considerable cash and marketable securities. The company has a nominal debt with long-term debt listed at $0.9M, indicating a fairly low leverage. With a healthy liquidity status and minimal debt, Arvinas could potentially secure additional financing if needed. However, these are my personal observations, and other analysts might interpret the data differently.
Valuation, Growth, & Momentum
According to Seeking Alpha data, Arvinas exhibits a capital structure with minimal debt relative to its market capitalization, resulting in an enterprise value of $455.26M. Arvinas is in a revenue-generating phase, via collaboration agreement milestones, with revenues fluctuating year on year. However, given the innovative therapies and partnerships for severe diseases, significant growth potential exists, particularly in the oncology space. In terms of stock momentum, ARVN lags the broader S&P 500 index with a negative year-on-year performance.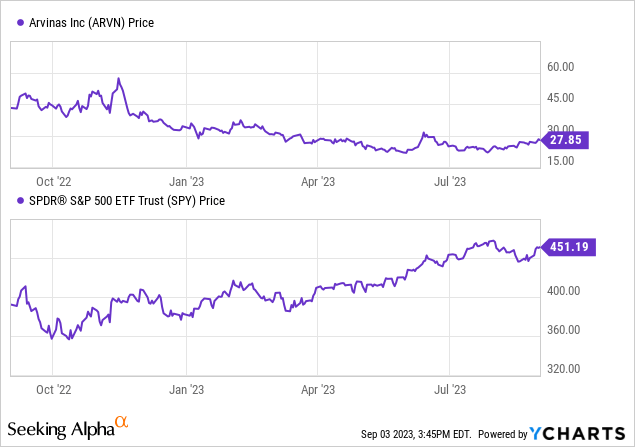 Advancements in ER+/HER2- Treatment: Vepdegestrant & Palbociclib's Joint Approach
The therapeutic landscape for ER+, HER2- breast cancer is witnessing potential transformation with the innovative combination of vepdegestrant, an estrogen receptor degrader, and palbociclib, a CDK4/6 inhibitor. Vepdegestrant disrupts estrogen signaling, essential for the growth of ER+ tumors, while palbociclib inhibits a key cell cycle protein, curtailing tumor growth. This joint approach targets ER+ breast cancer more aggressively, promising improved outcomes and reduced resistance.
Globally, breast cancer is a primary concern, with 70% of cases being ER+, according to Oncologist. Of these, approximately half fall under the ER+/HER2- category, emphasizing the significance of this combined treatment. If effective, it could notably improve survival and patient well-being.
Aligned with this promise, Arvinas launched the early stages of the VERITAC-3 Phase 3 trial, with results expected by 2024's end.
In the Phase 2 VERITAC trial, vepdegestrant (ARV-471) was examined both individually and with palbociclib for advanced breast cancer. By mid-2022, 71 patients were receiving daily vepdegestrant doses. The majority had prior CDK 4/6 inhibitor treatments, and many underwent fulvestrant or chemotherapy treatments. The treatment recorded a 38% clinical benefit, which rose to 51.2% for those with ESR1 mutations. The average progression-free period was 3.7 months, but for those with mutant ESR1, it was 5.7 months. Most patients tolerated the treatment, but some in higher doses faced adverse effects.
Moreover, there's a notable market trend favoring Selective Estrogen Receptor Degraders (SERDs). At the Jefferies Healthcare Conference, analyst Michael Yee emphasized the increasing demand for Orserdu, a Menarini Group's SERD. After its recent approval, Orserdu's sales jumped from $20M in April to $28M in May.
My Analysis & Recommendation
In conclusion, Arvinas presents a compelling narrative for investors with an appetite for innovation in the biotech sector. The company's pioneering approach to protein degradation, particularly its PROTAC Discovery Engine, positions it as a potential game-changer in the treatment of "undruggable" targets in oncology and neuroscience.
Several critical markers point to Arvinas' resilience and potential. Firstly, the company's significant cash reserves ensure that operational expenses can be comfortably managed for the foreseeable future. Additionally, Arvinas' low debt and strong liquidity provide a safety cushion, enabling the firm to make bold research and development decisions without the imminent threat of financial strain.
Partnerships with pharmaceutical giants like Pfizer augment Arvinas' credibility and reflect a shared optimism about the potential of the combined vepdegestrant and palbociclib treatment for ER+, HER2- breast cancer. Given that breast cancer remains a pressing global issue, with a significant portion of cases being ER+, any advancements in this field promise significant returns, both in terms of patient well-being and potential market share. The early promise shown by vepdegestrant in the Phase 2 VERITAC trial, especially among patients with ESR1 mutations, is particularly heartening. However, it's essential to acknowledge the adverse effects recorded at higher doses, underscoring the importance of thorough clinical vetting.
In the weeks and months to come, investors should closely monitor developments related to the VERITAC-3 Phase 3 trial, the results of which are slated for release by the end of 2024. Such trials can often serve as inflection points, either skyrocketing or severely hindering a biotech firm's stock value. Besides, considering the rapid market acceptance of other Selective Estrogen Receptor Degraders, notably Orserdu, investors should keep an eye on how Arvinas' offerings are positioned relative to competing treatments.
Based on Arvinas' strategic collaborations, its solid financial footing, and the encouraging potential of its therapeutic interventions, I recommend a 'Buy' stance for risk-tolerant, biotechnology-focused investors. Investors should take advantage of the company's upward momentum, while also staying updated on the latest clinical trial results.
Risks to Thesis
When the facts change, I change my mind.
In recommending a 'Buy' stance on Arvinas, there are potential risks that may contradict my final investment decision:
Clinical Trial Outcomes: While early-stage results are promising, late-stage clinical trials can produce unexpected results. If Arvinas' therapies fail to meet endpoints or show safety concerns in later trials, the stock could be negatively impacted.

Competition: The biotech landscape is competitive. Rapid advancements or approvals of competing treatments, especially in the ER+, HER2- breast cancer segment, could lessen Arvinas' market potential.

Regulatory Risks: Gaining regulatory approvals is challenging. If Arvinas fails to secure necessary approvals, it can delay or prevent market entry for its therapies.

Adverse Effects: Noted side effects at higher doses could limit treatment adoption or lead to regulatory hurdles.

Operational Burn Rate: My assumptions about the company's cash runway might be too optimistic. If the burn rate increases or unforeseen expenses arise, financial security may be compromised earlier than anticipated.

Biases and Data Interpretation: I might have unintentionally emphasized optimistic data points, or missed potential warning signs in my analysis due to inherent biases or preconceived notions about the sector.