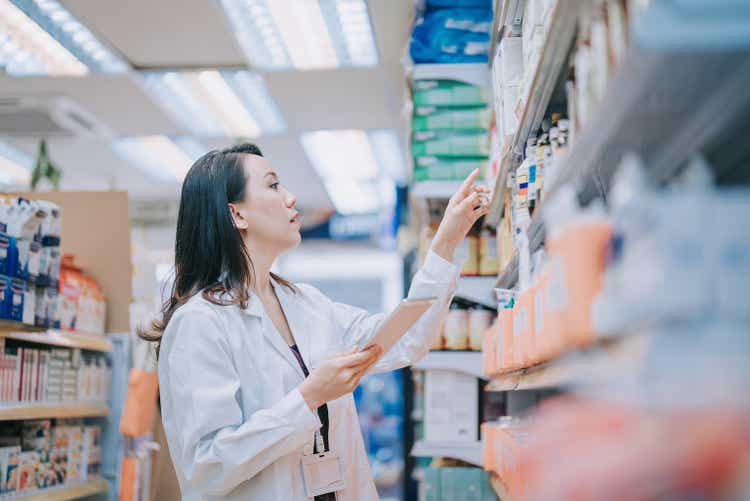 Elevator Pitch
CSL Limited (OTCQX:CSLLY) (CSL:AU) stock continues to warrant a Buy investment rating.
In my prior June 21, 2023 write-up, I evaluated CSLLY's outlook for fiscal 2024 (YE June 30). With the current update, my focus is on the potential for CSL Limited to achieve positive surprises relating to its future financial performance. I believe that CSL Limited can deliver higher-than-expected revenue and earnings in the future, which will serve as a potential re-rating catalyst for the stock. Therefore, I stick to my Buy rating for CSL Limited.
CSL Limited has listings on both the Over-The-Counter (or OTC) market and the Australian Securities Exchange. The company's OTC shares with the CSLLY ticker have pretty good trading liquidity, with a mean daily trading value of roughly $15 million (source: S&P Capital IQ). For investors who demand even better trading liquidity, they can consider investing in CSL Limited's Australia listed shares, which boast a three-month average trading value of around $160 million. CSL's Australian shares with the CSL:AU ticker can be traded with US stock brokerages such as Interactive Brokers that offer trading services for foreign markets.
CSL Limited Kept FY 2024 Guidance Unchanged
The company thinks that its topline and bottom line can potentially expand by +10% and +15% (assuming no change in foreign exchange rates), respectively in fiscal 2024 as indicated in its FY 2023 earnings presentation. This implies that CSL Limited has maintained its existing FY 2024 management guidance (first released in June this year) after it announced its full-year FY 2023 financial results last month.
In my view, CSL Limited has been too cautious and overly conservative with respect to the company's current FY 2024 financial guidance.
At the company's FY 2023 results call, CSL Limited noted that it "will continue to provide updates (on its business outlook) to you during the year, such as at our AGM (Annual General Meeting) and the half year result." As per S&P Capital IQ data, CSL Limited's AGM and 1H FY 2024 earnings release are expected to happen in October 2023 and February 2024, respectively. I am of the opinion that there is a reasonably good chance of CSL Limited either offering a more bullish outlook or raising its full-year guidance at these two key investor events.
In the subsequent sections of this article, I highlight why CSL Limited's topline and bottom line for this fiscal year are likely to surprise on the upside.
Revenue Growth Prospects
CSL Limited's plasma technologies (Behring segment) and vaccines (Seqirus segment) businesses are well-positioned to perform above expectations in the current fiscal year.
Plasma collection volumes for CSL Limited's Behring business segment expanded by +31% in FY 2023. The company referred to plasma collections as reaching "record levels" which suggests that "the strong growth in Ig (immunoglobulin sales) is expected to continue" at its fiscal 2023 earnings briefing.
Also, recent developments indicate that the company's Seqirus business segment is probably going to register meaningful sales growth in the new fiscal year.
CSL Limited issued a press release on July 13, 2023 noting that the Southern Hemisphere is experiencing "high levels of influenza activity" now, which is typically "a strong predictor of what's to come in the Northern Hemisphere" and the US. Separately, CSL Limited disclosed on August 28 this year that its Seqirus business was chosen to be the provider of "one bulk lot of H5N8 A/Astrakhan antigen to the U.S. government."
Therefore, I see CSL Limited's topline exceeding its guidance and rising by more than +10% in FY 2024.
Profit Margin Expansion Potential
There are multiple profitability enhancement levers that CSL Limited can potentially pull to expand the company's profit margins.
Firstly, CSL Limited has managed to reduce the company's plasma collection expenses on a cost per liter basis by -14% in FY 2023 by taking actions to lower labor costs and donor compensation. At its FY 2023 results briefing, CSL Limited mentioned that efforts such as "optimizing the structure for donor payments, testing of different fee schedules, improving labor planning" have helped to cut costs associated with plasma collection, and indicated that there is still room for further plasma collection expense reduction.
Secondly, the company has been actively optimizing its product mix with the aim of generating higher gross profit margins. As an example, CSL Limited shared at the company's most recent fiscal year earnings call about the "long-term shift towards subcutaneous Ig, a premium product with a higher price." As the mix of more expensive and higher-margin products increases, CSL Limited's profit margins at the company level will very likely expand in the future.
Thirdly, CSL Limited's profitability is expected to benefit from operating leverage and economies of scale to a greater degree in the future, thanks to some of the initiatives that it has put in place. In its FY 2023 results presentation, CSL Limited highlighted that it has increased the proportion of "centralized services provided to the businesses", and also incorporated a higher level of "automation and standardization" into its business operations.
In summary, I think that CSL Limited's actual bottom line growth for the current fiscal year can be higher than +15%, which would surpass the current management guidance.
Closing Thoughts
There is a reasonably high probability of CSL Limited's share price rising when the company discloses a brighter outlook either at its AGM or its 1H FY 2024 results briefing. Considering the potential for positive surprises in the months ahead, I retain a Buy rating for CSL Limited.
Editor's Note: This article discusses one or more securities that do not trade on a major U.S. exchange. Please be aware of the risks associated with these stocks.