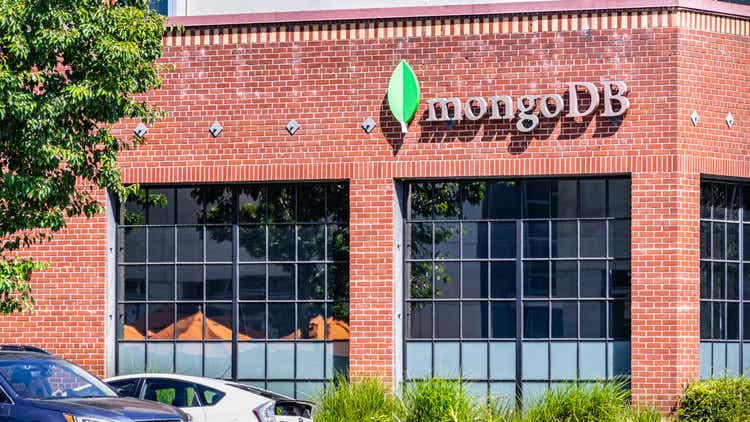 Shares of MongoDB (NASDAQ:MDB) soared 5% after the database software maker reported results for its second fiscal quarter last week. Given the company's strong subscription revenue momentum and narrowing losses, I believe MongoDB is a promising software company for growth investors, just not at the current valuation. MongoDB's shares have doubled in value in the first eight months of the year and although the software company is making strong progress by signing on new customers, especially with regards to its fully-managed cloud database MongoDB Atlas, shares are now highly valued at 14X FY 2024 revenues. As a result, shares of MongoDB have an unattractive risk profile and I only rate the database company as a hold!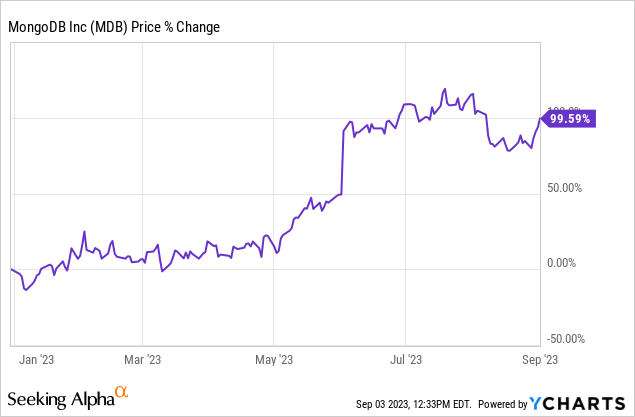 Second-quarter earnings card resulted in significant estimate out-performance
MongoDB reported quarterly revenue of $423.8M which compared to an average analyst consensus estimate of $390.9M. The software maker massively beat on earnings as well with adjusted earnings coming in at $0.93 per-share, beating the consensus estimate of $0.45 per-share by a stunning 106%.
MongoDB core service offering and customer/subscription revenue momentum
MongoDB is an open-source database management program that helps companies store data and scale their applications. The software company allows enterprises not only to store large amounts of data, but also helps them migrate workloads from other databases to MongoDB. MongoDB Atlas is the company's popular multi-cloud database service and the firm is seeing strong customer adoption for this product. Total Atlas customers exceeded 43,500 at the end of the second fiscal quarter, compared to just 27,500 customers two years ago.
Companies use MongoDB for the ease of adoption and MongoDB has seen considerable customer momentum in recent years, especially during the COVID-19 pandemic which served as an accelerant for the firm's growth. At the end of the last fiscal year, MongoDB had more than 40,800 customers in its service portfolio, including 1,651 customers that spent more than $100 thousand in recurring revenues on MongoDB's products and services annually. In the most recent quarter, FQ2'24, MongoDB disclosed a total customer count of 45,800 and 1,855 customers in the lucrative segment of clients that spend more than $100 thousand each year. MongoDB's top customer account increased 12% since the end of FY 2023 and 5% quarter over quarter.
Despite the pandemic coming to an end, MongoDB continues to have considerable customer acquisition and revenue momentum. In FQ2'24, MongoDB generated revenues of $423.8M, showing 40% year over year growth. MongoDB Atlas revenues increased 38% year over year and accounted for almost two-thirds (63%) of all revenues. The real value for investors lies in MongoDB's subscription service offering which generated $409.3M in revenues and which accounted for 97% of all revenues in the second fiscal quarter. Although MongoDB still did not manage to achieve positive operating income for the second fiscal quarter, strong revenue/subscription momentum is why the software database maker raised its guidance for FY 2024.
MongoDB raised its top line guidance significantly
The software database maker guided for $1.522B to $1.542B in revenues in the first fiscal quarter and MongoDB raised its forecast to $1.596B to $1.608B in FQ2'24, largely due to momentum in MongoDB Atlas. At the mid-point, the company raised its revenue forecast by 5%.
Working towards free cash flow profitability
Like many software companies, MongoDB is not yet free cash flow profitable… but the firm is well on its way to achieve positive free cash flow in the near to medium term. MongoDB generated $(27.3)M in free cash flow in FQ2'24 and drastically lowered its free cash flow losses compared to the year-earlier period. I believe MongoDB could be profitable on a full-year basis next year if MongoDB continues to see continual customer interest in Atlas.

MongoDB's valuation
Typically, software companies are not cheap as investors value them based on their prospects for revenue expansion. In the case of MongoDB, the market values the software maker at 14X forward revenues which is an excessive price for any company to pay. Although it is true that MongoDB is projected to achieve 26% annual average top line growth in the next five years, the software firm is very richly valued, relative to its own valuation history as well as relative to its rivals. Shares of MongoDB trade 41% above their 1-year average P/S ratio and are also the most expensive software company in its industry group. I would consider MongoDB at 10X forward revenues which would imply a price of around $276.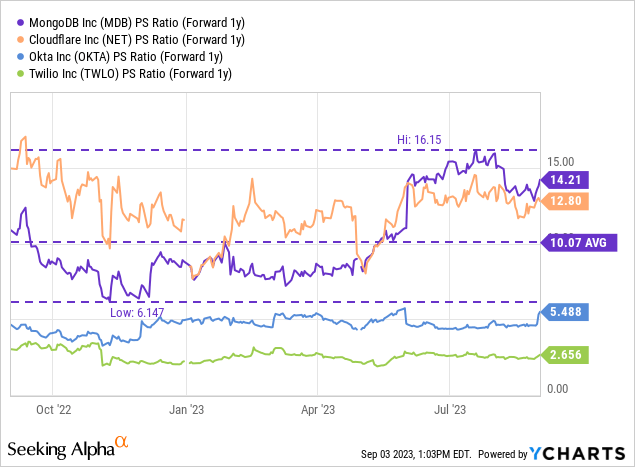 Risks with MongoDB
The biggest risk for the database software maker is slowing revenue growth. Since MongoDB is highly valued based off of revenues, a moderation of top line growth is almost certainly going to upset investors and it may lead to a contraction in the valuation multiplier. What I also see as a risk is that MongoDB is not yet generating positive operating income and free cash flows (on a full-year basis). What would change my mind about MongoDB is if the company saw a decline in its customer acquisition momentum, especially with regard to MongoDB Atlas.
Final thoughts
MongoDB presented a rather strong second-quarter earnings sheet that showed a significant top line and earnings beat, a raised FY 2024 outlook and continual subscription revenue momentum. The company also continued to expand its reach in the lucrative market segment of enterprises spending more than $100 thousand annually on MongoDB's products and services. While I like MongoDB's momentum in terms of revenue and customer growth, as well as the fact that the software database maker could report positive free cash flow soon, I really don't like the valuation. MongoDB as well as other cloud-based software companies have recently seen a sharp upward revaluation of their shares which translates, in the case of MongoDB, to an unattractive risk profile. Right now, I think it is best for investors to sit on the sidelines!