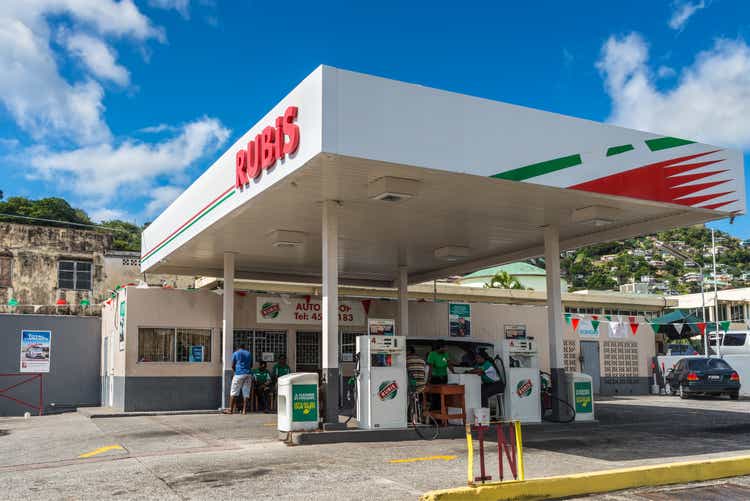 Rubis (OTCPK:RBSFY) is a French company operating internationally in the energy distribution, energy storage and handling and renewables businesses. For investors Rubis is an emerging market play tapping into the development of road infrastructure, demographic growth and increase in the standard of living.
Rubis has a long track record of profitable growth, it operates in relatively protected market niches and geographies and it's expanding in the renewables sector. At the current share price, Rubis appears undervalued based on the current earnings outlook, historical growth rates and a high but growing dividend.
Diversified energy distributor
Rubis is listed in the Paris stock exchange but has the majority of its operations outside of France. In 2022 its revenues were €7.1 billion and it currently has a market cap of €2.3 billion. Rubis has 4500 employees in 40 countries.
The company operates in Africa, Caribbean and Europe. Geographically Europe brings in only 26% of the gross profits while Africa and Caribbean represent the rest with nearly equal shares. Rubis has three business lines: energy distribution, a joint venture (55% ownership) of bulk liquid storage and renewable electricity production .
Energy distribution is divided into two sub-segments. Retail and marketing includes distribution of fuel and bitumen in 40 countries and brings in 73% of the EBIT of the business line. Rubis has over 1000 gas stations in 23 countries.
Support and services includes trading and shipping of bitumen for the road construction in Africa and fuels in the Caribbean by 10 owned and 6 chartered vessels. It also includes a majority (71%) owned refinery which is a sole supplier to three Caribbean countries.
Rubis Terminal, a joint venture between Rubis and I Squared Capital, is the largest terminal operator in France and fourth largest in Europe. The JV has 15 terminals in four European countries. In 2022 the unit generated €235 million of storage revenues and €124 million of EBITDA. The terminals mainly handle chemicals for manufacturing (41% of revenues) and different fuels (40%).
The recent expansion to renewables
The renewables business line was created by a recent acquisition. In 2022 Rubis acquired an 80% stake in Photosol, a solar energy company in France with 313MW of capacity at the time of acquisition. Founders and managers of Photosol held the remaining stake. The purchase price was €376 million and Rubis financed the deal by debt. In addition, Photosol joined Rubis with a large debt position which resulted in a total consideration of €770 million.
In the same year the Photosol acquisition was complemented by a bolt-on acquisition of a company called Mobexi, which is specialized in roof-top solar installations. In addition, Rubis has a 15% stake in stock listed HDF Energy, which is specialized in hydrogen energy storage solutions. In 2022 the renewable electricity business line generated revenue of €33 million and €18 million of EBITDA.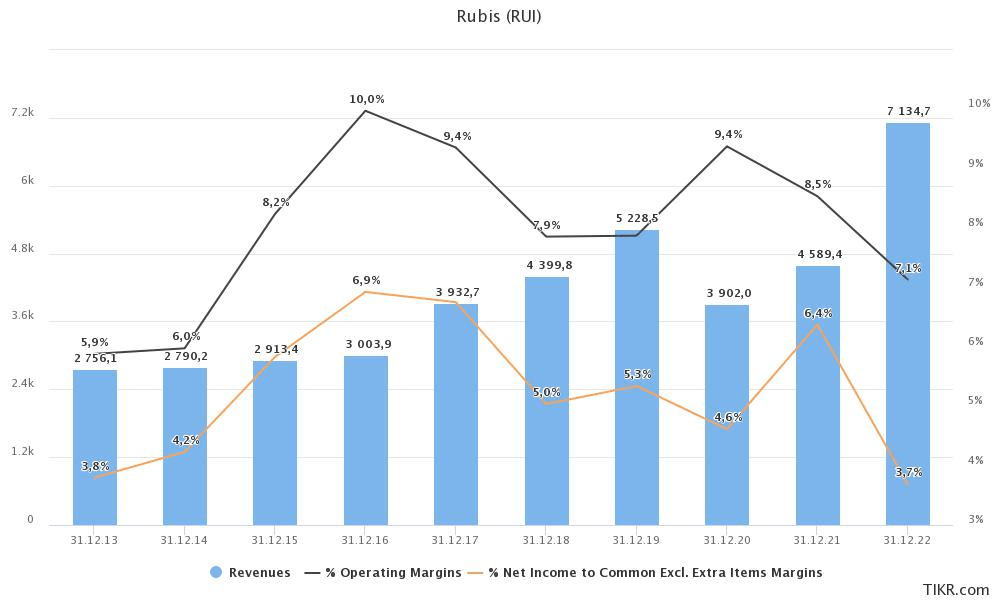 In 2022 the net income declined by 10% and the net income margin nearly halved. This was mostly the result of the acquisition which increased depreciation and amortization by €30 million and interest expenses by €20 million. Rubis also reported merger and restructuring charges of €22 million and impairment of goodwill €40 million. The adjusted EPS, reported by the company and excluding impairment and merger and restructuring costs, increased 10%.
Pros and cons of underlying performance
Stable returns on capital and growth
Rubis has a well-diversified business portfolio of businesses with pathways for growth and relatively protected niche market positions which don't allure new competition. The ROE and ROA for the company have been relatively stable for the past 10 years. While gross margins have been rather volatile, EBIT-margin has remained stably between 7-10%.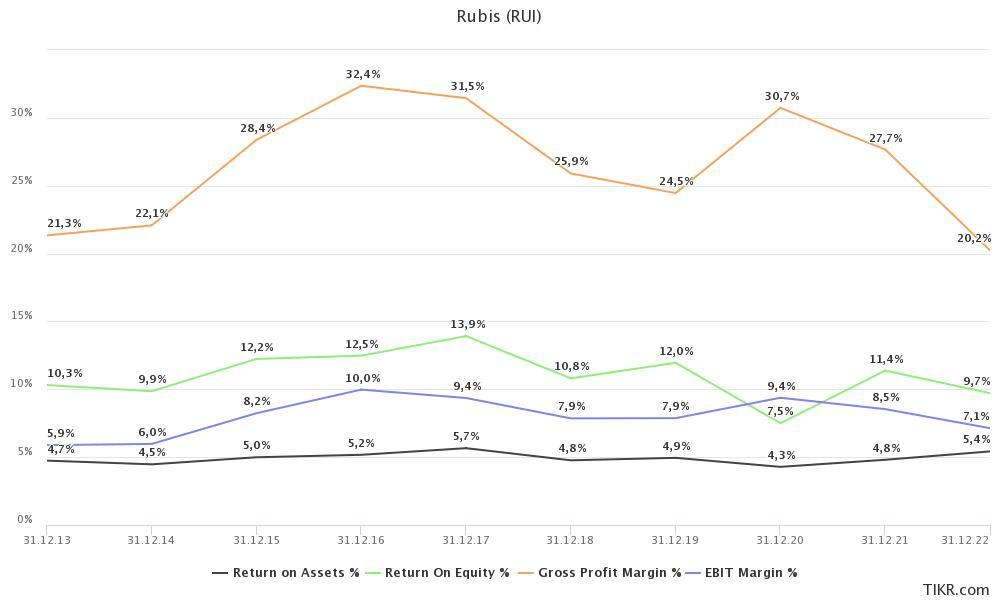 Rubis has enjoyed a good track record of growth as seen in the table below. Year 2022 was still a year of recovery from the pandemic slowdown and several parts of its businesses returned to the levels of 2019. Furthermore, the EBIT and EBITDA increases in 2022 were boosted by a transfer to the sale price of the foreign exchange risk.

Expansion to renewables can be seen as a contradictory move by the company. Unlike its other businesses, which are more niche positions and less exposed to increasing competition and capital flows, solar energy is booming and could mean that Rubis overpaid for the acquisition and/or sees diminishing returns from the investments.
On the other hand, Rubis' strategy is to scale both hydrogen and solar energy to the geographies where it operates and where these solutions are truly relevant. Rubis' stake in HDF Energy gave the company a priority to invest in the projects in Africa, the Caribbean and Europe. Rubis has also accelerated the expansion of Photosol to new geographies in Europe and this way the business line should work as a growth driver and decrease the perceived risks with its carbon related businesses.
Increase of debt and shares outstanding
Expansion to renewable energy increased Rubis debt level significantly. The net debt to EBITDA ratio jumped from 0.4x to 2x. However, most of the new debt is so called non-recourse sitting at the Photosol entity. Corporate net debt to EBITDA ratio is 1.5x and the company plans to achieve 1x by 2025 but increase the total net debt to EBITDA to 3x by growing its renewable business.
Unfortunately acquisitive strategy has also meant that Rubis has issued a lot of new shares in the past decade diluting existing shareholders. The positive news is that the rate of new share issuance has slowed down.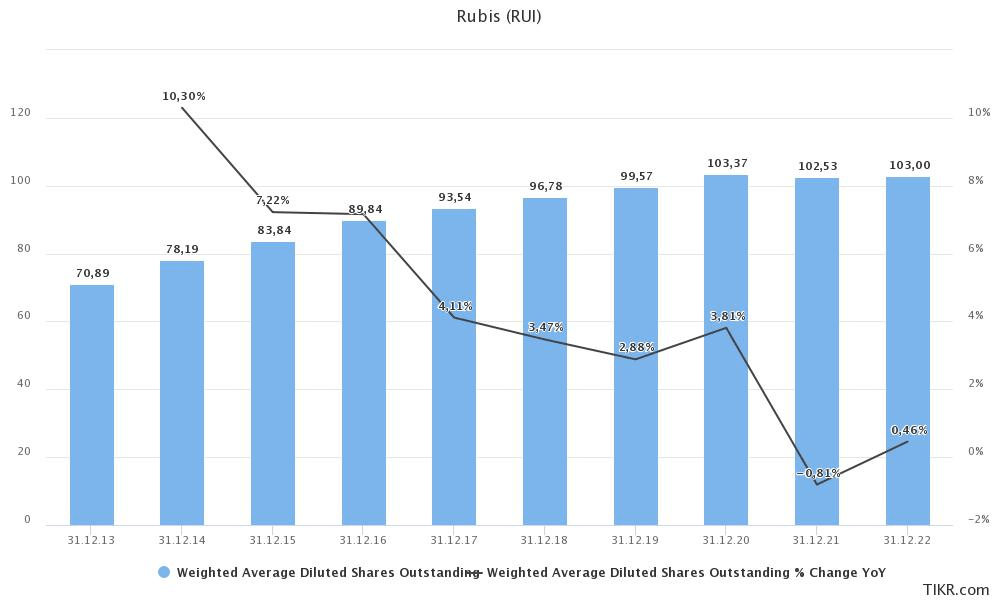 A company operating in various emerging markets doesn't come without business related risks. A half of the Rubis' bitumen volumes come from Nigeria. The share was 80% in 2015, so the company has been able to diversify country related risks growing at a CAGR of 26% in Africa by expanding to new countries and expanding the vessel fleet from three to five ships. Nevertheless, Rubis is exposed to various currency, political and macroeconomic risks.
Discounted valuation includes margin of safety
After the recent decline of the shares, Rubis appears to trade at a discount. Analysts are forecasting an EPS of €3.45 for the ongoing year. Last year Rubis delivered €2.55 per share. Longer term Rubis has increased its earnings per share 6-7% per year. If we assume that the earnings would grow 2-5 percentage points slower and apply a P/E of 10x and a 12% discount rate, the fair value would be €24.4, around 8.5% above the current share price.
Using the estimated EPS of €3.45 in the calculation, would give us a fair value of €28.6. Using a 10% discount rate would give us a fair value of €27.7 and €33. However, I believe a lower EPS reflects better a normal level of earnings and a higher discount rate compensates for the risks involved and dilution of the share count.
An additional margin of safety comes from the applied multiple. In the past five years the average P/E-multiple has been 15x. If the company deleverages and interest rates decline, there could be potential for multiple expansion boosting the future returns significantly.

While Rubis' earnings could be currently distorted by the acquisition, also the more stable denominators, sales and balance sheet, give us an indication of potential undervaluation. EV/S, P/S and P/B multiples trading 40-50% below five year averages. However, here it's important to note that the revenues of the company could be temporarily inflated by the higher energy prices. Also, the balance sheet has seen a significant increase of goodwill, quadrupling in the past ten years.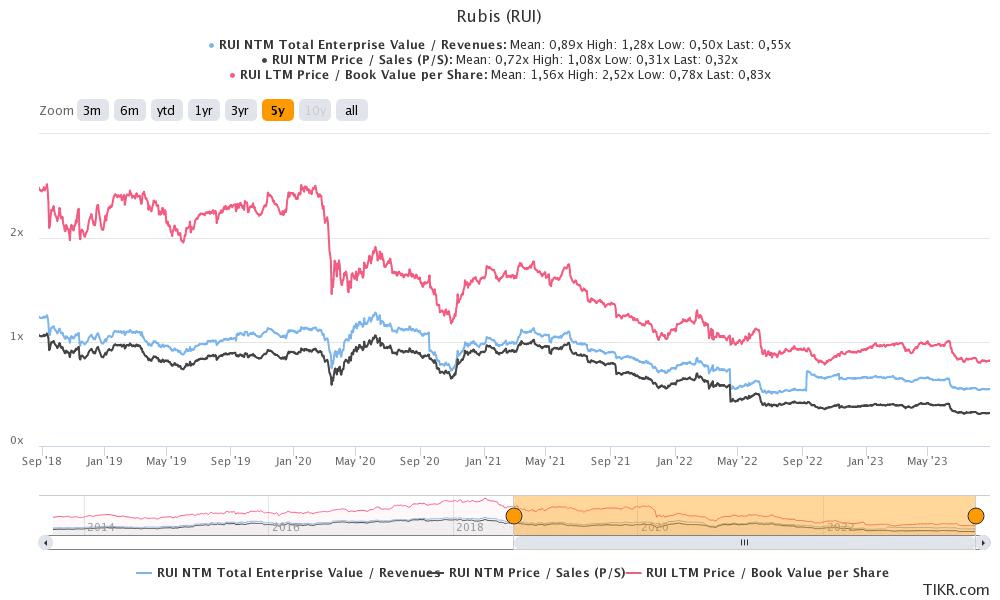 Six analysts have an average target price of €34.2 but ranging from €27 to €56 with a median of €29 per share.
A high but growing dividend
Rubis has increased its dividend for the past 25 years. According to the company the dividend has increased at a compounded annual growth rate of 8% since 2012. The latest dividend increase was 3%. This year Rubis paid an annual dividend of €1.92 translating to a dividend yield of 8.5%. The average dividend yield in the past five years has been 5.2%.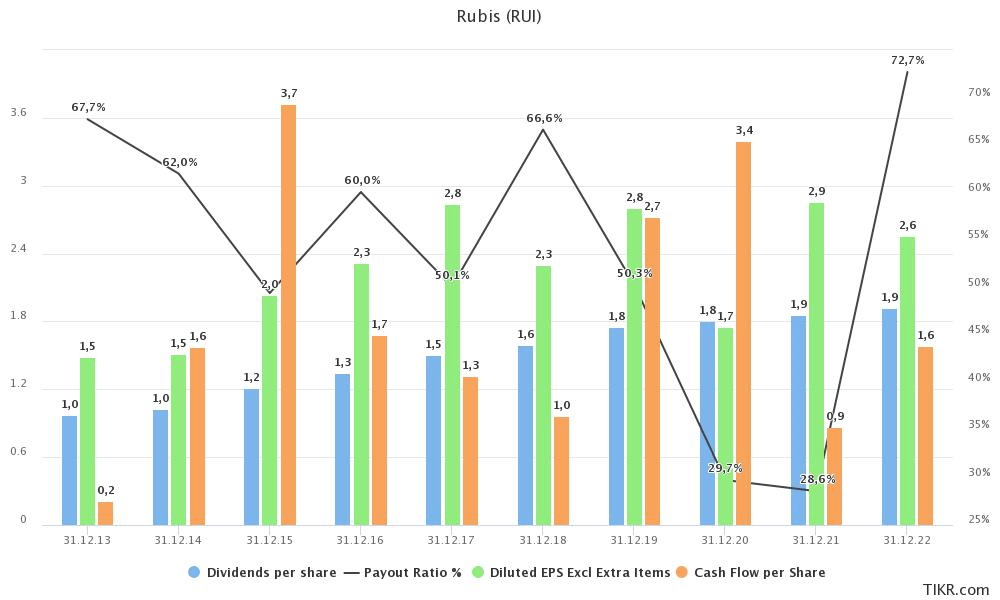 The dividend appears moderately safe based on the earnings and cash flow per share. The payout ratio has been hovering typically at around 60% which is also the payout target of the company.
Conclusion
Rubis is an interesting emerging markets play with a spice of renewables under the hood. Although renewables represent both a risk and an opportunity, longer term, the new business line could be a benefit for the shareholders coming on board at the current share price. The valuation appears attractive based on subdued earnings, historical growth and without expectations of multiple expansion. With a margin of safety and high dividend, Rubis looks like a buy.
Rubis will report its half year results on the 7th of September.
Editor's Note: This article discusses one or more securities that do not trade on a major U.S. exchange. Please be aware of the risks associated with these stocks.