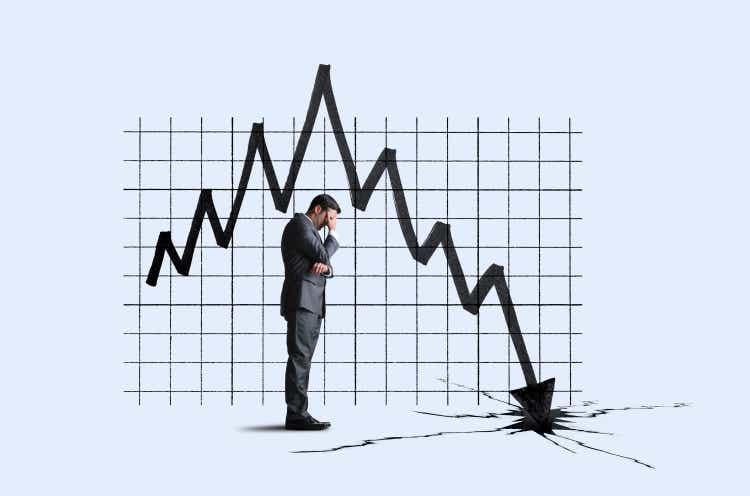 Investors in Lumen Technologies, Inc. (NYSE:LUMN) must be stunned at the waterfall decline in LUMN over the past year, as it reached lows last seen before the 1990s. I had to zoom out of my long-term price chart (monthly candles, mind you) to know where the current price action lands.
I have also been astounded by the incredible decline in LUMN as it entered "no man's land" since breaking down decisively from the critical support of $8 in September 2022 as its buyers unwound from the lows that initially formed in March 2020 at the depths of the COVID pandemic. While the S&P 500 (SPX) (SPY) has powered a highly remarkable rally over the past year, LUMN fell another 86% from its September 2022 highs toward its August 2023 lows.
My mean-reversion thesis has not worked out, and justifiably so. However, I must emphasize that my past four Buy ratings were built on a "speculative" thesis, suggesting investors must be very cautious about risk management and capital allocation.
I gleaned dip-buying support in LUMN as it fell toward last month's lows after releasing its results in early August. Despite that, I have yet to see any significant buying momentum that could provide more confidence to maintain conviction in my mean-reversion thesis.
There's little doubt that LUMN looks pretty cheap. At a forward EBITDA multiple of 4.87x, it's well below its peers' median of 6.8x (according to S&P Cap IQ data). Seeking Alpha Quant's best-in-class "A+" valuation grade corroborates my valuation assessment that LUMN is attractively priced. However, based on the performance that LUMN has delivered over the past year, I believe it's hard to argue against it being a "value trap," which appealed to its holders while other value investors avoided it.
It's also one of the main reasons I did not assign LUMN a core Buy rating. I have yet to glean any notable competitive advantages from its business transformation that could underpin a secular upward recovery.
Lumen's August earnings release underscored a highly challenging environment as it navigates a demanding business environment hobbled by high interest rates. The company would like investors to focus on its "grow bucket." However, the issues faced by its legacy buckets are expected to hamper the ability of its grow bucket to mitigate its decline, impacting its earnings accretion and free cash flow or FCF generation.
Although Lumen maintained its full-year adjusted EBITDA guidance range of $4.6B to $4.8B, investors are likely assessing its FCF conversion after seeing the significant losses it undertook in Q2 due to "taxes paid related to two divestitures closed in the previous year."
The company was also hit by a significant $8.8B non-cash goodwill impairment linked to its declining market cap, reflected in its GAAP earnings. Further worries about remediation losses due to the lead-sheathed cables problems and questions about meeting debt agreements on maturities through 2027, I believe investors likely assessed that the risk doesn't justify the rewards despite its "A+" valuation grade.
Let me be clear here. LUMN could bottom out here, as there's a possibility that peak pessimism has been reached in August, with challenges galore. While LUMN remains in no man's land, it could consolidate constructively as dip buyers return to defend its recent lows.
However, with the recent market pullback offering investors more opportunities to partake in other stocks, I believe it's time for me to move back to the sidelines.
Rating: Downgraded to Hold. Please note that a Hold rating is equivalent to a Neutral or Market Perform rating.
Important note: Investors are reminded to do their due diligence and not rely on the information provided as financial advice. Please always apply independent thinking and note that the rating is not intended to time a specific entry/exit at the point of writing unless otherwise specified.
We Want To Hear From You
Have constructive commentary to improve our thesis? Spotted a critical gap in our view? Saw something important that we didn't? Agree or disagree? Comment below with the aim of helping everyone in the community to learn better!