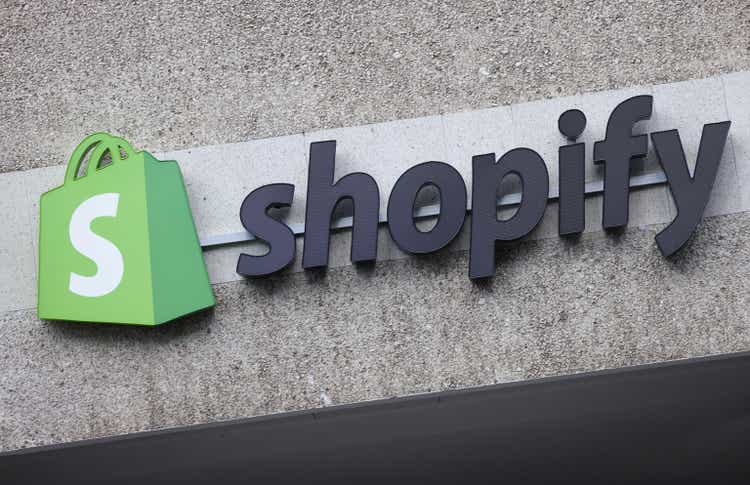 For over a year, Shopify (NYSE:SHOP) faced a big competitive threat from Amazon as the rival rolled out its 'Buy with Prime' program. Amazon has essentially been striving to monetize merchants from rival platforms by extending its seller services like Prime fulfilment and Amazon Pay, as well as access to Amazon's loyal customer base. This inhibited Shopify from optimally monetizing its own merchant base through selling its own commerce services. However, Shopify has now struck a deal with Amazon (AMZN) to offer 'Buy with Prime' to merchants in a way that benefits both companies.
At the beginning of this year, Nexus Research had downgraded Shopify stock to a 'hold' due to the risks that 'Buy with Prime' posed to the company's revenue and profitability prospects. Since then, Nexus Research upgraded the stock to a 'buy' last month, given Shopify's massive growth opportunities through AI. Now, with Shopify striking a partnership deal with Amazon, the supposed threat is now turning into a revenue opportunity for Shopify, enhancing the bull case.
The major risk was to Shopify's merchant solutions revenue segment, which made up 74% of total revenue last quarter. The majority of this segment's revenue derives from Shopify Payments, the tech giant's own checkout system, through which it earns processing fees. There was indeed a threat that Amazon would encourage shoppers on Shopify-powered websites to complete their transactions in a way that bypasses Shopify Payments.
However, both companies have now confirmed that the 'Buy with Prime' option will be added to Shopify Payments, enabling Shopify to continue generating processing fees. Note that as part of 'Buy with Prime', Amazon is requiring merchants to offer Amazon Pay at checkout in Shopify Payments, enabling the e-commerce giant to monetize through its payment wallet. Now, this takes away from Shopify's ability to generate revenue through its own Shop Pay payment option.
Nonetheless, this deal has at least secured the company's ability to generate processing fees through its Shopify Payments checkout system, regardless of whether shoppers use their Amazon Pay or Shop Pay accounts. The main point is, that enables Shopify to sustain a large portion of its merchant solutions revenue, the segment that makes up nearly three-quarters of total revenue.
And it gets even better. Shopify has essentially arranged a deal where Amazon is required to offer 'Buy with Prime' to merchants through the Shopify App store. Why is this such a big deal? One word: commissions. Shopify takes a 15% cut from app store sales revenue (after the first $1 million in sales).
Amazon charges Shopify merchants various fees per order facilitated through 'Buy with Prime', including a 3% Prime service fee, as well as fulfilment and storage fees depending on the size of the items. Now, from one perspective, merchants using Amazon's seller services presents a lost revenue opportunity for Shopify. But on the other hand, Shopify has now brokered a deal requiring Amazon to offer the program through Shopify's app store, conducive to a 15% commission fee on Amazon's revenue through the 'Buy with Prime' app. So essentially, Shopify now benefits financially as more merchants decide to use 'Buy with Prime', as it translates to higher commission fees for the commerce giant.
Furthermore, now that Shopify has signaled to digital merchants that they will support Amazon's 'Buy with Prime', it could indeed attract more merchants to the Shopify platform. Amazon sellers could indeed be encouraged to build their own e-commerce websites to be able to showcase their product listings in a more flattering (and less competitive) space, while still being able to access Amazon's suite of e-commerce solutions through 'Buy with Prime'. This could essentially translate to more subscribers to Shopify's various subscription plans, conducive to more subscription solutions revenue, which made up 26% of total revenue in Q2 2023.
Shopify Financials & Valuation
Shopify has two key revenue segments, merchant solutions revenue and subscription solutions revenue.
Given that the risk posed by Amazon's 'Buy with Prime' to the merchant solutions revenue segment has now subdued, it indeed makes sense for the market to re-rate the stock to a higher valuation multiple, now trading at 13.5x sales.
Merchant solutions revenue is indeed the key driver of the stock, not just due to its greater contribution to total revenue, but also due to its faster growth rate, growing 35% last quarter.
'Buy with Prime' should indeed improve conversion rates for Shopify merchants as shoppers with Prime memberships are enticed by fast and free shipping from Shopify-powered web stores outside of Amazon.com. Higher sales volumes for Shopify merchants mean further growth in merchant solutions revenue for Shopify (through services like Shopify Payments and Shopify Capital), further strengthening the bull case for the stock.
On the subscription solutions revenue side, the easier accessibility of 'Buy with Prime' through Shopify indeed enhances the appeal of the Shopify platform, as digital merchants can now run independent webstores while also benefitting from Amazon's industry-leading e-commerce solutions. Hence, as more merchants are attracted to Shopify, it should drive further growth in subscription solutions revenue.
Earlier this year, Shopify indeed hiked prices for its subscription plans. On the Q2 2023 earnings call, CFO Jeff Hoffmeister highlighted that:
"We are seeing our merchants, continue to remain on the platform rather than using the price change to move off-platform"
This is a testament to Shopify's pricing power. Hence, for investors that are concerned over Amazon's 'Buy with Prime' subduing Shopify's merchant solutions revenue growth potential, as merchants make greater use of Amazon's seller services instead, keep in mind that Shopify holds strong pricing power for its subscription plans, conducive to strong subscription solutions revenue growth going forward.
While a 13.5x sales multiple may seem expensive, it is indeed a better entry point than the lofty sales multiple of nearly 50x during the pandemic boom. Consider that the company's growth opportunities are indeed promising, particularly through Shopify's AI endeavors, enabling investors to be confident that the stock can grow into its multiple. Nexus Research maintains a 'buy' rating on the stock.