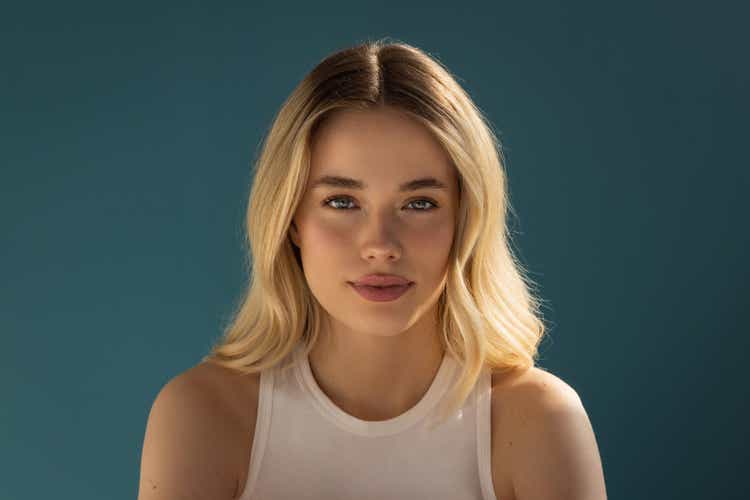 Amgen (NASDAQ:AMGN) is one of the largest pharmaceutical companies headquartered in Thousand Oaks, California, which, thanks to an aggressive R&D and M&A policy implemented under the leadership of Robert Bradway, continues to expand its portfolio of medicines rapidly. This approach has allowed the company to remain a leader in the global cancer and autoimmune disease therapeutics markets.
For the three months ended June 30, Amgen's revenue was about $6.99 billion, beating our expectations by $0.25 billion. Moreover, Q2 Non-GAAP EPS came in at $5 per share, exceeding our expectations by $0.35 and, more importantly, beating analysts' consensus expectations by $0.51. This was primarily due to higher combined sales of Prolia and Repatha of $1.45 billion, an increase of 16.4% year-over-year. As a result, Mr. Market favorably assessed Amgen's financial report, which was reflected in its price growth by more than 11%, significantly outperforming the S&P 500 (SPY).
After many months of fighting with the Federal Trade Commission (FTC), on September 1, the company's management pleased investors with the news that the acquisition of Horizon Therapeutics (HZNP) would proceed, and its completion is expected in the fourth quarter of 2023.
One critical condition of this agreement stipulates that Amgen will be prohibited from bundling any of its medications with Horizon Therapeutics' products, such as Tepezza or Krystexxa. Furthermore, Amgen will be restricted from acquiring competitors to Horizon Therapeutics' medicines without obtaining prior approval from the FTC. Importantly, we believe that these conditions will not adversely affect the pace of Amgen's development.
We initiate our coverage of Amgen with a "hold" rating for the next 12 months.
The financial position of Amgen and its prospects
Amgen's revenue for the second quarter of 2023 was $6.99 billion, 14.4% more than the previous quarter and 6.1% more than the second quarter of 2022.
Moreover, the company's actual revenue beat Wall Street analysts' consensus estimates in seven of the last ten quarters, despite slowing sales growth of blockbusters such as Otezla (apremilast) and Enbrel (etanercept). The decline in demand for these drugs is mainly due to increased competition from Eli Lilly's Taltz (LLY), AbbVie's Skyrizi (ABBV), and Pfizer's Xeljanz (PFE), which ultimately poses a potential challenge for Amgen's management, as their combined sales accounted for 23.9% of the company's total revenue.
One of the key contributors to Amgen's year-over-year revenue growth is Prolia (denosumab), a medicine approved to treat patients with osteoporosis and other bone-related diseases.
Prolia sales totaled $1,028 million in Q2 2023, an increase of 11.5% year-over-year. Amgen's product sales growth was driven by the continued gain of its share in the global osteoporosis drugs market, driven by competitive advantages over drugs such as alendronate and zoledronic acid.
After reaching a settlement with the FTC on acquiring Horizon Therapeutics, Robert Bradway's main concern now revolves around the possible emergence of denosumab biosimilars in early 2025 due to patent expirations.
Several pharmaceutical companies are conducting phase III clinical trials to confirm the efficacy and safety of their biosimilars relative to Amgen's product.
One of the primary reasons Amgen consistently achieves high revenue growth rates compared to industry giants such as AbbVie, Pfizer, and Gilead Sciences (GILD) is its robust commitment to active R&D policy. Thanks to it, the business is being transformed, and the impact of future loss of exclusivity of some of its blockbusters on the company's financial position is minimized by introducing a next-generation of medicines to the market.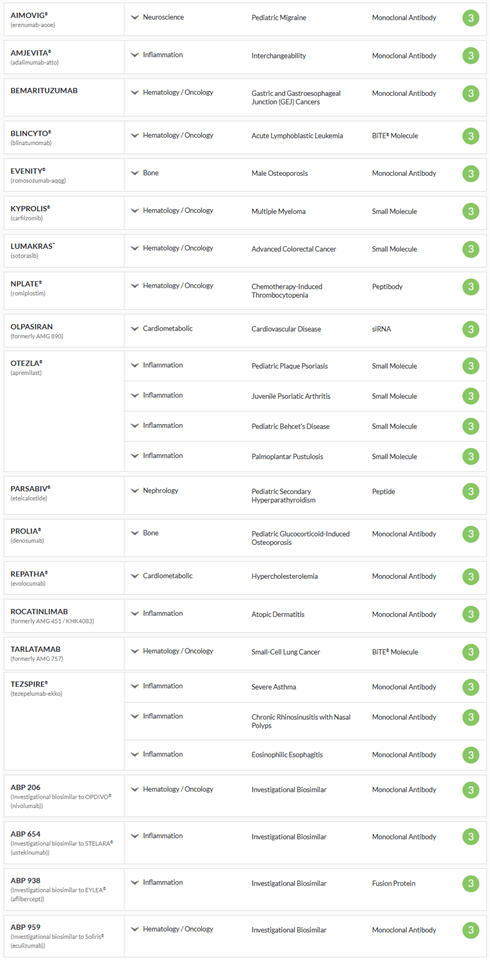 In our assessment, Amgen's most promising product candidate is Tezspire (tezepelumab-ekko), whose mechanism of action is based on blocking thymic stromal lymphopoietin (TSLP). Due to this, the release of pro-inflammatory cytokines by immune cells is significantly reduced, allowing this monoclonal antibody to fight severe asthma effectively and potentially other diseases that affect millions of people worldwide.
Amgen's R&D spending amounted to about $1.1 billion for the three months ended June 30, 2023, or 15.69% of its total revenue. These significant expenses demonstrate that the company continues to invest aggressively in developing products that will improve people's quality of life and allow it to remain competitive in the multi-trillion-dollar healthcare industry.
According to Seeking Alpha, Amgen's revenue for the third quarter of 2023 is expected to be $6.78-$7.03 billion, 3.6% more than analysts' expectations for the second quarter of 2023. At the same time, under our model, the company's total revenue will be slightly higher than the median value of this range and will amount to $6.95 billion. This will primarily be driven by stronger sales of Blincyto (blinatumomab) as its share in the acute lymphocytic leukemia therapeutics market continues to increase. So, sales of this medicine amounted to $206 million in the second quarter of 2023, an increase of 48.2% compared to the previous year.
Amgen's operating income margin was 39.02% in Q2 2023, continuing its upward trend since the end of the previous year. We forecast that this one of the most crucial metrics will reach 37.5% in 2023, thanks to the expansion of its portfolio of medicines and the reduction in the cost of raw materials for their production. However, Amgen's operating income margin will decline slightly to 36.2% by 2024 due to the temporary negative impact of the acquisition of Horizon Therapeutics.
So, despite Horizon Therapeutics' revenue growth year-on-year, its margin was 15.07% in Q2 2023, well below its median of 20.93% between April 1, 2021, and the end of June 2023.
At the Q2 2023 earnings call, Robert Bradway shed light on the pace of the acquisition of Horizon Therapeutics, which has gained significant visibility due to the prolonged efforts by the FTC to block the deal.
We look forward to making our case in court in September and I'm confident rather that we will prevail. In the meantime, we're working closely on integration plans with Horizon, so we can hit the ground running by mid-December, which is when we anticipate being able to close the deal.
However, on September 1, 2023, the months-long saga was brought to a close with an agreement with the FTC, which allowed Amgen to move into the final steps to close the $27.8 billion acquisition of Horizon Therapeutics. Based on this news and statements from the CEO of Amgen at the last earnings call, we expect the transaction to be completed at the end of November 2023. Ultimately, this will allow the company's management to focus on integrating Horizon Therapeutics' product candidates and medicines into its existing portfolio, optimizing operations, and continuing to pursue business strategies to strengthen its leadership position in the pharmaceutical industry.
The company's Q2 2023 earnings per share (EPS) was $5, up 25.6% quarter-on-quarter, and last but not least, it continued to beat analyst consensus estimates in the last eight out of ten quarters. According to Seeking Alpha, Amgen's Q3 EPS is expected to range from $4.22 to $5.06, up 3.1% from the Q2 2023 consensus estimate. While we believe this is slightly underestimated, our model puts Amgen's EPS at $4.72.
At the same time, Amgen's Non-GAAP P/E (TTM) is 14.61x, 23.10% lower than the average for the sector and 3.08% higher than the average over the past five years. On the other hand, the Non-GAAP P/E (FWD) of 14.30x is one of the factors indicating that the company is slightly undervalued in the current period of pharmaceutical companies' lawsuits against HHS and CMS, which aim to block the Medicare drug price negotiation program.
Conclusion
On August 3, Amgen released financial results for the second quarter of 2023 that not only beat analysts' expectations but also managed to demonstrate that demand for its innovative products, such as Evenity, Tezspire, and Blincyto, is growing at a faster rate than many on Wall Street expected.
In recent years, the company's management has resorted to aggressive R&D and M&A policies, which are beginning to bear fruit. Launching new products and rapidly introducing next-generation medications into clinical practice not only minimizes the future impact of the loss of exclusivity of some of the blockbusters on Amgen's financial position but also strengthens its position in fast-growing therapeutic areas.
On the other hand, we are concerned that Enbrel, which is approved to treat some autoimmune diseases, has been placed on the Medicare drug price negotiation list. These negotiations are just the beginning, and in the coming years, this list will expand, which, on the one hand, helps reduce healthcare costs for Americans but, on the other hand, can lead to a reduction in R&D spending by pharmaceutical companies. Enbrel sales account for over 15% of Amgen's total revenue, threatening the company's high margins.
At the end of the second quarter of 2023, Amgen's total debt was about $61.54 billion, up significantly from 2021 due to the need to finance the acquisition of Horizon Therapeutics. With stable cash flow, a strong pipeline of experimental drugs, and given the maturity dates of the senior notes, we don't expect Amgen to have difficulty repaying them.
Given the technical analysis and increased concerns among financial market participants regarding the impact of President Biden's Inflation Reduction Act on the outlook for the healthcare sector, we believe that the price level at which the risk/reward profile will be attractive is $240-$241 per share.
We initiate our coverage of Amgen with a "hold" rating for the next 12 months.