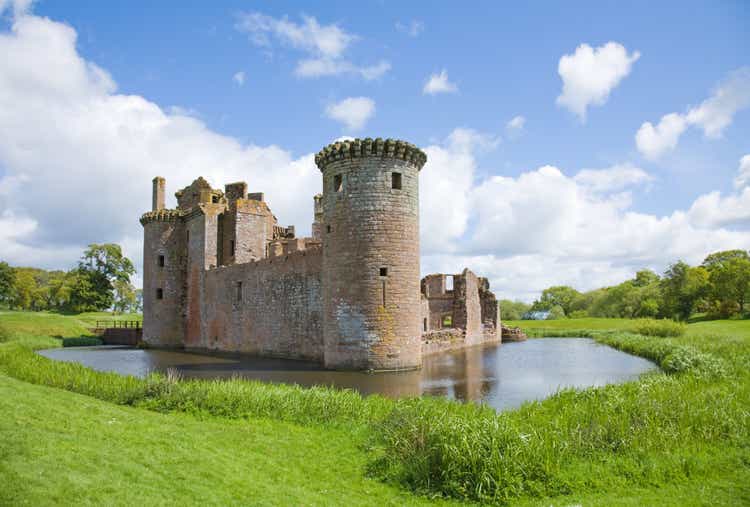 Investment Thesis
The VanEck Morningstar Wide Moat ETF (BATS:MOAT) is a diverse exchange-traded fund, or ETF, that has offered investors similar risk to the S&P 500 (SP500) over the past 10 years, but has provided 30% more in returns. MOAT has been around for over 10 years, having been established in April 2012. Its proven track record over the past decade supports investors' decision to continue holding it.
The fund focuses on companies that Morningstar classifies as having "wide moats," which are businesses that have strong competitive advantages that make it difficult for new entrants to compete with them. Specifically they classify it as:
A company whose competitive advantages we expect to last more than 20 years has a wide moat; one that can fend off its rivals for 10 years has a narrow moat; while a firm with either no advantage or one that we think will quickly dissipate has no moat.
Additionally, the ETF strategy has a few other criteria they consider along with a wide moat. Vaneck explains the fund also considers:
Focus on Valuations

Index targets companies trading at attractive prices relative to Morningstar's estimate of fair value

Morningstar's Equity Research

Index fueled by Morningstar's forward-looking, rigorous equity research process driven by over 100 analysts globally
MOAT has 54 holdings, all of which Morningstar believes will outperform their competitors and continue to generate high returns on invested capital ("ROIC") for the next 20+ years. The ETF provides a small dividend yield of just over 1% for protection. It has a beta of 1.02, which means that it moves very similarly to the S&P 500, which has a beta of 1.00. This shows that MOAT has average risk. If the market (S&P 500) goes up 10%, MOAT would theoretically go up 10.2%, and vice versa on the downside.
Although MOAT has a similar Risk to the overall market, MOAT has outperformed the S&P 500 ETF as represented by SPDR® S&P 500 ETF Trust (SPY) in both the short and long term. I have attached below the performance history comparing the two as of 9/5/2023:
| | | |
| --- | --- | --- |
| Total Return Scenarios | MOAT | SPY |
| YTD | 23.4% | 19.3% |
| 3 Year | 55.8% | 33.9% |
| 5 Year | 91.5% | 69.4% |
| 10 Year | 256% | 226.5% |
MOAT has generated an alpha of 2.77 over the years, which means that it has outperformed its benchmark after adjusting for risk by almost 3%. The fund has an expense ratio of 0.46%, which is below the median average of all ETFs of 0.48%. proving that you are not overpaying for a strong ETF. The fund has just under $11 billion in assets under management ("AUM") and has seen increasing inflows, with $2.9 Billion entering the ETF over the last year.
MOAT is one of my favorite ETFs. I would suggest that risk-tolerant investors look to hold the ETF as a safe way to invest in the market, but still see slight outperformance. Pairing this ETF with SPY, the triple Qs (QQQ), or another reliable ETF, like a dividend growth ETF, will help investors who are more risk-tolerant generate some alpha. MOAT is a buy-and-hold.
Holdings
MOAT is a very diverse ETF. No holding is currently over 3% of the portfolio, which shows that if one stock gets hit, the ETF will not be in trouble. With 54 holdings, the ETF is spread across 8 industry segments, with technology, healthcare, and financials being the largest portions of the fund.
The ETF has a holding turnover of 51%, which is a measure of how often the assets in a fund are traded or exchanged for a new holding. A turnover of 51% is a bit higher than I would like to see, as I typically look for funds with a turnover of 20-30%. However, this just goes to show that management is actively looking for the best stocks to hold and taking advantage of short-term market trends.
The fund's diverse holdings are also evident in the top five holdings, as they are all in different industries. This helps to reduce the risk of the fund and provides investors with exposure to a variety of growth opportunities.
To start, the top five holdings are all in different industries.
1. Domino's Pizza (DPZ) – Consumer Discretionary
2. Google (GOOGL) – Technology
3. TransUnion (TRU) – Industrials
4. Veeva Systems (VEEV) – Health Care
5. Emerson Electric (EMR) – Electrical Equipment.
I love the diversity and choice of holdings in MOAT. DPZ is one of my favorite consumer discretionary and restaurant stocks. You can read more about my thoughts and opinions on the stock in my article "Domino's Pizza: Quality and Speed Competitors Can't Replicate." GOOGL and VEEV (VEEV hit a new 52-week high as of September 5, 2023) are also two names I am bullish on long term. I prefer them over their competitors in the growth category due to their product offerings and current valuations.
Expanding the look at the ETF's holdings, I have attached a table below with the fund's top 20 holdings, including their industry, YTD return, and contribution to the ETF's price movement. The average stock in the top 20 holdings is up just over 18% YTD, and only three have gone down or are negative YTD. You will also notice the very little overlap in industries and holdings. MOAT picks companies that are the best of the best from selective industries. These are companies that they believe will continue to grow and generate profits above their peers' averages for the next 20 years.
You may notice that the ETF only holds one of the "Magnificent Seven" stocks (AAPL, AMZN, GOOGL, META, MSFT, NVDA, TSLA). This should not scare or frighten investors away from holding the fund, but rather encourage them. MOAT provides additional diversification for investors, lowering the level of risk taken, while still delivering outperforming returns. I believe MOAT is a fund that investors can hold for the long term and is a good place to stash retirement funds.
Dividend Yield
As I mentioned before, MOAT offers a 1.01% dividend yield, which is equivalent to a dividend per share ("DPS") of $0.81. MOAT has paid a dividend for 10 consecutive years and has done a good job of increasing its DPS since its inception in 2012, when it was $0.14. However, its dividend is down over the last three years due to the cutback in profits that stocks and funds saw during the pandemic.
The ETF's DPS peaked in 2019 at $1.43 and has since been reduced each year since the COVID-19 pandemic occurred. In 2020, the DPS was reduced to $0.90, in 2021, it was $0.82, and in 2022/2023, it is at $0.81. The fund only has a payout ratio of 25.84%, which leads me to believe that MOAT has room to start increasing its yield again as the market and stocks rebound from 2022.
Since 2019, the DPS is down 43%. This is below the median of all ETFs, which have increased their yield by an average of 7.45% each year for the past three years. With the stock up 23% YTD, a 1% dividend on top of that is not too shabby for investors. Especially when compared to the SPY, which is up 19% YTD but has a yield slightly higher at 1.45%. With a relatively low payout ratio and the fund performing well, I believe we should see the dividend per share growth accelerate heading into 2024.
Risk
The main risk of holding MOAT, or any ETF or mutual fund, is underperforming the market or its benchmark.
Since 2013, including this year (YTD), MOAT has underperformed the S&P 500 in 5 out of 10 years: 2013, 2014, 2015, 2020, and 2021. Meaning from Jan 1st to Dec 31st of that year MOAT performed worse. However, over the past 10 years combined, MOAT has outperformed the S&P 500 in total returns. This shows that the risk of underperforming the market is always present, but it is possible to still generate positive returns over the long term.
Another risk to note with MOAT is the general market risk that you are taking when investing. In general, being in the market exposes you to market volatility and systematic risk. The S&P 500 was down over 18% in 2022, and MOAT was down just over 14%. While MOAT outperformed the market, it still declined as the economy weakened.
MOAT is even in the last month (down around 1%), indicating that the fund is consolidating around current prices. It is up 39.6% from its 52-week low on October 13, 2022, but if the market as a whole were to pull back, so could MOAT. This is why time in the market is crucial, time in the market is always more important than timing the market.
The last thing to note is the rising share count. The number of shares outstanding has increased from 33 million in September 2018 to 136 million today, over 300%. This is partially due to the rising demand for the ETF, but it is also likely that some of the dilution was done to help raise money and liquidity to help pay out the dividend during the pandemic. As things get back to normal, I don't think the share count will increase as much, diluting shareholders less. However, this is something to keep an eye on as investors do their due diligence.
Conclusion
In my opinion, MOAT is a great ETF to hold for the long term, especially for retirement savings accounts. It has a similar risk level to the S&P 500, with a 5-year beta of 1.02, but has outperformed the market over the past 10 years. Over the past 10 years, MOAT has averaged a return of roughly 25.6%, while the S&P 500 has returned around 22.6%. Additionally, MOAT has provided greater downside protection, as it outperformed the S&P 500 in both 2018 and 2022, the only two years the market has been down since 2013.
I believe the ETF's strategy and stock picking are extremely effective. The management team picks winning stocks that are likely to generate excess profits and growth rates over the next 20+ years. These are companies with high brand equity and strong product offerings, with long growth runways ahead of them. The ETF is also very diversified, with just 54 holdings across a variety of industries. It has a small dividend to generate additional income, and I believe it will continue to grow at its historical rates now that the pandemic is behind us.
MOAT is a great fund to hold if you are a more risk-tolerant investor. You could look to pair it with additional funds like SPY, QQQ, or a dividend ETF like Vanguard Dividend Appreciation Index Fund ETF Shares (VIG) to create a safe portfolio with average market risk and outperformance over time.