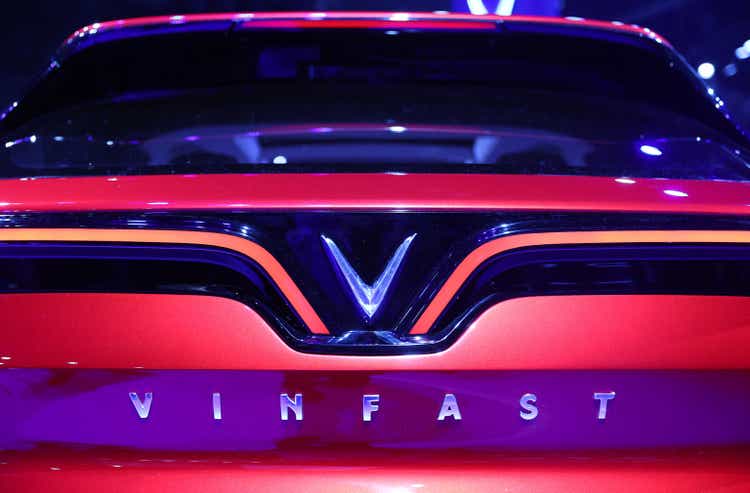 The stock market has never lacked shaky-looking enterprises that a prudent investor might consider "interesting" without committing even a penny of capital. The latest such example is VinFast Auto Ltd. (NASDAQ:VFS), a battery-electric vehicle (BEV) startup listed in Singapore whose roots are in Vietnam.
The appeal of VinFast is similar to that of any number of battery-electric startups: they envision a not-too-distant future in which consumers embrace BEVs en masse, relegating fossil fuel vehicles to the junkyard of history. Unlike fossil fuel vehicles, BEVs are relatively simple to design and manufacture, making it theoretically possible for ambitious entrepreneurs to enter the business and possibly to attain financial profitability by selling far fewer vehicles – and at much smaller investment – than incumbent automakers like General Motors Co. (GM) and Toyota Motor Corp. (TM) – who also are manufacturing BEVs.
No Tesla, yet
So far the only BEV startup to penetrate the automotive business successfully is, of course, Tesla (TSLA). The number of fledgling, foundering or failing BEV startups continues to rise: Names like Fisker, Lucid, Nikola, Faraday Future, Bollinger, Rivian and countless Chinese startups, such as XPeng and NIO, abound.
Founded in 2017, VinFast is a subsidiary of Vingroup, which is owned by Vietnamese billionaire Pham Nhat Vuong, the country's richest man, who made his fortune as a property developer. The automaker built a plant in Hai Phong in just 21 months; and, with the help of suppliers, showed two cars at the 2018 Paris Auto Show.
Through June, according to S&P Global Insights, a grand total of 137 VinFast BEVs were registered in the U.S. The company, however, says it expects to sell 50,000 vehicles worldwide this year, which compares with Tesla's projection to sell 1.8 million and Toyota's target of selling 1.5 million EVs worldwide by 2026.
Still in its infancy, VinFast doesn't lack for ambition. The company on July 28 broke ground on an 1,800-acre, $2 billion factory complex in Chatham County, North Carolina where it plans to build three BEV crossover models by 2025. The plant's capacity will be 150,000 vehicles a year, the company said.
No show in Munich
VinFast had planned to present at the IAA Mobility exhibition in Munich during the first week of September, and cancelled due to difficulties bringing their vehicles into conformance with European regulatory standards. Speaking at the exhibition, Luca de Meo, chief executive of Renault, spoke about the growing reluctance of European investors to support BEV ventures, such as the one his company is planning.
"If European investors care about the future of Europe they better put money into this, instead of putting question marks all over the thing," de Meo said, as quoted in the Financial Times.
If VinFast's arrival on the automotive scene raised eyebrows, no less so did the flotation of the company's shares, which were first offered publicly at $22 a share via a SPAC on August 15. From the opening price, the shares have fluctuated wildly up and down, briefly and preposterously giving VinFast a market capitalization that exceeded those of several major automakers including BMW, Ford and General Motors.
For reasons that were unstated, VinFast floated less than 1% of its shares – about 7.3 million – the balance held by Vuong. The volatility of the price action during its first weeks as a public company likely were a partial consequence of the thin float.
One can only imagine the rationale of an investor who regards VinFast – with paltry financial results and no auto market accomplishments to speak of – as perhaps an early version of Tesla, with Vuong playing the role of Elon Musk. Who is anyone to vouchsafe that such a thing is clearly impossible? Improbable, yes. Highly improbable, yes – but impossible?
Investor beware
If any investment rationale relies on an assumption that the world is moving toward BEVs, suggesting that VinFast might be positioned to profit fortuitously from such a global trend in personal transportation, caution is in order.
The latest evidence suggests that mainstream BEV adoption, especially in the U.S., will unfold more slowly than was presumed three to four years ago when automakers such as General Motors Co. (GM), Ford Motor Co. (F) and others were outdoing one another for the biggest and boldest financial commitment toward BEV-only production and abolition of fossil-fuel vehicles.
Several factors, including the costliness of BEVs, the lack of a robust charging infrastructure, consumer unfamiliarity with BEVs and competition from gas-electric hybrids such as those produced in abundance by Toyota Motor Corp. (TM) add up to a much more difficult survival for startups.
As I reported in mid-August:
The latest new-vehicle registration data from credit reporting company Experian confirms other evidence that points to slowing of sales growth of BEVs in the U.S. The automakers are alert to the trend and are beginning to take measures such as price-cutting and adjusting production to make BEVs more attractive and limit losses.

Surveys suggest that insufficient charging infrastructure, range anxiety and premium pricing of BEVs are prime contributing factors to the slowdown. A countervailing trend is the large number of new models entering the U.S. from a number of manufacturers, providing more consumer choice. As of March, 40 BEV models were available in the U.S.
Like the rest of the BEV sector, VinFast does bear watching. Eventually, in decades rather than years, motorists around the world will be driving cars powered by electricity in large number – and the company that was born in Vietnam might play some role in that transition. But can ordinary investors wait that long for an investment to pay off, especially when there are countless equities that promise a more immediate return?
VinFast shares don't merit ownership at the moment. They're also too dangerous to short, because Vuong's intentions and the company's performance are too opaque. If you are one of those who already has bought into the IPO on the chance of making a quick buck, irrespective of other factors, my recommendation is to SELL.