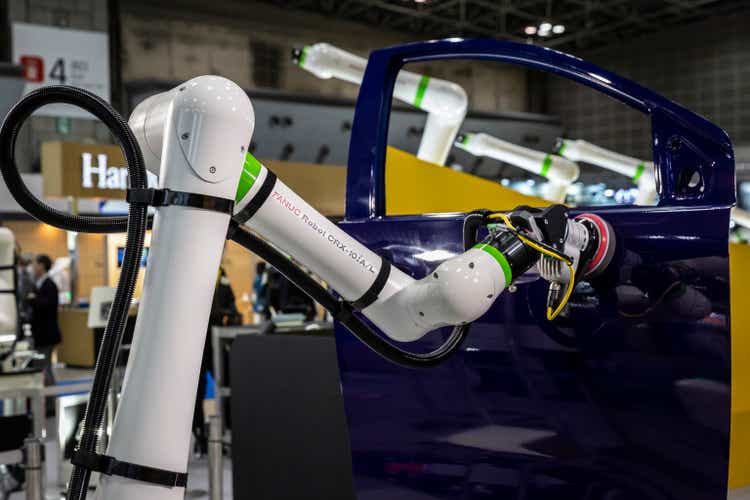 Elevator Pitch
I continue to assign a Hold rating to Fanuc Corporation (OTCPK:FANUY) [6954:JP] shares. FANUY's recent share price correction following Q1 results has already priced in headwinds associated with the company's ROBOT business division, considering that its trailing P/E multiple is near a three-year low. As such, I decided to maintain a Hold rating for Fanuc Corporation.
Short Term Pain Evidenced By Below-Expectations Q1 Results
With my earlier write-up for Fanuc Corporation published on June 26, 2023, I cautioned that the company might witness "short term pain" as its "bottom line is expected to fall significantly in FY 2023 (April 1, 2023 to March 31, 2024)."
My concerns about Fanuc Corporation's near term financial performance were validated by the company's recent quarterly results. The top line and bottom line for Fanuc Corporation contracted by -4.6% and -28.0% to JPY201.8 billion and JPY30.3 billion, respectively in Q1 FY 2023 on YoY terms. The company's actual first quarter revenue and net profit also fell short of the sell-side analysts' consensus financial forecasts by -4.9% and -22.8%, respectively as per data sourced from S&P Capital IQ.
Considering that Fanuc Corporation's Q1 FY 2023 financial results failed to meet the market's expectations, it was no surprise that the stock's post-results share price performance was poor. FANUY's stock price declined by -6.9%, -3.0%, and -4.5% on the three trading days (July 28, July 30, August 1, 2023) following the company's most recent quarterly results announcement in late July.
Specifically, it was FANUY's Robot business segment that was largely responsible for the company's Q1 earnings miss and the stock's share price underperformance as detailed in the subsequent sections of the article. Fanuc Corporation's ROBOT segment, which contributed 37% of the company's fiscal 2022 top line, is focused on the production and sale of "industrial robots" used for "welding, material handling", "assembly and painting" as mentioned in its FY 2022 annual report.
ROBOT Business' Sales And Bookings
Revenue derived from the ROBOT business segment decreased by -3.5% QoQ from JPY100.0 billion in Q4 FY 2022 to JPY96.5 billion for Q1 FY 2023. It is even more worrying that orders for the ROBOT segment dropped by -25.6% QoQ and -22.6% YoY to JPY81.4 billion in the most recent quarter. This is the first time in the past 11 quarters that Fanuc Corporation's ROBOT business didn't achieve an increase in orders on a YoY basis. These metrics are taken from Fanuc Corporation's Q1 FY 2023 earnings presentation.
In the short term, the outlook for Fanuc Corporation's ROBOT business is negative.
At the company's Q1 FY 2023 results briefing, FANUY highlighted that "inventory adjustments are being made in the Chinese market" and "inventory in the U.S. has risen substantially" with respect to its ROBOT business segment. It will be reasonable to assume that Electric Vehicle or EV makers were overly optimistic about near term demand for their products, and they made an excessive number of industrial robot orders previously. As such, FANUY sees orders for the ROBOT segment and the company as a whole declining QoQ in Q2 FY 2023.
For the medium to long term, it is worth noting that FANUY appears to have become more cautious about growing its investments in the ROBOT business, and this might be attributable to technological disruption threats.
Fanuc Corporation mentioned at its first quarter earnings call that the company is "reconsidering our investment in a new ROBOT factory more carefully" and "postponing new investments", considering that "the market environment is changing." Notably, new technological developments might have hurt demand for FANUY's industrial robots. An earlier June 14, 2023 Reuters news article noted that Tesla (TSLA) "was able to remove 600 robots from assembly" for the Model 3 with its "aluminum die-casting machines" referred to as the "Giga Press." At its most recent quarterly earnings briefing, Fanuc Corporation acknowledged that certain types of robots like "spot welding robots will probably be replaced by" machines like Tesla's Giga Press.
ROBOT Segment's Profitability
As indicated in its Q1 FY 2023 results presentation, Fanuc Corporation is guiding for a -6.7 percentage points contraction in its operating profit margin from 22.5% for FY 2022 to 15.8% in FY 2023. Expectations that FANUY's Robot business will be much less profitable explain why its fiscal 2023 guidance points to substantially lower margins for the company as a whole.
One factor is that Fanuc Corporation's plant utilization rate for its ROBOT business is expected to decrease going forward. FANUY mentioned at its Q1 FY 2023 results call that its ROBOT segment is suffering from "the reduction of the uptime of our factories" as a result of "inventory adjustments." Therefore, profitability for the ROBOT's business segment will inevitably be hurt by negative operating leverage.
Another factor is that the Japanese yen has depreciated meaningfully in recent times. This means that it is tough for Fanuc Corporation's ROBOT division to maintain or even increase the selling prices for this segment's exports, as the company's foreign customers will naturally bargain for price discounts on the basis of a weaker yen.
Concluding Thoughts
Fanuc Corporation's trailing twelve months' normalized P/E multiple is 25.0 times now, which is pretty close to its three-year historical P/E trough ratio of 23.9 times, based on valuation data taken from S&P Capital IQ. It is fair to say that the short term negatives for Fanuc Corporation are already factored into its stock price and valuations. As such, I have retained my Hold rating for FANUY.
Editor's Note: This article discusses one or more securities that do not trade on a major U.S. exchange. Please be aware of the risks associated with these stocks.