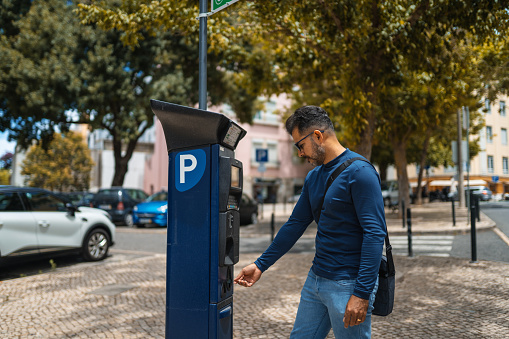 Investment Thesis
I wanted to take a look at SP Plus Corp.'s (NASDAQ:SP) financials to see whether it is a good time to invest in the company for the long haul. I believe that even with a slight improvement in gross margins, the company would be a buy, however, it will all depend on the management's ability to grow revenues at a decent pace and curb costs. For this reason, I give it a hold rating until we see what happens in the next couple of quarters.
Briefly on the Company
SP Plus Corporation- not many have heard of this company most likely. It sounds boring, it serves rather boring segments too. It operates as a parking company around North America and Europe. It provides parking services through its Parking.com – Park. Better. Period. ™ – Find Parking Now app. It also provides transportation, facilities maintenance, events, and security services. It is so boring that it gets me excited actually because stocks like this fly under the radar for many and could be a hidden gem if the company plays its cards right and executes well on its strategies.
Financials
Just to note, all graphs below will be as of FY22, which is the last full year available. I do this because I like to look at the company's financial trend overall and I don't want to see q-o-q results because these fluctuate quite a lot. I will include some numbers I deem necessary from the latest quarter for extra color.
As of Q2 '23, the company had $24.6m in cash, which doubled since the end of FY22, against $352m in long-term debt. That is around half of the company's current market cap and a lot of investors wouldn't look any further than this and move on to another company. My view is that a company can have debt on its books as long as it is manageable. The company's interest coverage ratio stood at around 5x as of FY22, which is what I like to see. This means that EBIT can cover interest expense on debt 5 times over. For reference 2x is considered healthy, I just like to be stricter when it comes to debt. So, in my opinion, debt is not an issue, and the company is at no risk of insolvency. It was a little worrisome in FY20, but that was a black swan event, and everything went back to normal quite quickly.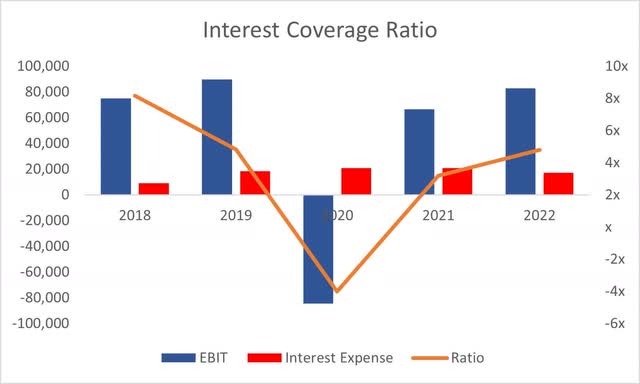 The company has been operating with a current ratio of less than one for many years now. It is not necessarily an issue in this case for exactly that reason, however, I will have to take a cautious approach here because I would have preferred to see a current ratio in the 1.5- 2.0 range, which I think is the most efficient ratio and a good balance between the company not hoarding too much cash and using it to expand its presence globally and still be able to pay off its short-term obligations. I'm sure the company doesn't have any liquidity issues even with a current ratio of >1.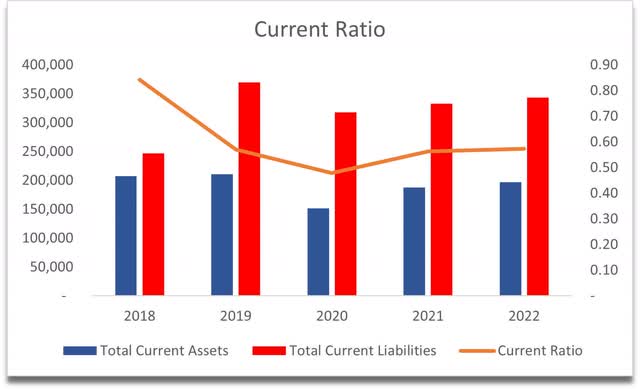 Looking at the company's efficiency and profitability metrics, SP's ROA and ROE are decent and may improve slightly more in FY23 if all goes well. These metrics tell me that the management uses the company's assets and shareholder capital quite efficiently and is creating value for investors. According to my assumptions, FY23 should have around 5% ROA and 22% ROE, but those are just my assumptions.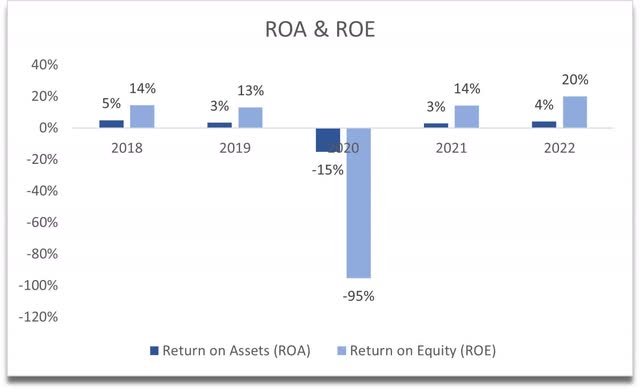 In terms of competitive advantage and moat, the company's ROIC seems to be decent also. A little under my 10% desired, but 9% at the end of FY22 is not bad at all. This tells me that the company does have a strong moat and a competitive advantage in the areas where it operates. I wouldn't be surprised if ROIC goes above 10% in FY23.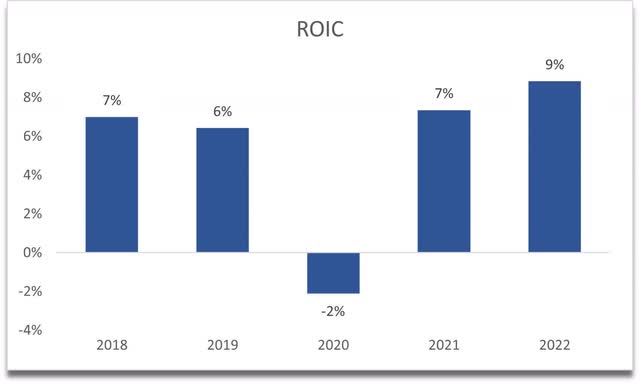 The company's past revenue growth has been quite bad except for the period from FY21 to FY22, which saw a 32% increase in revenues. All revenue increases can be attributed to improving business conditions and new businesses. The management is guiding around 11% growth for FY23, which is quite a bit lower than what we saw at the end of FY22.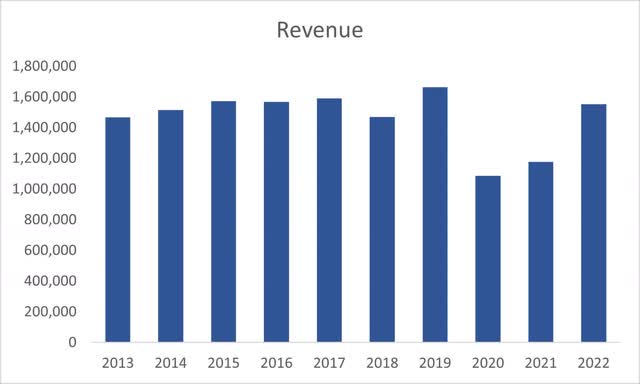 In terms of margins, these haven't improved or deteriorated much in the last 5 years besides FY20, and looking at the latest quarter, these haven't changed much either. The margins are very tight in this industry and any cost-cutting measures to improve gross margins will play a big role in the company's intrinsic valuation.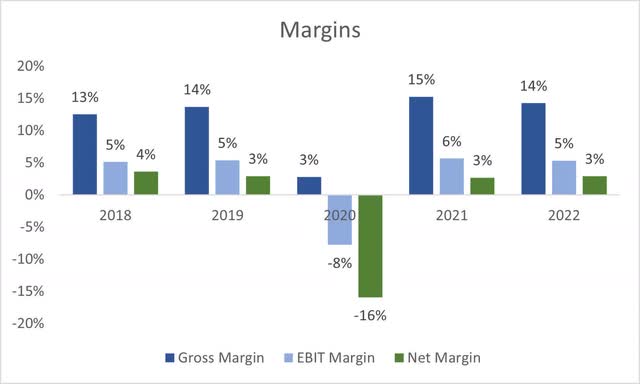 The company has also kept its shares outstanding very steady in the last decade, with slight repurchasing recently, which is much better than diluting its shareholders.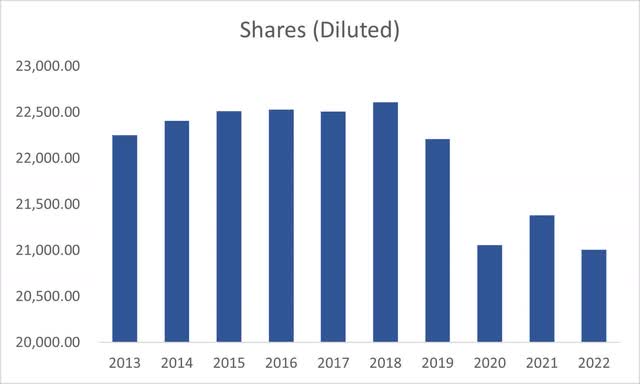 The company's P/S ratio is also at the lower end and is well below 1, which seems very cheap to me. According to Seeking Alpha, the below companies are competitors of SP, and it looks like it is doing well compared to them.

Overall, it looks like the company is running very smoothly and experienced a turnaround from FY20 or maybe I should call it, returned to normal operations as if the pandemic never happened, which is good to see. The management is doing well at running the company in my opinion.
Valuation
It is tough to decide what revenue growth I should assign for the company over the next decade, seeing that in the last decade, it grew 6% from FY13 to FY22. We did see a 32% increase in revenues last year, but we cannot assume that it's going to be sustainable as the management already guided for around 11% for FY23.
For my base case scenario, I decided to go with around a 5% CAGR over the next decade, which is much more optimistic than what the company managed in the last decade. For my optimistic case, I went with a 9% CAGR, while for the conservative case, I went with a 3% CAGR.
In terms of margins, I assumed the company managed to curb costs slightly and over the next decade, gross margins improve by around 200bps or 2% by FY32 and operating margins by 150bps. This will bring net margins from around 3% in FY22 to around 6% in FY32.
To be on the safe side, I will add a 25% margin of safety to the final calculation. With all assumptions plugged in, SP Plus Corporation's intrinsic value is $34.62 a share, implying the current share price is a little too expensive for me.

Closing Comments
The company saw a great bounce back from the pandemic disaster where no one used their parking and other services for a long time. Now that everything's back to normal, the company can continue to maximize parking profitability and make an enjoyable experience for its customers.
I am assigning a hold rating for now because of the unknowns on the margin side of things. I have modeled that the company will manage to improve gross and operating margins slightly and over time double its net margins, which could be a hard task and we can only see what happens over the next quarters. I would like to see the company trying to improve these margins and improve its revenue growth, however, right now, for me to take on the risks, the share price has to retreat at least another 10% before I would commit my money.