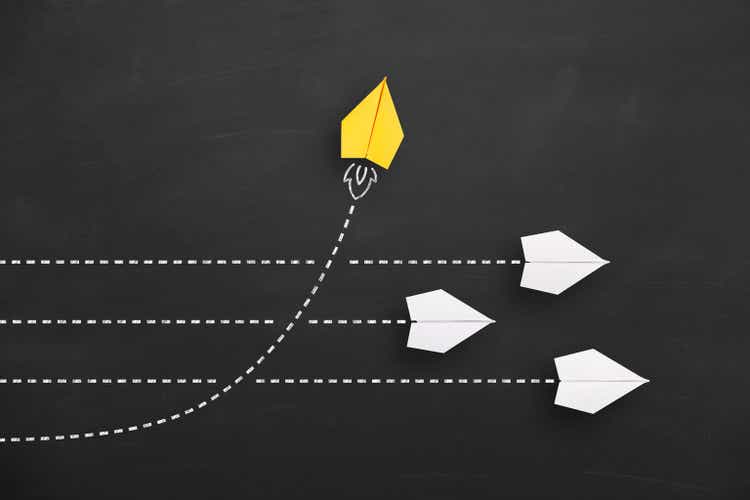 Investment thesis
Our current investment thesis is:
Endava has achieved impressive growth, well in excess of its peers, while also having superior margins, driven by an alternative approach to competition. The company has developed a strong brand, is focused on complex transformational exercises, is active

in conducting M&A, and seeks to recruit high-performing individuals.

The company's client growth is strong and its top customers are being diluted as a % of revenue, implying Endava is successful with cross/up-selling its clients.
We believe industry tailwinds will support strong growth in the coming years, particularly from AI, as companies seek to integrate the technology into their operations.
Endava is trading at a FCF yield of 5.8% and a small premium to its peers, despite its strong financial and commercial performance. This implies upside in our view.
Company description
Endava (NYSE:DAVA) is a global technology services company that provides IT consulting, software development, and digital transformation solutions to help businesses innovate and stay competitive. Headquartered in London, the company operates in various industries, serving clients across North America, Europe, and Asia.
Share price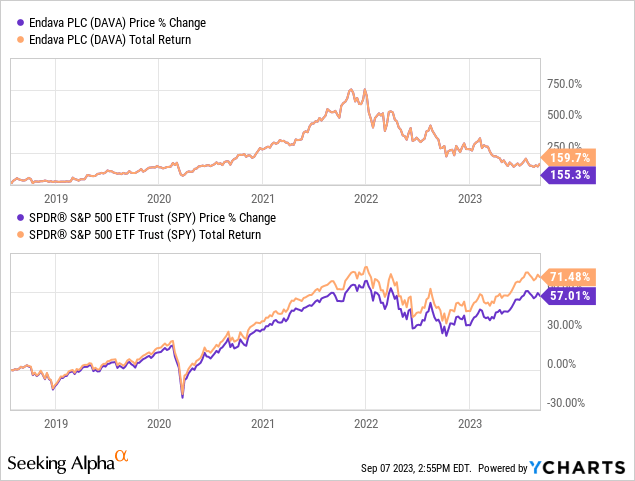 Endava's share price performance has been strong since it was listed, although noting a rapid deterioration from its peak at the end of 2021. The share price movements are a reflection of investors' changing sentiment and expectations of the company's long-term trajectory.
Financial analysis
Presented above are Endava's financial results.
Revenue & Commercial Factors
Endava's revenue has grown exceptionally well during the last decade, with a CAGR of 35% into the LTM period. This growth has been incredibly consistent, with no period below 20%.
Business Model
Endava assists businesses in navigating the digital age by offering services and solutions that enable digital transformation. This includes software development, cloud migration, data analytics, user experience design, and more. The company's objective is to be a partner to clients seeking to develop their operational and commercial capabilities as technological change materially disrupts their industries.
Endava's approach is different from many of its peers, seeking to differentiate itself through the development of brands synonymous with high-quality services and a unique approach to problem-solving. We believe this is a key reason for the company's growth as IT consulting and Digital Transformation has experienced a period of commoditization, contributing to a race to the bottom. Endava is seeking to break this by differentiating itself, with its revenue showing the success of this approach.
Endava provides its services across a range of industries but has developed its expertise in what we would describe as "traditional" or "archaic" industries, those with the broadest scope for technological improvement. As the following illustrates, Management estimates that there is significant growth remaining within these core markets.
Endava is a global business, earning 56% of its revenue in Western Europe & the EU, with a further 24% in non-EU countries (We suspect much of which is the UK), followed by 15% in LatAm and 3% in North America. This diversification reduces any risk of concentration to local headwinds, while allowing the business to develop its brands and total addressable market.
A key opportunity we see with this is North America. The company's exposure to the market, which is the largest in the world, is minimal. Given the level of competition, M&A is likely the optimal strategy.
The Endava business is a combination of a range of brands, many of which have been acquired to supplement the wider group's technological capabilities or its global reach. The company's track record has been positive, noting a strong ability to identify opportunities and a selective approach. This is critical given the brand image it has created. This is important as the consulting industry has experienced a period of consolidation, driving up the trading multiples of boutique firms.
The company focuses on building deep relationships with clients, seeking to understand their unique needs, challenges, and goals. This fosters a long-term arrangement with clients, allowing Endava to support businesses throughout their growth trajectory and improve the recurring nature of revenue.
Endava employs agile methodologies and lean practices to deliver projects efficiently and iteratively, aligning with clients' evolving requirements. Alongside this, the company invests heavily in marketing its brand and developing a strong culture, all in the pursuit of taking a different approach to this industry.
Financial development
Endava's top-line performance is clearly incredibly impressive, as is its business model. The foundations underpinning this are just as good, suggesting sustainability in its growth trajectory.
The company's top 10 clients are incrementally diluting over time, as the number of big-ticket clients continues to increase, with over 150 clients contracted for >£1m.
Beyond this, average client spending is growing well, which suggests the focus on developing a long-term relationship with its clients to improve upselling/cross-selling opportunities is succeeding.
Technology Industry
The technological revolution has continued to march on, as new technologies are developed and more businesses see the benefit of incorporating technology into every facet of their operations. This is becoming critical for companies to remain competitive, as technology reduces the value of barriers to entry. We expect continued growth, with corporates utilizing the likes of Endava and others to support them on an ongoing basis, as the landscape within their industry changes.
The current topic of the month is AI. We believe in the hype with AI, as it truly has the potential to accelerate the value of services provided by businesses. With new companies entering the industry every day, corporates will require support to navigate their choices to find what best service for their operation, which is where Endava comes in. Similar to how Cloud has driven growth in the last decade, we suspect AI will maintain this trajectory going forward.
Competitive Positioning
We believe the following are competitive advantages and attractive qualities of Endava:
Customized Solutions – Endava's ability to tailor solutions to each client's specific needs has led to client satisfaction and loyalty. Its multi-brand, global approach allows it to facilitate this seamlessly.
Technological Expertise – The company's deep technical expertise in various areas, such as cloud computing, data analytics, and emerging technologies, positions it as a trusted partner. Endava's willingness to acquire the expertise required, its desire to develop a high-performing culture, and its focus on recruiting highly competent individuals, will only enhance this further.
Industry Recognition – Endava's reputation for delivering high-quality solutions has earned it a strong brand, enhancing its credibility.
Acquisitions and Expansion – Endava's strategic acquisitions and expansion into new markets have contributed to its growth by broadening its service offerings and client base.
Diverse Portfolio – Offering a range of services allows Endava to address multiple aspects of clients' digital transformation journeys, widening its total addressable market.
Margins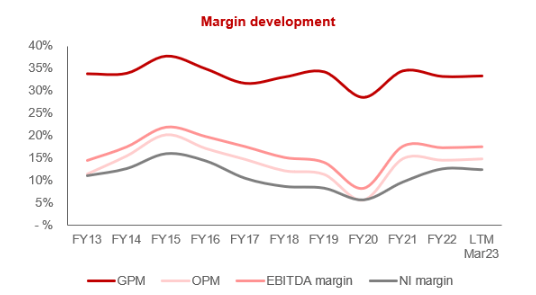 Endava's margins are impressive, with broadly flat development during this period. The company's focus on complex areas and a premium perception has allowed it to price aggressively, thus far allowing for strong returns.
We do believe the current levels are sustainable, although Endava will face competitive pressures. It is unlikely further improvement is possible given the lack of upward trajectory thus far.
Q3 results
Presented above is Endava's most recent quarterly results. The key takeaways are:
Endava's top-line growth was +20.3%, with incremental margin improvement (0.1ppts on NIM level). The company's growth illustrates its resilience to economic conditions, although is below the growth rate achieved historically.
Headcount growth continues to be strong, with Management committed to gaining market share and developing its expertise during a period of weakness. Despite this, FCF has grown in excess of revenue, with no material margin dilution.
Balance sheet & Cash Flows
Endava's balance sheet is clean. The company's strong FCF improvement has allowed it to utilize cash to acquire businesses, with a negative ND balance. We suspect a FCF margin of 13-16% is sustainable going forward.
Outlook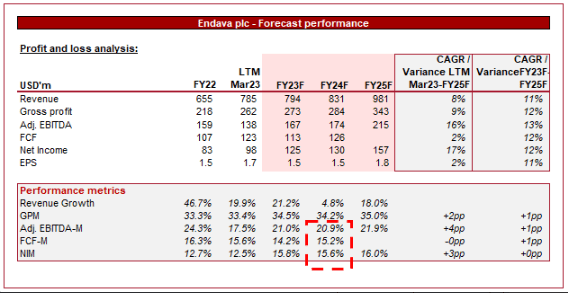 Presented above is Wall Street's consensus view on the coming 5 years.
Analysts are forecasting a softening of Endava's growth rate, with a CAGR of 11% into FY25. Further, margins are expected to normalize at the current levels. Both assumptions appear broadly reasonable, as the business will inevitably face a slowdown, with M&A difficult to forecast. Further, the company's margins are impressive on an absolute basis, making it difficult to achieve further improvement with scale.
Industry analysis
Presented above is a comparison of Endava's growth and profitability to the average of its industry, as defined by Seeking Alpha (19 companies).
Endava performs exceptionally well relative to its peers. The company's growth is impressive, reflecting its alternative approach to winning clients and supporting growth through M&A.
Further, Endava's margins are comfortably above the average, implying its focus on complex technological capabilities and its marketing efforts have sufficiently differentiated the business relative to its peers.
Valuation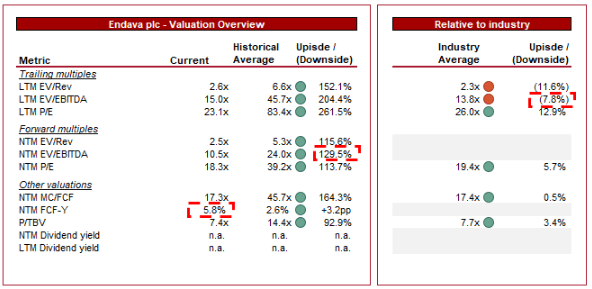 Endava is currently trading at 15x LTM EBITDA and 11x NTM EBITDA. This is a discount to its historical average.
The company's historical period is short so using this as a benchmark has limited benefits. The key reason for the discount is a change in investor sentiment as to the company's growth trajectory and scope for margin improvement.
What is far more important to consider is the company's valuation relative to its peers. The company is trading at a small premium on an LTM EBITDA basis but a discount on NTM FCF. This suggests value in our view given the financial outperformance achieved. Further, the company has a much greater growth runway, particularly due to its tendency toward bolt-ons.
The following graph illustrates the development of its attractiveness. As Endava's trading multiples have declined, its FCF yield has improved.
Key risks with our thesis
The risks to our current thesis are:
Marketing – Endava's marketing capabilities are very good. This is a key part of its go-to-market strategy but makes us slightly nervous that a degree of the company's premium is based on this. The risk that Endava sees erosion in this.
Margin dilution – This is a broader point similar to the above. Given the simplification of the industry due to the number of large-scale participants, the risk is that pricing pressure begins to negatively impact Endava.
Final thoughts
Endava is a quality business taking a slightly different approach to its competitors. This has allowed the business to gain market share quickly and achieve an impressive growth trajectory. Underpinning its strong brand and marketing is deep expertise and a razor-focused strategy by Management.
We believe industry tailwinds, namely AI and Cloud technology, as well as bolt-on acquisitions and the development of its relationships with existing clients, will support good growth in the coming years. Will it be at the 35% CAGR, likely not, but we do think the company can continue to exceed its peers.
Despite the financial development during this period, Endava's valuation has broadly declined, implying strong upside in our view.