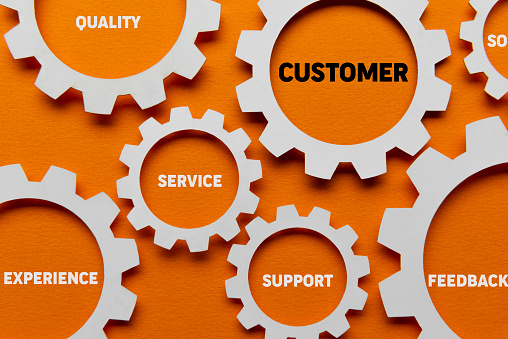 The Global PMI data – compiled by S&P Global across over 40 economies and sponsored by JPMorgan – showed average prices charged for goods and services continuing to rise at an elevated rate by historical standards in August.
Although some cooling in service sector inflation was evident, rising wage pressures combined with increased energy costs and signs of a bottoming-out of raw material prices ensured inflation in the major developed economies is likely to remain stubbornly above central bank targets in the coming months.
Upward price pressures are emanating primarily from consumer-facing service providers, and in particular, rising demand for tourism and recreation, with transportation costs receiving an additional boost from higher fuel prices.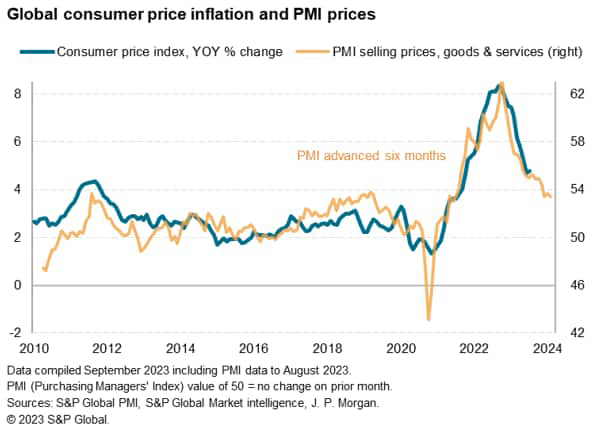 Global prices continue to rise at elevated rate
The global PMI selling price index – compiled by S&P Global and covering prices charged for both goods and services in all major developed and emerging markets – edged down from 53.7 in July to 53.4 in August. The latest reading was its joint-lowest since December 2020 and over ten points down from the survey high of 63.5 recorded back in April 2022.
The survey data therefore indicated some further moderation of global inflation from the 5.8% annual rate estimated from various national sources for July. However, the rate of increase remains well above the average seen in the decade prior to the pandemic and suggests the rate of global inflation is likely to stick around the 4% mark in the near term.
This stubbornly elevated rate of inflation is being driven by the service sector, where price rises showed further encouraging signs of slowing in August but remain high by historical standards.
Factory prices are now also rising again after three months of decline, albeit increasingly only very modestly.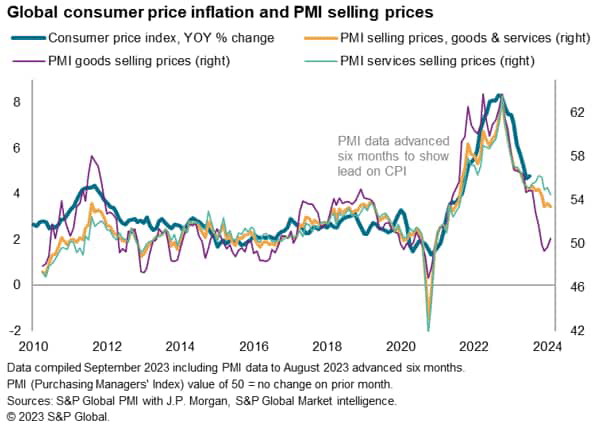 Goods prices bottom out
The PMI selling price data brought some signs of manufacturing inflation rates bottoming-out across the board, with rates of decline moderating in the Eurozone and mainland China and prices returning to modest growth in the US. The rate of increase, meanwhile cooled further in Japan, leaving the UK as the only major economy seeing an accelerated rate of decline.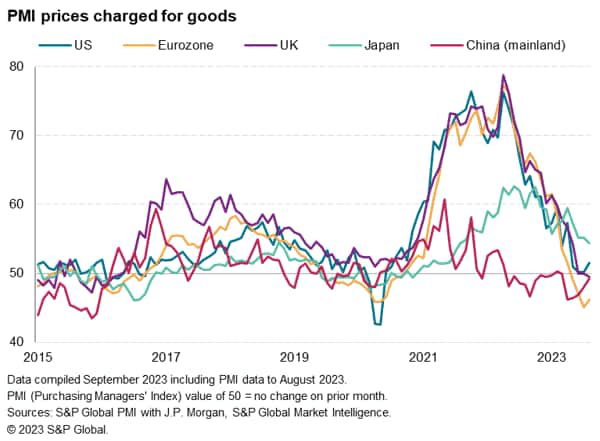 Cooler service sector price growth
Services inflation rates meanwhile, generally ran cooler in August, dropping to 24- and 23-month lows respectively, in the UK and Eurozone, down to a six-month low in the US, and hitting a four-month low in mainland China. No change in the rate of inflation was seen in Japan. Note, however, that in all cases except China, the rate of increase remained elevated by historical standards.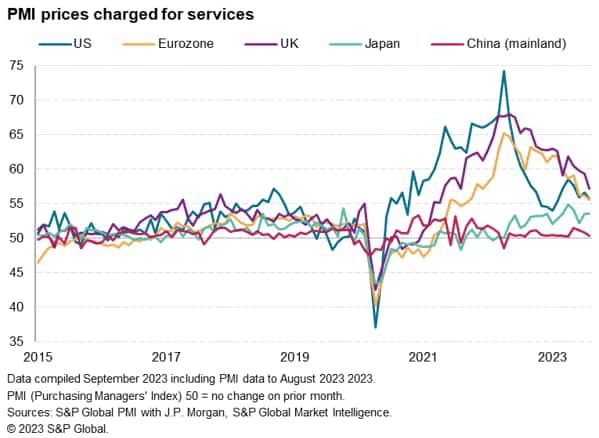 The bottom line regarding headline inflation is that the PMI data hints at further near-term stickiness of US inflation around the 3% mark (current 3.2%), but UK (6.8%) and eurozone (5.3%) rates likely have further to fall, albeit with attainment of central bank policy rates of 2% still not indicated in all three cases.
Labor costs drive prices higher as demand remains a drag
Analysis of the responses provided by PMI survey respondents can be used to estimate the degree to which different factors are driving inflation. These data are presented as time series for which a value of 1.0 represents the long-run average.
This data informs us that by far the greatest upward pressure on selling prices for both goods and services continued to be coming from wages in August, for which the inflationary pressure remained very elevated, albeit down the lowest since March.
Upward pressures from raw material costs are also continuing to run at around two-and-a-half times the long run average.
A re-intensification of upward energy price pressures was meanwhile felt in August, bucking the broad easing trend seen for energy over the past year.
Demand-pull price pressures, on the other hand, have sunk close to their long-run average and continued to run at one of the lowest levels seen November 2020.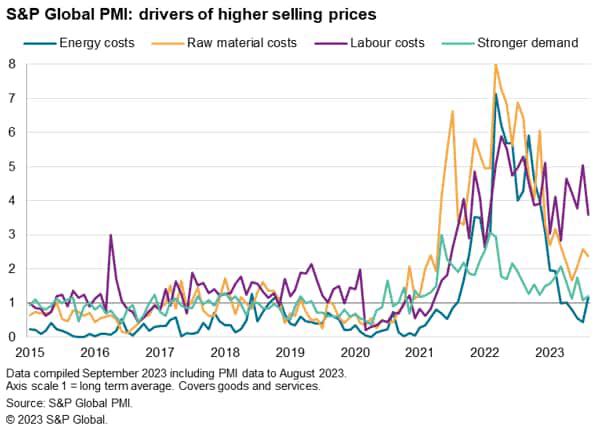 Inflation led higher by consumer services
S&P Global's detailed sector PMI data allows further insights into the drivers of inflation. These data shows that the steepest rise in prices charged was again recorded for consumer services in August, thanks largely to increased pricing power on the back of resurgent post-pandemic demand in recent months.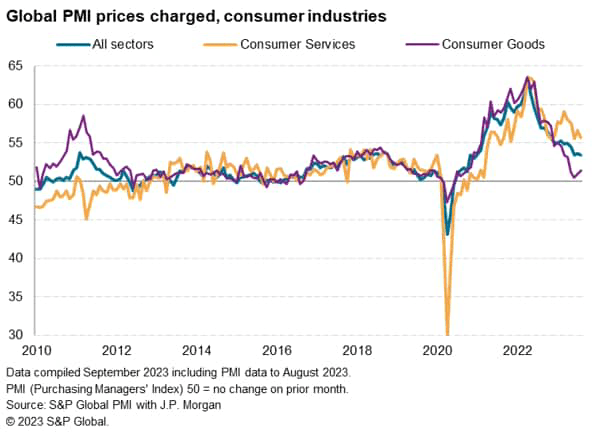 Within consumer services, tourism and recreation and transportation reported especially steep rises, the former showing some signs of cooling further from the spring peak but the latter reporting an accelerated rate of inflation thanks in part to higher fuel prices.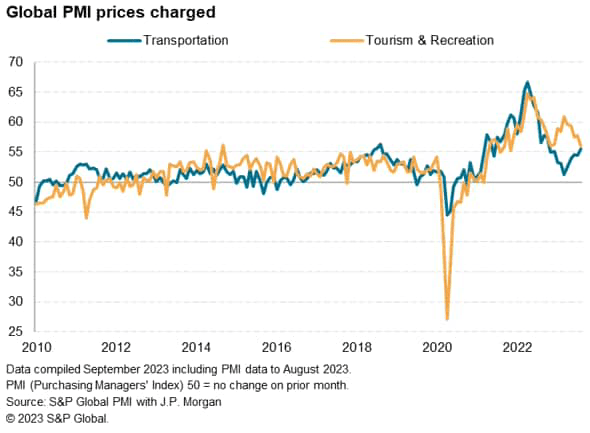 However, it was prices for healthcare which rose most in August, led by healthcare services amid rising labour costs.
At the other end of the scale, prices again fell most sharply for basic materials, reflecting increased discounting amid a glut of supply relative to weakened demand, all of which has been exacerbated by an ongoing drive towards inventory reduction as firms unwind safety stocks built up during the pandemic.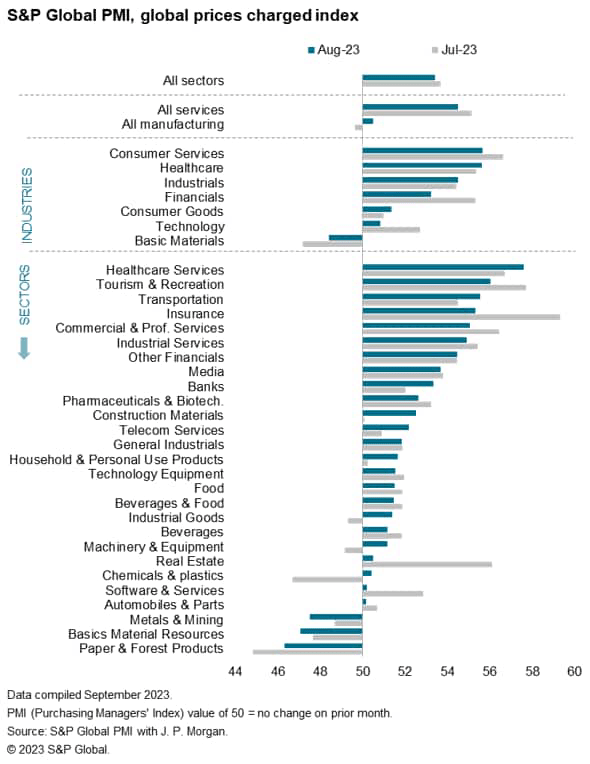 ---
Editor's Note: The summary bullets for this article were chosen by Seeking Alpha editors.