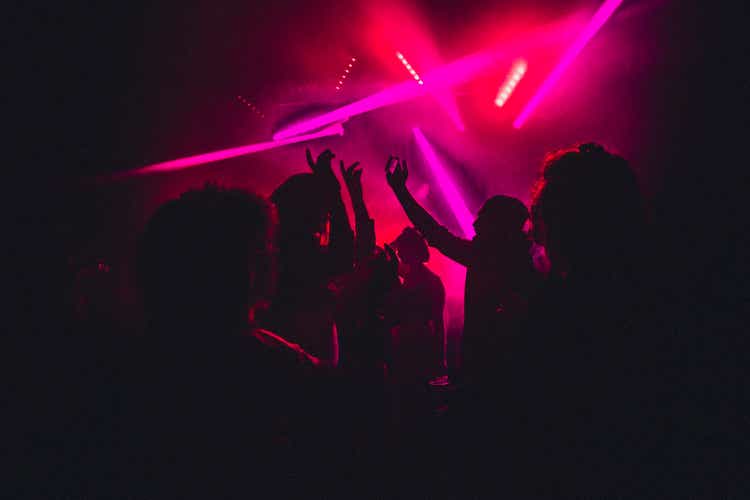 Overview
Since my last coverage back in Jan 2023, RCI Hospitality (NASDAQ:RICK) witnessed its decline in Nightclub's same-store-sales ("SSS") in the most recent 3Q23, which also marks the end of nine consecutive quarters of SSS growth. With Bombshell revenue continuing to decline from peak Covid, the stock was down post-earnings.
Despite concerns surrounding the near-term SSS growth trajectory, 4Q23 and fiscal 24 are on track to benefit from multiple newly opened/remodeled/reconcepted clubs, new Bombshells, and casinos, which will offset SSS decline, and uplift revenue and EBIT. The long-term thesis is intact as management's continued pursuit of new M&A will result in EBIT growth, and there remains substantial upside from the current market cap.
A Look Into 3Q23 Financials
RICK's Nightclubs' same-store sales declined 7.3% YoY, Bombshell SSS declined 18.2% YoY as management cited macro uncertainty and inflation.
Specifically, factors affecting Nightclubs' SSS were primarily the decline in the high-margin service revenue as customers were on vacation and VIP parties were postponed. Service revenue as a percentage of revenue fell from 45% in 3Q22 to 42% in 3Q23. The loss of -$0.5 million in 3 small Texas clubs also partially contributed to SSS decline. Nightclubs' overall sales, however, are still up 14% YoY due to revenue from newly acquired and remodeled clubs.
Bombshell was affected by the extreme heat conditions in Texas as patios were closed, but previous acquisitions, including the Denver Food Hall, offset the decline. Management does hope to recover margins to 18% to 22% by 2Q24.
Overall operating profit is down 24% YoY and overall margins fell from 29% in 3Q22 to 20% in 3Q23, due to a loss of service revenue and a decline in Bombshell sales. Respectively, the club's operating margin was down from 41% in 3Q22 to 33% this quarter, while Bombshell was down from 14% in 3Q22 to 12% this quarter.
Several new units, including a remodeled Fort-Worth Baby Doll Club and Stafford Bombshell to be open in 4Q23, along with the opening of 3 new Bombshells (Rowlett, Lubbock & Denver), 3 new clubs (new Fort-Worth club, re-formatted Tye club, and a replacement Lubbock club), Rick's Cabaret Steakhouse & Casino, and Bombshells Sports Casino in FY24 are expected to be accretive to revenue. Near-term adjustments are also made toward offsetting SSS, including increased pricing, changes in marketing strategy, labor cost, and new drink promotions, which are likely to put pressure on future operating margins, especially on Bombshells in both 4Q23 and 1H24.
Valuation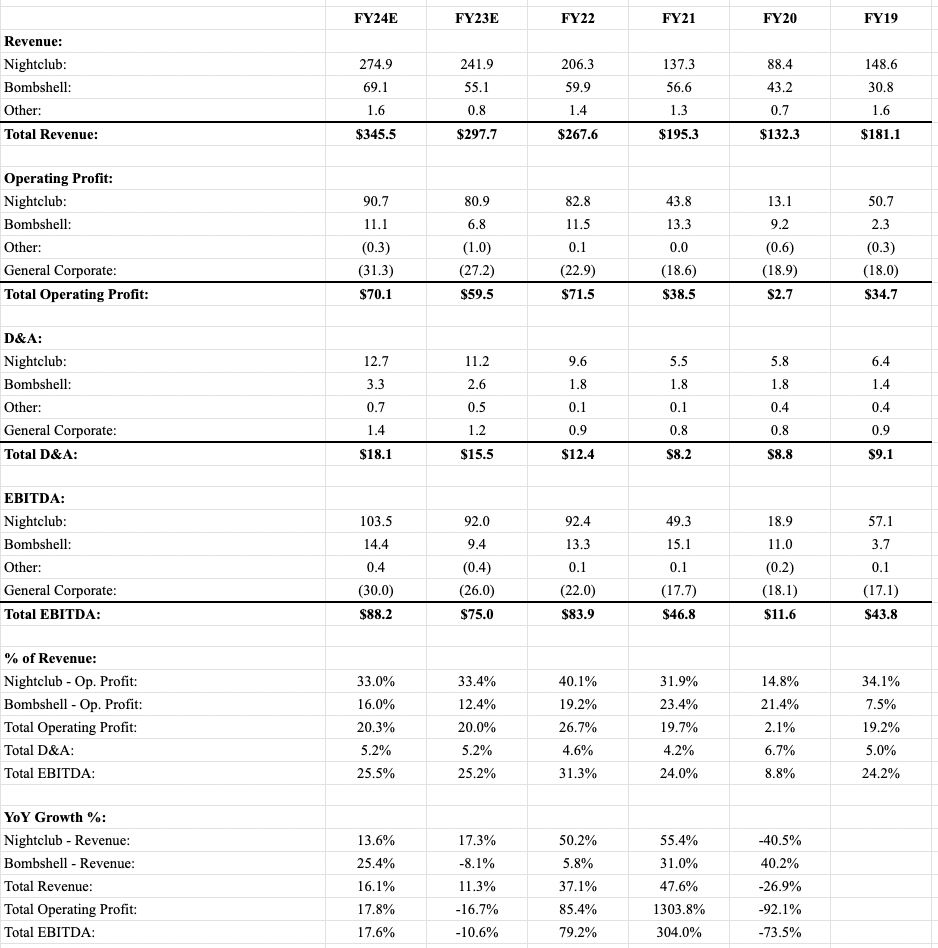 A full quarter of sales from remodeled Baby-Doll Forts-Worth and Bombshell San Antonio is expected in 4Q23, while SSS continues to decline in both segments due to increased macro uncertainty and inflationary pressure, I project Nightclub and Bombshells 4Q23 revenue to be $66.1 million (+16.8% Y/Y) and $12.9 million (-7.8% Y/Y), respectively. This totals $79.2 million in revenue for 4Q23 and $297.7 million for FY23. With an estimated EBITDA margin of 25.2%, I anticipate FY23 EBITDA to reach $75 million.
Looking ahead to FY24, I anticipate a recovery in Bombshell's growth, driven by moderate SSS growth, considering the lower revenue base in FY23 due to normalization, and revenue from 3 new locations and a sports casino. For Nightclubs, the opening of the Rick Cabaret Steakhouse & Casino, 3 newly acquired clubs, and revenues from previous acquisitions will also uplift revenue & also offset the decline in SSS. Therefore, I estimate the overall revenue of Nightclubs and Bombshell to be $271.9 million (+12.4% Y/Y) and $66.7 million (+25.4% Y/Y), respectively. This leads to a total FY24E revenue of $345.5 million (+16.1% Y/Y). A 25.5% EBITDA margin gives me an FY24 EBITDA of $88.2 million.
Applying a 13x EBITDA multiple, after referencing the industry average restaurant/dining multiple, and accounting for the nature of the industry will result in a total firm value of $1.14 billion, an 82% upside from the current market cap of ~$620 million.
Risks
Some key risks, although not exhaustive, will include the weakening of consumer spending, delayed rollout or building out of new locations for both segments, and increased competition for Bombshells, which would affect my estimates for RICK.
Conclusions
There will be margin pressures in the short run, but with increasing unit growth via M&A, and more favorable year-on-year comparisons compared to FY23 (particularly for Bombshells), growth in overall revenue and margins would happen in FY24. At the current market cap of $620 million, there remains a substantial upside, according to my estimates. The thesis remains intact, and I rate it as a hold.