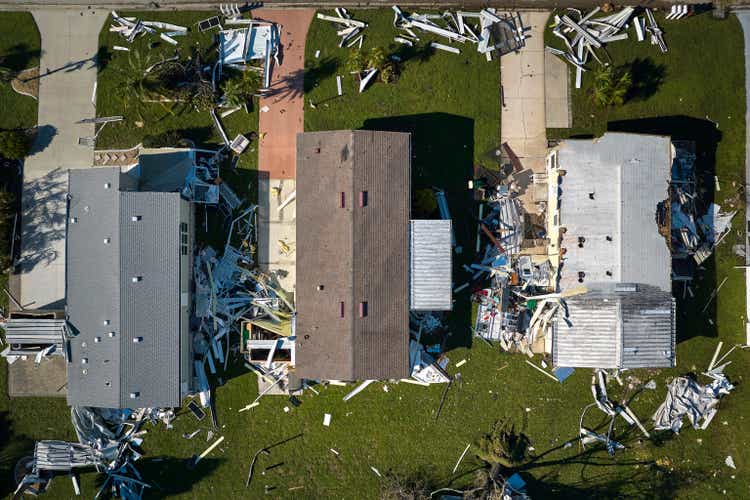 China's property business is mired in a debt crisis, with default worries casting a pall over the wider economy. But one leading real estate agency has just managed to deliver a good news story of healthy profits and a surging share price.
How has property broker KE Holdings Inc. (NYSE:BEKE; 2423.HK) dodged the financial tornado that has buffeted highly leveraged real estate giants such as China Evergrande (OTC:EGRNF, 3333.HK) and Country Garden (2007.HK)?
KE Holdings, which owns the "Beike Zhaofang" property platform and the "Lianjia" chain of real estate offices, has just extended its earnings winning streak to three quarters, helped by pent-up housing demand from the Covid pandemic and an expansion into home renovations and rental services.
The real estate chain reported last Thursday that its net revenue for the second quarter rose 41.4% to 195.5 million yuan ($26.59 million) from the same period a year earlier, yielding a profit of 1.3 billion yuan against a loss of 1.87 billion yuan in the corresponding period last year. The property trader has remained in the black since rebounding from loss into profit in the fourth quarter of last year.
Excluding non-operating items such as fair value changes, goodwill and amortization of acquired businesses, the company's non-IFRS adjusted net profit reached 2.36 billion yuan, bouncing back from an adjusted loss of 619 million yuan a year earlier. The robust business recovery stands out against the backdrop of an ailing property sector.
KE Holdings logged a 22.1% year-on-year jump in the gross transaction value of real estate deals to 780.6 billion yuan in the second quarter. Net revenues from existing homes jumped nearly 16% while income from new homes rose around 30%, as the easing of Covid controls late last year released a surge of housing demand.
The key question is whether the company can maintain its winning streak. Investors will be on the lookout for any signs of slippage in transaction values as homebuyers' confidence is shaken by an economic slowdown and the ongoing crises at real estate firms after China brought in measures to cap the sector's outsized debts.
The recent success at KE Holdings comes down to a textbook strategy for tackling risk: diversification.
A real estate agency is exposed to market downturns if the business relies heavily on residential sales and purchases, leaving it vulnerable to financial woes at property developers and unpaid service fees. Therefore, company Chairman and CEO Peng Yongdong launched a plan in 2021 to expand beyond the core real estate business into home decoration and rentals, dubbed the "one body, two wings" strategy.
In terms of business model, the company expanded horizontally into rental services and added a vertical enterprise offering post-purchase home improvement and furnishing services.
After the strategy reboot, revenues from the two "wings" propelled the company into profit in the final quarter of last year and maintained the momentum through the first half of this year. The home furnishing business brought in net revenues of 1.4 billion yuan in the first quarter, rising to 2.6 billion yuan in the second quarter. During the same period, revenues from emerging and other businesses – including rental services – climbed to 1.3 billion yuan and then 1.7 billion yuan. In the second quarter alone, the emerging business segment scored a growth rate of nearly 214%, fueled by urban rental demand. As city property prices soared out of reach for many Chinese on modest incomes, the rental market has boomed, generating an alternative income stream for KE Holdings.
In the second quarter, the two "wing" businesses contributed around 22% of the company's overall revenue, a much bigger chunk than the 6% in the same period last year, validating the move to hedge against risks associated with residential property sales and purchases.
Dividend and buyback boost
For the future, KE Holdings is doubling down on its diversification strategy, adding a third "wing" to its business portfolio. The "Beihaojia" business will focus on upgrading new homes for discerning homebuyers who aspire to a higher quality of life, not just property ownership, the company said. Underlining the importance attached to the venture, KE Holdings announced in July that Vice Chairman Xu Wangang would take on the CEO role at the latest business line.
For good measure, the company added a sweetener to its earnings performance, announcing a special cash dividend of $0.057 per share, or $0.171 per American Depositary Share (ADS), in a $200 million payout to be funded from surplus cash.
Investors were also cheered by plans to expand the company's share buyback program. Since August last year, KE Holdings has repurchased about 41 million shares from its ADS pool for about $605 million. In the earnings release, the board announced that the original $1 billion repurchase would double to $2 billion, and the buyback period would extend to Aug. 31, 2024, potentially giving the share price a sustained boost. As of the end of June this year, KE Holdings' consolidated balance of cash, cash equivalents, restricted funds and short-term investments amounted to 60.8 billion yuan, enough to cover the special dividend and share buyback.
The whole package went down well with investors, starved of good news from China's real estate market. The company's New York shares jumped 9.8% after the news was announced on Thursday and rose another 7.6% to $18.50 the next day to their highest level in nearly five months. After a market closure on Friday due to a typhoon, the company's Hong Kong shares opened 14.9% higher at HK$46.7 when trading resumed on Monday.
After the surge, KE Holdings broke through the HK$180 billion mark for market capitalization, nearly double its low in early November last year. Its counterparts Fangdd Network (DUO) and E-House (China) Holdings (2048.HK) are both in the red, with price-to-sales (P/S) ratios of only about 0.06 times and 0.08 times compared to 1.98 times for KE Holdings. Aside from its profitability premium, KE Holdings is clearly the current go-to Chinese property stock for investors.
Disclosure: None