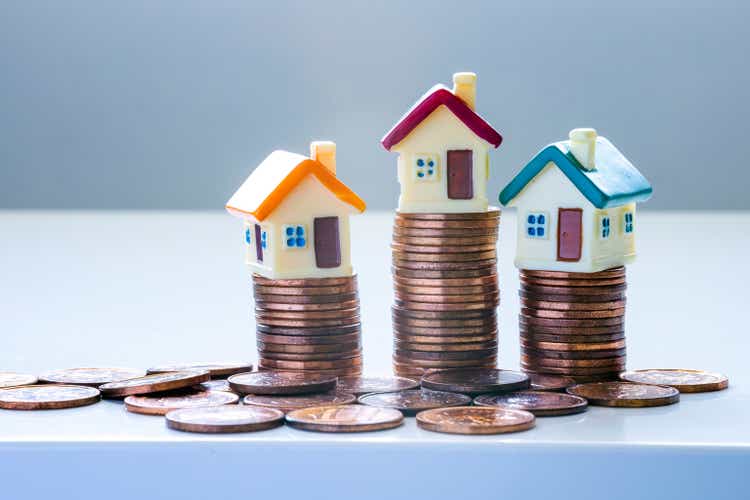 The mortgage REIT sector was among the most challenged during 2021-2022, as higher mortgage rates caused immense declines in mortgage-backed securities valuations. Major mortgage REITs suffered significant book value declines through the end of 2022, particularly those focused on long-term agency-backed mortgage-backed securities (i.e., pools of most traditional home mortgages). Mortgage REITs with smaller hedge positions, such as Orchid Island Capital (NYSE:ORC), fared the worst.
I covered Orchis Island nearly a year ago with a bearish outlook due to its high bankruptcy risk. The stock is at almost the same price it was then, but its total returns since then are around 22% due to its vast dividend yield. Of course, I have had a bearish outlook on the company well before then due to structural issues, which I firmly believe compromise equity investors. ORC has fallen by around 15% over the past six months, led by a more significant rise in mortgage interest rates. The company has managed to maintain its high dividend, equating to a 21% yield today on a TTM basis.
Of course, there are many factors impacting Orchid Island today. Its late 2022 and early 2023 performance was relatively strong as investors piled back into the company due to its extremely high dividend yield. In my view, that pattern will most likely prove to be a "dead cat bounce," proceeding with an even more significant drawdown. However, disinflation could stabilize the company if the Fed cuts its interest rates before its rate swap positions expire.
Estimating Orchid Island's Book Value Today
Orchid Island's business model is not too complicated. Around 95% of its portfolio is in 30-year fixed-rate mortgage-backed securities backed by government agencies. These are the pools of mortgages lent to most homeowners. Generally, these assets have low credit risk because they're supported by government-sponsored agencies like Fannie Mae (OTCQB:FNMA) and Freddie Mac (OTCQB:FMCC). Of course, we must never forget that those agencies are leveraged well over 50X, so the agencies may not fully cover a significant increase in mortgage defaults without an uncertain government bailout (as seen in 2008). However, we will assume these assets have little-to-no credit risk for now.
The critical risk to these assets is devaluations associated with higher mortgage rates. This is the same risk that has caused substantial unrealized losses by many banks over the past year; however, it is amplified in Orchid Island because it is entirely invested in that asset class. 30-year fixed-rate bonds have incredibly high "duration risk," or negative price adjustments to increases in interest rates. To an extent, Orchid Island hedges against this risk through derivatives on Treasury rates, but not entirely so. Further, although it can hedge against Treasury rate changes, it cannot hedge against mortgage rates themselves. A rise in mortgage rates compared to Treasuries is not hedged (mortgage spread risk). Of course, it's leveraged around 10X, so a slight decline in its asset portfolio value substantially impacts its book value.
Since 2020, the primary culprit for Orchid Island's losses has been the increase in long-term Treasury rates and the more significant rise in mortgage rates. See below: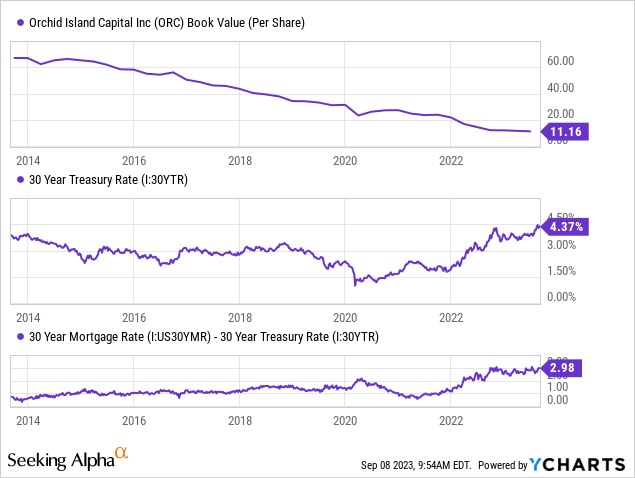 The 30-year Treasury rate has risen dramatically since its 2020 lows; however, mortgage rates have risen much faster from below 3% in 2020 to over 7% today. The sell-off in 30-year mortgage bonds is likely due to inflation risks and the Federal Reserve's ongoing sale of its MBS securities. Further, I believe mortgage rates may rise due to perceived credit risk increases, considering home affordability is around an all-time low and household income is stagnant (compared to inflation). Thus, MBS assets may be discounted as investors weigh the probability of the GSEs failing to guarantee the potential trillions in distressed assets. At any rate, there is a strong inverse correlation between changes to the Fed's MBS assets and mortgage rates. See below: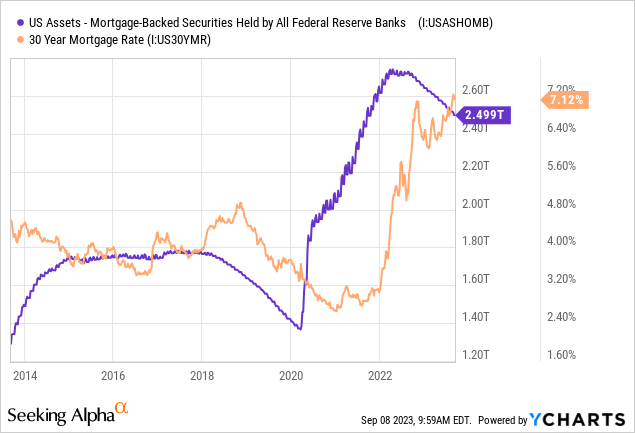 In 2020, mortgage rates were suppressed due to tremendous buying pressure from the Federal Reserve. The same is largely true for Treasury bonds, though the impact on mortgages has been more extreme in both directions. Notably, the Fed is not selling MBS assets but allowing them to mature. However, this still creates some slight selling pressure in the market. Further, mortgage and Treasury rates have risen since the end of Q2, up around 60 bps, lowering Orchid Island's book value. We can estimate that loss by its sensitivity table from its latest financial statement (10-Q pg. 46)
All else being equal, the increase in Treasury rates since the end of Q2 should only harm ORC's book value by around 4%. Of course, this sensitivity table is based on Treasury rate changes, not mortgage rates. The mortgage spread remains near its high level but has not risen significantly since the end of the quarter, so the impact on ORC's book value may be slightly above the estimate but still not as large as in 2022.
Of course, Orchid's hedge positions make its interest rate sensitivity highly asymmetric. Its exposure for +/- 50 bps moves is not huge, but the losses become very large if +100 bps changes or is more considerable. Thus, should interest rates continue to rise through the end of Q3, the impact on Orchid's book value is weighted toward the downside. Crucially, its hedge book also negates any significant upside exposure to declines in Treasury and mortgage rates, effectively making all book value losses permanent.
To an extent, Orchid Island's portfolio is a "lose-lose" model regarding changes in interest rates. Increases in interest rates directly lower its book value, with it generally realizing losses on securities due to leverage covenants. Significant declines in interest rates, such as seen in 2020 and many years prior, also harm Orchid's book value due to increases in prepayment risk (refinancing). Orchid's positioning is unfortunate as it swiftly went from prepayment risk losses <2021 to duration risk losses, causing unending book value losses. Although it will not recoup losses should interest rates fall, its prepayment risk is generally low, considering mortgage rates will need to fall tremendously before refinancing becomes popular again. Only around 20% of its portfolio is in mortgages with >5% yields that would be strong candidates for refinancing should mortgage rates return to ~3%.
Yield Curve Rapidly Compressing Dividend
Orchid Island would do best if mortgage rates could remain unchanged for many years, allowing it to earn a spread without risk exposure in either direction. Functionally, the company is borrowing at the Federal Reserve overnight rate via the Repo market and lending extremely long-term through MBS securities. Of course, its hedge book is complicated because it has some protection against changes in long-term rates and increases to short-term rates via swaps.
At the end of Q2, Orchid Island had $2.1B in > 1-year swaps with an average fixed pay rate of ~2.1% for a receive rate of ~5.2% (tied to the Fed's overnight rate) at a weighted average maturity of 6.1 years. Orchid's total liabilities were $4.24B, meaning around half its debt is hedged through long-term swaps.
The longer the Federal Reserve's rate remains above its asset's yield, the further its net interest income will decline, particularly as those hedges expire. Ultimately, the yield curve will determine its net interest income potential, but there is a significant lag due to its swap book. Still, its net interest income has collapsed over the past year as its borrowing costs soar despite its swaps. See below: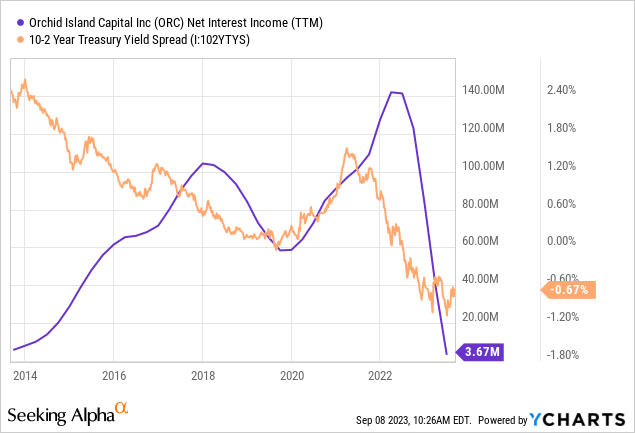 Orchid Island's net interest income rose from 2020 to 2022 as it could buy higher-rate mortgages but had not yet seen borrowing costs rise due to the Fed's delay in raising rates and its swaps. At the end of Q2, its portfolio's weighted average coupon rate was 3.8%, well below its ~5.25% borrowing cost through repurchase agreements. As its borrowing costs rise and the impact of swaps declines, it will slowly begin to realize this issue, and its net interest income should continue to fall into negative territory.
On the flip side, Orchid Island will likely continue to sell its low coupon rate mortgages for newer ones that pay yields closer to 6% (the highest in its portfolio, equating to 5.4% of its portfolio in total). For the most part, after fees and other costs, yields on newly minted residential MBS securities should be around 1% below mortgage rates, depending on various factors. Thus, if Orchid Island were to sell all of its low-yielding fixed-rate assets for new ones, I would expect its portfolio yield to rise to around 6% based on mortgage rates today. The discount required to sell its low-yielding securities is reflected in its book value since its MBS securities are all "marked to market."
If the Fed's rate remains the same and it reallocates all funds to newer MBS securities, then Orchid Island's net interest margin will eventually fall to ~75 bps; however, it will be higher for some time due to its swaps, converging to that level over the coming years. Its assets' total fair market value was $4.45B at the end of Q2, so this equates to a potential annual net interest income of ~$33M. Of course, after its management fees and other expenses, totaling around $20M, its annual net income potential would be closer to $13M. Its current TTM total dividends paid is $75M, so it should be cut by over 80% if conditions persist.
The Bottom Line
While Orchid Island's business model is not too complicated, its reflection in its income and balance sheet can be a bit convoluted, depending greatly on whether or not it is realizing losses on securities and repurchasing newer yielding ones. If all factors remain constant, I expect Orchid's net interest income will fall dramatically over the next year. Its quarterly net interest income is negative today, but that is mainly because its interest income is based on assets that pay much lower yields. However, taking its assets at fair value, meaning its "yield" to fair value is higher, its net interest income would still be positive today. Accounting and "market to market" rules can make it difficult to discern precisely how much Orchid Island is actually earning.
Importantly, Orchid can continue to pay a high dividend for some time if long-term interest rates do not rise. After its swap and other derivatives, its economic "cost of funds" is roughly 2.6% today (10-Q pg. 30). That figure will rise if the Federal Reserve hikes rates again and will also rise slowly as its swaps expire, but that will take around three years to have a significant impact. Orchid's yield on RMBS assets is 3.8% but could rise closer to 5-6% if it were to sell its low-yielding ones for new ones (realizing losses, which are reflected in its book value). Thus, based on fair market values today, its NIM is likely around 3%, equating to an annual income of approximately $110M after OpEx. This will not be reflected on GAAP figures because it assumes Orchid realizes losses on its existing securities and buys new assets at much higher yields, causing its portfolio yield to rise significantly. Conversely, Orchid could maintain its low-rate securities and allow them to recoup unrealized losses as they mature slowly. Its manager currently plans to do the latter, but it is not totally important aside from accounting rules.
Still, Orchid's ability to generate cash payable via dividends will decline by ~90% over the coming 3-6 years as its swap hedges expire – given no changes to the Federal Reserve rate and mortgage rates. Increases to the Federal Reserve rate and/or mortgage rates could make the situation much worse very quickly. Declines to the Federal Reserve rate would allow its payable income to remain steady. Thus, should inflation slow entirely (which I do not expect, but many do), Orchid's dividends should remain constant in the long term.
In my view, Orchid is essentially resting on the edge and will likely face liquidity and solvency issues should interest rate pressures continue. It has gone "full circle" over the past year, improving as rate pressures waned, falling again recently as they returned. If inflation surprises the upside and causes further declines in MBS assets and increases in its borrowing costs, I personally doubt Orchid could survive long-term. That said, I would not short the stock for three reasons. One, disinflation could certainly stabilize it. Two, its dividend yield causes huge borrowing costs. Lastly, ORC is likely trading at a 10 to 15% discount to its book value, even after the estimated declines due to the ~60bps Treasury rate increase. In summary, although I still expect ORC to face solvency pressures, I concede that investors who strongly believe disinflation will continue may find decent deep value potential.