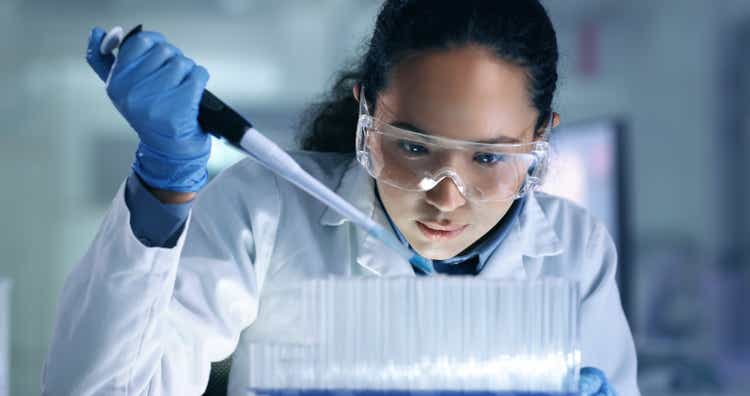 Pharming Group (NASDAQ: NASDAQ:PHAR) stands as a globally recognized biotechnology firm based in the Netherlands. It is best known for its unique approach to addressing rare and genetic diseases. While some may consider their methods unorthodox, their success in the market shows that they are not only viable but also profitable, thus proving the naysayers wrong. Their leading therapy, Ruconest – an approved medication for hereditary angioedema (HAE)- is the most shining example of their innovation. Given the current state of the company, we believe it is in a solid position for future growth in the near-mid term.
Financials
Examining the 2nd quarter figures of 2023 for Pharming, the 9% revenue increase, rising to US$54.9 million, is a clear indication of growth, primarily propelled by strong recovery in Ruconest sales. This notable 20% upswing in Ruconest sales, further bolstered by the debut quarter of Joenja in the U.S market contributing 4% to total revenues, exhibits a positive trend, albeit recent.
Identifying the elephant in the room, the operating profit dropped significantly compared to the same period in 2022 – from US$17.8 million to a mere US$5.3 million in 2023. This contraction is mostly attributed to a surge in other operating costs, including milestone payments linked to the commercial debut of Joenja in the US. Besides, the absence of a one-off gain, which was part of the 2022 results following Pharming's reduction of its minority stake in BioConnection, adds to this year's diminished figures.
An overview of the net profit, despite taking a dive from US$15.7 million in 2022 to this year's US$1.3 million – largely due to a decrease in operating profit is not entirely gloomy. Pharming's continued investments in global commercialization ventures, such as leniolisib launch, despite their negative short-term impact onto the net finance gains, should be seen as strategic maneuvers banking on long-term gains.
Cash flow analysis further adds sparks of hues to the financial picture of Pharming. A notable upswing in their cash and cash equivalents from US$186.2 million at the end of the first quarter to US$194.1 million by the end of the second quarter brings a sigh of relief. This was largely due to positive cash flow churning from investing activities, primarily driven by the sale of priority review vouchers (PRV). However, concerns linger with regard to the decrease in cash flows arising from operating activities, which were mainly driven by milestone payments linked to the launch of Joenja.
Products
Pharming's main product RUCONEST, is a treatment for HAE that relieves symptoms and acts as a substitute therapy. RUCONEST's rapid onset of action and favorable safety profile have led to wide acceptance. However, the wavering growth in anticipated revenue demonstrates a potential downside.
The introduction of Joenja (leniolisib) to the company's product line has broadened its impact in the biotechnology field. Pi3Kδ syndrome, the rarer primary immunodeficiency disorder, is effectively managed by Joenja by normalizing immune function. Joenja's entry into other global markets, following its traction in the U.S., hints at more significant prospects.
As part of Pharming's developmental pursuit, leniolisib provides a treatment alternative for pediatric patients diagnosed with activated phosphoinositide 3-kinase delta syndrome (APDS). It symbolizes a prospective dual-purpose solution targeting both the adult and pediatric demographic suffering from APDS. However, the clinical outcomes and success of leniolisib will mainly depend on the efficiency of the drug in pediatric patients as monitored in ongoing clinical trials.
Similarly, the ongoing research around extending the use of RUCONEST to treat pre-eclampsia, a condition posing significant risks during pregnancy, and COVID-19 brings to the forefront the potential versatility of Pharming's products. The successful completion of a phase II study in South Africa is a testament to their confidence in the product. However because the results of COVID-19 were mixed, more careful examination and analysis are needed. The future of RUCONEST hinges on these unfolding investigations and the findings that follow.
The notion of repurposing RUCONEST to manage cervical intraepithelial neoplasia (CIN), and potentially, develop an alternative form of HAE prophylaxis draws attention to the product's adaptability. Developments in these sectors could significantly affect the company's position within the biotech industry and dictate the trajectory of its growth trend.
Pharming's preclinical and clinical studies, including rhC1INH's potential application in organ transplantation and acute pancreatitis, throw light on the firm's wider ambitions. The company's unique approach in leveraging rhC1INH for organ transplant patients, if successful, could serve as a game-changer in the transplantation space. Meanwhile, the introduction of novel treatments for life-threatening conditions such as sepsis and hemophilia B, as indicated by the likes of recombinant human Factor IX (rhFIX), underscores the company's ongoing commitment to innovative therapeutics. While there are undoubtedly numerous challenges, such as trials, approval processes, and effectiveness of treatments, yet to be overcome, the initiative suggests the potential for long-term growth and competitiveness in the marketplace.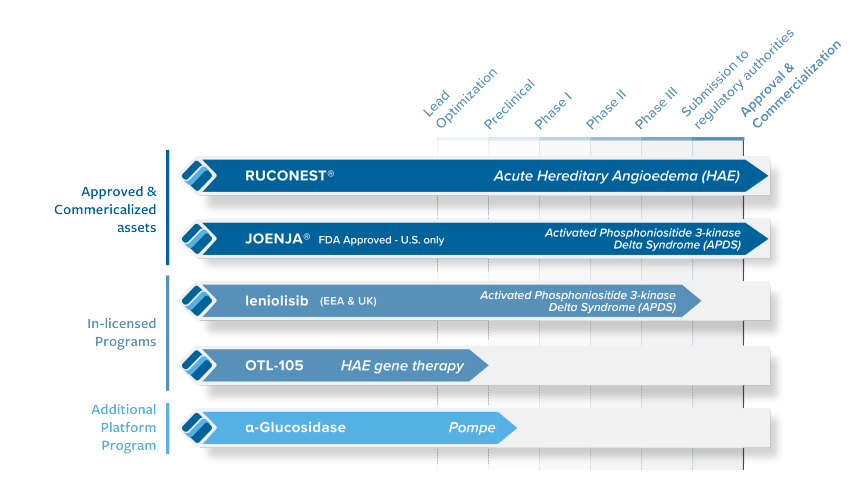 Phase III Trial Initiated for APDS
Building upon its innovative streak, Pharming Group has announced the enrollment of the first patient in their Phase III clinical trial in Japan. This significant development is centered around evaluating leniolisib for the treatment of APDS in adult and pediatric patients aged 12 years and above. The stakes are high as this single-arm, open-label clinical trial is predicted to shed light on the safety, tolerability, and efficacy of the drug.
The methodology of the trial is meticulous. Initial dosing up to 70mg of leniolisib twice daily for 12 weeks will be administered to three patients, all of whom have confirmed APDS diagnoses. The study's choice of primary efficacy and secondary endpoints, mirroring those used in previous leniolisib APDS trials, reflects a shrewd strategy. The data thus generated will provide valuable insights to supplement the standing body of research on leniolisib, potentially positioning this treatment as a reliable alternative for APDS management.
Such an approach is not only significant in unraveling the potential of leniolisib as an effective drug but also vital for securing future registration of the drug with Japan's Pharmaceuticals and Medical Devices Agency (PMDA). Anticipated data from the trial follow-up will extend the leniolisib narrative further, as eligible patients will continue to receive the treatment for a minimum duration of one year via an open-label extension trial.
The initiation of this clinical study is indeed an unprecedented positive outing for the APDS community in Japan. As it currently stands, patients battling this rare primary immunodeficiency are reliant on supportive treatments. The potential emergence of leniolisib as a disease-modifying treatment could flip the medical script dramatically, setting forth a novel and exciting treatment trajectory for patients, caregivers, and healthcare providers alike.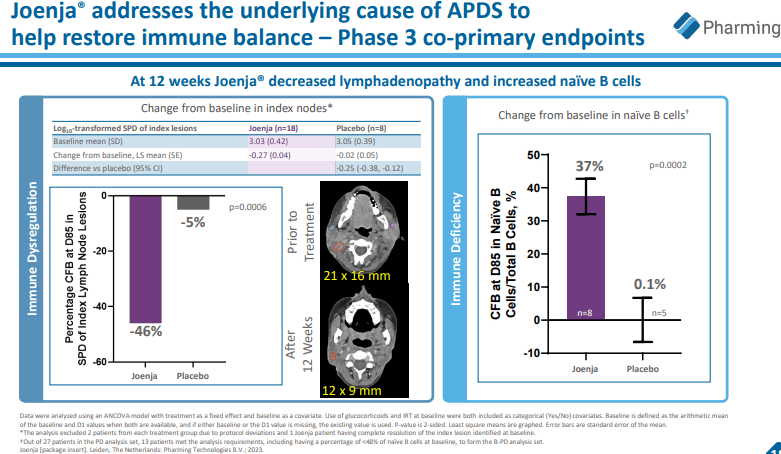 Technical Risks in Development
Starting with leniolisib, a significant risk lies within its mechanism of action – it is a selective PI3Kδ inhibitor, a pathway known for its critical role in modulating immune responses. Therefore, blocking this pathway may inadvertently exacerbate infection rates or lead to autoimmune repercussions; simultaneously, an imbalance between desired therapeutic effects and such potential side-effects could pose a substantial challenge.
Additionally, while Pharming aims to repurpose RUCONEST as a possible prophylaxis for HAE, concerns arise especially given its complex biochemical underpinnings. A key limiting factor here would be the consistent recombinant production of a functional version of C1 inhibitor, a protein that is naturally deficit or malfunctioning in patients with hereditary angioedema. Achieving and maintaining proper conformations of the protein during manufacturing could pose significant challenges.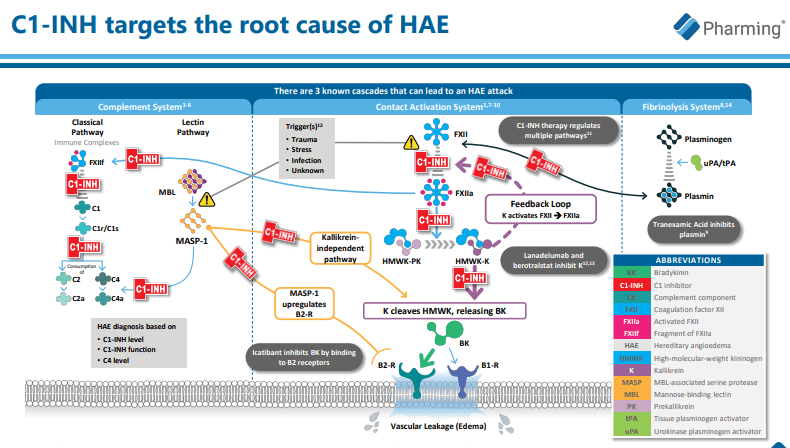 More broadly, Pharming's expansion into the field of organ transplantation is a terrain marked with sophisticated and multifaceted risks. The attempts to harness rhC1INH for applications within organ transplantation procedures need meticulous precision and optimization, not only regarding the treatment but also the instances of its application. With several elements and factors at play, including immune rejection, the timing of application, and the dose, the challenge is significantly complex. Also, in light of such intricacies, any discrepancies in the methodology or implementation could render the treatment ineffective or even harmful.
Lastly, the case of rhFIX and hemophilia B adds another intricate layer to this risk narrative. The challenge here is the immunogenicity concern linked to rhFIX that arises from the infusion of a recombinant factor IX protein in patients with hemophilia B. There is an ever-present risk of these patients developing harmful, neutralizing antibodies against the recombinant factor IX protein, significantly hampering the effectiveness of the therapy.
Competitors
At the outset, the sturdy competition posed by CSL Behring and Shire comes to primary attention. Both these pharmaceutical giants offer formidable opposition to Pharming's RUCONEST with their HAEtreatments, namely FIRAZYR and Berinert. FIRAZYR works by blocking bradykinin from binding to its receptor and prevents blood vessel dilation, while Berinert works by directly replacing the missing C1-INH protein. However, both these alternatives could fall short in the face of RUCONEST, given its rapid onset of action and short treatment times. Furthermore, the inherent risk of potential bradykinin receptor antagonist resistance in FIRAZYR usage could potentially strengthen RUCONEST's place in the HAE therapeutic playbook.
BioCryst Pharmaceuticals (BCRX) and KalVista Pharmaceuticals (KALV) are relative newcomers to the HAE market, with their offerings Orladeyo and KVD900, respectively. Both drugs being oral therapies, In contrast to RUCONEST's intravenous administration, offer an allure of convenience. While on the surface, this may seem as though Pharming is at a competitive disadvantage, it is crucial to delve deeper. Efficacy, safety, and tolerability of these new oral therapies compared to RUCONEST, particularly in acute HAE attacks, remain to be seen. Additionally, the oral drugs' side-effect profiles could mar their appeal, making way for a seasoned stalwart like RUCONEST to retain the upper hand in HAE management, particularly for acute attacks.
Conclusion
As we reach the end of our analysis, it's clear that Pharming Group is an innovative force within the biotech industry, carving a unique path for itself. The firm's pivot from merely focusing on rare genetic diseases to embracing formidable challenges like organ transplantation has set it apart. However, this move comes with risks, such as clinical trials, regulatory approvals, and competition. A misstep in any of these areas could impact the company's overall growth trajectory and market presence.
However, we have optimism around Pharming's financial profile, despite occasional flares in the expense column. Despite occasional expenses, Pharming's financial profile is positive, with steady revenue growth and resilience in maintaining cash reserves. Constant monitoring and prudent fiscal management are necessary to prevent dilution of shareholder value, but in its current state, we believe the company stands to grow significantly from its current price.