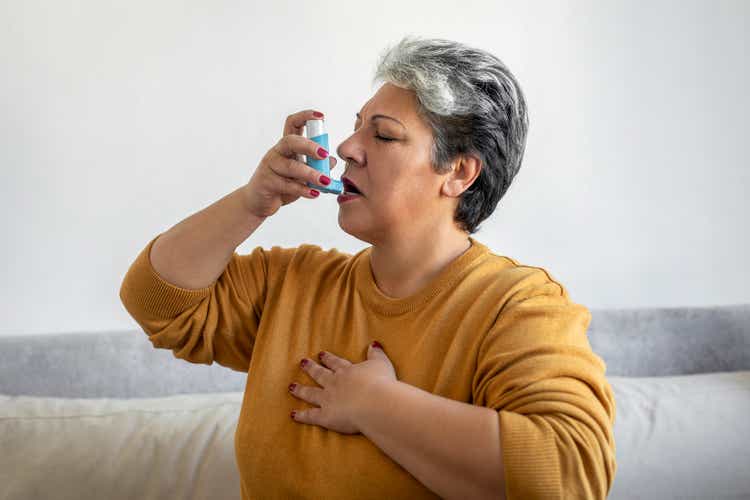 Theravance Biopharma (NASDAQ: NASDAQ:TBPH) is an intriguing player in the healthcare sector, committed to transforming treatment paradigms for patients suffering from serious illnesses. The company's diversified portfolio, driven by internally-developed targeted therapeutics, has the potential to yield high returns while mitigating risk. Though Theravance's involvement on numerous fronts in the medical field presents a complex valuation picture, this layered strategy could prove to be a boon for patient investors who understand the diverse underpinnings of their business model.
Financials
Diving into the financials of Theravance, their second quarter of 2023 has shown marked improvement over the same period in the prior year. Revenue generation, primarily driven by sales from the Viatris collaboration, has demonstrated a firm upward trajectory, with quarterly revenue reaching $13.7 million. A noteworthy aspect of this growth is the 12% increase in the company's 35% share of Viatris' net sales for the quarter, a figure which now stands at $19.3 million. The Viatris collaboration thus stands to be a pivotal factor in Theravance's revenue trajectory moving forward.
On the expense side, Theravance has managed to rein in its R&D costs significantly, with a considerable drop from $14.9 million in Q2 2022 to $9.4 million in Q2 2023. This is coupled with an increase in selling, general, and administrative expenses that rose from $16.2 million to $19.3 million over the same period. An intriguing dimension is the company's aggressive restructuring initiatives. The ongoing restructuring efforts, which led to a reduction in share-based compensation expenses, appear to be bearing fruit, leading to significant savings.
Operating loss is a key pressure point for Theravance, and while the rate of loss has slowed, with a year-over-year decrease of $7.2 million, the wholesome figure remains substantial. However, a consolidated view of non-GAAP net loss from continued operations reveals a trend that can potentially be viewed positively. Specifically, the non-GAAP net loss from continuing operations fell from $13.1 million in Q2 2022 to $7.4 million in Q2 2023.
The company also reported $167.5 million in cash and marketable securities – this illustrates a very reasonable burn rate for a biotech. If we subtract the net loss from operations of $15.6 million from the available cash pool for the second quarter, we see that, under the presumption that the company sustains this rate of net loss, Theravance has enough cash to sustain operations for several years, even without considering any additional investments. This scenario is clearly contingent on the absence of any major unforeseen costs and business proceeding in line with currently available projections, but the potential risk of capital depletion should be considered very limited in this case.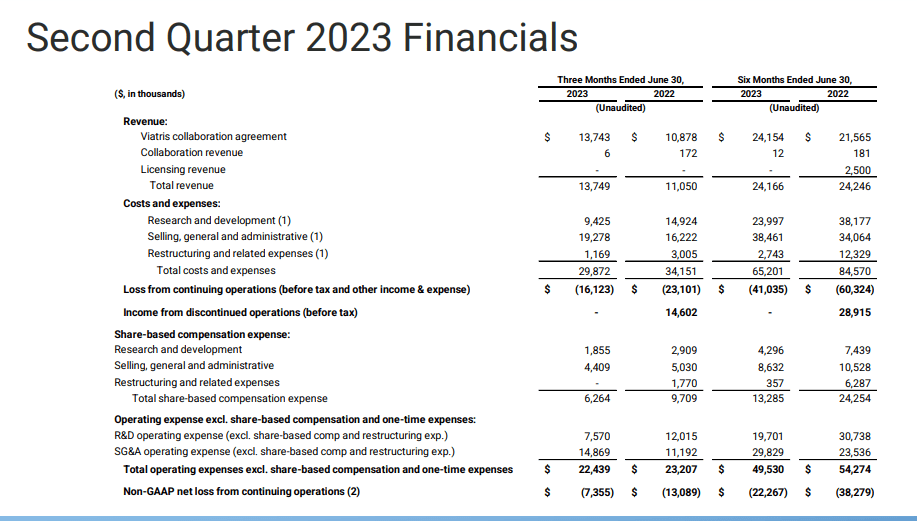 Products Analysis
Examining Theravance's product line, their offerings break down into two significant categories. The first product, YUPELRI, is an inhaled bronchodilator employed as a maintenance treatment for patients with chronic obstructive pulmonary disease (COPD). A singular feature of YUPELRI is that it is the first and only once-daily, nebulized long-acting muscarinic antagonist (LAMA) designated for COPD. Despite being already approved for maintenance treatment of COPD in adults, the drug continues to be evaluated in a Phase 4 PIFR-2 study to assess its effect on peak inspiratory flow rate (PIFR) among COPD patients. Notably, the study is expected to conclude in the second half of 2023.
The second product, Ampreloxetine, is in development for treating symptomatic neurogenic orthostatic hypotension (nOH) in patients with multiple system atrophy (MSA), a rare, progressively degenerative neural disorder. Ampreloxetine operates by blocking the reuptake of norepinephrine, a neurotransmitter that regulates blood pressure and heart rate. The drug has demonstrated its effectiveness in a Phase 3 Study involving MSA patients diagnosed with nOH. Theravance received orphan drug designation from the FDA for Ampreloxetine for this indication and is planning to initiate another Phase 3 study, CYPRESS, with results expected to inform an NDA.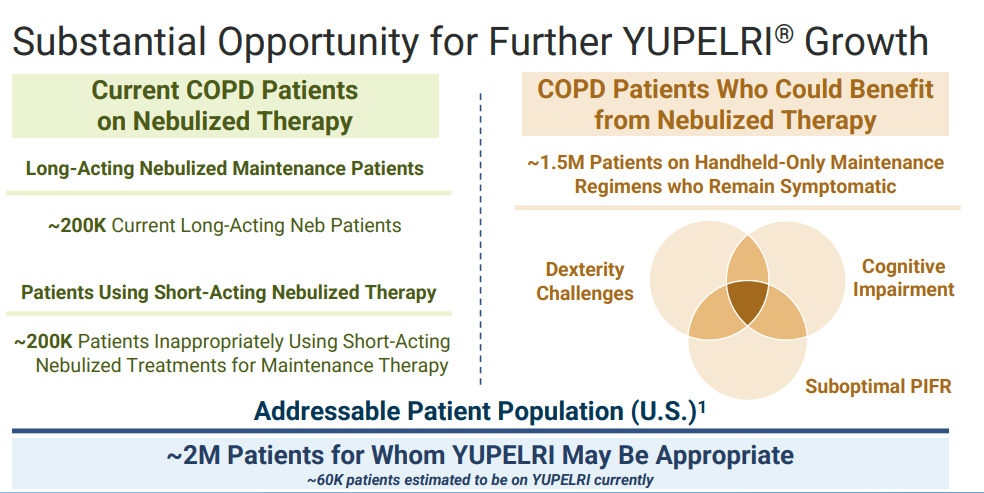 Nonetheless, the path toward profitable development is not without hurdles. The success of the treatment will heavily hinge on the sufficient number of patients with MSA, a rare disorder. Furthermore, gaining approval for an orphan drug can sometimes present a challenge, given that placebo-controlled trials are often unfeasible due to the scarcity of patients, thereby complicating the sense of efficacy.
Positive Outcomes for Ampreloxetine in MSA Studies
The recently presented findings at the 2023 MDS (Movement Disorder Society) Congress showcase significant developments pertaining to Theravance's product, Ampreloxetine. Two studies, namely 0169 [SEQUOIA] and 0170 [REDWOOD], serve as the basis for this, both focusing on patients with MSA.
Significantly, Ampreloxetine demonstrated substantial and statistically meaningful enhancements compared to the placebo in the Orthostatic Hypotension Symptom Assessment (OHSA) composite score. These improvements, observed in Study 0170, align with an overall enhancement in the Orthostatic Hypotension Questionnaire (OHQ) composite score. A post-hoc analysis of the study indicates that Ampreloxetine carries a consistent benefit across MSA subgroups, consisting of MSA sub-type, sex, age, time since MSA diagnosis, time since nOH onset, and the universal MSA disability scale. The varied MSA subgroups witnessed improvements that ranged from 0.5 to 2.2 points relative to placebo, reinforcing the substance and width of Ampreloxetine's benefits.
Additionally, Ampreloxetine was well tolerated among the subjects with similar adverse event rates reported when compared to placebo during the placebo-controlled periods of both Study 0169 and Study 0170. This further supports Ampreloxetine's standing as a promising candidate and emphasizes its perceived safety profile.
In a separate analysis, a single-center study assessing Ampreloxetine's effects on cardiac repolarization was carried out. This study was characterized by rigorous controls, incorporating 72 healthy subjects enrolled in randomized, double-blind, and placebo-controlled fashion. The study concluded that Ampreloxetine does not exert any clinically relevant effect on the Q-Tc interval, a key measure of the heart's rhythm. This lack of causal correlation between Ampreloxetine and heart rhythm abnormalities underscores its cardiovascular safety.
These findings jointly augment the optimism towards Ampreloxetine and its potential utility in managing and ameliorating MSA symptoms. The demonstrated efficacy and tolerability of the drug evoke a promising perspective. Still, it will be vital to consider potential developments and fluctuations in future studies that could support or otherwise discredit these initial findings.
Risks in Theravance's Drug Portfolio
Starting with YUPELRI, although it holds potential as a COPD treatment, its functioning as a LAMA is not without its challenges. Given that LAMAs are designed to block the action of acetylcholine, a neurotransmitter in the nerve cells, on the muscles of the airways, they need to act selectively on these airway muscles. Otherwise, blocking acetylcholine elsewhere can lead to undesired effects, such as urinary retention, constipation, and dry mouth among others. Consequently, potential off-target effects could potentially limit YUPELRI's perceived therapeutic index, affecting its efficacy or even worse, its safety profile. Additionally, LAMAs work best in treatment regimens combined with long-acting beta2-agonists (LABAs). Given Theravance only has a LAMA in YUPELRI, it may face challenges in markets dominated by combination LAMA/LABA therapies.
Moving on to Ampreloxetine, while it appears promising as of now, inherent biochemical risks impose considerable uncertainties. As a norepinephrine reuptake inhibitor, the drug is intended to increase norepinephrine levels to help patients with MSA stabilize their blood pressure levels. However, any indiscriminate elevation of norepinephrine levels can lead to severe hypertension, a perilous side-effect. This excessive vasoconstriction could result in compromised blood flow to various vital organs, ultimately presenting a risk of organ damage.
Additionally, Ampreloxetine's relatively long half-life, while advantageous for maintaining consistent blood plasma levels over 24 hours, could potentially delay clearance from the body. This consequent extended exposure might increase the severity of undesired side effects or potential drug interactions if the patient is on concurrent medications.
Competitors
In the COPD treatment landscape, GlaxoSmithKline (GSK) is a dominant force, with an established presence underpinned by a robust product offering. Their drug, Anoro Ellipta, also a LAMA, enjoys worldwide acceptance and has been a potent force in the market. A significant advantage that Anoro Ellipta holds over Theravance's YUPELRI lies in its dual-action. Anoro Ellipta combines the functions of a LAMA and a LABA. This combination therapy has proven to be more effective in COPD management than a LAMA alone, which could oblige healthcare providers to choose Anoro Ellipta over YUPELRI despite the latter being the only nebulized LAMA available.
Moreover, GSK has an established distribution network, a potent weapon against newcomers like Theravance. Such distribution channels facilitate the ease of access to healthcare providers, allowing GSK to permeate more markets effectively, thereby impeding market share growth for Theravance.
Northera (Droxidopa) is currently used for treating nOH symptoms in patients with MSA and certain other neurodegenerative disorders. Northera has been successfully marketed across the globe and has established itself as a trusted treatment option among healthcare providers and patients alike, mainly due to its well-known safety profile and proven efficacy.
Although Theravance's product Ampreloxetine could pose a threat to Northera in terms of a more robust 24-hour effect, it remains to be seen whether the advantages can translate into a sizable market share. Northera, having established dominance in the segment, enjoys a head-start, making a substantial shift in therapeutic preference a daunting challenge.
Conclusion
Theravance Biopharma displays cautious optimism in its unique approach to tackling debilitating diseases with products like YUPELRI and Ampreloxetine. Yet, the road to commercialization presents challenges that require measured enthusiasm. Financially, the company has improved with reduced losses and increased revenues but must address its capital depletion rate and identify new revenue sources for the medium term. In a competitive landscape dominated by pharmaceutical giants, Theravance may face an uphill battle, likely making gradual progress rather than rapid market disruption.
Through it all, it is obvious that Theravance Biopharma operates in an arduously competitive domain, bristling with challenges. Nevertheless, the company also possesses potential trump cards in its innovative product pipeline. The focus on bridging treatment gaps in debilitating diseases gives it an edge that investors should not disregard. A final investment decision would thus, be well served by a balanced blend of caution, optimism, and meticulous observation of forthcoming developments.