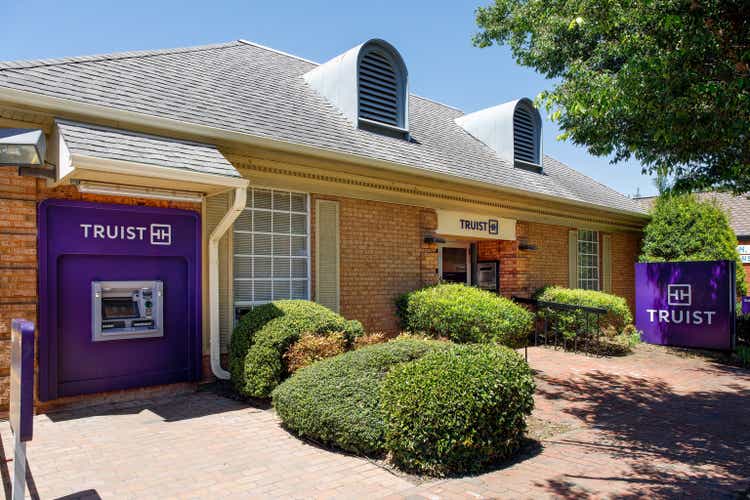 Introduction
Truist Financial (NYSE:TFC) is a hot topic here on Seeking Alpha; while most authors seem to have a 'hold' rating, there are some 'buys' and 'strong sells' out there as well. And all authors make good and interesting points (reinforcing the power of the Seeking Alpha ecosystem), but in this article, I wanted to highlight an overlooked way to invest in Truist from an income perspective: the preferred shares.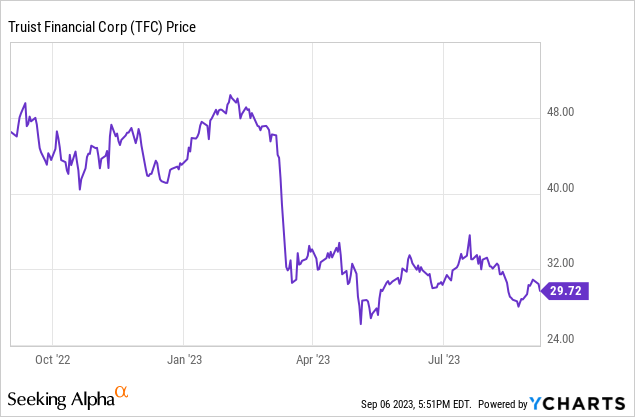 Before looking at the preferred shares, we must understand Truist's financial performance and strength
Of course, before being able to determine whether or not the preferred shares could be a good investment, we need to understand the underlying financial performance of Truist a little bit better.
The net interest income is an important element these days. Banks are generally reporting a strong increase in the interest income, but their interest expenses are increasing at an even faster pace. Truist Financial is no exception: the total interest income increased from $3.7B to $6.2B in the second quarter of this year, but as you can see below, the total interest expenses almost ten-folded. This doesn't mean the net interest income was weak, but the $218M increase compared to Q2 last year is a relatively small increase compared to the sharp increase of the interest income.
The bank also has a substantial non-interest income, and that is a major help to keep the financial results somewhat stable. The bank reported a non-interest income of $2.3B (thanks to the insurance income which represented in excess of 40% of the non-interest income) while the non-interest expenses increased to $3.75B.
This means the net non-interest expenses were approximately $1.45B, which is slightly higher than the $1.35B reported in the second quarter of last year. And this resulted in a pre-tax and pre-provision income of $2.17B (compared to $2.08B in the second quarter of last year). The total loan loss provisions increased pretty sharply. This shouldn't come as a surprise as banks are generally increasing their provisions as the road ahead looks pretty bumpy. And on the other hand, the loan loss provisions recorded in Q2 and H1 2022 were relatively low.
This resulted in a reported pre-tax income of $1.63B and a net income of $1.35B. Of that result, $36M was attributable to non-controlling interests while $75M was used to pay the preferred dividends. The net income attributable to the common shareholders of Truist Financial was $1.23B for an EPS of $0.93.
Looking at the H1 results, we see a net income of $2.64B for an EPS of $1.99 while the bank had to pay $178M in preferred dividends. This means Truist only needed $178M / $2822M = 6.3% of its net income (after taking non-controlling interests into account) on preferred dividends, and that is a healthy ratio.
As the loan loss provisions have been increasing, it's important shareholders and potential investors understand the bank's loan book. Interestingly, Truist's exposure to commercial real estate is actually pretty low: as you can see below, 'only' $22.8B of the $322B loan book consists of commercial real estate loans, and that's just about 7% of the total loan book.
This also means that Truist's exposure to offices is even lower than that. The bank has done a good job of showing the market it is still confident in its commercial real estate portfolio and provides a breakdown of the CRE segment and the LTV ratio in the office segment.
And as disclosed in its financial statements, at the end of June, only $1.5B of the loans were non-performing while an additional $2.2B in loans were still accruing but past due. Interestingly, about half of the loans that are past due but still accruing are not in the commercial segment or commercial real estate segment but can be found in the residential mortgage division.
As of the end of June, the bank has recorded $4.6B in loan loss provisions, so the risk appears to be well-covered for now. I do expect Truist to continue to add to those provisions to make sure it stays on top of things, but I'm also not immediately expecting those loan loss provisions to increase in the next few quarters.
This means I am quite satisfied with the relatively low payout ratio for the preferred shares.
A second element I focus on when I look at a company's preferred shares is the balance sheet and the asset coverage ratio. As you can see below, the bank's total balance sheet contains about $555B in assets, of which $63.7B is considered equity.
Just over 10% of the total equity is considered to be preferred equity. This means there is a cushion of about $57B in common equity before the preferred equity would be at risk.
The Series O Preferred shares
As I feel more comfortable knowing a preferred share is paying a fixed dividend, there are two series of preferred shares that have my preference. The R-Series is trading with (TFC.PR.R) as a ticker symbol and pays a fixed preferred dividend of 4.75% of its principal value of $25. I wanted to focus on (TFC.PR.O), the Series O preferred shares, which offers a 5.25% preferred dividend. Note: Both issues are non-cumulative in nature.
Both series offer approximately the same preferred dividend yield of 6.3-6.4%, so an investor could freely choose which series works best.
The Series O offers a preferred dividend of $1.3125 per share per year, payable in four equal quarterly payments of $0.328125 per share. Based on the current share price of $20.83 (the closing price on Wednesday), the yield is approximately 6.3%. These preferred shares are callable from June 1, 2025 on, but I think a call is pretty unlikely in the current interest rate environment.
Investment thesis
While Truist Financial looks appealing at the current share price considering the bank is trading at less than 8 times earnings and an acceptable premium of about 45% to its tangible book value, I am keeping an eye on the preferred shares for the income portion of my portfolio. While the dividend yield is lower than on the common shares, the preferred equity and preferred dividends are ranked senior to the common equity and common dividends. That being said, the preferred dividends are non-cumulative so in theory, the bank can suspend all payments without any repercussion (other than reputational damage).
I currently have no position in the Truist preferred shares, but I will keep an eye on the bank's performance in the next few quarters before deciding to dip my toe in the water.