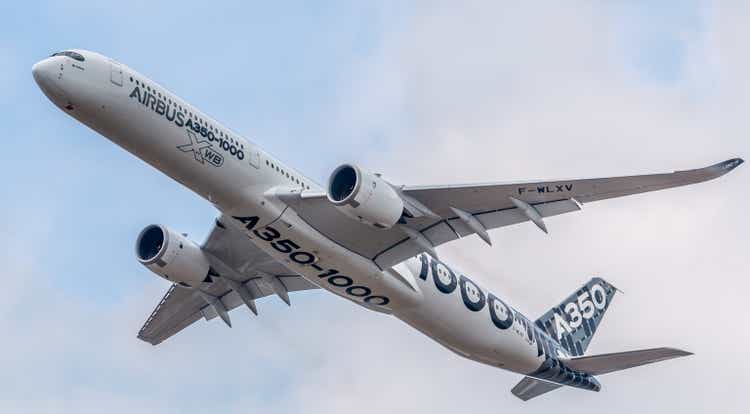 I provide monthly overviews for orders, cancellations, deliveries, and other order book mutations for Airbus SE (OTCPK:EADSF, OTCPK:EADSY). While the release of monthly orders and other order news does not always directly impact the Airbus stock price, it's important to keep track of the orders and deliveries because this provides the smallest blocks of information from which we can assess how things are going for the European jet maker and detect trends early on. In this report, I will be analyzing the Airbus orders for August 2023 as well as the deliveries.
How Is Airbus Stock Performing?
Airbus Stock Price Development

Timeframe

Airbus

Market

Performance

August

-1.2%

-1.5%

Market performance

Year-to-date

+19.9%

+16.1%

Outperformance
As I provide the reports on a monthly basis, it's also interesting to look at what Airbus stock has done over the month. After all, we're doing the analysis to align investors to make money. So, looking at stock prices is very relevant. During the month of August, EADSF stock lost 1.2% compared to 1.5% loss for the broader market, and year-to-date we're looking at a 19.9% gain compared to 16.1% for the broader market.
Year-to-date, Airbus stock still outperforms but it has been facing some pressures. The company reported higher revenues but lower adjusted margins and 27% lower EBIT for H1 2023. Furthermore, the issues with the Pratt & Whitney geared turbofan have put pressure on the stock while the Airbus A321XLR might not quite live up to the range that Airbus promised. All of that does put some pressure on Airbus stock, while the company also seems to have removed an intermediate production target set for 2024.
Airbus Airplane Order News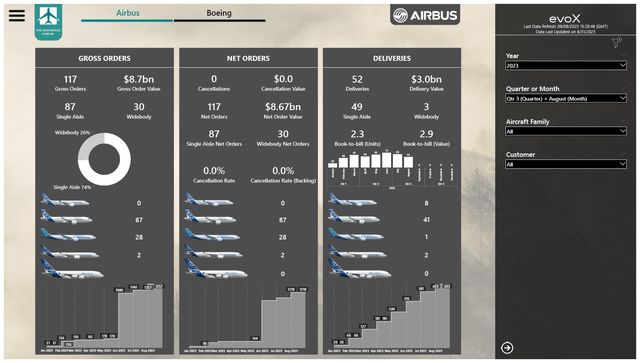 In August, Airbus booked 117 gross orders, marking a sequential increase of 57 orders. The orders consisted of 87 wide-body airplanes and 30 single-aisle jet with an estimated value of $8.7 billion:
An undisclosed customer ordered 12 Airbus A321neo airplanes.
Wizzair (OTCPK:WZZAF, OTCPK:WZZZY) ordered 75 Airbus A321neo airplanes.
Air Algerie ordered five Airbus A330-900s and two Airbus A350-1000s.
Avolon ordered 20 Airbus A330-900s.
An undisclosed customer ordered three Airbus A330-900s.
During the month, the following changes were made to the order book:
Avolon converted orders for 50 Airbus A320neos to orders for 50 Airbus A321neos.
CMB Financial Leasing converted orders for one Airbus A320neo to one Airbus A321neo and the order was subsequently labeled as unidentified.
One or multiple unidentified customers converted orders for three Airbus A320neos to orders for three Airbus A321neos.
BOCOM Leasing was identified as the customer for one Airbus A320neo.
Flynas was identified as the customer for one Airbus A320.
Tibet Airlines was identified as the customer for one Airbus A319neo.
Turkish Airlines was identified as the customer for four Airbus A350-900s.
Airbus logged 117 gross orders with a value of $8.7 billion with no cancellations. During the month, we saw Air Algerie finalize its order announced on the first of June while Avolon finalized its order for 20 Airbus A330-900neo announced during the Paris Airshow as well as significant change to its single aisle order book.
A year ago, Airbus booked no orders and 13 cancellations, bringing its net orders to -13 units with a net order value of -$3.3 billion. So, year-over-year gross orders and net orders significantly improved with orders from Wizzair and Avolon driving the order numbers and value.
Year-to-date, Airbus has booked 1,218 net orders valued at $82.1 billion compared to 637 net orders with a value of approximately $29.1 billion last year. So, we see net orders being up significantly driven by big wide body order cancellations last year, the effect of Qatar Airways cancellations last year and the order being reinstated this year as well as big orders from Indian airlines this year.
Airbus Airplane Deliveries Improve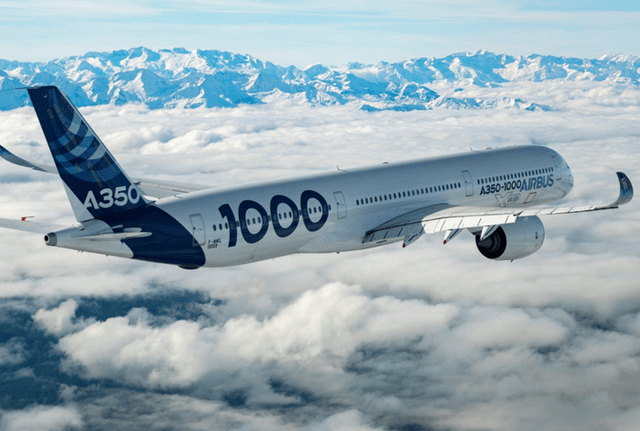 In August, Airbus delivered 52 jets compared to 62 in the previous month. The European jet maker delivered 49 single-aisle jets and three wide-body aircraft with a combined value of $3 billion:
Airbus delivered eight Airbus A220s.
A total of 41 Airbus A320neo family aircraft were delivered, consisting of one Airbus A319neo, 17 Airbus A320neo aircraft and 24 Airbus A321neo aircraft.
Airbus delivered one Airbus A330-900 airplane to Air Lease Corporation (AL) on lease to ITA Airways.
Two Airbus A350s were delivered including one Airbus A350-900 and one Airbus A350-1000.
Compared to last year, August delivery numbers increased by 22 units while the value of those deliveries increased from $2.6 billion to $3 billion. We're seeing the delivery numbers improve and that provides evidence that supply chain issues are easing, but it's too early to draw definite conclusions. For the year, the delivery numbers are now up 53 units to 433 compared to last year's 380 deliveries last year. The value of the deliveries has increased from $27.8 billion to $24.8 billion as the delivery volumes are increasing. The delivery profile remains backloaded, but Airbus should be able to achieve its 2023 delivery target.
The book-to-bill ratio for the month was 2.3 in terms of units and 2.9 in terms of value reflecting significant order inflow during the month, while the cancellation rate was 0% measured against the order inflow. The book-to-bill ratio for the year is looking extremely strong at 2.9 in terms of units and 3 in terms of value. As I noted previously, we're looking for book-to-bill ratios higher than one, but even when that's achieved, these ratios also should be placed in context and one should keep in mind that cancellations are not accounted for in the book-to-bill ratios and current demand for airplanes is higher than the ability to deliver those airplanes which can also stock up the book-to-bill figures.
What Is Airbus' Delivery Target For 2023?
For 2023, Airbus expects around 720 deliveries which was actually the same target it initially had last year. Likely with some easing in supply chain constraints, the company will be able to reach its target this year, but it does show that there is at least a one-year delay in the ramp-up planning. The delivery guidance fits my own expectation of around 725 airplane deliveries for 2023.
How Do Airbus Deliveries Compare To Boeing?
In August, Boeing (BA) delivered 38 airplanes according to preliminary figures for a total of 347 airplanes so far this year. Airbus delivered 52 jets bringing the total to 433. At the start of the year, Boeing deliveries were in line with that of Airbus but with a temporary halt on some single aisle deliveries the European jet maker is now in the lead.
Conclusion: Airbus Stock Remains A Buy
Sequentially, Airbus saw its orders increase primarily driven by the order from Wizzair. Year-over-year, the numbers also increased driven by higher demand for airplanes as airlines are queuing to order planes in an effort to meet future demand. Overall, Airbus continues to hold a strong backlog for its commercial airplanes and with demand for commercial airplanes being high, the pricing power on those sales is equally high giving Airbus the ability to sell slots forwards and attractive prices. The bigger challenge seems to be to increasing the production in line with demand.
Deliveries declined sequentially driven by seasonality, but increased year-over-year. Year-to-date deliveries are also up compared to last year and Airbus should be able to meet its delivery targets. Simultaneously, we do see that there are issues with the Geared Turbofan used to exclusively power the Airbus A220 and an engine option on the Airbus A320neo family. So, challenges remain to increase production to a level that OEMs are aiming for, but I do believe Airbus SE stock remains a buy driven by long-term demand drivers.
Editor's Note: This article discusses one or more securities that do not trade on a major U.S. exchange. Please be aware of the risks associated with these stocks.