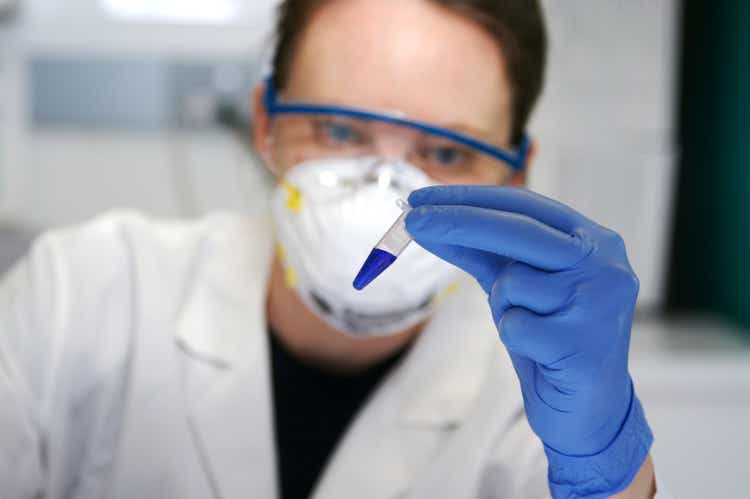 I covered Stoke Therapeutics (NASDAQ:STOK) in February, and although I was mildly positive, I am lucky I didn't go out and buy the stock – because STOK is now down 40% after failing to make the grade in the phase 1/2 epilepsy trial I was discussing last time.
STOK develops therapies for rare diseases. It uses its "proprietary TANGO (Targeted Augmentation of Nuclear Gene Output) approach, [in] developing antisense oligonucleotides (ASOs) to selectively restore protein levels." This technology is developed by co-founder Adrian R. Krainer, Ph.D., of Cold Spring Harbor Laboratory in New York. Dr Krainer was part of the team that invented SPINRAZA, the first antisense oligonucleotide, or ASO, which is now a $2bn blockbuster. You should check my Stoke Therapeutics: A Preclinical Biopharma With A Multibillion Dollar Market Cap on STOK from 2020 for a complete discussion.
From the very beginning, STOK had an impossible valuation, possibly fueled by its scientific pedigree. Its IPO was at $16, and when I covered it in 2020, the market cap was a whopping $1.8bn. In February, when I last covered it, that had come down to $364mn, which appeared to me to be unfair given the various positives. Right now, though, the market cap is $234mn, so we have to see what is happening wrong with this company.
One problem is the indication – Dravet Syndrome – which I discussed earlier. There are 15000 US patients, which seems like a large number, but when GW Pharma used to own epidiolex, an approved Dravet drug along with Fintepla, the drug made just $330mn in the first full year of launch. Jazz Pharma holds rights to the drug now, and last year, epidiolex made nearly $770mn. Of course, this figure comes from the three indications it is approved in – but one could wonder if the market has space for another drug.
The correct response would be to point out the differential mechanism of STK-001. Epidiolex, Fintepla and others address the seizures associated with DS. For example, Epidiolex is a cannabidiol indicated for seizures related to these diseases. STK-001 is an ASO meant to be curative by addressing the haploinsufficiency seen in DS patients. As noted at Endpoints:
Patients with Dravet syndrome have one functional gene copy and one mutated copy – what's called a haploinsufficiency – resulting in half as much protein as needed to maintain normal health. Stoke's Targeted Augmentation of Nuclear Gene Output (TANGO') platform is designed to address haploinsufficiencies by increasing – or stoking – protein output from healthy genes, thus compensating for the mutant copy of the gene.
Thus, STK-001 will have a definite place in the scheme of things. Plus, it will have proven the platform, derisking the company.
Last time, I discussed early data from a trial which showed that the drug is working and therapeutically active, with a numerically better score in a certain metric than epidiolex. However, certain safety issues – notably increased protein in the cerebrospinal fluid possibly associated with dosage – limited the dosing, and caused the stock to stumble. This was last time, and there have been other troubles lately.
In July, the company released data that showed excellent efficacy but troubling safety details. The company said:
Citing data from ongoing trials named MONARCH and ADMIRAL, Stoke said that 74 patients aged 2 to 18 who received the therapy tolerated STK-001 sufficiently at single or multiple doses ranging from 10mg – 70mg.

However, 32% of patients experienced a treatment-emergent adverse event related to STK-001, and 20% experienced a treatment-emergent serious adverse event.

In terms of efficacy, at the highest dose of 70mg, the mean reductions in convulsive seizure frequency reached 80% (n = 6) and 89% (n = 3) from baseline to three months and six months after the last dose, respectively.

The mean reduction in convulsive seizure frequency stood at 19% (n = 14) and 45% (n = 8) at three months and six months, respectively, after the last dose among 16 patients who received the 45mg dose.
As we do see, the efficacy data in terms of the convulsion seizure frequency is now even better than before, albeit in a small population of patients. However, the adverse event profile has become worse, with 20% of patients experiencing a serious adverse event emerging from the treatment. This is doubtless poor data, and caused the stock to lose 30% of its value overnight.
Thus, although in March the company received approval from the FDA to use a 70mg dose in one of its studies, some of these studies remain on partial clinical hold for doses above 45mg, and the poor AE profile is not helping remove these holds.
Financials
STOK has a market cap of $234mn and a cash balance of $231mn. Research and development expenses for the three months ended June 30, 2023, were $20.6 million, while general and administrative expenses for the three months ended June 30, 2023, were $10.2 million. At that rate, the company has a cash runway of 6-7 quarters. However, given an enterprise value of just $11mn, clearly the market holds no high opinion of STOK. A high short interest of 24% also confirms that poor opinion.
STOK is almost entirely held by institutions, corporations and PE/VC firms. Key holders are Skorpios Trust, RTW and Redmile. There are no insider buys, and the Chief Medical Officer himself is selling stock regularly.
Risks
The safety profile is certainly a risk. In early stages of trial, in an indication with approved medication, a poor safety profile trumps a positive efficacy profile. The company has cash, but it also has a high short interest and little market enthusiasm. The CMO regularly selling stock is not a positive either.
Bottomline
I agree that I have repeatedly changed my opinion on STOK. The first article said it was overvalued when it was $1.8bn in market cap. The second one said it was undervalued when it was $364mn. Today, it is $234mn, but I am still going to avoid the stock because there is no clear derisking happening here.