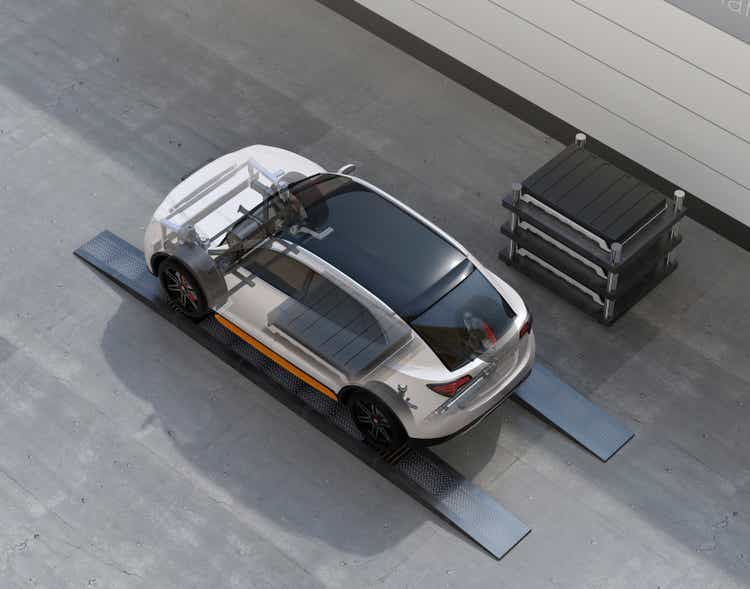 Chinese electric vehicle company U Power Limited (NASDAQ:UCAR) hit record highs of 1100% after it was listed on Nasdaq in its April 2023 IPO. A total of 2,416,667 ordinary shares were offered at $6 per share, garnering about $14.5 million at the time. The stock has lost 20.04% in the past month and is currently trading more than 1700% below its 52-week high of $75. It has been a rocky season for offshore Chinese IPOs due to the impact of COVID-19, regulatory pressure from the Chinese government, and overall state scrutiny.
Thesis
U Power Ltd entered into a strategic agreement with Quantum Solutions to offer battery-swapping technology to the Japanese electric vehicle (EV) manufacturer. The goal of this arrangement is to bring the best combination focusing on battery cell technology, with the Asia-Pacific region as the main target market. On its part, Quantum Solutions will advise on the most suitable EV models to be targeted by UCAR's development based on its deep comprehension of Japan's EV market. This agreement is focused on bringing other partners on board to spur growth for both companies in the future.
EV battery-swapping technology
The growth of UCAR's stock price by more than 1000% in its first trading sessions indicated market confidence regarding its ownership of a proprietary battery-swapping technology dubbed UOTTA. UCAR began to slowly shift its business focus from vehicle sourcing to the EV battery space in 2020, and it has since recorded major milestones, especially in its proprietary swapping technology.
First, EV battery swapping is a unique idea which according to me is picking up steam. In simple, it removes the delay incurred by customers during the charging hours. Instead of waiting for hours for the EV to charge, customers using the UOTTA only need to pull in at the EV charging station and have their battery packs swapped out by robotic elements in a matter of minutes.
Battery swapping from my point of view is the best solution to the current challenge of long delays during the charging sessions. Typically, a Tesla Model Y and other current versions, especially of the Model 3 with at least 44 miles an hour, take between 8 to 10 hours to fully charge. I also believe that most EV drivers go through charging anxiety, especially if they need to cover long distances, say 300 miles on a single charge. An inadequate infrastructure will force a driver to have an alternative battery, if not a swap.
Unlike U Power, which is from China, San Francisco-based startup Ample made a demonstration of its novel battery swap technology, which it explained could "exchange a depleted EV battery system for a fresh one in five minutes."
In China, EV company NIO Inc. (NIO) was stated to have at least 1,500 battery swap stations around China. In Q2, 2023, it had already performed about 22 million swaps. In its Q2 2023 transcript, NIO explained,
We have already installed 1,747 power swap stations globally and provided more than 27 million battery swaps. Our expressway battery swap network in China consists of 476 swap stations along the 10 major expressways, connecting 68 major cities. We've also deployed over 7,900 power chargers and 9,700 destination chargers."
What also makes NIO unique is that it has over 1,400 patented technologies supporting the Power swap. It states that it "only takes 3 minutes to swap a fully charged battery." Together with the swap comes both automatic battery and system checks. These are very important features to consider that have made NIO maintain its $18 billion market capitalization.
How different is U Power?
U Power's UOTTA technology is a combination of both swap and track technological features. In essence, the technology helps EV vehicles track the closest battery replacement station. The system will also allow the vehicle to optimize the driving routes to minimize the chances of battery depletion. NIO's total revenue in Q2 2023 at RMB8.8 billion describes the success of the sector especially in the Chinese market.
For U Power, while it is yet to be profitable with the OUTTA technology, it plans to roll it out to both EV and commercial vehicles. Further, upon commercialization, battery replacement will form more than 70% of U Power's revenue. It is therefore imminent that UCAR builds strategic partnerships to further this goal. The addition of Quantum Solutions is a key avenue towards entering the Japanese EV market.
Ample recently announced that it was partnering with Japanese auto firm Mitsubishi Fuso to install its modular EV battery technology. This announcement marked the first time Ample swap technology was being applied for large trucks, with the initial deployment meant for Kyoto.
While this announcement makes Japan a good investment destination for EV companies, it also allows U Power to divest in its UOTTA technology. U Power is tasked with also providing compatible cloud service platforms that will complement the requirements for Quantum Solutions. It is vital to note that Quantum Solutions is the premier and only independent EV manufacturer in Japan that is listed on the TSE providing services such as marketing, EV charging, battery-swapping technologies, and other novel energy vehicles in Japan. Such a partnership when exploited means a significant leverage for U Power in the long run.
Risk and Valuation
U Power's price-to-book ratio stands at 8.83 against the industry average of 0.87. It brings a difference of more than 300%. At the moment, U Power is slightly overvalued and we might continue seeing a downside to the stock. However, the Quantum Solution deal is still in play and any development on the EV battery swap development will improve the stock's performance in the long run.
U Power announced in May 2023 that it had received a notice of non-compliance from Nasdaq in regards to non-timely filing of its annual financial report for the year ended on December 31, 2022. The notice stated,
The Company is not in compliance with Nasdaq Listing Rule 5250(c)(1), which requires timely filing of periodic financial reports with the U.S. Securities and Exchange Commission.
While UCAR indicated that the notice did not have any implication towards the company's trading activities, it was seen to largely contribute to the stock's decline from May 2023. The company filed its FY 2022 financial report on its Form F20 before the close of August 2023 in compliance with the SEC's requirement.
U Power is yet to hit commercialization post-IPO in April 2023. However, the company has described itself as an emerging growth company since it recorded at least $1.235 billion in its annual revenue for 2022. The company plans to commercialize EVs powered by its UOTTA technology. It will also generate revenue from battery-swapping stations. The main challenge here is UCAR's reliance on EV manufacturers to have their cars installed with UOTTA. I believe the company will work to make the right agreements with strategic partners.
The company is also facing competition from NIO Inc. in the development and rollout of EV battery swaps in China. Ample is also entering the Japanese market through Mitsubishi. It will be interesting to see how this development plays out.
In terms of the market size, the global battery-swapping market was projected at $1.7 billion in 2022. It is expected to reach $11.8 billion by 2027 growing at a CAGR of 46.9% (within the forecast period).
Key aspects to consider from FY 2022 prospectus
In its Prospectus filed with the SEC in the beginning of 2023, UCAR indicated that it already received payment for 5 battery-swapping stations. As of January 2022, it had already began manufacturing several UOTTA battery-swapping stations from its Zibo factory in Shandong, China. The construction of the factory began in August 2021. UCAR hopes to begin constructing another factory in Wuhu City in 2023. I believe the construction will be complete before the end of 2024.
U Power already has a working agreement with top Chinese auto-manufacturers, "FAW Jiefang Qingdao Automotive Co., Ltd, and HUBEI TRI-RING Motor Co., Ltd on the joint development of UOTTA-powered electric trucks." I expect this agreement to contribute towards UCAR's revenue generation into 2024.
Bottom Line
China's vehicle sourcing provider, U Power, has a vision to become a primary EV market player focusing on battery-swapping technology development. It has already developed an intelligent model dubbed OUTTA technology, expected to be rolled out in China and Japan. Its collaboration with Japanese firm Quantum Solution under a cooperation framework will see both parties invite other major players in the EV industry to fast-track the technology rollout and offer much-needed competition. U power indicated that it has already sold 5 battery-swapping stations, with strategic partnerships expected to steer growth and additional revenue in the future. Still, this is a company to watch owing to the advancement in the EV industry as most companies seek to reduce the battery charging durations. For these reasons, I propose a hold rating on the stock.
Editor's Note: This article discusses one or more securities that do not trade on a major U.S. exchange. Please be aware of the risks associated with these stocks.