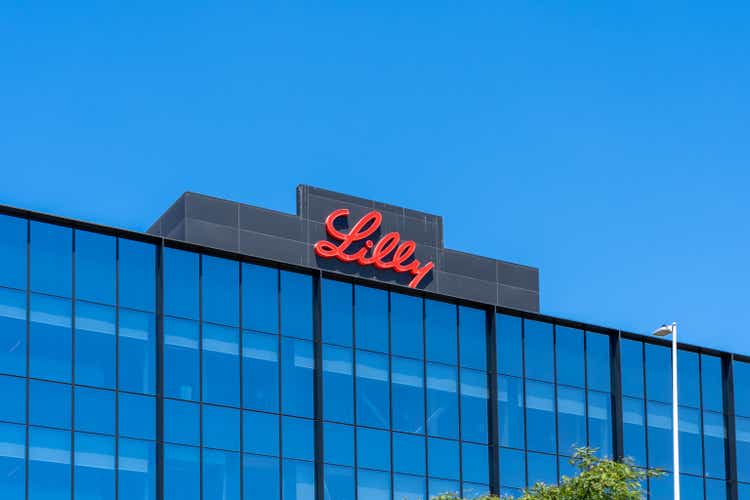 It's hard to argue against the terrific performance of Eli Lilly (NYSE:LLY)-$586.46 as of late. The stock is currently hitting a new all-time high along with its earnings. With earnings hitting new highs, it should come as no surprise that the stock is hitting new highs. After all, the two go hand in hand.

Not only do indexes like the S&P 500 follow earnings, but obviously so do individual stocks. This big Indianapolis-based mega cap stock ($556b) has averaged an annual earnings growth rate of 10% per year over the last five years. But looking at the chart above, we can see that the consensus analyst estimate for this year is 22% in earnings growth and another 29% next year.
The company has several products that have been delivering double-digit growth recently. Their breast cancer drug Verzenio reported sales of $927m in the most recent quarter, compared with $588m in the same comparable quarter last year. This represents sales growth of 57.7% in a fast-growing sector.
In addition to this, quarterly sales of their diabetes drug, Jardiance, were reported at $668m vs. $461m during the same comparable quarter last year. This represents quarterly revenue growth of 44.9% in yet another very fast-growing sector. In addition to this past growth, the drug was recently approved for children 10 years and older with Type-2 diabetes. This should continue to drive growth well into the future.
But the drug that is making all of the noise for Lilly right now is Mounjaro which has only been on the market for about one year. Sales of it have exploded from $16m to $979m in the most recent quarter. This represents sales growth of just over 6,000% quarter-over-quarter.
The drug was approved as the first and only GIP and GLP-1 receptor agonist for the treatment of adults with type 2 diabetes back in May of last year. While it was not indicated for weight loss, Mounjaro led to significantly greater weight reductions versus comparators in a key secondary endpoint. This represents the first new class of diabetes drugs that have been approved by the FDA in the last 10 years.
Mounjaro was also approved by the U.K. for diabetes this past week.
But the Mounjaro story only begins here. The drug is currently waiting for an FDA decision to approve Mounjaro for weight loss. If approved, Lilly's Mounjaro could go head-to-head with Novo Nordisk's (NVO)-$195.40 blockbuster drug Wegovy, which is another GLP-1-based drug.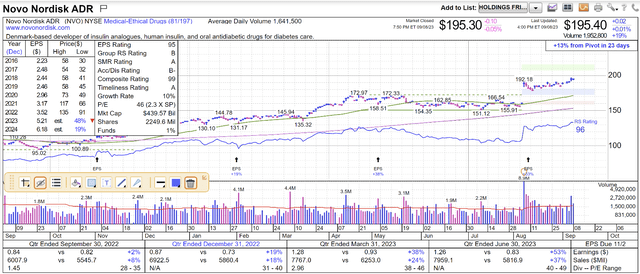 Novo Nordisk has been a terrific stock over the years as a leading diabetes care company. In fact, just last week it became the biggest company ($439b) in the EU. It, too, has been hitting new all-time highs in both earnings and stock price recently. It's funny how these two factors go hand in hand with each other.
We currently own both of these stocks, Lilly and Novo Nordisk, in our very select (20 stocks) Premium Growth portfolio that we provide as one of four portfolios for our clients and subscribers. This portfolio is having a very good year so far and has done well since its Jan. 1, 2019, inception.
But let's now return to the subject of this article, which is Lilly. Let's look at some performance numbers in order to see how it stacks up as a past deliverer of alpha.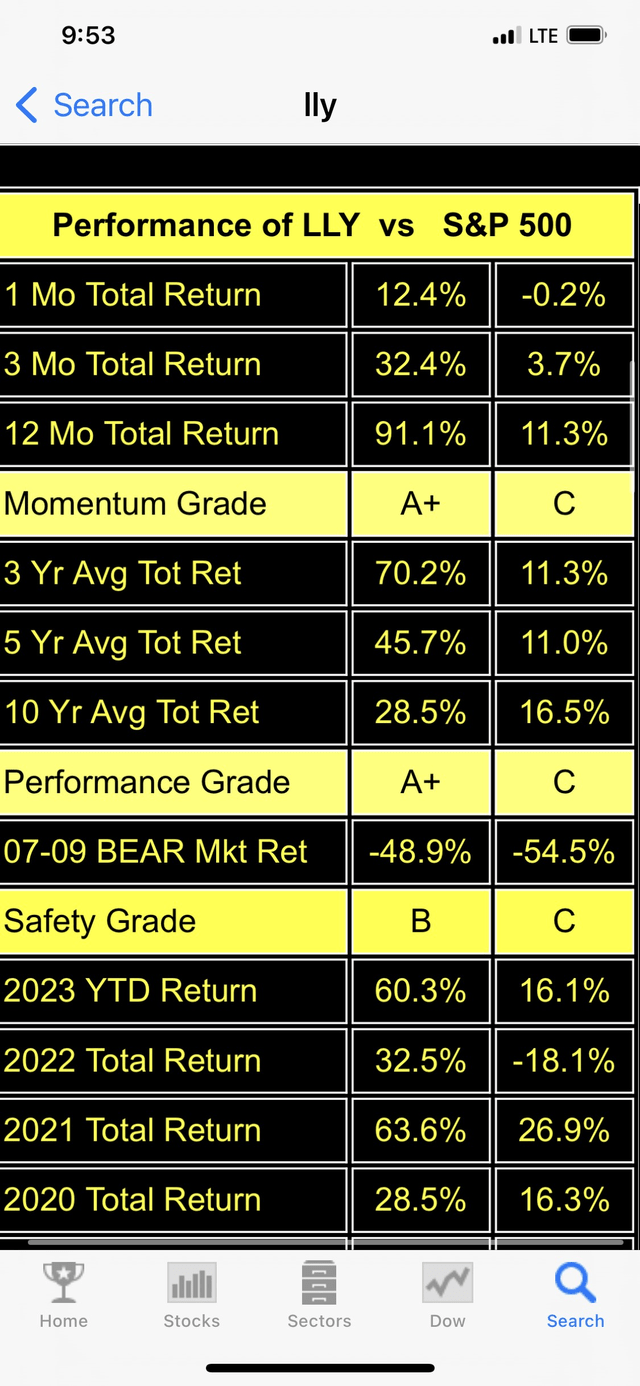 As you can see from the numbers above, the stock has significantly outperformed the S&P 500 over the last one, three-, five-, and 10-year periods. When I compare this short-term, intermediate-term, and long-term performance as a whole and put the numbers up against the other 5,882 stocks, ETFs, and mutual funds in my database, it earns a short-term momentum grade of A+ and an overall performance grade of A+. This is quite a rare achievement.
But performance is a measure of the past. We need to look to the future to do our best in determining whether or not the stock has the capability of continuing to deliver alpha in the future. We do this with a potential five-year valuation study. I spent a few years as an analyst along with being a professional money manager during my 24 years in the business. I have always preferred to focus on five-year valuations as opposed to shorter ones.
For me, they are more predictable, flexible, and they help take a lot of emotion out of the equation.
This valuation study begins with a starting point of Lilly's 2024 earnings estimates, as this year is already one-half in the books:
The consensus, 2024 analyst's earnings estimate is currently $12.52 per share. This is the starting point. In addition to this, their five-year average annual earnings growth rate is estimated at 25% per year. Given that this mega-cap company has averaged 10% over the last 10 years, this number looks too high to me. I'm using 16% per year based on the potential growth of their three current biggest-selling drugs.
I now extrapolate these earnings numbers out over the next five years and arrive at the potential for $22.67 per share in earnings by 2028. Now we need to come up with a multiple (PE ratio) to multiply those earnings to establish a five-year target price.
A superior growth stock like Lilly is going to command a premium multiple. This is not a slow-growth stock like JNJ or Merck. Lilly has averaged a PE multiple of 40-50 during the last several years. It's currently trading at a PE multiple of 73X due to its high growth potential.
Therefore, I'm going to use a fairly generous multiple of 45X on those potential 2028 earnings estimates of $22.67. This gets me to a five-year target price of $1,020.
$22.67 X 45=$1,020
When this target price is compared with its current price of $586.46, this represents an upside potential of 74% over the next five years. My formula for rating stocks combines momentum (alpha) with future valuation. They're weighted about equally.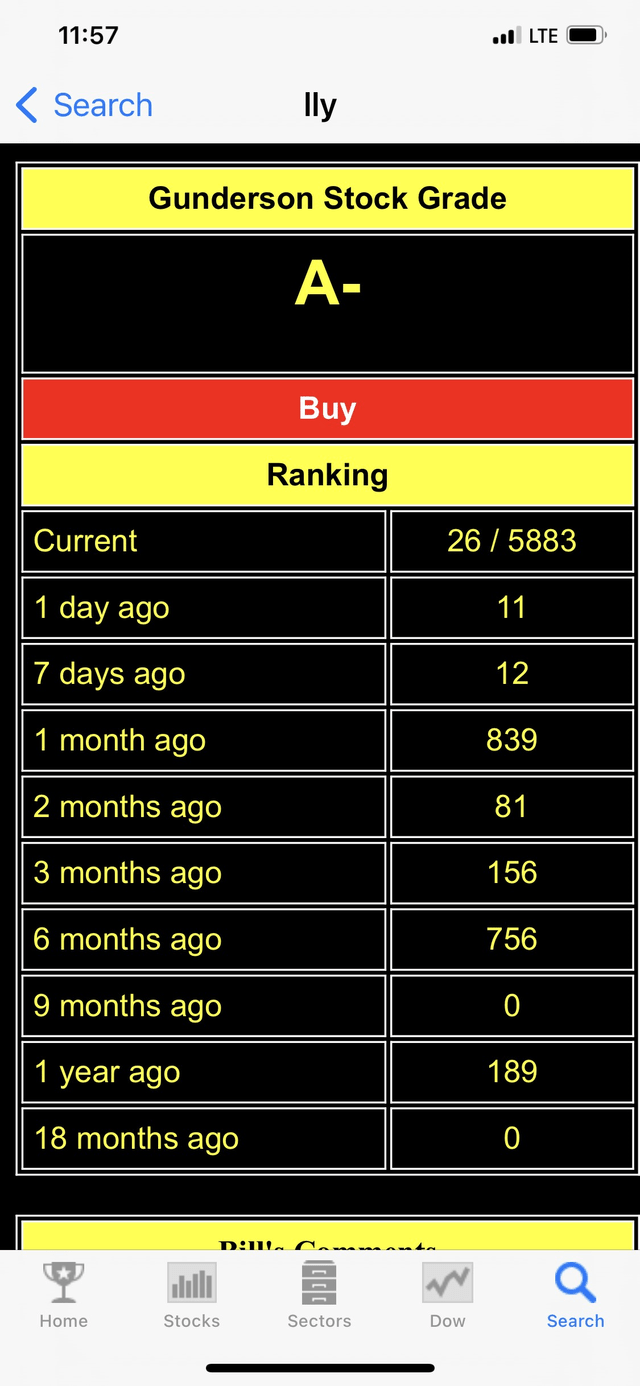 Lilly currently rates as # 26 overall, and I have a Buy rating on the stock.
The risks for the stock would be any new adverse side effect indications of any of their drugs, including Mounjaro. As of now, the potential for thyroid cancer is included in the label, along with vomiting, stomach pain, constipation, loss of appetite, etc. indicated for about 5% of users.
Competition also is always a major concern in this highly-competitive industry.
But, on the other hand, there are some promising new studies that show that these GLP-1 drugs could also be effective in alcohol, tobacco, and drug abuse as they work on the brain to greatly dampen one's appetite. More on that in future, a future article.
This could really gild the Lilly!