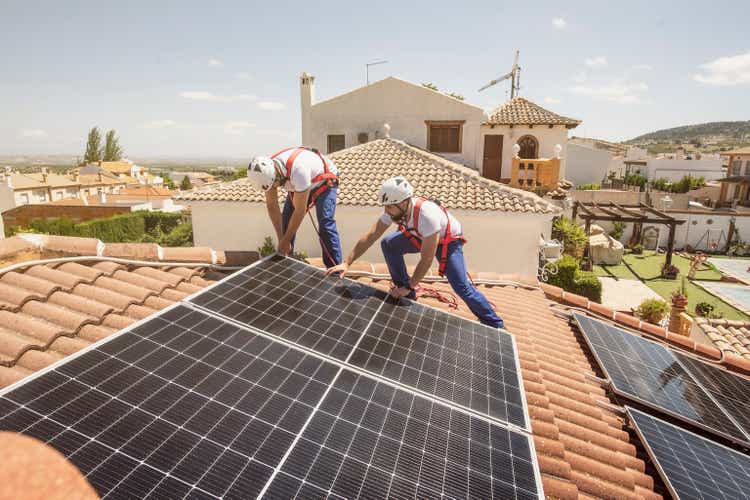 Hannon Armstrong Sustainable Infrastructure Capital (NYSE:HASI) is a REIT unlike any other. When you think of real estate, you probably think of apartment buildings, offices, logistics or perhaps retail, but you probably wouldn't think of renewable energy infrastructure projects such as solar and wind power plants or energy storage solutions. Well, these are exactly the kinds of assets that HASI specializes in, which makes it an interesting play on real estate, as well as renewable energy.
The last time I wrote about HASI was in June, when the stock traded at $26 per share. Since then, the price has dropped by about 10% and the company has released their Q2 2023 earnings. Today I write an updated thesis for the stock.
If you recall my original article, you'll know that not only is HASI a combination of a REIT and an energy company, but it's also a combination of a mortgage REIT and an equity REIT. This is because the company's main business is in providing loans to renewable energy projects, while they also own significant equity stakes in other projects. The fact that HASI operates both business lines is great because it gives it more flexibility in structuring deals.
HASI's loan portfolio, which accounts for the majority of the company's earnings, has grown by 14% over the first half of the year and reached $4.9 billion (up from $4.3 billion in Q1 2023). In terms of segments, about half of this is invested in "behind-the-meter" projects (dark blue). These are projects where the energy is both produced and consumed on site, think solar panels on a roof. The rest of the portfolio is primarily invested in "grid-connected" solar and wind power plants (light blue) with a small investment towards sustainable infrastructure (orange).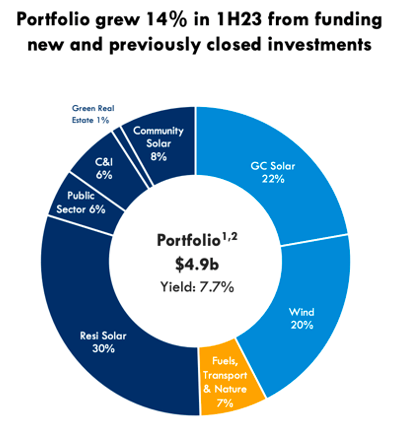 During the second quarter of the year, HASI's profitability has remained solid as represented by a 0.2% increase in the spread they earn on their investments. The spread indicates the difference between the average interest that HASI receives on their loans (7.7%) and their cost of capital which stands at 4.8% and is the single biggest driver of the company's results. I like the fact that the spread has been very stable, despite large movements in interest rates. This confirms that management is well adept to deal with interest rate risk.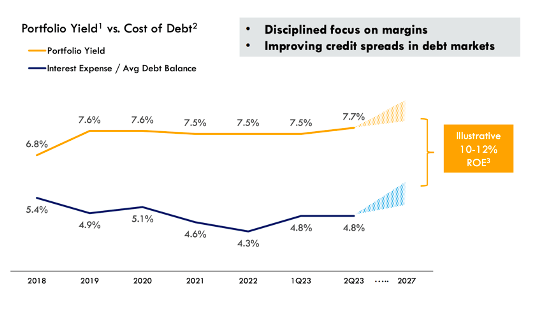 Future growth is likely to be driven by an extensive pipeline of projects, which now stands at $5 billion. During a recent earnings call, management has guided towards a 10-13% annual EPS growth until 2025. Distributions (dividends) are also forecasted to grow, although a bit slower, at 5-8% annually.
During the second quarter, the company made distributable EPS of $0.53 per share, or $2.12 per share annualized. The dividend, which stands at $1.58 per share, yields 6.5% and is reasonably well covered with a payout ratio of 75%. Note that the payout ratio is on the top end of management's target, which is why the expectation is for the dividend to grow somewhat slower compared to distributable EPS.
Because HASI is a leveraged investment, their balance sheet is an important risk factor. In this case, a BB+ rated balance sheet doesn't scream safety, but near-term debt maturities are low and over 85% of the debt is fixed rate, which means that near-term interest rate risk is relatively low. I am, however, a bit worried that management might want to take on more leverage to fund new acquisitions, which would increase an already high leverage of 2.7x.
Valuation
HASI trades at a price-to-book of 1.32x.
Because a majority of its earnings are derived from issuing loans, I would expect the company to trade close to 1x BV, if all loans perform well. In the case of HASI, some premium above 1x BV is likely justified, because the company also owns some equity investments.
The stock has traded as high as 4x BV during the 2021 bull market, but I don't think we'll see those values ever again. Overall, I think the stock deserves a multiple of 1.5-1.75x, which leaves quite a bit of upside (about 20%) from multiple expansion.
With Q2 annualized EPS of $2.12 and an 11.5% annual growth at mid-point, earnings could reach $2.75 by the end of 2025. So, we could reasonably earn over 15% from EPS growth and dividend alone, while we wait for the 20% upside to materialize. Those are solid prospects, which is why I reiterate my BUY rating here at $24 per share.
One thing to note is that management is planning to get rid of the REIT classification for HASI next year. While still subject to board approval, it's quite likely that it will happen. From my understanding, there isn't much to worry about, though. The reclassification will be done for tax purposes mainly and management has stated that it will have no effect on the company's dividend as the company will remain committed to paying out 65-75% of distributable earnings.