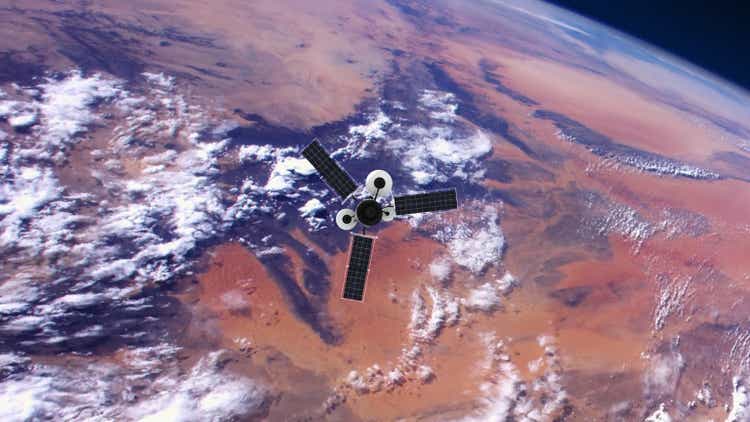 On Thursday, September 7, 2023, Planet Labs (NYSE:PL), a leading provider of commercial Earth observation satellite data, announced its earnings for the Second Quarter of Financial Year 2024 (for the quarterly period ended July 31, 2023). The Company has consecutively beaten the last 4 quarters' earnings expectations. This quarter is no exception, beating the consensus earnings per share by $0.01. The company reported a quarterly revenue of $53.8 million, representing an 11% year-over-year increase. The company also managed to slightly reduce its net loss with the management's focus on operational efficiency. Subsequent to the earnings report, Planet Labs stock dropped more than 6% in after-hours trading.
Planet Labs' share price has declined by more than 35% since its last Q1 earnings announcement. The question now is whether the Q2 results will further erode investor confidence, given it has once again lowered the full-year guidance?
What went wrong in Planet Labs' Q1 results?
Investors in general seemed to have put the blame on the company's decision to revise its full-year revenue and EBITDA guidance for financial year 2024. This revision occurred just three months after it was first issued, shifting the anticipated range from $248 – $268 million to $225 – $235 million. However, it is not uncommon for companies to adjust their guidance, so why the pronounced reaction this time?
The reaction is tied to a broader trend. It is widely recognized that companies listed through SPAC tend to make hockey-stick projections, as they are not bound by the same forward-looking restrictions as traditional IPOs. As such, half of the SPAC-listed companies fell short of their 2021 revenue projections, and only a mere four SPAC space-related stocks managed to meet their 2022 guidance. I believe investors believed Planet Labs to be an exception, only to realize that it, too, is the same.
Although the company consistently achieved its revenue forecasts in previous years, the decision to reduce its financial year 2024 guidance raises substantial concerns. This adjustment also implies a significant challenge for the company in attaining its mid-double-digit growth forecasts for the upcoming years.
The management at Planet Labs, much like their counterparts across the tech sector, attributes this adjustment to the macroeconomic environment, which has resulted in the cancellation or postponement of contracts into the next financial year. Consequently, investors have valid reasons to think that Planet Labs is simply another SPAC company with unachievable forecasts in my opinion, leading to the adjusted valuation after last earnings as shown below.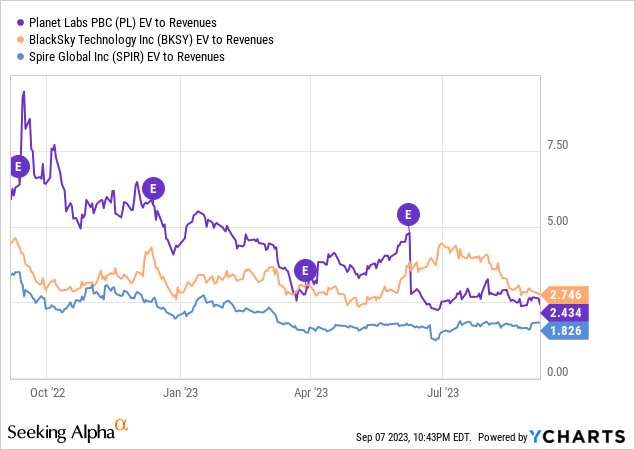 What about the Q2 results?
The plunge in the share price last week underscores investors' disappointment following the earnings call that has once again revised its annual guidance on revenue, this time by nearly 20%, a stark contrast to the management's optimistic projections from just six months ago. On the flip side, the adjusted EBITDA loss is poised to be slightly higher than last quarter's expectations, primarily due to the implementation of additional operational cost reduction measures.
Record-high revenue and strong pipeline, but decelerating YOY growth
In the second quarter, revenue experienced an 11% year-over-year increase, reaching an all-time high of $53.8 million. This revenue, however, does not include any contribution from the company's latest acquisition Sinergise, which is anticipated to contribute a lower-than-expected range between $4 to $6 million for the year.
During this quarter, the company primarily secured contracts within the defense and public sector, including agreements with entities like the U.S. Space Force and various government agencies. However, the impact of closing these contracts, as well as renewing some existing ones, will only have minimal effects on this year's recognizable revenue.
Persistent delays and extended lead times continue to be "a source of frustration" according to the management. It is becoming increasingly evident that government and other major contract clients are holding back to purchase from Planet Lab, resulting in a situation where the growth in customer numbers outpaces revenue growth. From my perspective, it appears that the management has limited capability to address this issue that contributes to the sluggish growth.
However, there is a glimmer of optimism as CEO Will Marshall mentioned that there are "70 deals, seven or eight figure, in our qualified pipeline today". While investors may not be able to foresee an immediate turnaround in the company's slowing revenue growth, this at least will potentially reinforce the company's path to profitability in calendar year 2024.
Some new developments to be excited about
While the company's short-term and existing revenue outlook keep disappointing investors, the management has given some color on the Planet Labs' new development, be it product or business, that will serve as value drivers in the coming future:
Despite the company's ongoing disappointment with its short-term revenue outlook, the management has shed light on Planet Labs' new developments, both in terms of products and business strategies, which are expected to be significant value drivers:
Pelican and Tanager: The eagerly awaited news and updates regarding Planet Labs' two new satellites, Pelican and Tanager, have gathered attention. These satellites have higher precision, resolution, and revisit rates compared to the company's current satellite lineup. The successful deployment of these two satellites will be able to unlock fresh business opportunities and markets for the company. Excitingly, the management has confirmed that the demonstration satellite for Pelican is prepared for launch later this year, while the first Tanager satellite is scheduled for launch next year. However, specific launch dates remain undisclosed.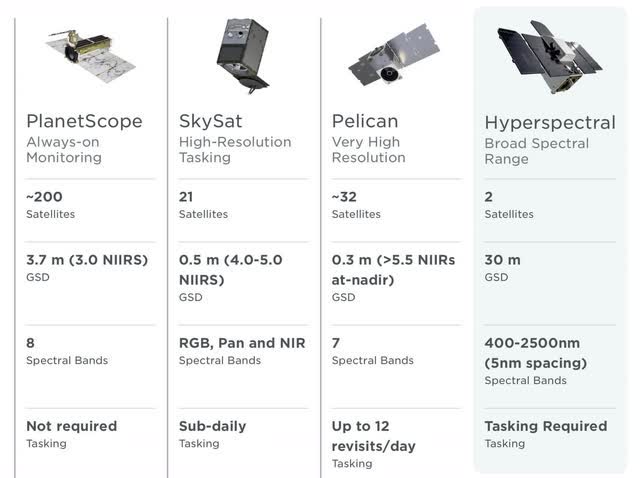 Jumping onto the AI bandwagon: While AI was mentioned during the previous Q1 earnings call, this time the management reiterated it with more clarity. On one hand, Planet Labs has successfully converted the satellite imagery + generative AI concept into business – a 6-figure three-month pilot. On the other hand, the company has forged an expanding collaboration with tech giant Microsoft, extending their partnership from disaster assessment in Ukraine to Maui. This partnership with Microsoft (MSFT), a giant in the realm of AI, undoubtedly stirs investors' imaginations, sparking some hopes of securing more high-value contracts, or even the possibility of an acquisition.
To conclude this section with a cautious note – as someone who has closely followed Planet Labs for some time, it is apparent that the company continually unveils exciting new potential directions, acquisitions, and products that pique investors' interest, ranging from climate change solutions and carbon capture validation, to AI and beyond. But it is important to maintain a critical perspective and discern the true catalysts that will drive the company forward.
Investment Comments: Buy with caution, as valuation is likely to remain subdued
Planet Labs was once heralded amongst all space stocks, given its impressive track record and strong performance. However, as the company shifts away from its initial sales projections, the valuation of Planet Labs is anticipated to follow the trend observed among its Earth Observation industry counterparts, despite the company's burgeoning project pipeline. Therefore, while the company has a strong business moat and TAM, I believe investors can only expect share price improvement starting next year.