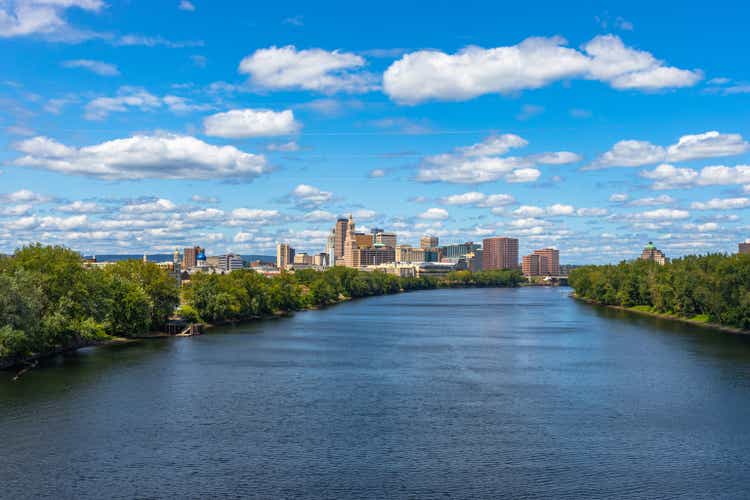 Research Summary
Today I'll be rating The Hartford Financial (NYSE:HIG), in the financials sector, insurance subsector.
I last rated this stock in June when I rated it a strong buy. Since then, it had its Q2 earnings result on July 27th and I will do a deep dive into some of that data to see if my prior rating stands but also to elaborate more on some key data points.
Since my last rating, the share price has risen by 1.62%: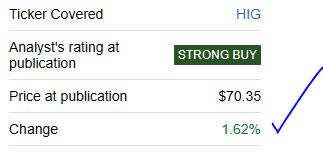 For readers less familiar with this company, here are relevant points from their website: roots go back to 1810, headquartered in Connecticut US, diversified business segments including personal / business insurance as well as employee benefits and exchange-traded funds.
Two key peers of this company are AIG (AIG), and Assurant (AIZ).
Rating Methodology
Using a process similar to 5 project phases in project management, I break down my overall holistic rating of this stock into 5 categories I rank individually and of equal weight: dividends, valuation, share price, earnings growth, financial health.
If I recommend this stock on at least 3 of 5 categories, it gets a hold rating. 4 of 5 gets a buy, and less than 3 gets a sell rating. Then I compare my rating to the consensus from analysts, Wall Street, and the quant system.
Dividends
In this category, I will analyze the dividends of this stock and whether I think they present an opportunity for dividend-income investors. The data comes from official Seeking Alpha dividend info.
As of the writing of this analysis, the forward dividend yield is 2.37%, with a payout of $0.43 per share on a quarterly basis, with the most recent ex date being Aug. 31st.
When comparing to its sector average, this dividend yield is 39% below its sector average. I believe this is a moderately negative point to consider for dividend investors who are comparing multiple stocks in which to invest. I would consider a yield of 3% – 5% more reasonable in relation to the average, so in this case in my opinion it is low.

In looking at the 5 year dividend growth for this stock, it has shown a positive upward trend. This is, in my opinion, a positive point for dividend investors and a sign of this firm's capacity to return capital back to shareholders, but also offsets the prior point of the yield being below average.
Additionally, I am looking for stability with dividend payouts, and this stock has shown regular dividend payment history lately, which is another positive point to think about.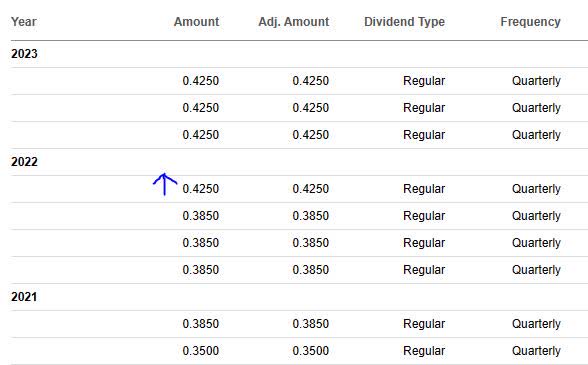 On the whole, I would recommend this company on the category of dividends. However, later in the section on share price, I will show how this dividend yield can be used in an investment idea for this stock.
Valuation
In this category, I will analyze the valuation of this stock. The data comes from official valuation info on Seeking Alpha, specifically the forward P/E ratio and forward P/B ratio, the key metrics I look at.
This stock has a forward P/E ratio of 9.41, which is about 2% below its sector average. I think that a reasonable price to earnings for this stock would be between 8x earnings and 10x earnings, to stay within a reasonable 2 point range of the average. In this case, on this metric the stock appears to me to be reasonably undervalued vs its overall sector.
To start a discussion on this topic in comments, why do you think the price-to-earnings is or is not a vital valuation metric to consider for this stock?
This stock also has a forward P/B ratio of 1.50, which is 51% above its sector average. I think that a reasonable price-to-book value for this stock would be between 0.50x book value and 1.5x book value, to stay within a 2 point range of the average. In this situation, this stock appears just slightly overvalued vs its overall sector, so not a major concern.

Let's take a look at one of its peers mentioned earlier: AIG. If comparing the two, AIG has a forward price-to-earnings that is 6% above the sector average and a price-to-book that is practically in line with the average. So, it seems more overvalued than Hartford on price to earnings but not on price to book.
It helps to do side by side comparisons like that when I am considering whether to put capital into one or another stock in the same sector.
Based on the examples I gave, I would recommend Hartford on the basis of valuation.
Share Price
In this category, I will use a very simple investment idea to determine if the current share price presents a value buying opportunity right now or not, based on potential gains & potential losses by tracking the long-term moving average.
First, I pulled the yChart (as of the writing of this article, so the price shown is not real time!) which shows a share price of $71.49, compared to its 200-day simple moving average "SMA" of $72.75, over the last 1 year period.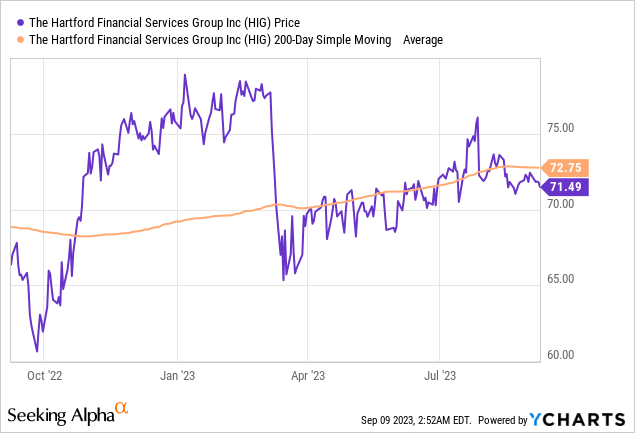 Second, I determine what my goal is for return on capital and what my risk tolerance is for capital loss, if I buy 10 shares at the current share price and hold for 1 year to also earn a full year of dividend income.
My goal is positive +10% return on capital, and my risk tolerance is a -10% negative return on capital.
After holding for 1 year, I plan to sell the 10 shares. The following simulation tests what happens if the share price I sell at in Aug. 2024 is +10% above the current SMA, and what happens if it has dropped to -10% below the current SMA:
In the above example, if the share price goes up to $80.03 I exceed my profit goal by +4.34% and if the share price drops to $65.48 I also stay within my loss limit by 4%.
With that said, the current share price presents a buy opportunity and in my opinion I would recommend it.
However, readers should still run their own simulations based on their individual portfolio goals which I cannot advise on here, as their risk tolerance and profit goals my differ from this idea above. It is simply a framework with which to think about potential gains & losses if buying at the current price.
Also, note that the above idea can create two potential tax events: dividend income and capital gains. This ought to be discussed further with your tax pro for consultation on this topic.
Earnings Growth
In this category, I examine the earnings trends comparing the most recent quarterly results to the same quarter a year ago, including both top-line and bottom-line income, and other relevant topics to earnings I think should be discussed for my readers.
On a YoY basis, this firm showed positive growth in its two key revenue drivers: premiums on insurance policies, and interest income on its investment portfolio. In my opinion, this shows not only that the firm is benefiting from the elevated interest rate environment of the last year but also is growing its core business which is insurance.
I forecast that it will at least continue showing strong results from interest income considering that rates are not going down anytime soon. In fact, CME Fedwatch predicts a 92% chance the Fed keeps rates the same after its Sept. 20th meeting.
On a YoY basis, the firm showed positive growth in net income and EPS as well, according to its income statement, with a basic earnings per share of $1.75 in Q2, another positive sign I can mention.
To help me understand what was the driver behind some of these results, I turned to the Q2 earnings commentary and presentation which gave interesting insights.
According to the company, its core insurance business is showing positive trends, which makes me want to be bullish on this stock even more:
P&C net written premium growth of 11%, including 12% in Commercial Lines with double-digit increases from each business.
Hartford CFO Beth Costello also reiterated this positive sentiment:
Commercial Lines had an outstanding quarter with written premium growth of 12 percent…

Group Benefits continued strong momentum from first quarter driven by 7 percent growth…
Based on this evidence and breakdown, I would recommend in this category of YoY earnings growth, and expect more positive results for Q3 as the firm already has the tailwind to make it possible.
Financial Health
In this category, I will discuss whether this company shows strong financial fundamentals in the realm of capital, liquidity, and overall balance sheet & cashflow topics.
Here are some points I found that I think are relevant to readers.
According to the company,
In 2Q23, the company returned $484MM to stockholders including $350MM in share repurchases and $134MM in common stockholder dividends paid.
Further, the balance sheet at the end of Q2 continues to show positive total equity of $14.1B, with assets far exceeding liabilities, despite the value of debt securities the firm holds being somewhat lower YoY and on a downtrend since Dec. 2021:
Additionally, I want to point out another positive, and that is positive free cashflow (levered and unlevered) in both of the last two quarterly results, which I believe is another sign of this firm's efficient management. For example, end of Q2 unlevered free cashflow was just over $2B.

Based on the data, I would recommend in this category, and I look forward to continued positive results in this space for Q3.
Rating Score
Today, this stock was recommended in 5 of my rating categories, once again earning a strong buy rating from me today which reaffirms my June rating. This is in line with the consensus from analysts and more bullish than the consensus from the SA quant system.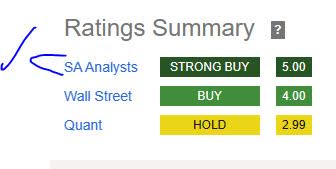 My Rating vs Downside Risk
My bullish rating can face a downside risk as follows:
Besides insurance solutions, another major business segment this firm has is Hartford Funds, which manages their own mutual funds and exchange-traded funds. Those readers who know this industry also know that the more money flows into these funds the more money is made in fees to manage them.
The opposite can occur, and there have been net outflows at Hartford Funds, which could possibly be of concern to some investors and analysts who take a bearish sentiment on this firm.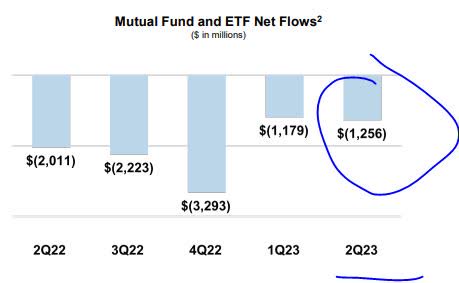 My counterargument and why I think to remain bullish right now is that the net outflows are improving at Hartford Funds as of Q2, as the chart above shows. In addition, they manage many types of funds so one needs to differentiate between equity and bond funds.
For example, a Reuters story on Sept. 8th highlighted the general outflows from equity funds but increased demand for money-market funds.
According to the story:
Investors withdrew from U.S. equity funds for a sixth successive week in the seven days to Sept. 6, in the wake of downbeat economic data from China and Europe, and a surge in U.S Treasury yields.

Money market funds drew $32.18B worth of inflows, the biggest amount in three weeks.
Analysis Wrapup
To wrap up today's discussion, here are the key points we went over:
This stock got a strong buy rating today, reiterating my June rating again.
Its positive points are: dividends, valuation, share price, earnings YoY growth, financial health.
Downside risks of fund outflows have been addressed.
In closing, I continue to recommend keeping this stock in a watchlist of financial sector stocks, and as an SA analyst I often hidden gems like this among the insurance subsector, which often times is not heavily covered, but in my opinion presents an interesting opportunity.
The key to remember about the insurance business is that it is simply a transfer of risk to a third-party, to avoid eating it on the full cost of a potential catastrophe to person or property. This sector recognized this business opportunity a long time ago, and for the most part has proven to be resilient through many decades of market turbulence.