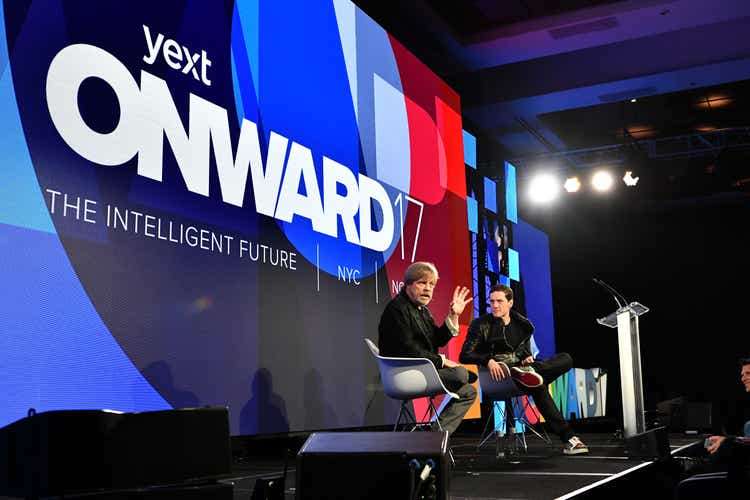 Yext (NYSE:YEXT) has been on a wild roller-coaster ride, as the stock got caught up in the AI-hype train only to see that story get derailed in a matter of months. However, the stock has gone back to a potential cheap SaaS turnaround play.
Company Profile
Through its digital ecosystem, YEXT structures and organizes business data and facts to deliver correct information to its clients' customers. The company is best known for its Listings Product, which helps businesses have correct current information, such as hours of operation, across the internet and digital devices, from the company's own website and over 200 third-party sites and apps, such as Google Search and Maps, Amazon Alexa, and Apple Maps.
The company has also gotten into areas such as corporate search, to help allow businesses to answer customer questions. The company's Knowledge Graph organizes data to help answer complex questions by not only storing data but also by connecting the relationships between data points. It further uses algorithms to help determine intent and to find relevant results from structured data, semi-structured data and unstructured sources.
AI Hype and Q2 Let Down
YEXT stock started to gain momentum in early March as the company began to position itself as an AI company during its fiscal Q4 earnings and then later at its analyst day in April. The stock then surged 44% in June following its fiscal Q1 results as the AI hype took over.
The company's FQ1 results and guidance weren't exactly the catalyst, as revenue rose just 1%, ARR increased 3%, and its Q2 guidance called just for a 1% revenue increase at the mid-point. Full-year revenue, meanwhile, was just projected to increase 1% at the mid-point as well.
Hyping AI on its FQ1 call, CEO Mark Ferrentino said:
"Back in March, we announced the strengthening of our Answers Platform with new AI-enabled features as part of our spring '23 release. Our innovative AI-driven solutions and our digital experience platform are driving considerable interest from new and existing customers. We launched a beta version of the Yext Chat in February based on significant demand for chat from our customers, and we expect that chat will soon be included in our general release. Our recently launched studio and content generation features have also been well received, and we believe there's significant opportunity for us and our partners with these products. From our conversations with prospective and existing clients, it's clear that Yext is at the center of a massive transformation taking place that can help businesses leverage the power of AI. Our innovations across natural language processing, analytics and security as well as our leading technology integrations are driving competitive wins in the marketplace and setting the table for sustainable long-term growth. Our innovative composable product platform makes it easier for businesses to enhance their digital experiences, and we have some great customer examples from Q1. … Yext is in a strong position, particularly at this moment in time to help businesses leverage AI-based technology and improve their digital experiences through our composable digital experience platform. I couldn't be more excited about the buzz or an AI that's helping drive awareness among C-level executives and helping our teams demonstrate how powerful a partner Yext can be to businesses, particularly in today's environment."
If investors were expecting AI to lead to a shift-change in YEXT's growth, it didn't materialize in FQ2 and the stock plunged -27.9% the next session as a result.
For FQ2, YEXT saw revenue rise 2% to $102.6 million, and that included a $0.4 million positive currency impact. That was ahead of analyst expectations for revenue of $102.0 million. Its ARR rose 3% to $398 million.
Adjusted EBITDA jumped to $11.8 million from $0.9 million last year. Adjusted EPS, meanwhile, came in at 6 cents, doubling from 3 cents a year ago and matching the analyst consensus.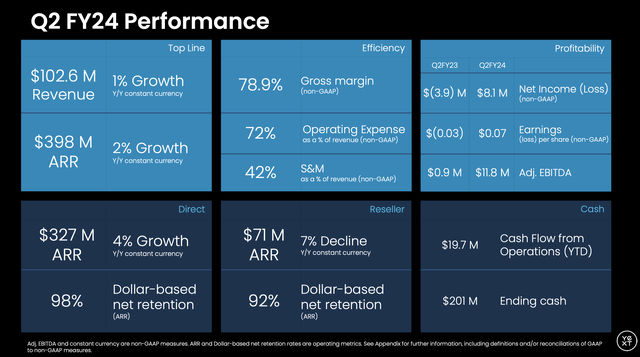 Looking ahead, the company forecast Q3 revenue of between $101.5-102.5 million, which would be nearly 3% growth at the mid-point, but a decline sequentially. It projected adjusted EBITDA of between $11.5-12.5 million, and adjusted EPS of between 6-7 cents.
For the full year, the company slightly increased it earlier guidance. It now expects revenue of between $405-407 million versus a prior forecast of $404-407 million. It is now projecting adjusted EBITDA of between $50-52 million compared to a previous outlook of $49.0-51.0 million. It forecast adjusted EPS of 29-30 cents versus prior guidance of 28-29 cents.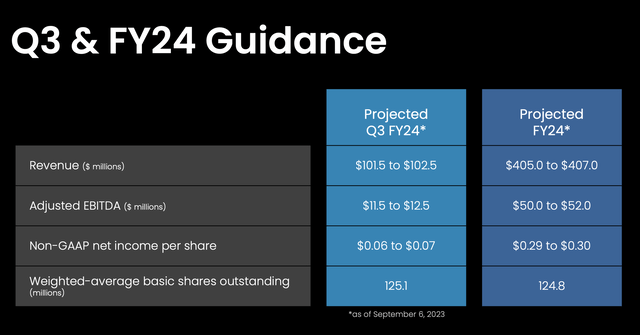 The company said it was making steady progress and that interest in its solution was building, noting that its pipeline had seen measurable increases. However, it noted that buying trends from enterprise customers had not yet accelerated and that enterprise customer budget pressures and close rates would remain challenging the rest of the year.
Management further said that businesses were also cautious about exposing customers to AI. As such, it said it was making sure customers knew that its solutions were not pure AI solutions.
In the course of a quarter, YEXT went from riding the AI-hype train to having to remind potential clients that it was not a pure AI solution. That's a pretty interesting dynamic in a short period of time, and the hype surrounding YEXT and AI has clearly evaporated.
Valuation
YEXT currently trades at a P/S ratio of 2x FY24 estimates (ending in January) of $406.4 million and 1.9x FY25 revenue estimates of $425.5 million.
With the company projected to generate $51.2 million in FY24 EBITDA, it trades at around a 12x multiple. Based on the FY25 EBITDA consensus of $60.3 million, it trades at 10.2x.
The company doesn't have a great comp base, but under 2x sales for a SaaS company are inexpensive. From an EV/S basis, it's even cheaper at just 1.4x FY25 estimates.
Conclusion
YEXT has gone from a cheap potential turnaround play, to an AI-hyped stock, back to a potential cheap turnaround play this year. It likely will not become a high-growth AI powered stock, although AI solutions can help improve some of its competitive solutions, just like many other software and search companies.
What the company does have is $200 million in net cash on its balance and it is generating positive EBITDA and operating cash flow. The company is showing good cost discipline, and will look to buy back its inexpensive stock. The company should eventually look to save costs by moving from its New York City headquarters, although it is currently subleased until 2031.
Investments in cheap, low-growth SaaS stocks are never easy, as the sector tends to draw in more growth-oriented investors. However, they do tend to eventually catch the eye of private equity or strategic buyers. After the big sell-off back to levels before the AI hype, I'm going to start YEXT as a "Buy." However, don't expect a quick rebound back to recent highs.