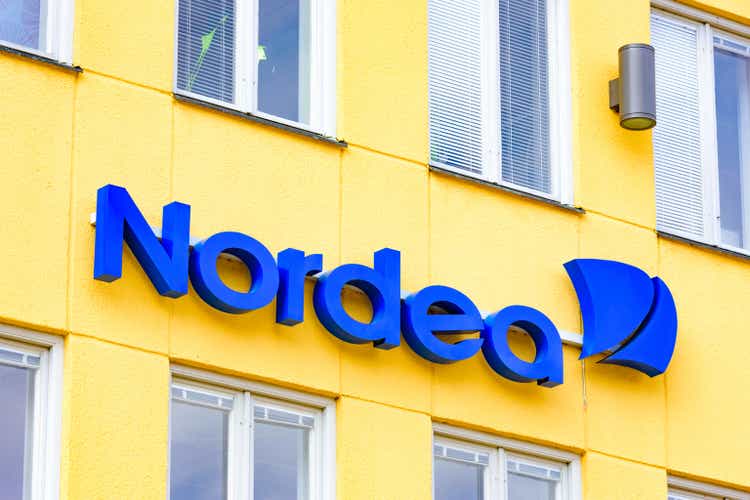 Dear readers/followers,
It's fairly clear to me that Scandinavian banking overall has fallen a bit under the radar, and is offering 7-9% yields with very high margins of safety that either people aren't all that aware of, or that they actively choose to ignore or not invest in. I view such a choice as "wrong" given the upside that's available here and the fundamentals that, despite some of the risk given the current macro, are still very much there.
The advantage of Nordea (OTCPK:NBNKF) is that, unlike other Scandinavian banks, the exposure to one specific country is lower than for others. Nordea has a better mix than some of the other banks I invest in. And recently, with the crash we've seen since about February of this year, we're in a position to really see some upside here.
Let's see what we can do here and what we can get if we were to invest in Nordea.
Nordea – significant upside potential from banking with a good mix
Since my last article, Nordea has been mostly flat – some upside, but not double digits. Still, I was a tad too negative on the bank in my previous article and underestimated some of the fundamental upside that was possible here. The current results were within my range of realistic possibilities, but I thought the bank would fall more than it did.
It's more Nordic as opposed to some of the other Swedish-centric banks I follow and write about. Swedbank and Handelsbanken are way more Swedish-focused, while Nordea has some focus on Finland as well, with its headquarters actually in Finland now as well. 11 million customers and 1,400 offices around the world means that it has better representation across the various geographies than others Swedish banks do.
Also, Nordea no longer has any ties to Sampo (OTCPK:SAXPF), which also is an advantage here. So with its better mix and interesting fundamentals, let's see how Nordea has performed for the past 2Q23 quarter. I recently published an article on Handelsbanken (OTCPK:SVNLF), and you'll notice some of the differences in these companies here.
But also some of the similarities.
Like Handelsbanken, Nordea saw significant profit growth. Net income on the interest side was up 40%, and fee and commission were down by single digits, with a 26% operating profit increase, compared to a 60% increase for Handelsbanken. For Nordea however, mortgage lending was stable and up – and deposits as well, which were flat for Handelsbanken. The company's C/I is significantly higher than Handelsbanken, around 43% for the 2Q23 period, but some of this is due to regulatory fees. It's close to below 40% without those fees – so that's positive here.
The company has a CET-1 of 16%, around 4pp bps above regulatory requirements, but around 350 bps below Handelsbanken.
Unlike Handelsbanken with its stringent underwriting requirements, the company also saw a negative net loan loss of €32M during the quarter, where Handelsbanken was able to report zero losses.
So the overall trends, while similar, still showed some differences.
The same thing can be said for the other two banking peers, again with their different profiles. My preference in Scandinavian banking has always been Handelsbanken exactly for that safety, even though Nordea and Swedbank (OTCPK:SWDBF) have traditionally had somewhat higher yields. None of the banks here are "bad" in any way, but there are quality differences that may make one of them a better fit for your investment goals.
Nordea had a great quarter – nothing to say against this. The company's capital position is strong, even though the current level of NPL and credit quality is low, with an impairment/stage 3 percentage of 0.75%. Nordea also quite recently started a buyback program in addition to its generous dividend payout back in April. The company's underlying business trends support further expansion here, with good volume and stable mortgages above all in the personal banking lines.
On the corporate side, the company is seeing good NII growth and high levels of customer activity – even the company's asset and wealth management programs are generating double-digit growth in income, despite the current macro, due to increased margins from deposits, better trends in private banking, and a 2% increase in AUM.
And differing from Handelsbanken, Nordea has far less exposure to Household lending. Of the total, only 47% of the company's exposure is here, with substantial exposure to sectors including industrials, construction, tenant owner association and other things.
Like other banks, the company has a positive correlation to interest rate increases. Nordea expects significantly improved profits in all of the markets, and given that the bank is now domiciled in Finland, Not Sweden, this puts it outside any political framework that Sweden may apply to other banks.
That is something I like quite a lot about this bank – and on a global context when comparing it to other banks, it actually compares very favorably. Most of the time, when it comes to banks that I'm looking at, I tend to invest in these Scandinavian ones before any others, if I can get them at a good price or with a good potential upside – or both.
However, it does have a slightly higher rate of credit losses/bad credit in the form of impaired loans. The company's RoE also isn't as high as that of Handelsbanken, even if it's outperforming its own targets for these metrics.
In the end, Nordea's GAAP income is going to be cyclical and correlated to interest rate trends. That means we can follow the cycle and see where things go, as you can see in the graph above. Current expectations are for a taper and decline, even in Sweden, in 2024E. I do not share this expectation. I don't think Sweden's inflation or macro is in a position where we can start lowering the interest rate until 2025 at the earliest. Finland and Norway may fare better. So I expect Nordea to actually do slightly better, with significant earnings growth in 2023, followed by stable/flat EPS in 2024 and probably 2025E as well, at or around the €1.35-€1.45 level on a per share basis. This, as I see it, could put the dividend as high as $0.9-€1/share, which would come to a current YOC of between 9-10%, realistically speaking.
That is a very solid yield for what is an amazing bank with a good upside. And I'll show you next just how good this upside could potentially be.
Nordea's Valuation – Plenty to like, and over 15% annualized to be had here.
So – plenty to like about Nordea at this price. And I'll show you just why it's easy and clear to see this here.
As always, it comes down to hard data.
In this case, Nordea is trading at less than 8x P/E despite an estimated EPS growth of over 35% for this year, followed by stable development for as long as this rate cycle is likely to last and we start getting rate cuts. Such an upside if we consider an 8-12x P/E is potentially massive.
Even at just 8x, which would be treating Nordea like dirt that does not grow despite a double-digit EPS growth rate, we would see a RoR of almost 14% per year inclusive of dividends until 2025E.
What about 11-12x P/E?
This.
As with Handelsbanken, I would remain cautious here with regards to how high we expect Nordea to go. But the fact that we can realistically forecast a 30% annualized growth rate and still consider the company "cheap" is significant here.
This represents probably my biggest single PT change in a very long time. I'm bumping Nordea to a 125 SEK PT, with the potential for more. Part of the real problem we have here is that Scandinavian banks have been valued for 0-2% interest rates for over 8 years, which has influenced just how discounted they've been. Now that we're out of this, I expect things to take longer to actually normalize. We saw a decline during the small banking crash this year, when Nordea dropped from 130+ SEK to below 110 SEK in a matter of weeks.
I believe it's fair here to really estimate the company to go much higher, even if this development is likely to take significant amounts of time. This should be considered a longer-term investment – at least 3-5 years here, at which point I do believe 150-180 SEK/share is possible.
Based on this, any valuation we assign the company at this time is actually fairly conservative. The current range goes from 115-140 SEK – and that's where I put my target now too. The uncertainty in the rate cycle makes higher takes hard to go for.
But even only with an upside to my new PT of 125 SEK, the yield of 9%+ is juicy enough that you should and could consider this the equivalent of a "debt" type investment yielding almost double digits and getting plenty of bang for your buck compared to any conservative investment out there, except maybe those with triple-digit upside.
My portfolio remains very diversified. This is a certain type of investment for me that I prefer to do to guarantee a high continuous income from my portfolio – it's not necessarily a growth investment with 100-300% RoR potential.
But it's an investment that I believe will pay me great dividends, and provide me with a very solid return.
I'm therefore raising my PT, and upping my target to "BUY" with the following thesis for the company.
Thesis
Nordea is a sector-leading sort of banking play in the Nordic region, with a presence across one of the most attractive banking regions in the world due to its incumbent status. The bank is well-capitalized and has an almost undislodgeable position in the market. It has an attractive yield and good growth prospects.
However, it's all about valuation – and I don't see a good valuation here. in terms of Book value, earnings, and other relevant multiples, Nordea shows all the signs of being slightly above its standard valuation trend, calling for me to give it a "HOLD".
Nordea is now cheaper than I have seen it for a very long time – and this is despite a significant upside that, in my view, is realistically forecast. I'm therefore bumping my price target for the company to reflect this.
That is what I am doing. PT is 125 SEK/share, and I'm at a "BUY" here, as of September of 2023.
Remember, I'm all about:
Buying undervalued – even if that undervaluation is slight, and not mind-numbingly massive – companies at a discount, allowing them to normalize over time and harvesting capital gains and dividends in the meantime.
If the company goes well beyond normalization and goes into overvaluation, I harvest gains and rotate my position into other undervalued stocks, repeating #1.
If the company doesn't go into overvaluation, but hovers within a fair value, or goes back down to undervaluation, I buy more as time allows.
I reinvest proceeds from dividends, savings from work, or other cash inflows as specified in #1.
Here are my criteria and how the company fulfills them (italicized).
This company is overall qualitative.
This company is fundamentally safe/conservative & well-run.
This company pays a well-covered dividend.
This company is currently cheap.
This company has a realistic upside based on earnings growth or multiple expansion/reversion.
Editor's Note: This article discusses one or more securities that do not trade on a major U.S. exchange. Please be aware of the risks associated with these stocks.