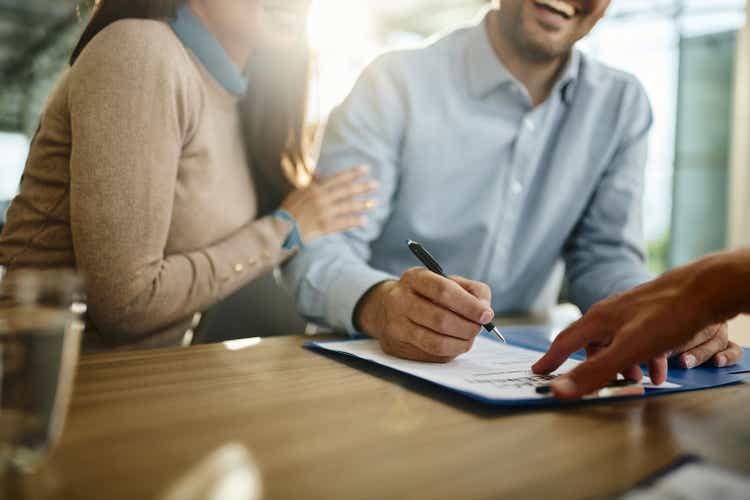 Annaly Capital Management, Inc. (NYSE:NLY) reported significant book value declines in the last year as the central bank responded to record inflation and raised interest rates aggressively.
Though I argued in May that Annaly Capital Management was a risky investment due to the fact that the trust's book value was declining and that it reported a negative net interest spread, the situation has slightly improved lately, in my view, partially because inflation is easing and central bank officials indicated that the Fed may be done with hiking interest rates.
Though I still consider the 13% yield to reflect high risk, most certainly compared to other passive income investments, I think that the risk/reward for Annaly Capital Management has improved lately.
My Rating History
I have been skeptical of Annaly Capital Management for a long time, mostly because of the carnage higher interest rates have done to the mortgage REIT's book value and net interest spread.
Annaly Capital Management's net interest spread turned negative in the first quarter amid higher capital costs, but I see interest rates at their peak and recent commentary from Fed officials as well as drastically improving inflation trends indicate that the mortgage trust sector could soon see relief in terms of borrowing costs.
A decline in interest rates would be a kicker for Annaly Capital Management's profitability and give passive income investors a reason to buy the stock. In February, I raised the alarm about a potential dividend cut.
Easing Inflation Should Provide Financing Cost Relief For The Mortgage Trust
The key issue for Annaly Capital Management in the last one-and-a-half years has been a steep increase in funding costs which has hurt leveraged business models like the one mortgage trusts are operating.
Mortgage trusts make money by investing large amounts of capital into high-yielding mortgage securities and profiting from the spread between mortgage security income and financing costs. Funding costs are a reflection of inflation rates, so the rise in consumer prices since last year has created substantial damage for the net interest spread (profitability) of mortgage trusts.
With inflation easing, however, there is a good chance that the central bank will undo some of the interest rate hikes it enacted last year and this year. Central bank officials even indicated that the current rate hiking cycle is coming to an end. Late in August, Patrick Harker, who sits on the Federal Open Market Committee, said that he thinks the central bank has done enough to counteract inflation which could indicate that interest rates have peaked or are about to peak.
Inflation has dropped from 8.3% in August 2022 to 3.2% in July 2023, which would make a strong case for the central bank to bring its current rate hiking cycle to an end.
Annaly Capital Management is still feeling the pain from high interest rates, which has brought its average GAAP financing cost to 5% in the second quarter. Amid higher borrowing costs, Annaly Capital Management suffered yet another drop in its net interest spread to negative 0.73%.
The results for 2Q-23 showed the dangers of investing long-term and borrowing short-term, but Annaly Capital Management has had significant experience navigating through different interest rate environments.
A reversal in the central bank's interest rate policy would provide relief to Annaly Capital Management's net interest spread and could lead to a much more compelling value proposition for passive income investors.
Though Annaly Capital Management reported a negative interest spread in the second quarter, the mortgage REIT only reported a $0.04 decrease in book value per share on a QoQ basis. Annaly Capital Management's book value declined 12% YoY to $20.73 per share, but the book value has stabilized lately.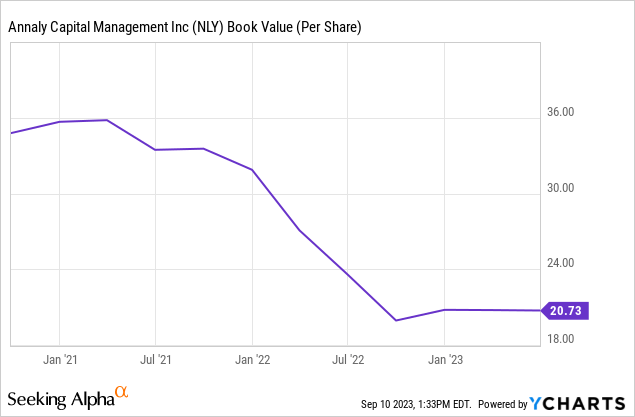 5% Discount To Book Value
Annaly Capital Management is presently selling for a 5% discount to book value, which is not attractive enough for me yet to consider buying the mortgage trust, even though my view on NLY has evolved.
AGNC Investment Corp. (AGNC) is selling for a 6% discount to book value, so both mortgage trusts are trading at about the same valuation level, which is what I would expect since both companies have similar investment portfolios and are the two largest mortgage REITs in the United States.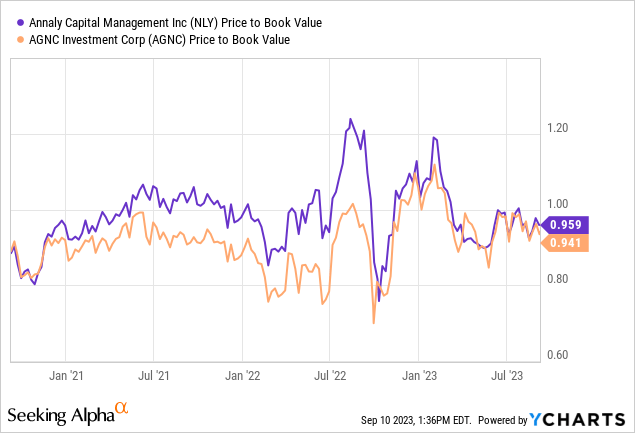 I would consider buying Annaly Capital Management at ~$19, implying an about 8% discount to net asset value. I would sell NLY stock at ~$20.73, implying about book valuation.
The Dividend Is Well-Covered
Annaly Capital Management slashed its dividend in 2023 due to lower profitability related to rise in funding costs. The dividend is well-covered and the trust paid out 88% of its distributable earnings in the last year.
Why Annaly Capital Management Could See A Higher/Lower Valuation
Whether Annaly Capital Management will or will not re-rate to book value (or above it) depends primarily on the future path of interest rates. A resurgence of inflation might tempt the central bank to crank interest rates yet again up a notch.
With that said, I think the odds are widely in favor of falling interest rates which should provide crucial relief for Annaly Capital Management's net interest spread.
My Conclusion
I don't consider a 5% discount to book value attractive enough to buy Annaly Capital Management's stock just yet and I would have to see stronger operational performance, particularly with respect to the mortgage trust's net interest spread before I take the leap of faith and buy.
But if inflation trends continue the way they are (pointing down), then the central bank may soon start to lower interest rates, which should provide relief for Annaly Capital Management.
The trust's dividend coverage looks solid after the dividend cut and the book value appears to have stabilized. As a consequence, I am seeing an improved risk/reward for Annaly Capital Management's stock and I think that NLY could soon become interesting as a Buy for passive income investors.
Until then, NLY is a Hold.