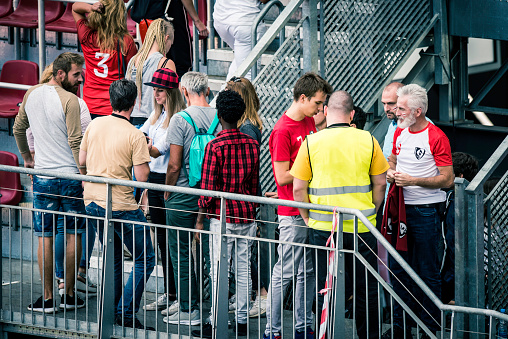 Evolv Technologies Holdings, Inc. (NASDAQ:EVLV) is making waves with its artificial intelligence-based weapons detection system. The platform intended for high-traffic public venues uses a combination of cameras with proprietary data analytics to visually identify threats during the security screening process. Evolv counts on hundreds of high-profile customers including sports stadiums, entertainment centers, and hospitals attracted to the touchless technology and software subscription model.
Shares of EVLV have been a big winner, up nearly 200% over the past year, amid impressive operating trends and strong growth. On the other hand, profitability remains elusive with the company moving forward with investments during an aggressive expansion strategy.
We like the stock and expect strong growth to continue, but believe shares have largely incorporated the bulk of the bullish case here over the near term. With a current market cap approaching $1 billion, representing a lofty premium at 14x forward sales, caution is warranted with shares prone to larger swings of volatility.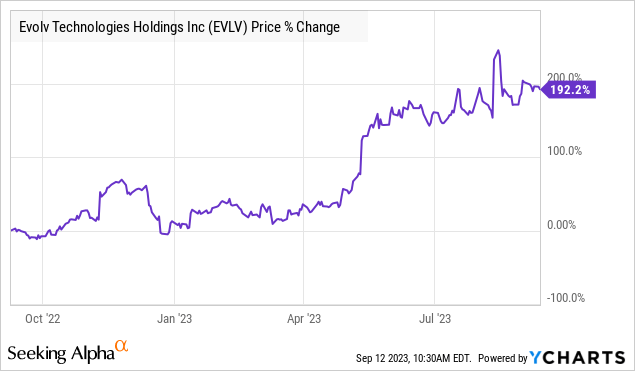 What Does EVLV Do?
Evolv markets its weapons detection system as a superior and more efficient solution compared to traditional metal detectors, hand-wands, and even full body pat downs.
The idea here is that the scanning device installed at visitor entrances uses an AI-powered library of data points to identify clues between clothing protrusions, and personal body language among other factors to suggest a person is carrying a concealed weapon like a gun, knife, or explosive device.
Customers purchase the "Evolv Express" equipment as a one-time fee while it also requires a four-year, non-cancellable security-as-a-service contract through a monthly subscription for the "Evolv Insights" analytics application. This is important as it generates a sort of growth fly-wheel. More installations of the Evolv Express device translate into higher recurring revenue as the cohort of users grows.
EVLV Financials Recap
EVLV last reported its Q2 results in early August, with the headline revenue of $19.8 million, up 119% year-over-year. The level of annual recurring revenue reached $54.3 million, up 160% y/y and 29.3% higher sequentially from Q1, even accelerating from the 23.2% increase in the prior quarter. These results were seen as particularly positive as they demonstrated some acceleration from trends in Q1, compared to the
The other key metric is the remaining performance obligation (RPO), which reached $198.3 million in Q2, up 145% y/y. The figure adds up the value of all contracts that have not yet been fulfilled, as a sort of preview of future revenue. The understanding here is that customers are embracing the technology, and adding new deployments at additional sites.
We mentioned the company is not currently profitable. A Q2 EPS loss of -$0.45, representing -$66.8 million in negative net income, compared to -$25.7 million in Q2 2022. At the same time, excluding accounting charges stock-based compensation, and a change in the fair value of contingent earn-out liabilities, the adjusted EBITDA improved to -$13.8 million from -$16.4 million in the period last year.
Again, the effort here has been to invest in growth and it appears most metrics are moving in the right direction. Another strong point here is the balance sheet, ending the quarter with $156 million in cash against zero long-term debt. By this measure, Evolv Technologies appears well-capitalized with ample liquidity for the foreseeable future.
In terms of guidance, the Q2 earnings report saw the company raise full-year growth estimates. Management is now targeting 2023 revenue between $70 and $75 million, up from an estimate of around $62.5 million in Q1. If confirmed, the full-year target represents an increase of 31% y/y.
The expectation is that a bump higher in the adjusted gross margin towards 40% compared to 38.4% in Q2 can at least lead to a narrowing adjusted EBITDA loss from last year.
What's Next For EVLV?
It's clear to us that Evolv Tech has a hot product connecting with its target market and the growth trends speak for themselves. Beyond the obvious use cases like stadiums and arenas, the company has mentioned industrial workplaces, schools, and other types of facilities that require regular security as potential industry verticals for expansion.
Maybe the biggest tailwind for the company right now is this growing visibility where potential corporate customers see more and more of the Evolv Express installations which work as a form of free marketing. This momentum should carry over into opportunities in Europe and other regions of the world as a new growth driver.
According to consensus estimates, top-line growth is expected to average above 35% over the next years. That should be good enough for the EPS loss to narrow from a forecasted -$0.93 this year towards -$0.27 by fiscal 2025.
The bullish case for the stock at this point is that the company continues to beat estimates, as one way to support even higher and higher growth multiples.
Again, the issue here comes down to valuation with shares trading at 14x forward sales or even 10x into 2024. The issue we believe this could be a headwind is that it leaves little room for error in terms of financial execution. Weaker-than-expected results or a slowdown in demand would likely force a repricing of shares lower.
The visual detection of threats driven by AI is a compelling angle, but it's hard to count out larger players in the security space like OSI Systems (OSIS) recognized as a leader in x-ray systems for airports. L3Harris Technologies, Inc. (LHX), for example, has a portfolio of public safety solutions and would likely look to bring some of its AI features found on the defense industry side towards commercial applications.
In terms of risks, we can bring up the possibility of a security breach type of situation where the Evolv system fails to identify a threat in an actual emergency, for whatever reason, presenting some consequences for the company's reputation. All of these factors add a layer of uncertainty to Evolv's long-term outlook.
The point here is to say that EVLV has had a spectacular run thus far, but there is also an argument that many of those positives are already priced in. Investors that go started a position in 2022 when shares traded under $3.00 hit a home run, but we believe the next leg higher will be more difficult.
Final Thoughts
There's a lot to like above Evolv Technologies as a high-growth stock and category leader in this segment of AI-based weapons detection security screening.
We rate shares as a hold, with a price target of $7.00 for the year ahead, implying the current level of around $1 billion market cap represents a fair value for the company under the current circumstance. Monitoring points over the next few quarters include the cadence of the RPO as a performance metric along with the progress in pushing the gross margin higher.
Editor's Note: This article covers one or more microcap stocks. Please be aware of the risks associated with these stocks.