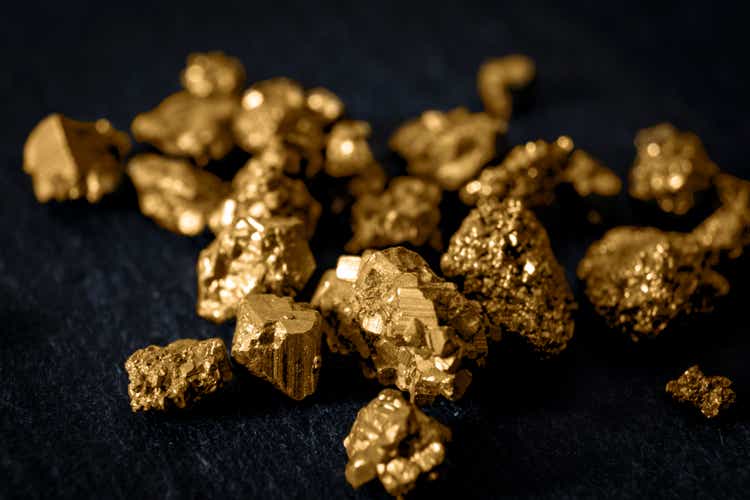 Part I – Introduction
Toronto-based Kinross Gold Corporation (NYSE:KGC) released its second quarter 2023 results on August 2, 2023.
Note: I have followed KGC quarterly since 2015. This new article is a quarterly update of my article published on May 22, 2023.
Kinross Gold owns a high-quality assets portfolio:
KGC owns six producing mines and two advanced projects: The Great Bear in Canada, with engineering 70% complete, and the smaller Manh Choh project in Alaska, two projects with near-term production potential.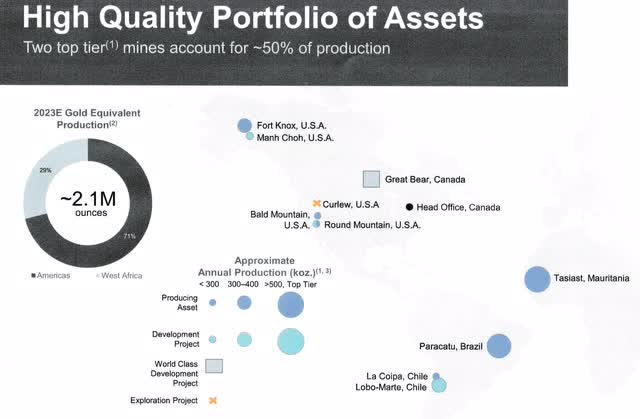 1 – The Great Bear in Great Lake, Canada's advanced exploration infrastructure with ~70% completed, is an excellent project with expected production in 2029.
The Deep Holes demonstrate the potential for the extension of High-Grade Underground.
2 – The 70%-owned Manh Choh Project
in Alaska. On track for first production in H2 2024.
The project is expected to increase the Company's production profile in Alaska by approximately 640K attributable to Au eq. Oz. over the life of mine at lower costs. Initial production from Manh Choh is expected in the second half of 2024.
The Manh Choh ore will be processed at the mill at Fort Knox, which is modified to process the new ore.
3 – 2Q23 result snapshot
For the second quarter of 2023, revenues were $1,092.3 million, with a net income of $151.0 million, or $0.12 per diluted share. The Adjusted net earnings were $167.6 million or $0.14. The company now expects to produce about 2.1 Moz in 2023.
Production in 2Q23 was 555,036 gold equivalent ounces (Au eq. oz.), a 22.3% year-over-year increase, and sales of 552,969 Au eq. Oz. The gold price realized was $1,976 per ounce sold, and AISC was $1,296 per ounce.
Cash and cash equivalents were $478.4 million, and total liquidity was approximately $1.9 billion at June 30, 2023.
Kinross' Board of Directors declared a quarterly dividend of $0.03 per common share for 2Q23.
The Company expects its 2023 production to be approximately 2.1 million Au eq. Oz.
J. Paul Rollinson, President and CEO, said in the conference call:
We had a great second quarter contributing to a strong first half of the year, positioning us well to meet our full year guidance. Tasiast, Paracatu and La Coipa delivered excellent results, representing approximately 70% of our production in the quarter with an AISC of approximately $1,000 per ounce driving strong free cash flow.
This excellent balance sheet and growth potential make Kinross Gold a worthy acquisition contender in early 2024. The trio Agnico Eagle, Barrick Gold, and Newmont Corp. could be interested in an all-share deal. Especially NEM, which has experienced a significant drop in gold production.
4 – Stock performance
Kinross has outperformed Barrick Gold (GOLD), Newmont Corp. (NEM), and Agnico Eagle (AEM) on a one-year basis. KGC is now up 38% on a one-year basis.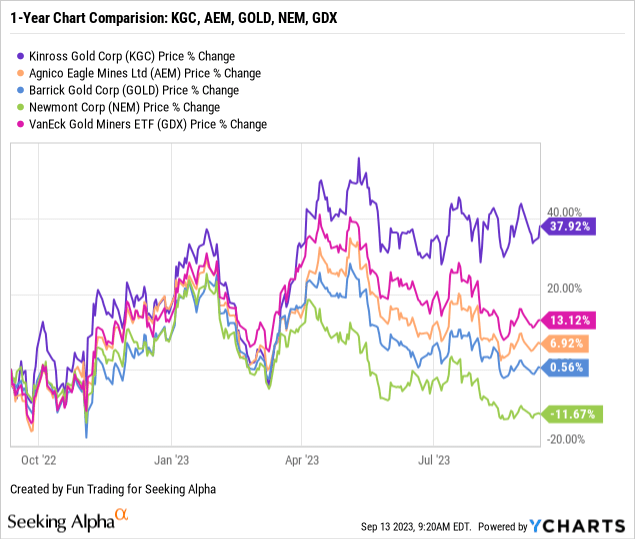 Part II – Kinross Gold – Financials History 2Q23 – The Raw Numbers
| | | | | | |
| --- | --- | --- | --- | --- | --- |
| Kinross Gold | 2Q22 | 3Q22 | 4Q22 | 1Q23 | 2Q23 |
| Total Revenues in $ Million | 821.5 | 856.5 | 1,076.2 | 929.3 | 1,092.3 |
| Net Income in $ Million | -40.3 | 64.9 | -106.0 | 90.2 | 151.0 |
| EBITDA $ Million | 241.0 | 301.4 | 156.0 | 369.6 | 466.6 |
| EPS Diluted in $/share | -0.03 | 0.05 | -0.08 | 0.07 | 0.12 |
| Operating Cash Flow in $ Million | 207.9 | 171.6 | 474.3 | 259.0 | 528.6 |
| Capital Expenditure in $ Million | 155.0 | 217.8 | 323.8 | 259.5 | 290.4 |
| Free Cash Flow in $ Million | 52.9 | -46.2 | 150.5 | -0.50 | 238.20 |
| Total Cash $ Million | 719.1 | 488.4 | 418.1 | 471.0 | 478.4 |
| Long-Term Debt in $ Million | 2,610 | 2,512 | 2,593 | 2,694 | 2,475 |
| Shares Outstanding (diluted) in Million | 1,299 | 1,300 | 1,258 | 1,225 | 1,238 |
| Quarterly Dividend $/share | 0.03 | 0.03 | 0.03 | 0.03 | 0.03 |
Data Source: Company release and Fun Trading.
Note: Historical data from 2015 are available for subscribers only.
1 – Gold Production Details For The Second Quarter 2023
1.1 Total attributable gold equivalent production
Kinross Gold equivalent produced 555,036 attributable GEO in 2Q23 compared with 453,978 GEO in 2Q22. Kinross Gold sold 552,969 GEOs in 2Q23.
The 22% year-over-year increase was primarily attributable to higher production at La Coipa and higher grades and recoveries at Paracatu and Tasiast.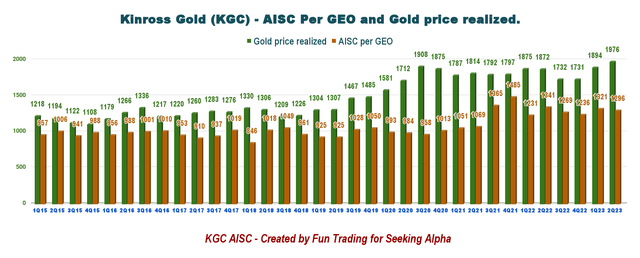 The chart below shows that the AISC is now $1,296 per GEO, down from $1,341 per ounce last year.
1.2 Tasiast 24K project completed.
Note: The Tasiast gold mine is a gold deposit located in central western Mauritania, near the coast. The operating license was granted to Tasiast Mauritanie Limited S.A. ("TMLSA"), a Canadian group Kinross Gold Corporation subsidiary. Mining activities began in 2007.
Tasiast carries risks. Mauritania already experienced a coup in 2008. I consider the risk in this part of the World elevated, as we experienced in Mali, Gabon, Niger, Tchad, etc. However, it is factored into the stock price now.
The Tasiast 24k project is completed. The result is a record production in 2Q23 of 157,844 Gold ounces.
By year-end, the company is on track to achieve design throughput rates of 24K TPD. Tasiast solar project and the 610K Oz targeted for 2023 remain on track.
2 – Kinross Gold: Financial Analysis
2.1 – Revenues were $1,092.3 million in 2Q23
Note: Previous quarters were restated.
KGC posted an income of $151.0 million or $0.12 per diluted share in the second quarter of 2023, compared to a loss of $40.30 million or $0.03 per diluted share in the same quarter last year.
The adjusted net earnings were $167.6 million or $0.14 per share for 2Q23.
Revenues from continuing operations in 2Q23 were up 33% year-over-year to $1,092.3 million.
2.2 – Free Cash Flow was $238.2 million in 2Q23
Note: Generic free cash flow is the cash from operations minus CapEx.
Trailing 12-month free cash flow was $342.0 million. The Company had a free cash flow of $238.20 million in 2Q23.
The Company pays a quarterly dividend of $0.03 per share or a yield of 2.44%.
2.3 – Net debt and liquidity
The net Debt dropped sequentially to $2,475.4 million in 2Q23, down slightly from 2Q22 ($2,610.2 million).
The Company had cash and cash equivalents/short-term investment of $478.40 million, with total liquidity of approximately $1.9 billion, on June 30, 2023.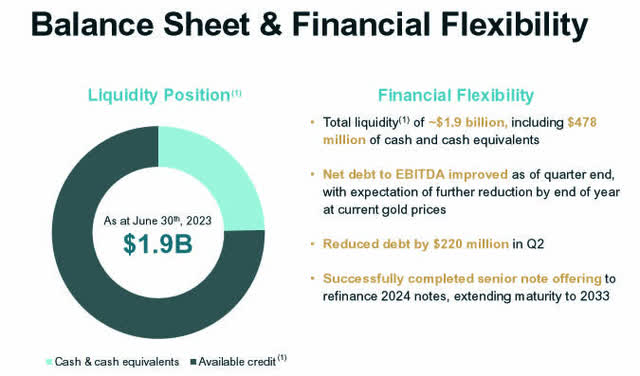 Part III – Technical Analysis and Commentary
Note: The chart is adjusted for the dividend.
KGC forms an ascending channel pattern with resistance at $5.14 and support at $4.60.
Ascending channel patterns or rising channels are short-term bullish in that a stock moves higher within an ascending channel, but these patterns often form within longer-term downtrends as continuation patterns. The ascending channel pattern is often followed by lower prices, but only after a downside penetration of the lower trend line.
I recommend trading short-term LIFO at about 50% and keeping a core long-term position for a final target of $7+.
I suggest selling about 50% of your position between $5.10 and $5.20 with possible upper resistance at $5.40 and buying KGC between $4.70 and $4.55 with possible lower support at $4.25.
Trading LIFO lets you keep your old position, which is generally underwater in the KGC case, and trade your most recent position for gain without selling your long position at an unnecessary loss. You never sell LIFO for a loss but for a profit between 3% and 10%, depending on your strategy and cash available.
Repeating this exercise can provide a solid income that helps you de-risk your long-term position.
Warning: The TA chart must be updated frequently to be relevant. It is what I am doing in my stock tracker. The chart above has a possible validity of about a week. Remember, the TA chart is a tool only to help you adopt the right strategy. It is not a way to foresee the future. No one and nothing can.