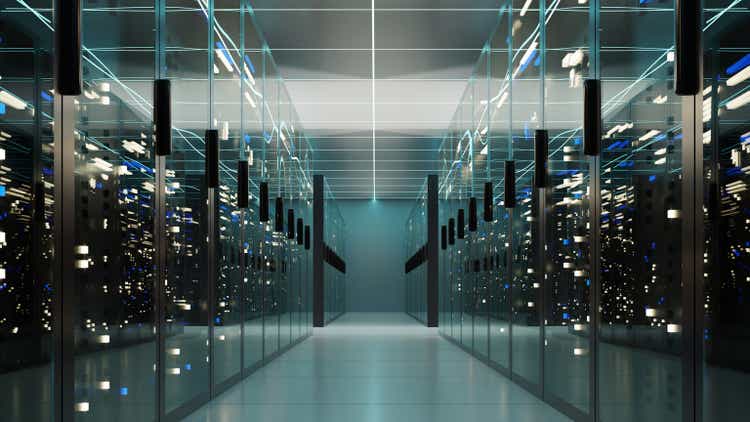 Investment Thesis
Super Micro Computer, Inc.'s (NASDAQ:SMCI) product range includes server and storage systems, subsystems, and accessories designed for various applications and industries. They also provide server software management solutions.
Undoubtedly the crown jewel of this investment is that half its revenues are now coming from exposure to AI.
The business is not expensive, as it's priced at approximately 16x forward earnings. On the other hand, the investment thesis isn't blemish-free either.
But looking at this investment holistically, it's difficult not to see its strong prospects ahead.
Why Super Micro Computer?
Super Micro Computer specializes in creating high-performance and energy-efficient computer systems for various markets, including data centers, cloud computing, and AI. They offer a wide range of products, including servers, storage systems, blade servers, and more.
One of their unique features is their ability to quickly develop and test new computing platforms and systems by leveraging common building blocks. They work closely with leading hardware and software suppliers to incorporate the latest technologies into their products.
Super Micro Computer also focuses on resource-saving architecture to reduce data center operating costs and environmental impact, with environmental impact appearing to be high on their priority list. Their architecture allows for independent refresh of CPU and memory resources, reducing refresh cycle costs and electronic waste. They also offer products that share computing resources, saving space and power in data centers.
In the graphic that follows, we see its revenue mix.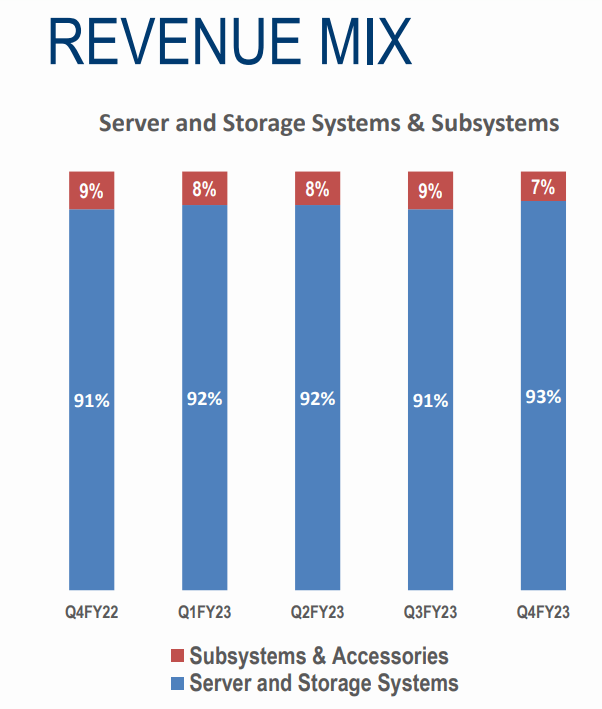 As you can see above, the vast majority of its business is tied to its server and storage systems. Within its Server segment, the one aspect that is really excelling expectations is its complete rack-scale total solutions to large generative AI innovators, including Nvidia (NVDA), but others will follow suit.
What's more, as of its latest quarter, more than 50% of its revenues were tied to the rapidly growing, and Wall Street, favorite AI. Here's a quote from the earnings call,
With nearly half of our revenues this quarter based on AI-related designs, I expect this AI growth momentum to continue expanding our TAM across all customer types from major AI innovators, super large CSPs, Tier 1 DCs, Tier 2 cloud, and to the general enterprise market. As the performance of GPU, CPU, DPU and memory technologies increase, enhanced storage performance is also necessary to feed massive data sets to the applications without becoming a bottleneck that slows the entire system down.
With this context in mind, let's dig further into its financials.
Revenue Growth Rates Ahead Look Choppy
Super Micro Computer has a very compelling narrative, with which few investors can disagree. Perhaps, the one blemish to its narrative, is that its operations are largely able to be commoditized away. What's more, we must remain mindful that Super Micro's revenues to a large part are being driven by strong pricing as demand for AI continues to increase.
This means that its largely commoditized hardware is inevitably competing on price.
Consequently, the fact that Super Micro's guidance from fiscal Q4 2023 into fiscal Q1 2024 is mostly flat sequentially plays into the bearish concern that some investors have that with too much reliance on strong pricing, once the "AI hype" is over, prices may roll back, which would impact Super Micro Computer's ability to grow this year by around 47% y/y to its guided $10.5 billion of revenues.
To put it more starkly, investors are left wondering whether subsequent to fiscal Q1 2024, can Super Micro truly shine as strong as its guidance leads one to believe?
Next, let's discuss its profitability.
Profitability Doesn't Look Enticing
Super Micro's cash flows moved in the negative direction sequentially by around $200 million, ending the quarter at negative $9 million.
This insight combined with the fact that its gross margins also compressed slightly, admittedly isn't enticing.
For their part, Super Micro reaffirms that going forward the business will continue producing strong cash flows as it has done historically. But with investors on edge and rapidly moving between a state of awe and excitement when it comes to AI to a state of trepidation and questioning whether the hype is real, anything less than stellar fundamentals and investors are quick to take profits and move on, given that the stock has already rallied hard this year.
The Bottom Line
I find Super Micro Computer to be a compelling investment opportunity due to its specialization in high-performance and energy-efficient computer systems, catering to AI markets.
Notably, over 50% of their recent revenues come from the rapidly growing AI sector.
Despite this positive outlook, there are challenges to consider, including the potential commoditization of their hardware and competition on pricing. Additionally, while profitability has room for improvement, the company remains confident in its ability to generate strong cash flows. With AI's continued growth and Super Micro's innovation capabilities, I see strong prospects ahead for this investment.