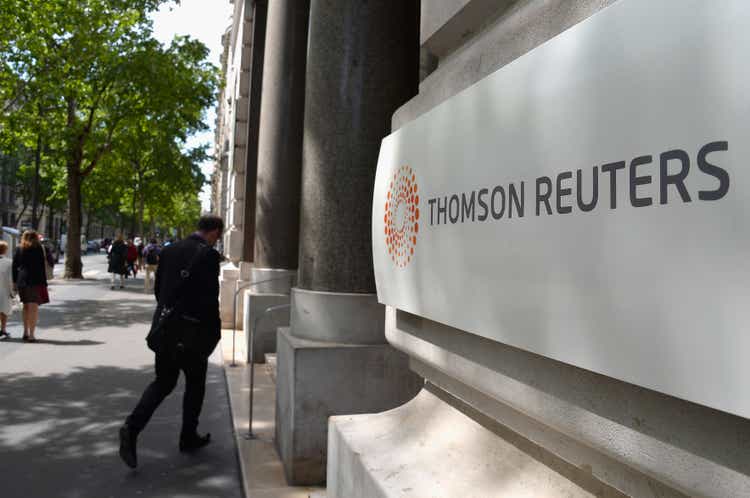 Summary
Thomson Reuters Corporation (NYSE:TRI) provides business information services via information-enabled software and tools for legal, tax, accounting, and compliance professionals. Readers may find my previous coverage via this link. My previous rating was a hold as I believed the valuation was too high relative to peers with similar growth profiles. I am reiterating my hold rating as I see a potential increase in headwinds due to the macroclimate that will lead to TRI valuation multiple dipping into a further discount vs. peers.
Financials
As a result of 2% revenue growth from $1.614 billion to $1.672 billion and 5.6% better-than-expected adj EBITDA of $662 million, TRI reported 2Q23 adj EPS of $0.84, 11% above consensus. All three of the major segments grew. Organic non-fx growth was 6% for Legal, 7% for Corporates, and 10% for Tax Professionals, with Legal seeing an adj EBITDA margin of 48.9%, Corporates at 41.6%, and Tax Professionals at 38.5%, respectively.
Comments
Given the macroeconomic uncertainty, the company's organic revenue growth of 5% in the quarter is particularly impressive. Recurring revenue grew by 6% year over year, and the revenue from the 3 major segments grew by 7%. The positive sales momentum of Westlaw Precision and the Elite divestiture contributed to a rebound in annualized growth in legal revenues from 5% to 6% in the second quarter. Westlaw Precision's implementation is commendable because, in just 10 months post-launch, it has already attained a 10% penetration rate among Legal clients and is 8% more profitable than Westlaw Edge. For FY23, management is still anticipating an organic revenue increase of 5.5% to 6.0%, with the same expectations for EBITDA margins and FCF.
When it comes to EBITDA margins, the company is still on track to meet or exceed management's 2023 goal of 39%, up from 35% in 2022. I believe this margin target is well within reach given that the business is already doing 40% in 2Q23. Moreover, TRI should observe the savings and reduction of corporate expenses that result from the Change Program. Although the return on AI investment is difficult to predict, I expect that the current emphasis on generative AI will contribute to a better EBITDA margin profile over the long term, despite some short-term margin headwinds. Management reaffirmed their commitment to investing over $100 million annually in generative AI and stated their intention to continue utilizing TR Labs' resources and personnel. Aside from organic investments, TRI is also driving its AI capabilities ahead through acquisition. To further develop its generative AI capabilities in the Legal sector, TRI announced on August 17 that it would be purchasing Casetext in 2Q23. I am supportive of this acquisition as TRI will be able to train its large language model with more comprehensive and accurate legal content, so the purchase should be beneficial to the company. Casetext should also assist TRI in entering new markets, such as those for legal workflow software (e.g., review documents, legal research memo, summarize, contract analysis, etc.). Similarly, TRI's products should be scalable enough to appeal to both international law firms and in-house corporate counsel departments.
Valuation
However, I continue to be concerned about TRI because its valuation is too high in relation to its projected growth. The difficulty in trading at such a high premium is that investors have high expectations, and any signs of weakness can quickly cause the valuation multiple to fall. My current concern with TRI is reflected in the company's extended sales cycles within its corporate business. Because of the prolonged downturn in the corporate enterprise software market, organic revenue growth in this sector slowed from 8% in 1Q to 7% in 2Q. Due to smaller price increases in news, slower growth in Reuters events due to budget constraints, and weak digital advertising trends in an uncertain economic environment, Reuters News grew by only 1% year over year, falling short of management's projections. Furthermore, global printing continued its slide, falling by 4% in the second quarter. When viewed together, these weaknesses are driven by the weak macro environment. On the positive end, this means that the weakness is not structural and will eventually resolve itself as the economy recovers. On the negative end, there is pretty much nothing TRI can do to stop this headwind.
The bear case here is that if the macro environment gets weaker and these headwinds become stronger, reducing overall growth to low single digits (TRI is now expected to grow at mid-single digits over the next 1 and 2 years), I believe the market will start to price TRI at a discount to peers. Recall previously that I talked about TRI not being cheap from a valuation standpoint. The situation remains the same. The stock currently trades at 35x forward PE, in line with peers like Gartner, Moody's, FactSet, MSCI, and Fair Isaac Corp. These peers are typically all expected to grow at higher revenue growth rates than TRI; we are talking about low to mid-teen percentage growth vs. TRI's mid-single digit growth rate. Moreover, TRI's margin profile is also not the best among the group (coming at the low end of the group). Hence, I believe if headwinds turn stronger, market investors will naturally pull out capital and invest in peers. In fact, I think this has gradually happened since FY18, when TRI was trading at a premium but is now in line with peers.
Conclusion
In conclusion, my hold rating for TRI stock remains unchanged due to concerns regarding its valuation relative to peers. TRI's ability to achieve 5% organic revenue growth amid economic uncertainty is commendable, and the prospects for its Westlaw Precision and AI investments are promising. However, extended sales cycles in the corporate business and slower growth in Reuters News indicate the impact of macroeconomic headwinds. In addition, TRI's high valuation, trading at 35x forward PE, aligns with peers expected to achieve higher revenue growth rates. If economic headwinds persist and growth remains in the low single digits, the market may discount TRI relative to its peers, affecting its valuation.