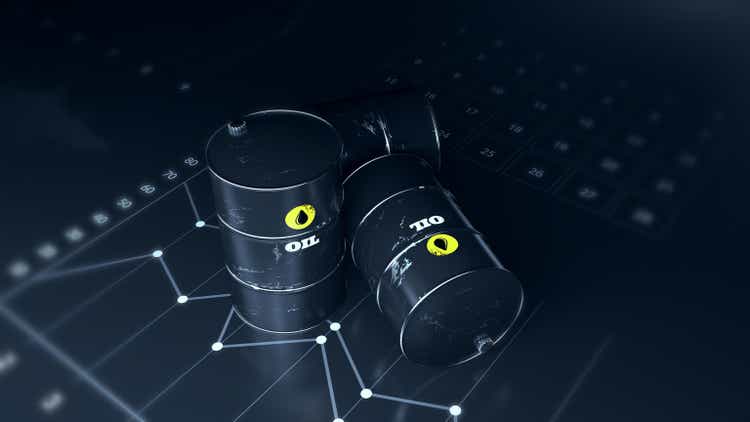 Oil prices have gone up substantially in the last three months, with WTI oil recently touching this year's highs of almost $90 a barrel. Meanwhile, the fuel demand remains strong. This paints a hopeful picture for oil stocks, including the oil producers and oil refiners. But not every ship will sail smoothly with the tide. It isn't just about potential earnings growth; valuation is equally important. That's why it is worth taking a closer look at Invesco Energy Exploration & Production ETF (NYSEARCA:PXE). PXE has a blend of oil producers and refiners, chosen not merely for their industry but for their value as well. If you're seeking stocks that offer real bang for your buck, I think PXE should definitely catch your eye. Let's take a closer look at this ETF.
An Oil-Focused ETF
The Invesco Energy Exploration & Production ETF might not be as prominent as some of its counterparts, but it offers a niche for investors interested in a slice of the oil industry, specifically covering 30 companies. Notably, PXE encompasses independent oil and gas producers such as Diamondback Energy (FANG), EOG Resources (EOG), and Pioneer Natural Resources (PXD). Furthermore, it has allocations to refiners and marketers, which include renowned names like Valero Energy (VLO), Phillips 66 (PSX), and Marathon Petroleum (MPC).
Offering a 30-day SEC yield of 1.62%, PXE manages assets worth $178.8 million. This positions it as a relatively smaller energy-focused ETF when juxtaposed against juggernauts like the Energy Select Sector SPDR Fund (XLE), which boasts a whopping $39 billion in assets, or the SPDR S&P Oil & Gas Exploration & Production ETF (XOP) with its $4 billion asset base. Yet, PXE isn't obscure in terms of liquidity, evidenced by its 30-day average trading volume surpassing 80,000 shares. In my view, what truly distinguishes PXE is its portfolio construction approach.
PXE's stock-ranking employs a modified variant of the equal-weighted methodology. It follows the Dynamic Energy Exploration & Production Intellidex Index, encompassing 30 stocks selected using ICE Data's proprietary Intellidex model. An initial bifurcation based on size places the top eight larger stocks, accounting for a combined 40% of PXE's assets, wherein each of these holdings claims about 5%. Meanwhile, the 22 smaller stocks receive the remaining weightage, with each such stock contributing roughly 2.73%. Thanks to this methodology, PXE ensures a balanced diversification, precluding undue bias towards any individual entity- the most any large holding can claim is a capped 5%. While at first glance the larger entities seem more dominant, a collective look reveals that the smaller holdings constitute a larger chunk of the ETF's assets. I believe this balanced diversification approach minimizes potential risks from excessive concentration on a singular stock.
Interestingly, PXE's top-three stocks are Valero Energy, Phillips 66, and Marathon Petroleum, all prominent oil refiners and marketers. Yet, overall, the ETF does justice to its title by allocating a more substantial weight to independent oil producers. Though oil producers like Diamondback Energy and EOG Resources might trail the refiners in terms of individual holdings' placement, an overarching glance reveals that these independents command over 70% of PXE's assets. The remaining is largely represented by oil refiners and marketers.
Rising Refining Margins
In the recent three-month span, stock performances of oil refiners like Valero and independent oil producers such as Diamondback Energy have been notably robust. Their double-digit ascent has eclipsed the S&P-500's modest 2.8% climb within the same timeframe. This uptrend signifies an optimistic future for these companies and, by extension, PXE.
To provide some context, the refiners witnessed a considerable contraction in their profit margins during the second quarter, attributed to the dip in refining margins on a year-to-year comparison. The refining landscape in 2022 was marked by ballooning margins for producing fuels, including gasoline and diesel. This surge was an immediate consequence of refinery outages and Russia's incursion into Ukraine, which severely hamstrung fuel supplies. However, this bulge in margins was short-lived. For instance, PXE's foremost holding, Valero, registered a steep plummet in its earnings, descending to $5.40 per share in Q2-2023 from a robust $11.36 the preceding year. This decline was a direct result of refining margins diminishing by nearly half during the same period. Similarly, other major refiners Phillips 66 and Marathon Petroleum also reported pronounced reductions in their profit figures. That said, the current scenario is rather promising, and in my view, their earnings trajectory is poised for an upward turn.
Post the second quarter, refining margins have been on a recovery trajectory, and current indicators suggest their fortitude in upcoming times. This revival can be attributed to robust global demand coupled with diminished stock reserves. To illustrate, the Mid-Con WTI 3-2-1 crack spread witnessed an upswing, from $18.96 per barrel in July to a healthier $26.10 the subsequent month. Current gasoline inventory levels stand at 7% below their five-year mean, while distillates lag by 19%. Concurrently, demand is on a steady rise, especially from regions like Asia and Latin America. Even as fresh production capacity is introduced to the market, the prevalence of refinery outages might compensate for these new volumes, ensuring the market remains tight. The refinery outages, including the planned turnaround in the Middle East and India which are home to some of the world's biggest refiners, might also support strong margins. As a result, with margins moving higher, oil refiners are poised for an uptick in earnings, potentially propelling their share prices.
Strong Oil Prices
The strength in oil prices has already strengthened the profits and cash flows of PXE-associated oil producers like Diamondback Energy. In my view, the commodity's price could remain at high levels through the rest of the year, translating to consistently strong earnings for oil firms.
From early June to the present, WTI oil prices have shot up by nearly 24%, cresting at nearly $89 per barrel. Notably, these prices brushed this year's peak at $89.64 recently. The surge in prices is attributable to strong demand and restricted supplies, a sentiment amplified by the strategic moves from OPEC+. Dominant producers from the group – Saudi Arabia and Russia – have committed to prolonging the production cuts till 2023's conclusion. It's crucial to remember that these reductions might coincide with a time of rising demand. According to OPEC's projections, the supply deficit might rise to 3.3 million bpd in Q4, marking one of the most significant shortages witnessed in over a decade. This is anticipated to overlap with a spike in winter demand. In light of these factors, I am inclined to believe that we might see an escalation in oil prices.
With oil teetering around the $90 per barrel mark, US producers stand to gain significantly from their outputs, thereby amplifying their profits and margins. Diamondback Energy, as a case in point, locked in oil prices at $71.33 per barrel during Q2-2023. This was marginally lower as compared to the average spot price of $73.76 per barrel within that time frame. However, the H2-2023 window might witness the company capitalizing on markedly higher prices. This, combined with its plan to increase oil production by over 17% this year, could spur its earnings. This logic isn't exclusive to Diamondback and can be extrapolated to other oil producers under PXE's ambit. Should their profits increase, the stocks of these independent oil producers could rally, potentially bolstering PXE's performance.
Valuation Perspective
Another good thing about PXE is its valuation. The ETF's stock selection leans on five key factors- momentum in earnings, price trajectory, managerial decisions, quality, and, crucially, value. Given the ETF's discernible gravitation towards value stocks, I think that 'value' might be accorded significant emphasis. Conspicuous by their absence in PXE are oil behemoths like Occidental Petroleum (OXY). These juggernauts, though popular among investors and prominently featured in several other energy-centric ETFs like XLE, seldom come at an attractive price point. Case in point, on Seeking Alpha's platform, Occidental Petroleum has been assigned Valuation Grade of D.
In stark contrast, the lion's share of PXE's holdings showcase either appealing valuations or align with the industry's median. Out of its 30 stocks, 18 companies have attractive Valuation Grades ranging between B- and A+ on Seeking Alpha. Meanwhile, 11 stocks are bracketed with grades between C- and C+. Only a solitary stock, Pioneer Natural Resources, can be perceived as expensive with a D+ grade. From my vantage point, this pegs PXE as an attractive ETF when scrutinized from a valuation lens.
Takeaway & Key Risk
In my view, robust oil prices and sustained fuel demand will likely increase the earnings of numerous oil producers and refiners. However, only those that are attractively valued may see the most significant growth. PXE offers investors a gateway to many of these stocks, so I believe consider buying this ETF.
However, it's vital to weigh the risks as well. Keep in mind, PXE focuses heavily on oil, so a downturn in oil prices-impacting the prospects of PXE's holdings-could weigh on the ETF's shares. A primary concern for oil prices is the demand for oil. While OPEC+ is striving to constrict the market and push oil prices higher in the latter half of the year, there's a possibility they could drive prices to a point that significantly strains consumers, leading to a demand drop-off. If such a pullback materializes, especially in major demand hubs like Asia, oil prices could decline, potentially stalling the rally. This drop might, in turn, affect PXE negatively. It's essential for investors to account for this and other oil-price related risks when considering PXE.