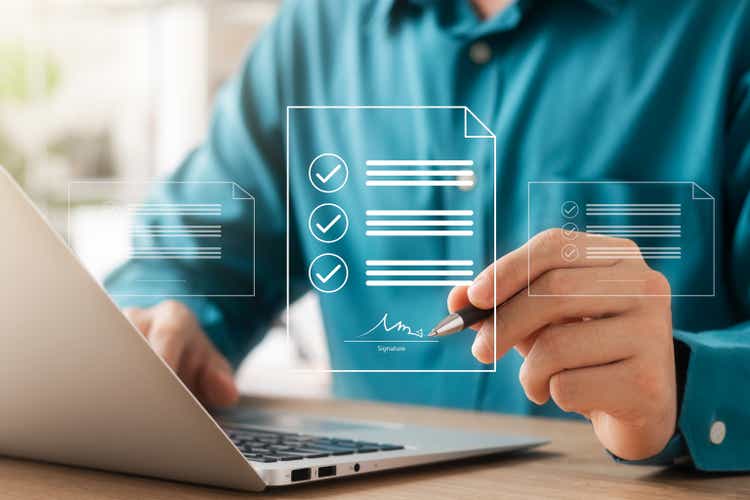 A Quick Take On OneSpan
OneSpan Inc. (NASDAQ:OSPN) provides organizations with security, identity verification and eSignature solutions.
I previously wrote about OneSpan with a Hold outlook.
Company leadership appears to now manage the company more for profitability than growth.
Until we see those results in a meaningful way, I remain Neutral [Hold] on OSPN.
OneSpan Overview And Market
Established in 1991, OneSpan specializes in delivering eSignature solutions, cloud authentication, and identity verification technologies to a diverse range of industries.
Led by President and CEO Matthew Moynihan since November 2021, his prior experience includes serving as CEO at Forcepoint and president at Arbor Networks.
The company's key offerings consist of:
– Identity verification
– Cloud authentication
– eSignature
– Digipass
– OneSpan Notary
– Mobile security suite.
OneSpan obtains customers through both direct sales and marketing campaigns, as well as through partner and reseller initiatives.
A 2023 market research study by Markets and Markets estimates that the eSignature market reached $5.5 billion in 2022 and is projected to grow to $25.2 billion by 2027.
This corresponds to an impressive CAGR of 35.6% from 2022 to 2027, significantly outpacing typical industry growth rates.
The report further highlights that the software solution segment will hold the largest market share, with the BFSI industry vertical expected to experience the fastest growth during the time frame leading up to 2027.
Major competitive vendors that provide eSignature capabilities include:
Adobe Systems

DocuSign

Gemalto

Secured Signing

SIGNiX

Ascertia

Entrust Datacard

eSignLive

RPost Technologies

Kofax

IdenTrust.
OneSpan's Recent Financial Trends
Total revenue by quarter has risen; Operating income by quarter has dropped due to worsening gross profit and higher SG&A expenses.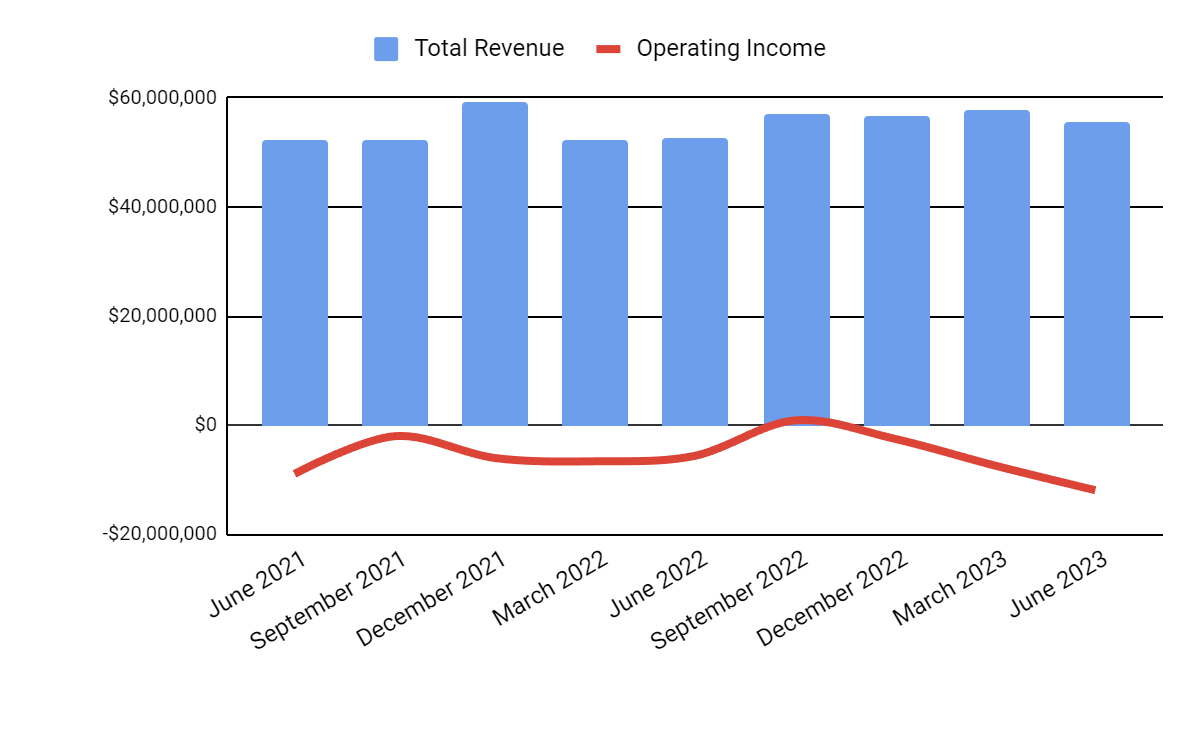 Gross profit margin by quarter has trended lower; Selling and G&A expenses as a percentage of total revenue by quarter have trended higher, causing management to reduce headcount and take corrective actions to improve efficiencies.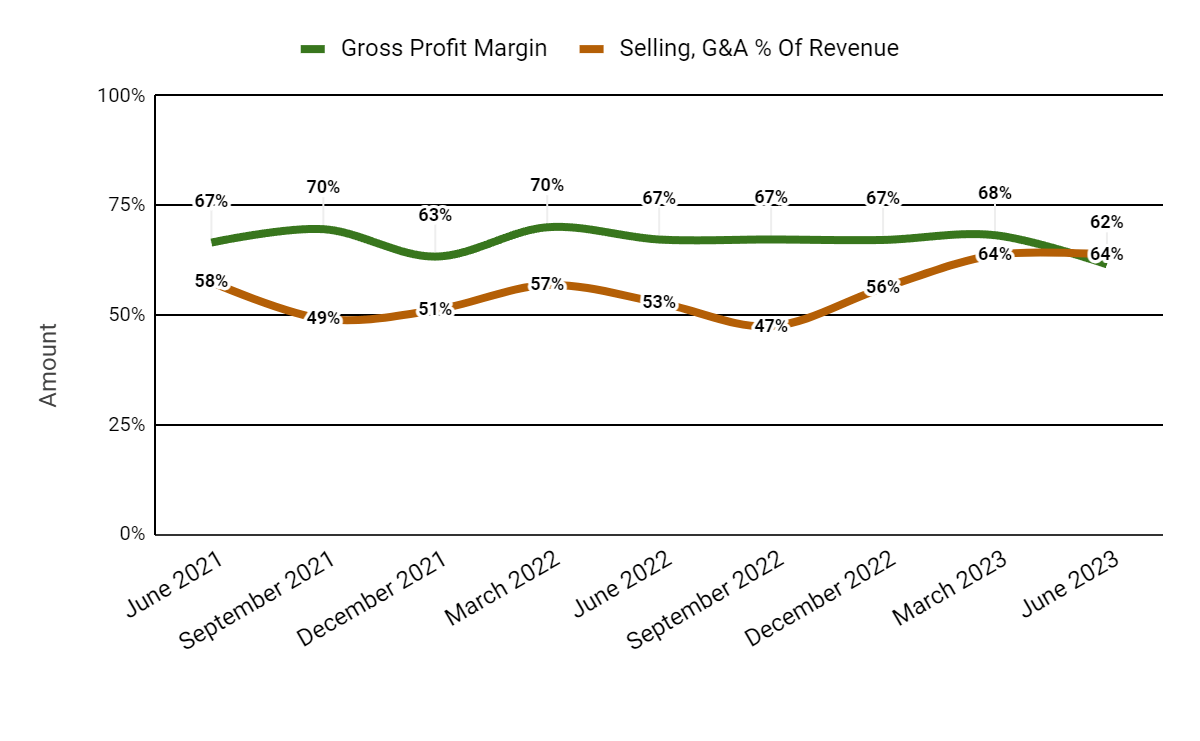 Earnings per share (Diluted) have dropped sharply further into negative territory.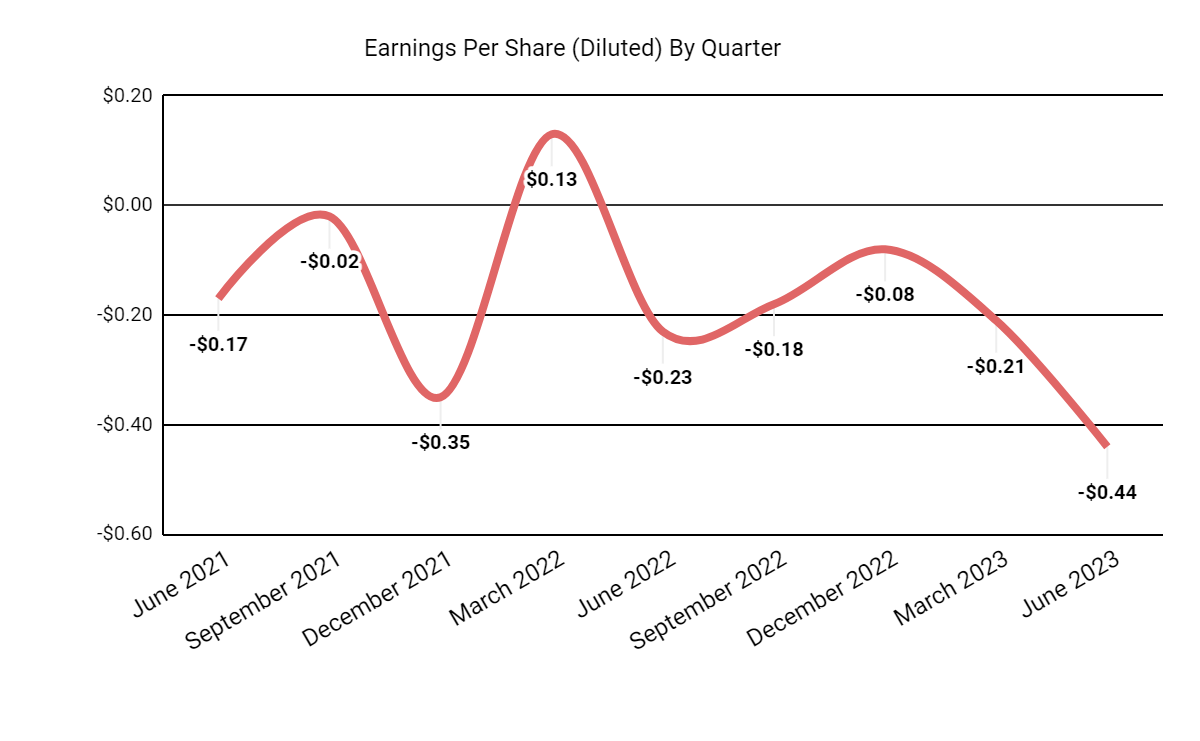 (All data in the above charts is GAAP.)
In the past 12 months, OSPN's stock price has risen a net of 18.58% vs. that of DocuSign's (DOCU) fall of 25.36%:
For balance sheet results, the firm ended the quarter with $83.1 million in cash and equivalents and no debt.
Over the trailing twelve months, free cash used was ($11.3 million), during which capital expenditures were $10.4 million. The company paid $14.3 million in stock-based compensation in the last four quarters, the highest trailing twelve-month figure in the past eleven quarters.
Valuation And Other Metrics For OneSpan
Below is a table of relevant capitalization and valuation figures for the company:
| | |
| --- | --- |
| Measure [TTM] | Amount |
| Enterprise Value / Sales | 1.7 |
| Enterprise Value / EBITDA | NM |
| Price / Sales | 2.0 |
| Revenue Growth Rate | 4.8% |
| Net Income Margin | -16.0% |
| EBITDA % | -6.7% |
| Market Capitalization | $455,760,000 |
| Enterprise Value | $379,660,000 |
| Operating Cash Flow | -$892,000 |
| Earnings Per Share (Fully Diluted) | -$0.91 |
(Source – Seeking Alpha)
As a reference, a relevant partial public comparable would be DocuSign:
| | | | |
| --- | --- | --- | --- |
| Metric [TTM] | DocuSign | OneSpan | Variance |
| Enterprise Value / Sales | 3.3 | 1.7 | -48.9% |
| Enterprise Value / EBITDA | 35.7 | NM | –% |
| Revenue Growth Rate | 13.6% | 4.8% | -64.5% |
| Net Income Margin | -0.6% | -16.0% | 2404.7% |
| Operating Cash Flow | $634,240,000 | -$892,000 | –% |
(Source – Seeking Alpha.)
OSPN's most recent unadjusted Rule of 40 calculation worsened to negative (1.9%) as of Q2 2023's results, so the firm needs significant improvement in this regard, per the table below:
| | | |
| --- | --- | --- |
| Rule of 40 Performance (Unadjusted) | Q1 2023 | Q2 2023 |
| Revenue Growth % | 3.7% | 4.8% |
| EBITDA % | -3.7% | -6.7% |
| Total | 0.0% | -1.9% |
(Source – Seeking Alpha.)
Sentiment Analysis
I've prepared a chart indicating management and analyst sentiment from the most recent earnings call, shown below: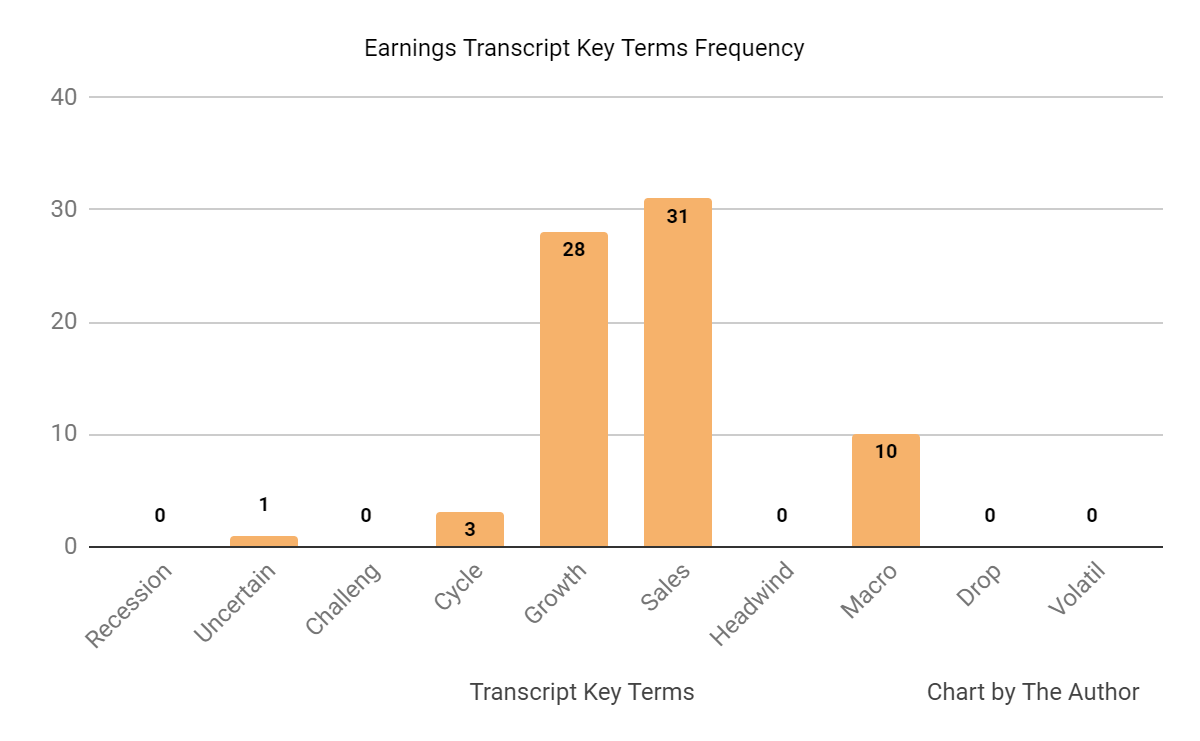 Analysts asked management about various topics, including its sales efforts, ARR reduction and customer deal scrutiny.
Leadership responded that the new sales reps are taking longer to ramp up productivity due to the company still maturing its sales enablement and demand generation capabilities.
Also, the drop in ARR growth was primarily due to the 'sales and marketing engine' taking longer than expected to ramp up.
Management is seeing greater deal scrutiny, primarily from new clients delaying deals, especially larger-sized deals.
SEMRush's website traffic monitor indicates that organic visitor traffic to the company's website has trended lower since June 2022:
Commentary On OneSpan
In its last earnings call (Source – Seeking Alpha), covering Q2 2023's results, management highlighted the longer time frame that will be required for its transformation plans due to "current market conditions and increased competitive pricing pressure."
The firm needs to improve its marketing demand generation and sales productivity to achieve its Rule of 40 goals. It is currently quite a long way from achieving this goal.
To this end, leadership has reduced headcount and has created two operating segments, Digital Agreements and Security Solutions.
Digital Agreements will be managed for its growth potential and Security Solutions will be managed for cash flow.
As a result, management expects the firm to advance on its Rule of 40 ambitions, but more due to improvement in profitability & margin improvement and less due to growth.
The net dollar retention rate during the quarter was 106%, total revenue increased by 5.5% year-over-year, but gross profit margin fell by 5.7%.
Selling and G&A expenses as a percentage of revenue increased 10.9% YoY, a negative signal indicating deterioration in S&A efficiency while operating losses more than doubled.
The company's financial position is moderate, with ample liquidity, no debt but some free cash used, which may drop due to recently-announced headcount reductions.
Looking ahead, management reduced its full-year 2023 revenue guidance to $229 million at the midpoint of the range, or about 4.6% growth over 2022.
If achieved, this would represent an increase in revenue growth rate versus 2022's growth rate of only 2.0% over 2021.
In the past twelve months, the firm's EV/Sales valuation multiple has risen a net of 24.8%, as the chart from Seeking Alpha shows below:
A potential upside catalyst to the stock could include improved growth results from its Digital Agreements segment.
However, given management's comments about seeking to achieve Rule of 40 results more from profitability than from revenue growth, it appears that in the future the company will be managed for profitability rather than revenue growth.
So, we wait and see if OneSpan Inc. management can produce enticing profit in return for reduced growth.
While we wait, my outlook for OSPN is Neutral [Hold].