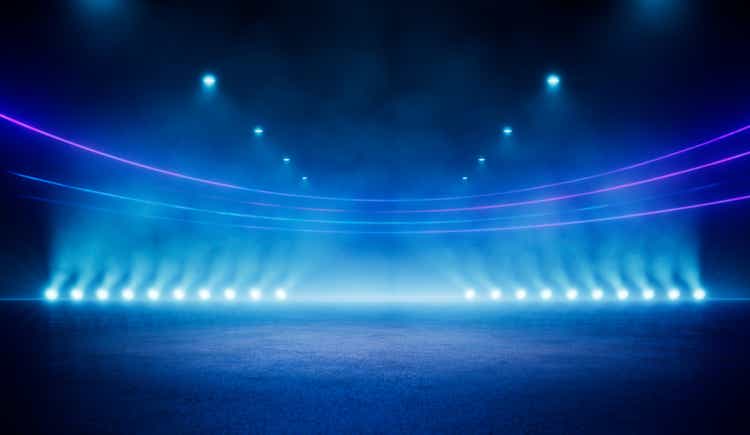 Topline Summary
Actinium Pharmaceuticals (NYSE:ATNM) has had a bumpy year, with a lot of hype headed into 2023 only to have a big setback in March, and a slow descent ever since. Lack of clarity on data readouts has led to a lot of skepticism in ATNM at this time, with no end in sight. This article is going to describe my justification for a "tentative buy" thesis at these prices.
Pipeline Overview
Iomab-B
The main horse ATNM is riding to commercialization is Iomab-B, an anti-CD45 antibody conjugated to a radioactive iodine atom. The main idea behind this agent is that it can help patients with leukemia achieve a deep-enough response that they can proceed confidently to a bone marrow transplant, which is currently the only potentially curative option for blood cancers.
In acute myeloid leukemia, a lot of patients are older and have many comorbidities, making it more challenging to offer a bone marrow transplant, since one of the key steps in transplant is undergoing "conditioning" therapy intended to eliminate the cancer in addition to the patient's immune system. Both of these are essential for making sure that the transplanted bone marrow will engraft and generate an antileukemic effect.
As you can imagine, though, many patients are not good candidates for the regimens used in conditioning. Reducing the intensity of this regimen can make it more tolerable, but at the cost of efficacy. Iomab-B selectively targets CD45, a white blood cell-specific receptor-linked protein tyrosine phosphatase. When it binds CD45, the iodine-131 helps to kill mostly white blood cells through short-range beta decay.
ATNM announced last October that top-line data from their pivotal, phase 3 SIERRA trial met its primary endpoint of durable complete remission after a bone marrow transplant compared with conventional care. These findings suggest that Iomab-B indeed helped meet the company's goal of improving access to bone marrow transplant.
In a presentation at the Tandem Meetings, ATNM provided more detailed presentation of the results of SIERRA. All patients in the Iomab-B arm were able to proceed to transplant and achieve engraftment. Only 17% of patients in the control arm had engraftment. Moreover, 22% of patients achieved the primary endpoint of a durable complete remission, compared with 0% in the control arm. The 2-year survival rate for patients who achieved a durable complete response was 60%. In all comers, the median overall survival was 6.4 months in the Iomab-B arm compared with 3.2 arms in the control.
ATNM has guided that they're working on the approval application for submission by the end of the year.
Actimab-A
An earlier-stage product the company is working on is Actimab-A, a CD33 antibody coupled to actinium-225, which is currently being studied in patients with relapsed/refractory AML.
In a phase 1 presentation at ASH 2022, addition of Actimab-A to a chemotherapy regimen called CLAG-M showed encouraging early signs of benefit in terms of response, 1-year overall survival, and 2-year overall survival rates. Another study combining Actimab-A and venetoclax showed encouraging tolerability, with a phase 1 cohort expansion now ongoing.
Financial Overview
At the end of Q2 2023, ATNM held $91.3 million in cash and equivalents, with total current assets reaching $95.5 million. Meanwhile, their operating expenses sat at $15.6 million, up from $7.9 million in the same quarter 2022.
After offsetting interest income, the net loss realized by the company was $15.2 million. Over the first 6 months of 2023, ATNM sold $10.6 million worth of shares to help offset some of these losses.
At the current burn rate, ATNM has approximately 6 quarters of runway left. This assumes that they're able to offset the rapid rises in operational costs that naturally follow moving more products into development and heading toward the finish line for Iomab-B.
Strengths and Risks
Let's be honest: AML is a tough nut to crack, with a long list of failed projects. But the SIERRA study results we've seen so far appear to justify inclusion of Iomab-B as an option, specifically for those patients too frail to normally proceed to transplant. Based on what we've seen, it seems likely to be approved for that indication, once they get the BLA accepted. A reasonable timeline for this might be early next year, with a potential action date of mid- to late-2024.
That said, it is possible that Iomab-B will see relatively limited penetration into the standard of care. The patients in the real world who cannot go to transplant may struggle to coordinate getting a radiotherapeutic made to undergo conditioning, and those manufacturing challenges will not be trivial. We have absolutely seen success from radiolabeled antibodies in recent years, most recently in prostate cancer. So the opportunity for ATNM to get their foot in the door is there, but they'll need to expand the label if they're going to reach stability financially.
But their data do look convincing and exciting so far. This is a definite strength. And I believe their current cash on hand is enough to get them through a BLA acceptance, possibly all the way to an approval decision, which would probably drive momentum in the share price needed to build an equity raise from a position of strength. Dilution is most likely coming, but under what terms should be the main concern for someone looking to buy today.
And as always, there's no guarantee that the approval will come, or that it will come in a timely fashion. There are plenty of factors we might be missing that could be an issue for the FDA.
Bottom-Line Summary
Consideration of ATNM is becoming quite timely, I feel, as we enter the end of 2023. The company is poised to make an FDA submission while most of the market has largely ignored the positive data they've generated. Given the lack of major clinical setbacks, it seems apparent that ATNM is flying under the radar right now, making "tentative buy" an easy suggestion at this time.