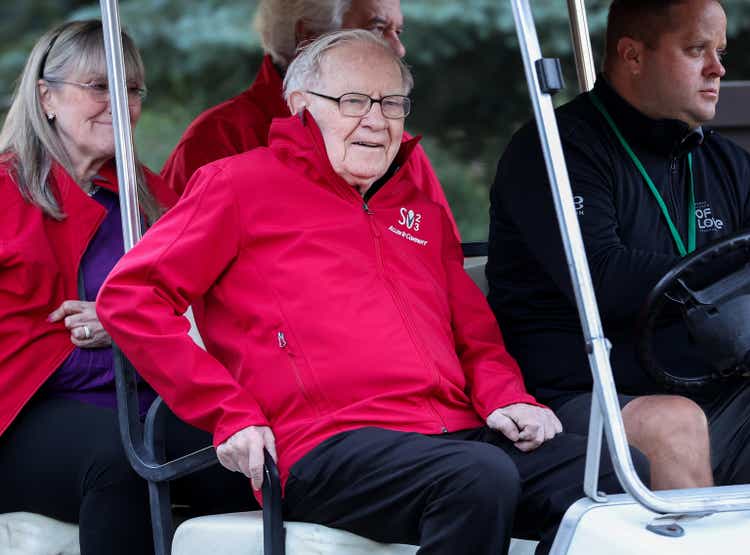 Berkshire Hathaway Inc. (NYSE:BRK.A, NYSE:BRK.B) investors have had much to celebrate recently as BRK.B surged toward an all-time high, or ATH, even as the S&P 500 (SPX, SPY) struggles at its August 2023 peak.
Bolstered by its robust second-quarter or FQ2 earnings release in early August, the widely diversified conglomerate saw most of its segments delivering remarkable core earnings growth, with the exception of BNSF. As such, the company posted a 6.6% YoY increase in operating earnings to $10B.
Berkshire's book value per share, or BVPS, also rose by 6.4% QoQ. In addition, the company's cash and equivalents horde surged to $147.4B, with $106.9B in dry powder. As such, Berkshire's formidable balance sheet and solid earnings recovery likely afforded investors more confidence in its ability to outperform moving ahead.
BRK.B trades at a forward adjusted P/E multiple of 20.7x, in line with its 10Y average of 20.7x. However, it represents a nearly 7% premium against its financial sector peers' median. Despite that, Berkshire's wide economic moat business model supports the relative premium, corroborating BRK.B's long-term outperformance against XLF. Seeking Alpha Quant's overall "C" valuation grade suggests near-term optimism is likely captured, although there's no sell signal, suggesting investors should continue holding on.
Despite that, investors considering adding at the current levels should remain patient, as even Warren Buffett tapered his enthusiasm for stock repurchases in the second quarter. Accordingly, Berkshire repurchased $1.4B in shares in Q2, leading to a cumulative total of $5.8B for the first half of FY23. However, that suggests a steep drop from Q1's $4.4B cadence, indicating Buffett likely saw less attractive opportunities in Q2.
As such, with the continued surge as BRK.B eclipsed its ATH recently, I assessed Buffett would probably temper his optimism further, as he's known to favor repurchases when Berkshire's shares are undervalued. Based on BRK.B's valuation relative to its historical averages, I assessed that it's arguable that Berkshire shares are considered fairly valued.
However, some investors could still find it attractive for a wide-moat company like Berkshire despite its fair valuation. Furthermore, BRK.B's momentum grade of "A" suggests investors have not rotated out of BRK.B, even as it surged higher.
Notwithstanding the market's optimism, I assessed that Berkshire stock's price action is at a critical juncture against the S&P 500 (SP500), suggesting a rotation back into the market seems to be in store.
As seen above, SPY has underperformed BRK.B since topping out in November 2021. As discussed earlier, the market has shifted in favor of Buffett, corroborated by the "A" momentum grade.
However, note that SPY/BRK.B is generally in a massive long-term consolidation range with relatively well-defined support and resistance since the global financial crisis in 2008/09. The critical resistance zone also resulted in significant reversals for SPY/BRK.B in July 2020 and November 2021.
In addition, SPY outperformed BRK.B when SPY/BRK.B bottomed out in January 2019 and January 2023. With SPY/BRK.B re-testing its long-term support zone recently, I assessed a possible reversal (not validated yet), and an outperformance signal for SPY needs to be observed.
Hence, if investors missed BRK.B's highly attractive buy levels for BRK.B earlier in the year, investors should consider sitting out the recent surge, as a rotation back into the market could see BRK.B underperform.
Rating: Maintain Hold.
Important note: Investors are reminded to do their due diligence and not rely on the information provided as financial advice. Please always apply independent thinking and note that the rating is not intended to time a specific entry/exit at the point of writing unless otherwise specified.
We Want To Hear From You
Have constructive commentary to improve our thesis? Spotted a critical gap in our view? Saw something important that we didn't? Agree or disagree? Comment below with the aim of helping everyone in the community to learn better!