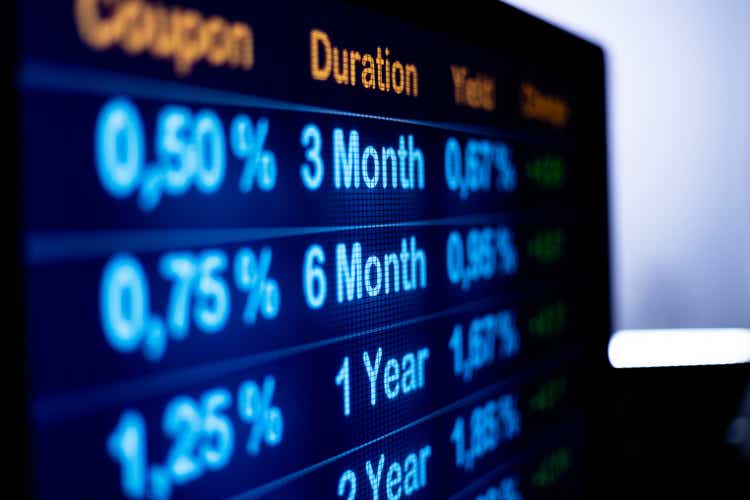 The BlackRock Core Bond Trust (NYSE:BHK) is a closed-end fund paying an attractive 8.7% distribution yield from a portfolio of mostly investment grade securities. While the idea of collecting equity-like returns from investment grade bonds sounds attractive, I fear the distribution yield may be higher than what the underlying assets can sustain. Historically, the BHK fund had supplemented investment income with capital gains to pay out its high yield. That may no longer be the case as interest rates are on a rising trend. I rate the BHK fund a hold.
Fund Overview
The BlackRock Core Bond Trust is a closed-end fund ("CEF") that provides current income and capital appreciation from a portfolio of mostly investment grade securities. Under normal market conditions, the BHK fund will invest at least 75% of its assets in bonds that are investment grade ("IG") at the time of investment.
The BHK fund may invest in a broad range of bonds including corporate bonds, U.S. government and agency securities and mortgage backed securities ("MBS").
The BHK fund may also use leverage to enhance returns. As of September 13, 2023, the BHK fund had $570 million in net assets and $864 million in managed assets for 34% effective leverage (Figure 1). The BHK fund charges a 1.95% gross expense ratio on net assets.
Portfolio Holdings
Figure 2 shows the sector allocation of the BHK fund as of July 31, 2023. The fund's largest sector allocations are IG Credit (29.6%), Securitized Products (23.3%), High Yield (17.8%), Agency Mortgages (16.8%), and U.S. treasuries (11.1%).
As designed, the BHK fund only has a relatively small weighting to non-investment grade rated securities with 10.5% BB-rated, 12.5% B-rated, and 4% CCC-rated. The total non-investment grade holdings account for 27.4% of the portfolio, higher than the mandated 25% threshold. This could be due to downgrades post investment, as the 25% threshold is only at the time of investment (Figure 3).
Figure 4 shows the maturity allocation of the BHK fund. Overall, the BHK fund is fairly long-duration, with 25.8% of the portfolio invested in 3-5 year securities, 15.1% in 5-7 years, 16.8% in 7-10 years, and 40.3% above 10 years. The BHK fund has an effective duration of 9.9 years.
Returns
Figure 5 shows the historical returns of the BHK fund. 2022 was annus horribilis for the BHK fund, as it lost 24.7% on a NAV basis due to rising interest rates and the fund's 9.9 year duration. This dropped the fund's short-term returns to -6.8% on a 3Yr basis and 0.8% on a 5Yr basis. Longer-term 10Yr returns is better at 3.5%, while 15Yr returns are at 5.2%.
Since the BHK fund is primarily invested in investment grade bonds, an appropriate comparison may be the iShares Core U.S. Aggregate Bond ETF (AGG), a passive ETF of investment grade bonds with an effective duration of 6.2 years. The AGG ETF has returned -4.4%/0.5%/1.5%/2.5% on a 3/5/10/15Yr basis to August 31, 2023 (Figure 6).
While BHK has underperformed the AGG ETF in the short-term, its long-term performance has been superior on a 10 and 15yr basis. So the fund's claim of "seeking core bond exposure while leveraging BlackRock's deep insight" may be justified.
Distribution
The one issue I have with the BHK fund is its distribution policy. The BHK fund is currently set to pay a $0.0746 / month distribution, which is an 8.7% forward yield on market price (Figure 7). On NAV, the BHK fund is yielding 8.5%.
While an 8.7% forward distribution yield on investment grade assets is attractive, I fear it may be beyond what the fund's assets are capable of paying, given 3 and 5 year total returns of -6.8% and 0.8% respectively. Granted, short-term returns have been skewed by the large loss suffered in 2022, however, in the long-run, investment grade bonds may not be able to sustain an 8%+ yield.
For example, BBB-rated corporate bonds, the highest yielding investment grade bonds, have averaged 5.25% yields since 1996 (Figure 8). Currently, BBB-rated corporates are yielding ~6%.
So looking at BHK's historical returns, I believe a large part of the returns may have been generated from capital gains as long-term interest rates, modeled by 10Yr treasury yields, have declined from over 6% in the early 2000s to sub-1% in 2020 (Figure 9).
However, with long-term interest rates normalizing to the 4%+ range, the 40 year secular bond bull market may be over and the BHK fund can no longer rely on capital gains to supplement investment income.
Therefore, I believe a more realistic returns and distribution payout level for the BHK fund may be in the 5-6% range, consistent with what can be earned on its portfolio over the long-run. If the fund continues to pay an 8%+ yield without realized gains, it may have to return capital to investors, which will shrink the fund's NAV.
Conclusion
The BlackRock Core Bond Trust had historically paid an attractive distribution yield from a levered portfolio of primarily investment grade securities. However, the BHK fund suffered a painful 2022, as the fund's 9.9 year duration caused large losses when long-term bond yields normalized higher. Looking forward, without the tailwind of a secular bond bull market, I fear the BHK fund may struggle to maintain its 8.7% distribution yield. I am neutral on the BHK fund.