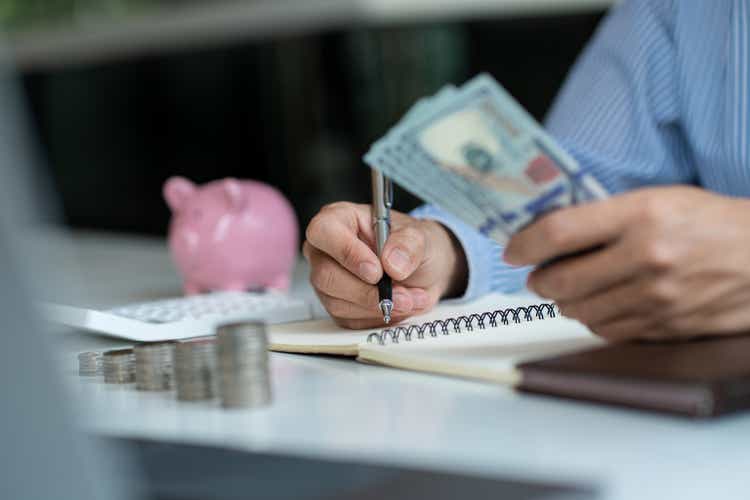 Elevator Pitch
I award a Hold investment rating to FinVolution Group (NYSE:FINV) stock. There are both pros and cons relating to FINV's current growth strategy and capital allocation framework. FinVolution Group's expansion in foreign markets will boost its top line, but this will have a negative impact on its bottom line in the short term due to investments and provisions. FINV has done pretty well in terms of shareholder capital return, but I will prefer that the company focus more on capital investment. This explains why I have chosen to rate FINV as a Hold, rather than a Buy or Sell.
Company Description
FinVolution Group refers to itself as a "fintech platform" which has "been a pioneer in China's online consumer finance industry" with a "focus on serving borrowers of the young generation" in its fiscal 2022 20-F filing. The company was started in 2007, and its shares were listed on the New York Stock Exchange starting in November 2017.
FINV's Key Product Offerings
FinVolution Group's Key Statistics
In the first half of FY 2023, FINV generated 37% and 34% of its net revenue from loan facilitation services fees and guarantee income, respectively as indicated in its Q2 2023 results release.
Post-facilitation service fees, net interest income, and other revenue accounted for the remaining 16%, 9%, and 4% of FinVolution Group's 1H 2023 net revenue, respectively.
Foreign Markets Expansion Is A Double-Edged Sword
FinVolution Group derived 83.7% and 16.3% of the company's Q2 2023 top line from its home market (Mainland China) and foreign markets (e.g. the Philippines and Indonesia), respectively as highlighted in its second quarter earnings release.
The aggregate transaction volume and total outstanding loan balance for FINV expanded by +14.0% YoY and +12.9% YoY to RMB47.3 billion and RMB63.7 billion, respectively in Q2 2023. FinVolution Group's domestic market delivered decent growth, while its international markets performed exceptionally well.
The company's transaction volume in Mainland China increased by +12.1% YoY to RMB45.5 billion for Q2 2023, while its outstanding loan balance for the Chinese market grew by +12.9% YoY to RMB62.6 billion in the most recent quarter. FinVolution Group acknowledged at its Q2 2023 earnings briefing that "the (economic) recovery (in Mainland China) is still weak and bit slightly below expectations." This explains why FINV is sticking to its full-year fiscal 2023 Mainland China transaction volume growth guidance in the +10%-20% range after releasing Q2 2023 results last month.
In contrast, FinVolution Group has raised the company's FY 2023 transaction volume growth guidance for foreign markets from +50% earlier to +80% now. This comes after FINV's transaction volume and outstanding loan balance for its international markets grew by +100.0% YoY and +131.3% YoY to RMB1.82 billion and RMB1.11 billion, respectively for Q2 2023.
In recent months, FINV entered into partnerships with financial institutions in Indonesia to grow its business in this market. On July 27, 2023 FinVolution Group disclosed that it signed a "strategic cooperation agreement with PT Bank Seabank Indonesia, a digital bank." Earlier in mid-June this year, FINV revealed that the company inked a "strategic cooperation agreement" with "an Indonesian publicly listed banking and financial services company" known as Bank OCBC NISP [NISP:IJ].
On one hand, it is good that FinVolution Group's successful expansion in foreign markets like Indonesia has boosted the company's overall transaction volume growth. On the other hand, FINV's international markets growth doesn't necessarily translate into higher profitability.
FinVolution Group noted at the company's second quarter results call that its profitability is "affected by the rapid growth for our international business as we need to invest continuously." Notably, the normalized operating profit margin for FINV decreased from 25.6% in Q2 2022 to 19.7% for Q2 2023.
Also, FINV's provision for loan receivable jumped by +169.4% YoY to RMB159.2 million in Q2 2023. At its most recent quarterly results briefing, FinVolution Group admitted that "the provision levels" for foreign markets are "higher" as compared to the Mainland China market.
In a nutshell, FINV's plans to grow in international markets is a double-edged sword. The company's aggregate transaction volume growth is boosted by the foreign markets' relatively faster growth, but its profitability is hurt by an increase in investments and provisions.
FinVolution Group's Capital Allocation Is In The Spotlight
FINV has a good track record of returning capital to the company's shareholders, but I think it might be better for FinVolution to increase the amount of excess capital allocated to capital investment instead.
As mentioned in its August 2023 investor presentation slides, FinVolution Group has distributed $491.3 million of capital to its shareholders via dividends and share buybacks since its public listing in late-2017. In other words, FINV's cumulative shareholder capital return is equivalent to an impressive 35% of the stock's current market capitalization.
In late-August, the company announced a new $150 million share buyback plan that will expire on August 29, 2025. FinVolution Group also guided at its Q2 2023 earnings call that its FY 2023 dividend payout ratio is expected to exceed the mean payout ratio for previous years.
I am of the opinion that while FinVolution Group should still return a meaningful amount of capital to shareholders, FINV will be wiser to retain more capital for investment considering two key reasons.
Firstly, share buybacks might not be as value-accretive as they were in the past, as FINV's current valuations are not that appealing.
FinVolution Group is now valued by the market at 4.04 times (source: S&P Capital IQ) consensus forward next twelve months' normalized P/E, which is higher than its five-year mean P/E ratio of 3.89 times. Also, FINV's shares are more expensive than its peers. LexinFintech Holdings Ltd. (LX) and Qifu Technology, Inc. (QFIN) are currently trading at relatively lower consensus forward P/E metrics of 2.03 times and 3.95 times, respectively.
Secondly, FINV's top priority should be to expand its foreign business operations to a reasonable scale to achieve strong top line and bottom line growth. As such, it makes a lot of sense for FinVolution Group to re-allocate some of the capital (meant for buybacks and dividends) to investing in growing its international businesses.
In the most recent quarter, foreign markets only contributed 16.3% of FinVolution Group's revenue. Going forward, FINV should aim to have its international businesses account for at least a third of its top line. Once its foreign operations reach a certain scale to be reasonably profitable without the need for substantial investments, that is the time for FINV to increase its shareholder capital return significantly.
Closing Thoughts
I have a mixed view of FinVolution Group's foreign expansion plans and its capital allocation approach, so I don't see it as a good investment candidate. Therefore, I have decided that FINV warrants a Hold rating.