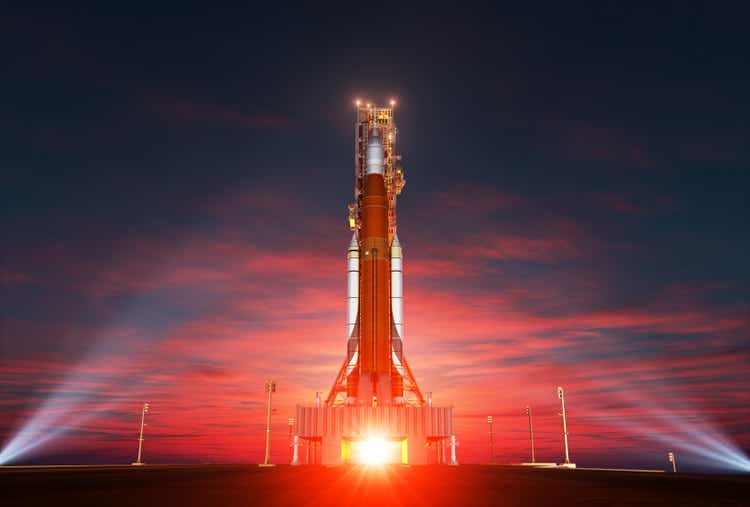 The BKNG Investment Thesis Remains Stellar Here, Despite The Recent Rally
Booking Holdings (NASDAQ:BKNG) is one of our long-term holdings that continues to deliver excellent results, despite the short-term headwinds during the pandemic.
While the travel industry remains highly cyclical, due to the correlation to the global economy and consumer spending, we are confident that BKNG is here to stay, as similarly demonstrated by the recent FQ2'23 double-beat performance.
The travel company reported revenues of $5.46B (+44.8% QoQ/ +27.2% YoY), gross margins of 86.2% (+5.3 points QoQ/ +1 YoY), and adj EPS of $37.62 (+224.3% QoQ/ +97.1% YoY).
With its Gross Travel Bookings of $39.7B (+0.7% QoQ/ +15% YoY) already exceeding FY2019 quarterly average of $24.1B, it is unsurprising that BKNG's platform is "responsible for 25% of all hotel bookings worldwide."
It is also important to highlight its success in capturing the alternative accommodation segment, with it now comprising approximately 34% of its overall room nights (+1 points QoQ/ +2 YoY) by the latest quarter, easily keeping up with its competitor, Airbnb (ABNB).
ABNB has also recorded impressive expansions in the Gross Booking Value and Nights/ Experiences Booked on a QoQ and YoY basis in the latest quarter, suggesting the robust consumer demand for domestic and international travel, with its forward outlook being highly promising.
Furthermore, BKNG has had great success in the US, with the region's annualized FQ2'23 revenues of $2.46B (+17.5% QoQ/ +3.5% YoY) well exceeding its FY2019 levels of $1.53B (inline YoY), likely to compete with Expedia's (EXPE) leading market share of ~60% in the country.
BKNG 5Y EV/Revenue, EV/ EBITDA, and P/E Valuations
As a result of these developments, it is unsurprising that BKNG trades at NTM EV/ Revenues of 5.10x, EV/ EBITDA of 15.48x, and NTM P/E of 21.09x, elevated compared to its 1Y mean of 4.49x/ 13.86x/ 18.84x, though nearing its 3Y pre-pandemic mean of 6.15x/ 16.08x/ 21.12x, respectively.
The stock notably trades with a premium compared to its competitors, EXPE at NTM P/E of 10.43x and the travel sector median of 16.76x, though still lagging behind ABNB at 33.90x.
Consensus Forward Estimates
However, we believe BKNG's embedded premium is well deserved, based on the consensus' impressive estimates with the top and bottom line CAGRs of +14.4% and +26.4% through FY2025, respectively. This is compared to its 3Y pre-pandemic CAGRs of +11.9%/ +16%, respectively.
The management's forward commentary for FQ3'23 and FY2023 proves to be highly encouraging as well, highlighted in bold:
Our solid start to the year combined with what we currently believe will be a new all-time high for Q3 summer travel period results and an improved outlook for the full year. We expect Q3 gross bookings to grow about seven points faster the room nights on a year-on-year basis… We expect Q3 revenue as a percentage of gross bookings to be around 19% slightly above last year… Taking all into account, we expect adjusted — we expect Q3 adjusted EBITDA to be around 20% higher than last year. (Seeking Alpha)
Based on the above metrics, we are estimating that BKNG may report an outsized FQ3'23 revenue of $7.19B (+30.7% QoQ/ +19% YoY) and adj EBITDA of $3.18B (+76.6% QoQ/ +20% YoY).
These numbers suggest an excellent top and bottom line growth on a QoQ and YoY basis, further corroborating with the promising market data from Smith Travel Research [STR] and International Air Transport Association [IATA].
For example, the STR has been reporting growing global occupancies, with an excellent Average Daily Rate [ADR] of $149 (+12% YoY) for hotels in the week ending August 26, 2023.
The AITA also records excellent results in the international air traffic, with July 2023 bringing forth a passenger load factor [PLF] of 85.7%, indicating the "highest monthly international PLF ever recorded."
Therefore, we posit that the global hotel room/ airline booking trends may have already normalized nearer to pre-COVID levels, similarly boosting BKNG's prospects moving forward.
Combined with the increased likelihood of a soft landing in 2024, we maintain our belief that the BKNG stock is fairly valued, based on its NTM P/E of 21.09x and its annualized FQ2'23 adj EPS of $150.48.
In addition, if we are to base its long-term price target on the consensus FY2025 adj EPS estimates of $201.37, we are still looking at $4,246.89, implying an excellent upside potential of +32.8% from current levels.
This is significantly aided by the BKNG management's sustained share repurchases, with FQ2'23 bringing forth 36.96M of shares outstanding (-1.02M QoQ/ -3.71M YoY), down by -6.55M from FY2019 levels of 43.51M.
While the stock does not pay out a dividend, we believe the shareholders' returns have been excellent over the past few years of uncertainties, especially due to the promising recovery in travel bookings ahead.
So, Is BKNG Stock A Buy, Sell, or Hold?
BKNG 5Y Stock Price
As a result of the highly optimistic developments above, it is unsurprising that Mr. Market has awarded the BKNG stock with an impressive upwards climb of +95.6% since the October 2022 bottom, well outperforming the SPY at +25.9%.
Then again, while we may rate the BKNG stock as a Buy here, investors may also want to temper their near-term expectations accordingly. This is why.
The premium embedded in the stock appears to be reasonable for now, based on the assumption of a soft landing thesis and sustained demand for international travel.
However, while market analysts may have priced in a rate freeze in the upcoming FOMC meeting, it remains to be seen when BKNG's performance in the US may improve. The August 2023 CPI already highlights a decline in the "other lodging away from home, including hotels and motels" index by -5.6% MoM.
This corroborates with the management's recent report of slower room night growth in the country, due to the Omicron rebound and lower ADRs, resulting in a "mid-single-digit growth."
Combined with the restart of the federal student loan from October 2023 onwards, we may see discretionary spending temporarily tighten in the US, before the Fed pivots and the inflation is tamped down to the target rate of 2%.
Therefore, investors may want to monitor these risks over the next few quarters, since they pose headwinds to BKNG's performance in the US.
BKNG's Revenues By Geographical Locations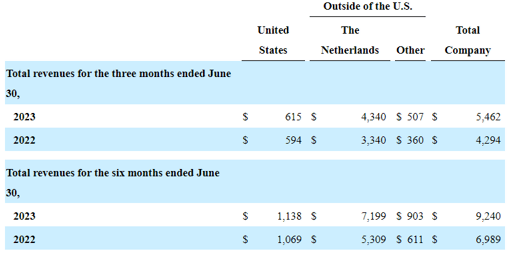 But then again, since the US only comprises 11.2% of BKNG's overall revenues, with the balance highly concentrated in the Netherlands at 79.4%, we are not overly concerned for now.
This is because the Dutch inflation has already moderated to 3% by August 2023, "falling below the eurozone average," implying that the worst may already be behind us after all.
As a result, we maintain our investment thesis that BKNG may outperform in the long-run.
The international segment's accelerating growth (+28% QoQ/ +40.8% YoY) is likely to well-balance the short-term headwinds in the US, especially since Morningstar has already projected a Fed pivot from February 2024 onwards. Only time may tell.