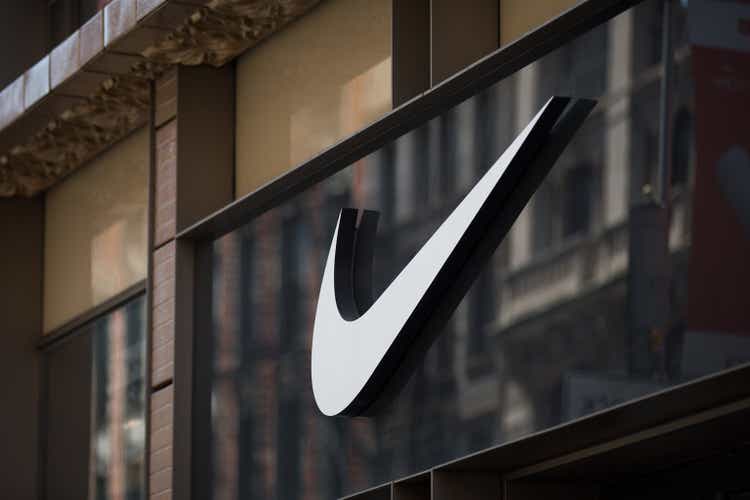 Investment Thesis
Nike (NYSE:NKE) is the largest apparel company in the world, with leading positions across different categories and regions. The company is currently facing challenges such as elevated inventory levels, inflationary pressure, and slow growth in China. Such issues have resulted in the stock dropping by 19% YTD. Although these headwinds are serious, I believe the company's durable brand, leading position, and high-quality products should allow it to come out stronger on the other end.
Like every other apparel and retail company, Nike thought post-pandemic demand would continue, so it increased production, which led to inventory levels hitting an all-time high in Q1-FY22, but as we know, that wasn't the case. Although NKE's inventory level is down from all-time highs, investors are still concerned, especially when inflation is eating into people's pockets and growth in China is slowing.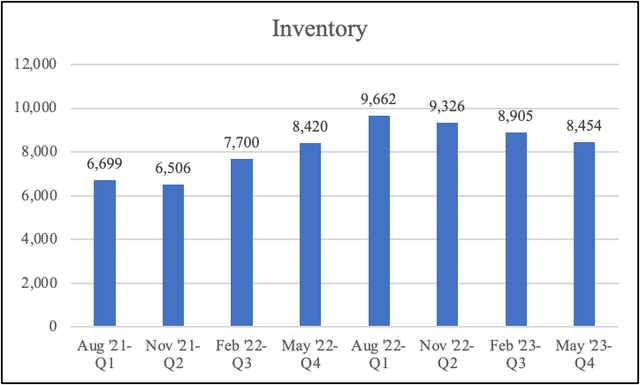 Inflation in North America has come down to 3.7% from its peak in June at 9.1%, but it is still a concern in Europe (6.1% in the EU union). As you can see from the graph below, sales in China have been decreasing for the past two years. There are multiple ways one can explain this: COVID-related lockdowns resulted in the shuttering of some stores. Plus, Nike and other apparel companies started facing a backlash in China in 2021 due to the alleged use of forced labor in cotton production. However, if the company is successful at expanding into China, then we can expect a lot of room for growth.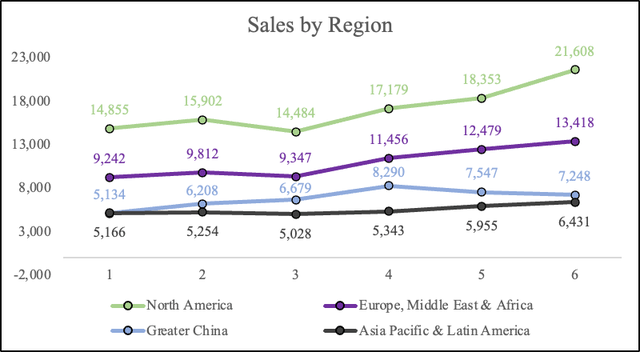 Now that I have addressed the problems that are facing Nike, let me explain why I believe the company will overcome them. Nike sponsors the most well-known athletes such as Cristiano Ronaldo (+600 million Instagram followers), LeBron James, Michael Jordan, the late Kobe Bryant, Rafael Nadal, Tiger Woods, and more. This has helped the company build a loyal customer base and further boost its brand equity. With a loyal customer base comes pricing power, and as Warrant Buffet said:
The single most important decision in evaluating a business is pricing power. If you've got the power to raise prices without losing business to a competitor, you've got a very good business. And if you have to have a prayer session before raising the price by 10 percent, then you've got a terrible business.
Nike's pricing power is no joke. Its shoes have reached a level where they are considered luxury, with some selling for more than the $10,000 mark. In 2017, Nike's median price for a shoe regardless of gender was $80, which is $10 more than its biggest competitor, Adidas. I know 2017 was a long time ago, but shoe prices have increased since then, and I believe Nike is still in the lead given their dominant market position. Plus, Nike targets mostly the age demographic of 25 and 34. These are people who have not settled in yet. They just graduated college with extra income to spend on things such as expensive shoes. I believe this pricing power will continue as the company continues to sponsor talented upcoming athletes to build trust with customers.
Another way to measure Nike's brand power is by comparing its marketing spending against its peers. Nike's marketing budget in FY 23 was $4 billion, or 7.93% of revenue. On the other hand, Adidas spent 38% and Under Armour 11%. These companies have been allocating more of their revenue towards marketing but have experienced nowhere near the growth Nike has. NKE's association with well-known athletes in the U.S. has allowed them to have a 96% awareness rate, 53% usage rate, and 43% loyalty rate. Going forward, I expect the company's brand will remain high-quality due to sponsorships, high-quality products, and market-leading technology.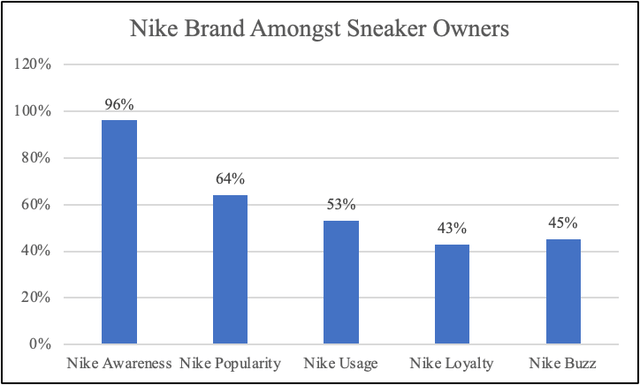 Company Description
Founded by Bill Bowerman and Phil Knight in 1994, Nike has come a long way from its first store in Portland, Oregon. As of May 31, 2023, the company had 369 stores within the U.S. and 663 internationally, operating in more than 190 countries. Stores include franchised stores and third-party retailers. The firm owns multiple brands such as Jordan, Converse, and Nike. The company derives sales from four main segments and across four regions. I excluded Converse (4.74% of revenue) from the graphs below because I wanted to focus on the Nike brand. The company's app, NikePlus, has more than 160 million users.

Valuation
On a trailing free cash flow basis, the stock yields over 3.3% relative to its enterprise value. My ~$104 May 24 PT implies a 28.00x P/E and 20.00x EV/EBITDA. Both multiples are below the ten-year NTM average and in line with the median. I project revenue to compound at a rate of 6.47% over the next three years, driven by market growth and new products, while shares decrease at a rate of 2.67%, driven by stock buybacks. The company is forecast to spend $12.1 billion on share repurchases over the same period.
Additionally, I believe the company still has room for margin improvement driven by price increases and DTC mix (direct-to-consumer). In FY 2019, DTC sales constituted 31% of revenue, and that figure stood at 44% in FY 2023. Although NKE is trading at a premium compared to peers, I believe it is reasonable considering its scale, high-quality products, and strong brand.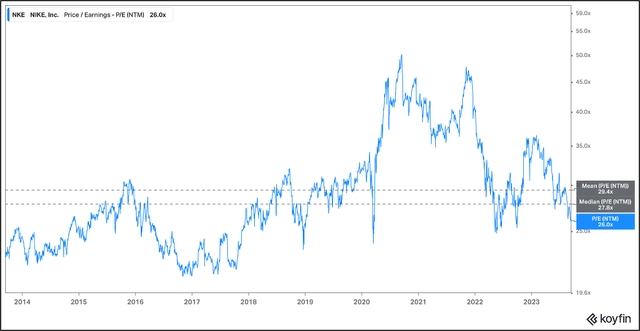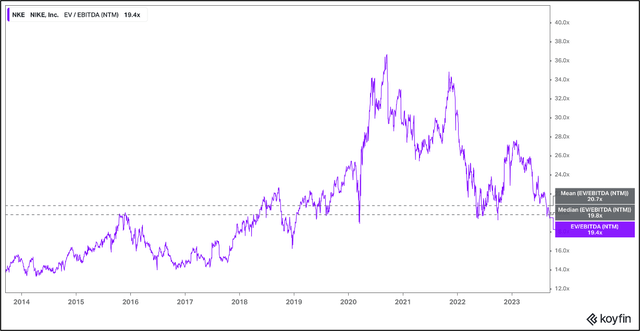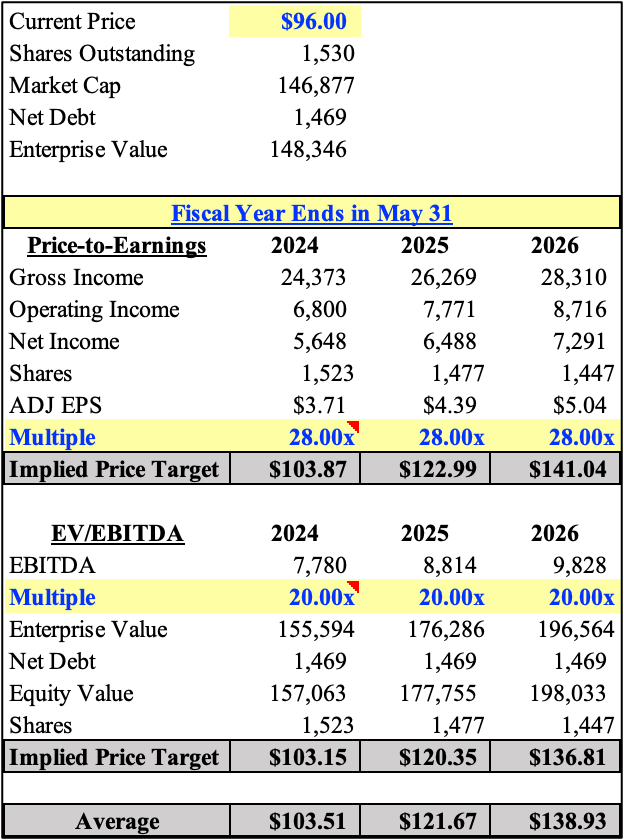 Risks/Mitigates
The first risk that I would associate with NKE is competition. The company competes with conglomerates such as Addidas, Puma, New Balance, Under Armour, and more. Additionally, e-commerce has made it very easy for anyone to start their own footwear brand. Other key risks to my rating include supply chain distributions, a recessionary environment, and slow growth in China.
Conclusion
The bottom line is that Nike is currently experiencing headwinds such as elevated inventory levels, inflationary pressure, and slow growth in China. Every business goes through similar challenges at one time or another, but I believe Nike is well-positioned to overcome these issues due to its durable brand, high-quality products, and leading position. I expect the company to keep endorsing high-quality athletes to elevate its brand equity and further strengthen its pricing power. My valuation implies a price target of ~$104 for May 31, 2024. Personally, I might add NKE to my portfolio if it drops near the $80-$90 mark.