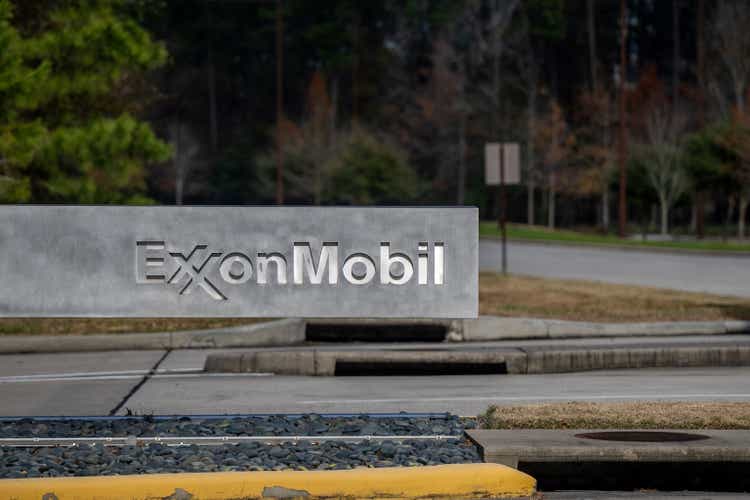 Exxon Mobil (NYSE:XOM) experienced a sharp drop-off in free cash flow in the second fiscal quarter which is related to the decline in price realizations in end markets. Exxon Mobil still generated a solid $5B in free cash flow in the second quarter but may face improved prospects for earnings and free cash flow growth after two major OPEC+ producers, Saudi Arabia and Russia, announced major supply cuts that will last until the end of the year. With supply cut also resulting in an increase in petroleum prices, Exxon Mobil's near-term earnings/free cash flow picture has improved. While I don't rate Exxon Mobil a buy just yet, I believe shares are a hold right now!
Previous rating
I previously rated Exxon Mobil a sell — Exxon Mobil: Q2 Profit Warning — since the company's free cash flow likely peaked in FY 2022. The energy firm currently benefits from a strong pricing environment which I did not expect to last. However, due to OPEC+'s new supply restrictions, I believe Exxon Mobil could perform better than I expected going forward.
OPEC+ to the rescue
Major OPEC+ countries Saudi Arabia and Russia recently decided to put into action major supply cuts that would see the combined output volume to be reduced by 1.3M barrels per day until the end of the year. Saudi Arabia said that it will reduce its oil production by 1M barrels a day while Russia said that it will also cut its exports by 300 thousand barrels a day. The decline in output has reinvigorated fears over energy supplies, especially ahead of a new winter season. Oil prices have soared on the back of such news, climbing back to $90 a barrel which significantly improves the earnings and free cash flow prospects of large energy producers like Exxon Mobil.
Exxon Mobil experienced a rather significant drop-off in free cash flow in the second fiscal quarter which has been the result of lower average prices in end markets. Exxon Mobil's average crude oil price (in the U.S.) declined 34% year over year to $71.37 a barrel while natural gas prices experienced a much sharper drop of 78% year over year to $1.45 per kcf. The second fiscal quarter was also the fourth straight quarter of declining average prices in Exxon Mobil's U.S. segment and the third straight quarter of negative growth in the natural gas business.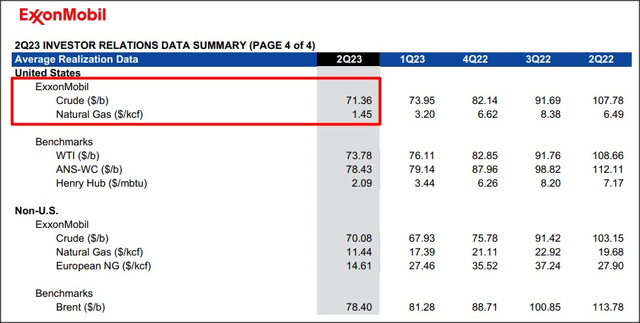 The deterioration in the pricing environment in the last year has led to a significant drop-off in Exxon Mobil's free cash flow. The company generated $5.0B in free cash flow in Q2'23 which was down sharply from the $22B free cash flow level which was recorded in the third fiscal quarter of FY 2022. But with OPEC+'s recent supply cuts and rapidly rising petroleum prices, Exxon Mobil has actually significantly improved earnings and free cash flow prospects.
Exxon Mobil

FY 2023

FY 2022

$B

Quarter 2

Quarter 1

Quarter 4

Quarter 3

Quarter 2

Cash Flow from Operating Activities

$9.4

$16.3

$17.6

$24.4

$20.0

Proceeds from Asset Sales

$1.3

$0.9

$1.4

$2.7

$0.9

Cash Flow from Operations and Asset Sales

$10.7

$17.2

$19.0

$27.1

$20.9

PP&E Adds / Investments & Advances

($5.7)

($5.8)

($6.7)

($5.1)

($4.0)

Free Cash Flow

$5.0

$11.4

$12.3

$22.0

$16.9
(Source: Author)
Exxon Mobil's valuation vs. Chevron
The biggest competitor for Exxon Mobil in the U.S. is Chevron (CVX) and both companies trade at moderate price-to-earnings ratios. Exxon Mobil is currently projected to see a 35% drop-off in earnings per share in FY 2023, largely due to lower average prices. With price trends reversing lately, however, Exxon Mobil may see new EPS upward revisions. Currently, Exxon Mobil's shares are valued at 13.2X FY 2024 earnings compared to P/E ratio of 11.7X for Chevron. While I don't believe that Exxon Mobil is a bargain at 13.2X forward earnings, I acknowledge that OPEC's supply decisions could have a material impact on Exxon Mobil's profit situation.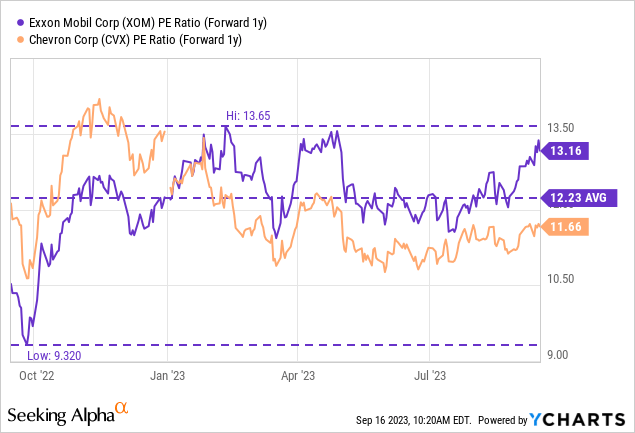 Risks with Exxon Mobil
The biggest risk for Exxon Mobil obviously is a decline in average prices for petroleum and natural gas products because the production business accounts for the majority of the firm's earnings and free cash flow. With declining market prices come weaker profit margins and lower free cash flow, however, so if the market doesn't trust OPEC+'s output decisions, energy prices may decline.
Closing thoughts
Although Exxon Mobil saw a significant decline in its free cash flow in the second quarter, the energy company still reported solid profitability and OPEC+ looks to come to the rescue of major energy producers. Fears over additional or longer-lasting supply cuts ahead of the winter season have resulted in oil prices soaring back above $90 a barrel which should provide a decent profit and free cash flow boost to Exxon Mobil in the third quarter. While I don't believe that shares of Exxon Mobil are especially cheap with a P/E ratio of 13.2X, I believe the change in energy market fundamentals justifies a rating upgrade to hold!