Small-cap Richardson Electronics, Ltd. (NASDAQ:RELL) caught my attention earlier this year as a company with long-term growth potential due to its Green Energy Solutions Business, which could double revenue in the next five years to $500 million. The company has created many highly specialised engineering solutions; however, these solutions have remained mainly niche and small-scale. This is the first time the company has offerings that target a large wind turbine market, capable of making significant profits.
However, investing in this company comes with risks, particularly in the short term. Its largest customer, LAM Research (LRCX), faces headwinds in the semiconductor market. Not all of the company's products are profitable, and investors have expressed disappointment in unfulfilled financial promises. These factors were reflected in the Q4 2023 financial report, where the company missed EPS and revenue expectations. While I believe in the company's offerings, its financial dependency on semiconductor customers puts it at risk. Although the company's Green business shows potential, it is still in its early stages and cannot compensate for other losses. As a result, I suggest a "hold" rating.
Company updates – the good
In my previous article, I give an overview of Richardson Electronics. There are several attractive elements to Richardson Electronics. The company has pursued organic growth strategies by expanding its product lines and growing its international customer base through loyal and long-term partnerships. It has been gaining market share with new customers, exclusive supplier agreements, new products, and a growing list of patents. The company has a diverse product portfolio, including management systems, green energy solutions, and custom displays for medical applications, among others.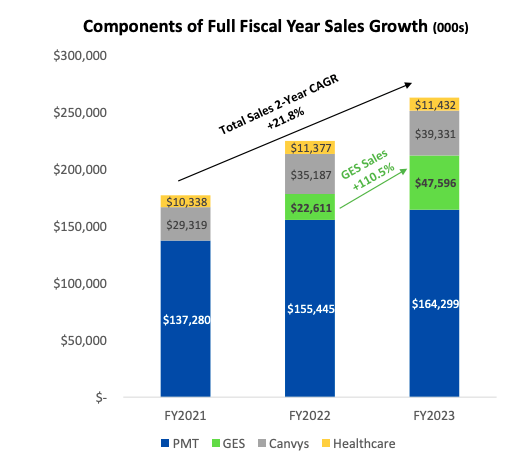 Furthermore, the company has been improving its financials over the past few years. In FY2023, sales reached $262.7 million, a 16.9% YoY growth, and net Income was $1.55 per diluted share compared to $1.31 in FY2022. Operating income increased YoY by 57%, and net sales increased YoY by 16.9%. Over the years, the company has transformed from a loss-making entity to one that is delivering high-margin solutions.
Company updates – the bad
One of the major red flags, at least for the following year, is that a significant portion of Richardson Electronics' revenue comes from the semiconductor wafer fab equipment business, which is expected to remain challenging in the near term. This dependency on a cyclical market poses risks. Although management expects a semiconductor wafer fab market recovery in 2024, this is highly speculative, and geopolitical factors could prolong the challenges and heavily impact its financial performance. Due to the CHIPS Act passed by Congress, Lam indicated that their business would be down about 30% in the coming year.
The company's international nature also creates supply chain disruptions based on several uncertain factors. Another major challenge is that the company requires attracting and retaining highly skilled engineering talents; globally, there is a shortage of engineers, which could affect its ability to develop new products and support growth. Another vital issue is regulation factors, such as the requirement of regulatory approvals for specific programs, such as reloading tubes in Brazil. Regulations can hinder performance, are time-consuming, and uncertain.
Financials
Richardson Electronics has improved its net sales and gross profit margin over the last three years. Furthermore, Richardson Electronics boasts a strong balance sheet, with FY2023 Q4 cash and cash equivalents of $25.0 million and no debt. However, in FY2023, the growth was determined by the year's first nine months. If we compare the quarterly performance, we can see that the company has dropped its revenue and gross profit margin for the first time in ten quarters. We can see that although net income has increased over the last three years to $22.3 million TTM if we look at the quarterly performance, the company's net income has declined YoY in Q4 2023.
We can see that although net income has increased over the last three years to $22.3 million TTM, if we look at the quarterly performance, the company's net income has declined YoY in Q4 2023.

Richardson Electronics is not well covered by analysts and is difficult to compare to other companies due to its wide range of niche and specialised solutions. The stock has lost 24.24% in value over the last year, although long-term investors have been rewarded with returns of 28.11% over a five-year period.
The company is currently in a better financial position in FY2023 compared to FY2022. However, it is expected that the company's revenue will decrease in the first half of FY24, and future growth will depend on its larger customers, such as LAM. Unfortunately, LAM has indicated lower performance numbers for 2024, which is a cause for concern. Although the stock has an attractive FWD price-to-earnings ratio of 13.06, which suggests it may be undervalued at its current stock price, we cannot ignore the softened guidance given by the management for FY2024.
Risks
Richardson Electronics is experiencing growth in its green business, which is a positive development. However, its other segments are showing signs of slowing down, especially in the semiconductor wafer fab market, which is expected to weaken. Moreover, as a small-cap stock, it is susceptible to volatility caused by a limited number of trades, which can pose investment risks.
Final thoughts
Richardson has tapped into a significant growth catalyst through its Green Energy Solutions business. However, it is still in its infancy regarding significant financial impact on the business. Its heavy reliance on the semiconductor wafer fab market, which is currently unstable, and ongoing supply chain challenges are key concerns. The company has already indicated that the first half of 2024 might present difficulties with lower sales. Furthermore, future growth hinges on the market's reception of its new products, introducing an element of uncertainty. Given these heightened risks, I have downgraded my recommendation to a hold rating.