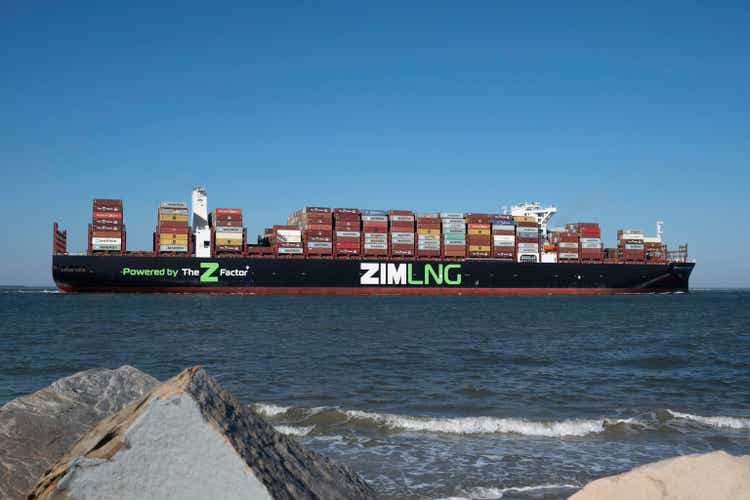 Note:
I have covered ZIM Integrated Shipping Services Ltd. (NYSE:ZIM) previously, so investors should view this as an update to my earlier articles on the company.
Last year, Israel-based liner company ZIM Integrated Shipping Services Ltd., or "ZIM," attracted strong retail investor interest due to its eye-catching high payouts and the fact that the company remains the only major U.S. exchange-listed container liner.
While ZIM barely makes the Top 10 of the world's largest liner companies, the company has pocketed its fair share of the recent container shipping bonanza.
Since listing on the Big Board in early 2021, ZIM has declared a whopping $38.45 per share in dividends.
Like all liner companies, ZIM has been enjoying record-high earnings and cash flows for most of the past two years, but with container rates essentially back at pre-pandemic levels and significantly increased operating expenses relative to 2019, earnings have been falling off a cliff this year.
Last month, ZIM released weak second quarter earnings, with freight rates down 67% on a year-over-year basis thus resulting in negative Adjusted EBIT and Net Income: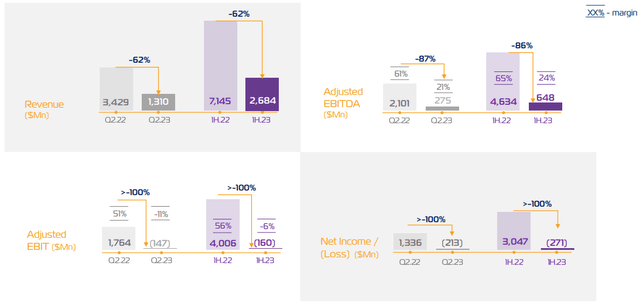 ZIM's total cash position (which includes cash and cash equivalents and investments in bank deposits and other investment instruments) decreased by more than $1 billion sequentially to $3.24 billion, mostly due to the massive true-up dividend payment for 2022 and material debt service payments: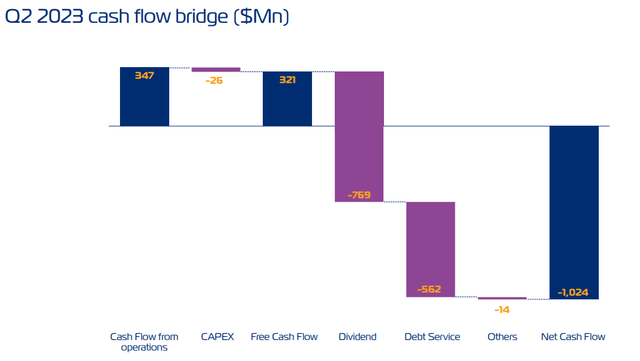 Net debt at the end of Q2 was up by almost $1.0 billion to $1.6 billion as newbuild deliveries with long-term charter commitments continue to increase the company's lease liabilities, a trend which is expected to accelerate over the coming quarters.
Please note that year-to-date, the company has only taken delivery of four out of a total of 42 publicly-disclosed newbuilds chartered on long-term contracts from various lessors between 2020 and 2022:

In addition, ZIM has recently taken delivery of four 12,000 TEU newbuilds from Seaspan, but the company has not disclosed the terms of these leases.
Please note that the newbuild vessels are of substantially larger average size than the company's existing fleet.
While ZIM has a total of 47 vessels with lease expirations in 2023 and 2024, even when assuming zero extensions, the company's total capacity is going to increase substantially at the worst possible time: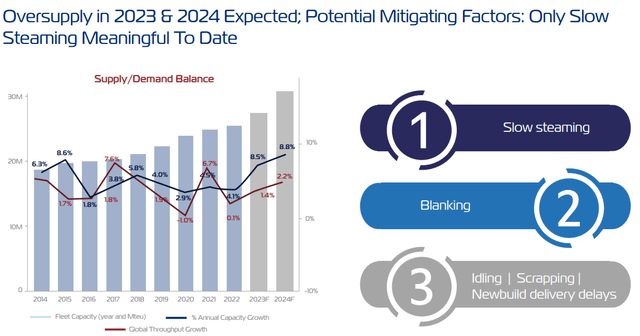 Moreover, based on management's statements during the questions-and-answers session of the Q4 conference call, ZIM is likely to renew the majority of its expiring leases while redelivering only the oldest and least efficient vessels in the fleet:
As to whether we will let go all of those (…) vessels we will see is not a one-for-one. I think this is what we need also to bear in mind, very likely that the smaller capacity vessel the feeder size, type of ships that currently we employ are deployed mainly on the Intra-Asia business as a feeder in line but also as an Intra-Asia in our own traditional services. Those vessels are needed by the company to maintain servicing those areas where we think there is, by the way, quite significant opportunity for growth.

So, what will happen is, there will be a cascading effect, we will take on larger capacity vessels, those will come and replace ships that will be redeployed elsewhere. So, we start with the 15,000 TEU ship that will come and replace the 10,000 TEU that we currently employ on the Asia, U.S., East Coast, those will go and upsize the ZXB and so on and so forth. And then at the end of the day, we will let go some vessels that will be in the Panamax size type of segments mainly.
Furthermore, the company has agreed to make an aggregate $490 million in down payments upon delivery of the Seaspan newbuilds :
We have the commitment to pay down at delivery each of the LNG vessels that we have ordered via down payment, as you know, $13 million per ship for the 15,000 TEU vessels and $20 million per ship for the 7,000 TEU vessels. So that adds up to roughly $140 million in 2023 and another $350 million in 2024, according to the current delivery schedule.
While the new vessels should help reduce unit costs over time, they will also increase overall lease expenses and particularly net debt very substantially over the next few quarters. For my part, I wouldn't be surprised to see the company ending 2024 with well above $5 billion in net debt.
Just last week, competitor A.P. Møller – Mærsk A/S or "Maersk" (AMKBY, AMKAF, AMKBF) warned of a further increase in industry-wide blanked capacity:
As we approach the Chinese National Day holiday (known as Golden Week) whereby factories close and production slows down, container shipping demand to and from Asia declines substantially. To counteract this imbalance between supply and demand, carriers announce blank sailings.

While we normally see a decrease in capacity during Golden Week and beyond, this year we are seeing a higher percentage of reductions compared to pre-pandemic levels between 2017 and 2019. In fact, when we look at the percentage of industry-wide blanked capacity between Asia and Europe in week 34 of the year, it increased from an average of 6.8% in previous years to a significant 19.9% in 2023.

During Golden Week, percentage capacity reduction increased from a typical 11.1% to 17.0%, while in the three weeks following Golden Week, we are seeing an increase from 0% in previous years to 13.8% today. As a result, in both of these weeks, percentage capacity reductions are now expected to be the highest across all analyzed years.
Following a short recovery in July and August, container rates have resumed their multi-year decline in recent weeks with rates again approaching post-pandemic lows.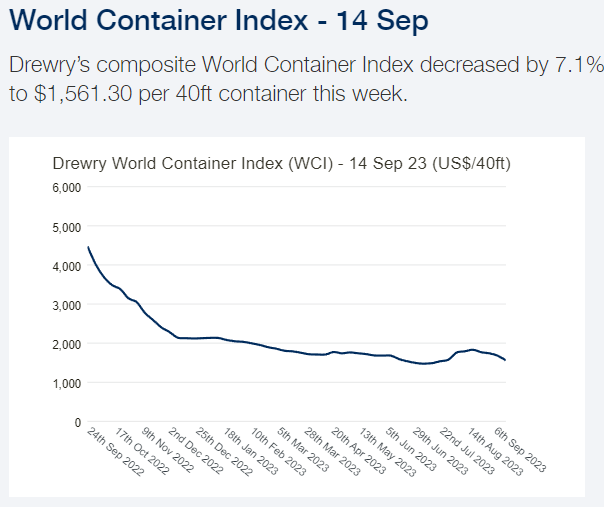 Not surprisingly, the company has reduced its original 2023 outlook substantially:

Assuming ZIM's second half results mirror the first half of the year and considering the above-discussed down payments upon Seaspan newbuild deliveries, I would estimate the company's cash balance to decline to approximately $2.6 billion by year-end.
Should 2024 be more of the same, I would estimate ZIM's cash balance to decrease by another $1+ billion dollars next year.
To put it another way: The company needs the market to turn around by 2026 at the latest point to avoid running out of funds.
Bottom Line
ZIM Integrated Shipping Services reported weak second quarter results and reduced full-year expectations materially.
Even after net cash outflows of more than $1 billion in Q2, the company still commands more than $3.2 billion in cash, bank deposits and liquid investments, albeit this number is likely to come down further over the next couple of quarters.
Assuming no changes in industry conditions, the company would likely run out of funds by 2026.
Considering the weak market environment, which is about to be exacerbated by an elevated number of newbuilds scheduled to join the worldwide fleet over the next few quarters, I am reiterating my "Sell" rating on the shares.
Risk Factors
A surprise improvement in consumer sentiment would almost certainly result in higher demand for far east-made goods thus supporting rates on the company's most important trade lanes.
Investors should always keep a close eye on charter rate movements as reported by Drewry or other leading industry services.
Editor's Note: This article discusses one or more securities that do not trade on a major U.S. exchange. Please be aware of the risks associated with these stocks.